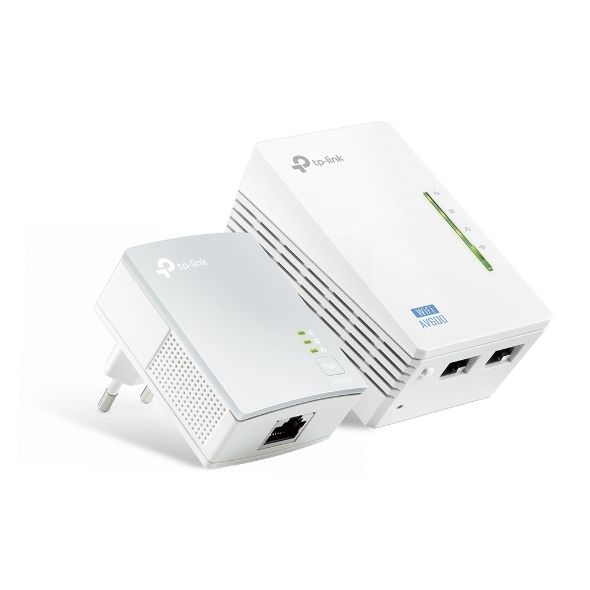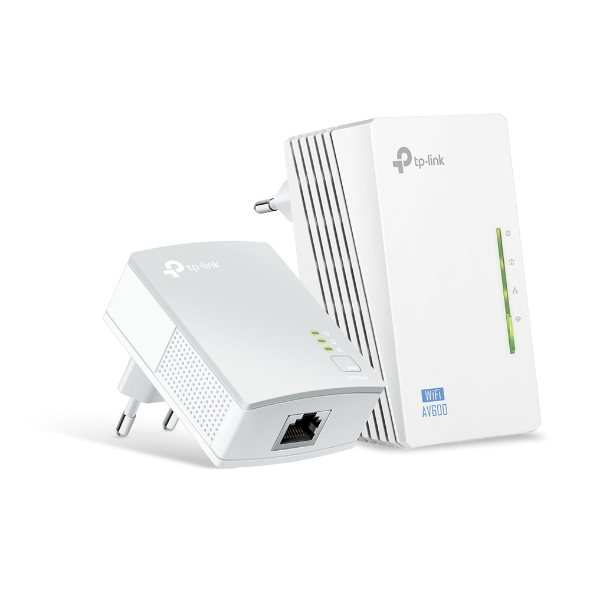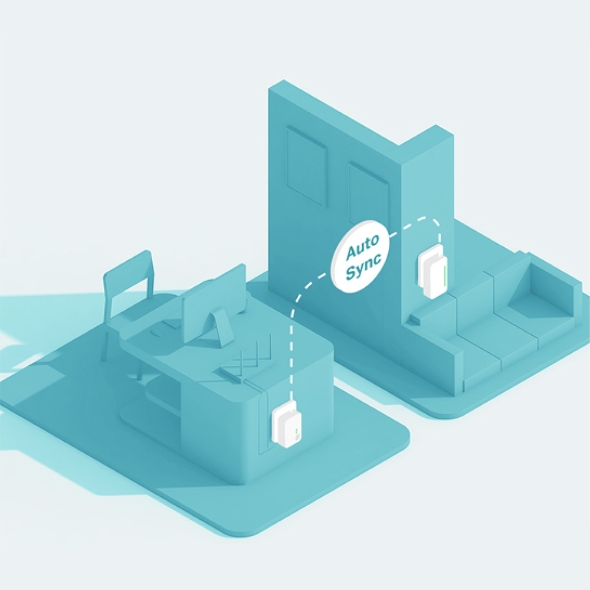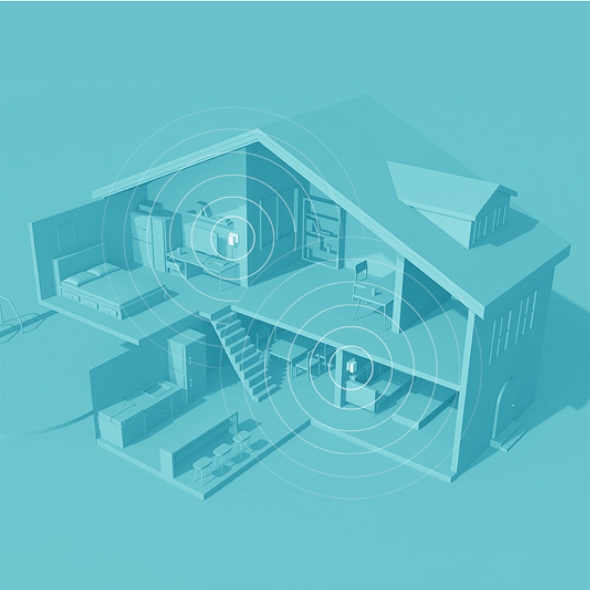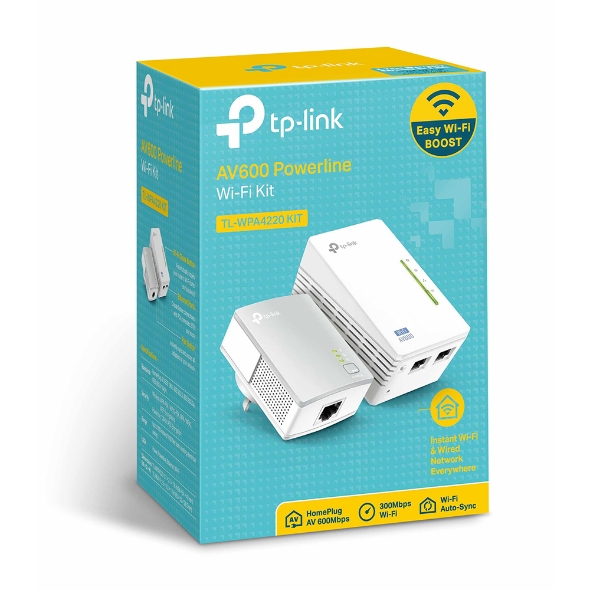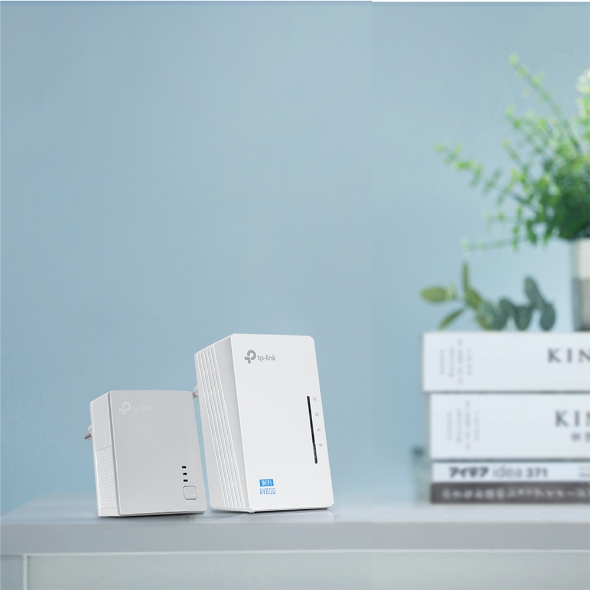 300 Mbps AV600 Wi-Fi Powerline extender startset TL-WPA4220KIT
Eén druk op de Super Range Extension - Wi-Fi kloon toets vereenvoudigt de Wi-Fi configuratie en helpt u een naadloos en uniform thuisnetwerk op te zetten

De HomePlug AV standaard maakt datatransmissie tot 600 Mbps mogelijk via de bestaande elektrische leidingen in huis - ideaal voor vertragingsvrije HD of 3D video streaming en online games

Breid 300 Mbps draadloze verbindingen uit naar eerder moeilijk bereikbare gedeelten van uw huis en kantoor
Wi-Fi Klonen


voor naadloze roaming

Automatisch de naam (SSID) van uw draadloze netwerk en het wachtwoord voor uw router met één druk op de toets kopiëren. Nadat u de toets hebt ingedrukt, kunt u de Powerline adapter overal plaatsen en genieten van naadloos netwerken overal in huis of kantoor.
Niet Wi-Fi klonen
draadloos PLC
Draadloos PLC
met Wi-Fi klonen

Naadloze Wi-Fi roaming

Web Configuraties

Eén toets

Powerline netwerk opzetten

Gemakkelijk

Super gemakkelijk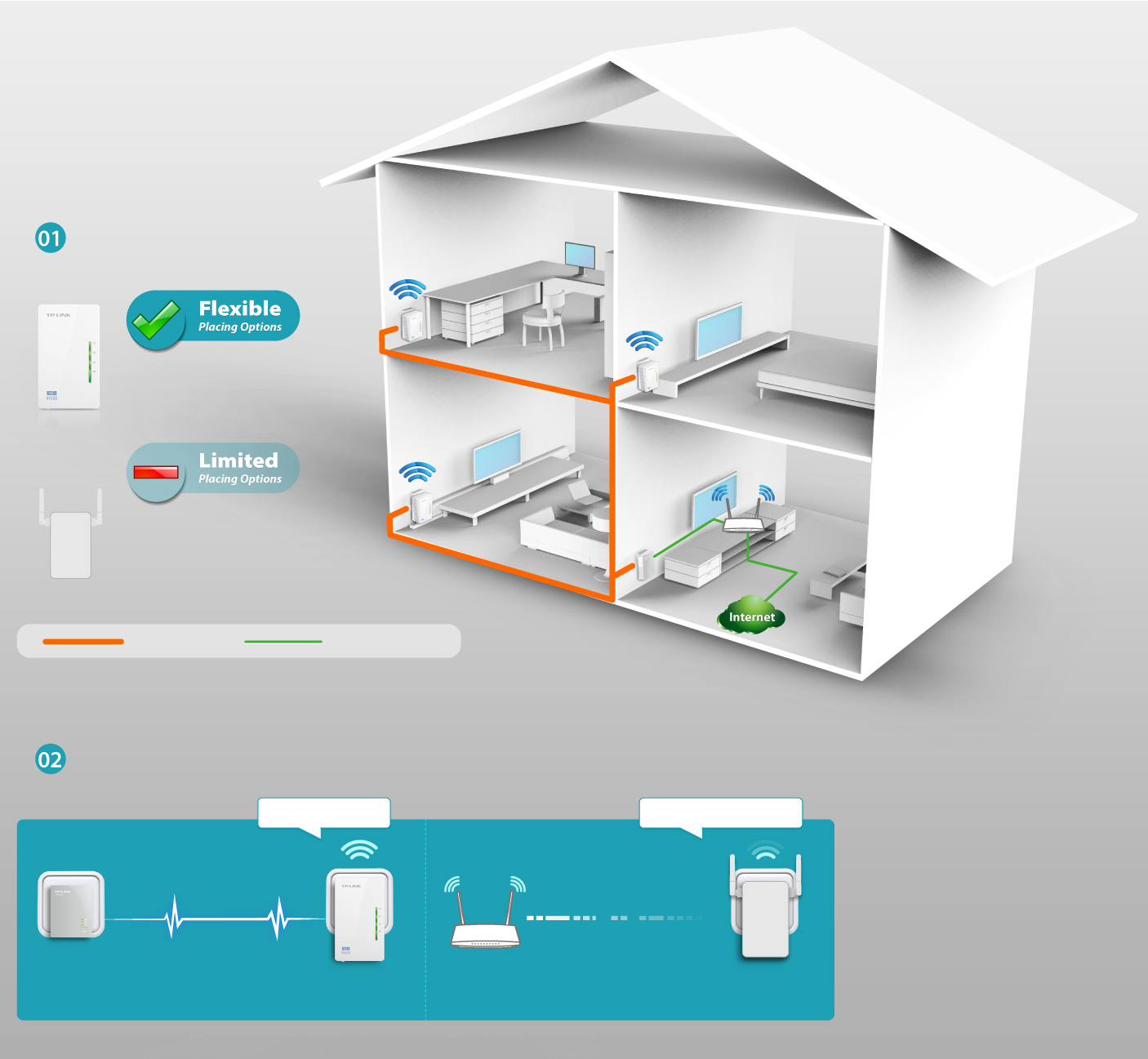 Betere prestaties


dan range extenders met alleen Wi-Fi
Overal Wi-Fi waar een stopcontact is!

Powerline Wi-Fi range extender

Breid Internet toegang via kabel en draadloos uit naar uw kelder, achtertuin of zolder.

Range extender met alleen Wi-Fi

Moet binnen het bestaande Wi-Fi dekkingsgebied worden geplaatst om Wi-Fi signaal te ontvangen - beperkte opties voor plaatsing.

Powerline Ethernet Kabel

Snellere, stabielere Wi-Fi verbindingen

Transmissie via elektrisch leidingennet

Wi-Fi met hoge snelheid

Powerline Wi-Fi Range Extender

De netwerksignalen worden via het elektrische leidingennet in huis met weinig storing verzonden, zodat de Wi-Fi verbindingen altijd stabiel en snel zijn.

Wi-Fi transmissie

Wi-Fi snelheid lager

Range extender met alleen Wi-Fi

Gebruik een al verzwakt Wi-Fi signaal en reproduceer het; de signaalkwaliteit gaat achteruit.
Goed werkend
Thuisnetwerk
300Mbps AV500 WiFi Powerline Extender


TL-WPA4220

AV500 Nano Powerline Adapter


TL-PA4010

300Mbps AV500 WiFi Powerline Extender


TL-WPA4220
xDSL/Ethernet/Kabel
Powerline Ethernet Kabel
Gerelateerde producten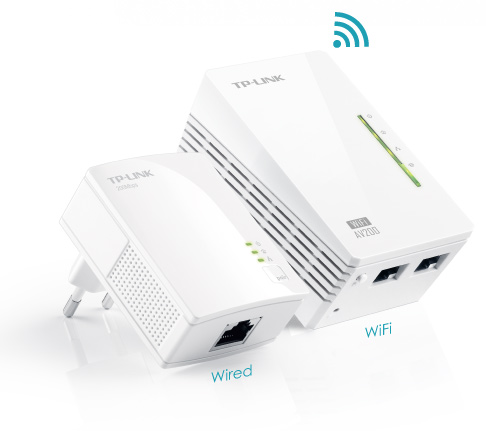 300Mbps AV200 WiFi Powerline Extender Starterset

TL-WPA2220KIT(TL-WPA2220&TL-PA2010)
Wi-Fi kloon toets vereenvoudigt de Wi-Fi configuratie en helpt u een naadloos en uniform thuisnetwerk op te bouwen
HomePlug AV standaard levert tot 200 Mbps data transmissiesnelheid via de bestaande elektrische leidingen in huis
Breid 300 Mbps draadloze verbindingen uit naar eerder moeilijk bereikbare gedeelten van uw huis en kantoor
Via twee ethernet aansluitingen kunnen TV's, game consoles of PC's met het Internet worden verbonden.
Eenvoudig te installeren, simpelweg Plug and Play
The theoretical maximum channel data transfer rate is derived from HomePlug AV specifications. Actual data transfer rate will vary from network environment including: distance, network traffic, noise on electrical wires, building material and construction, quality of electrical installation and other adverse conditions.
Functionaliteit van de Hardware
Stekkertype
EU, UK, US, AR
Standaarden en protocollen
HomePlug AV, IEEE802.3, IEEE802.3u, IEEE802.11b/g/n
Interface
2 x 10/100 Mbps ethernet aansluiting
Knop
Verbind, Reset, Wi-Fi/Wi-Fi kloon
Energieverbruik
Maximum: 7.608W (220V/50Hz)
Typical: 7.216W (220V/50Hz)
Standby: 4.610W (220V/50Hz)
LED-Indicator
PWR, PLC, ETH, Wi-Fi/Wi-Fi kloon
Afmetingen ( B x D x H )
3.7 x 2.1 x 1.6 in. (94×54×40mm)
BEREIK
300 meter via elektrisch leidingennet

Draadloze Functies
Frequentie
2.4-2.4835GHz
Overdrachtssnelheid
11n: Up to 300Mbps(dynamic)
11g: Up to 54Mbps(dynamic)
11b: Up to 11Mbps(dynamic)
Ontvangstgevoeligheid
270M: -68dBm@10% PER
130M: -68dBm@10% PER
108M: -68dBm@10% PER
54M: -68dBm@10% PER
11M: -85dBm@8% PER
6M: -88dBm@10% PER
1M: -90dBm@8% PER
Draadloos Zendvermogen
CE:
<20dBm(2.4GHz)
FCC:
<30dBm
Draadloze Functies
Enable/DisableWireless Radio,WMM, Wireless Statistics
Draadloze Beveiliging
64/128-bit WEP / WPA / WPA2,WPA-PSK / WPA2-PSK
Geavanceerde Functies
Enable/DisableWireless Radio,WMM, Wireless Statistics
Overdrachtsvermogen
CE:<20dBm(2.4GHz)
FCC:<30dBm
Functionaliteit van de Software
Modulatietechnologie
OFDM (PLC)
Encryptie
Powerline beveiliging:
128-bits AES
Draadloos beveiliging:
WEP, WPA/WPA2, WPA-PSK/WPA2-PSK versleuteling
Overige
Certificatie
CE, FCC, RoHS
Pakketinhoud
Powerline ethernet adapters TL-WPA4220 en TL-PA4010
2 m ethernetkabel (RJ45)
CD met hulpprogramma's e.d.
Installatie-instructies

Systeemvereisten
Windows 2000/XP/2003/Vista, Windows 7/8, Mac, Linux
Omgeving
Gebruikstemperatuur: 0°C~40℃
Bewaartemperatuur: -40°C~70℃
Rel. luchtvochtigheid gebruik: 10%~90%, niet-condenserend
Rel. luchtvochtigheid opslag: 5%~90%, niet-condenserend
Reviews
Awards

Test Winner

TL-WPA4220KIT was nominated "Test Winner" by CHIP in Germany

2013, Germany

Recommended

TL-WPA4220KIT won "Recommended" from RedesZone in Spain

2013, Spain

TL-WPA4220KIT was nominated "Preis-Leistungs-Sieger" by Computerbild in issue 20/2013.

2013, Germany

Best Value

TL-WPA4220KIT won Best Value Award from PC Market magazine in HK

2013, HK

Recommended

TL-WPA4220KIT/Tl-WPA4220 received a Recommended Award from AVForums

2013, UK

Silver Award

TL-WPA4220KIT has received the "Silver Award" from Hardware.info

2013, Netherlands

HWM Magazine

TL-WPA4220KIT won the Gold Award from HWM magazine in Malaysia

2014, Malaysia

testergebnis befriedigend

TL-WPA4220KIT was nominated "testergebnis befriedigend " by AudioVideoFotoBild.

2014, Germany

Value Award

TL-WPA4220KIT won Value Award from Hardware Heaven in UK.

2014, UK