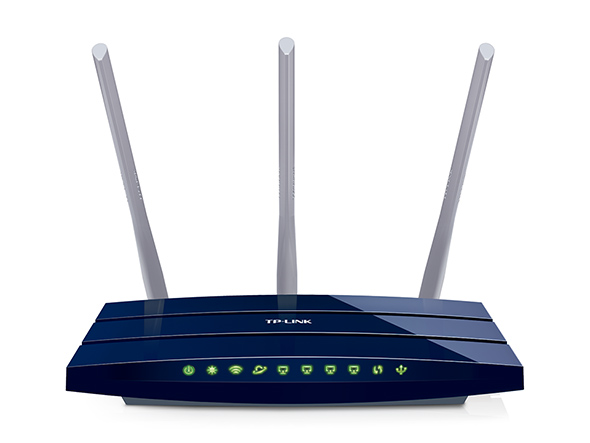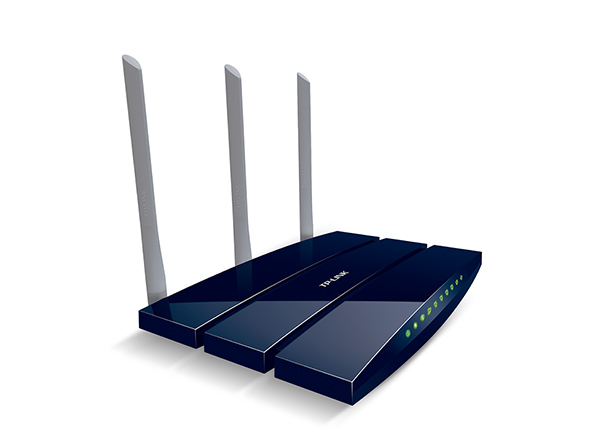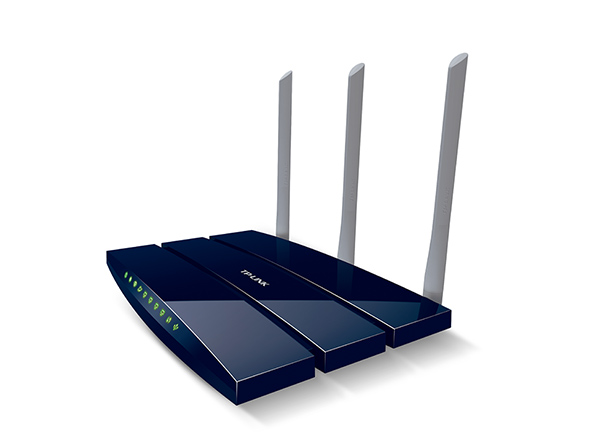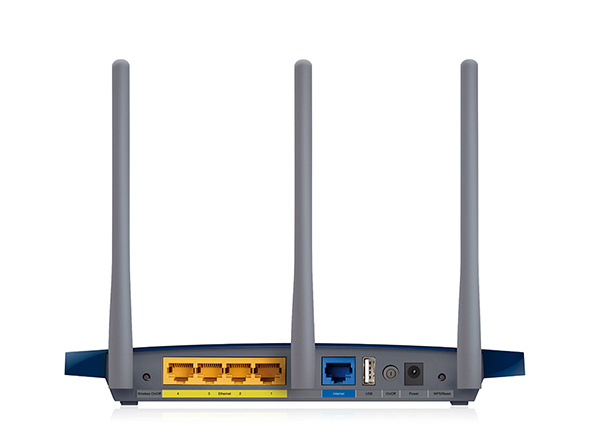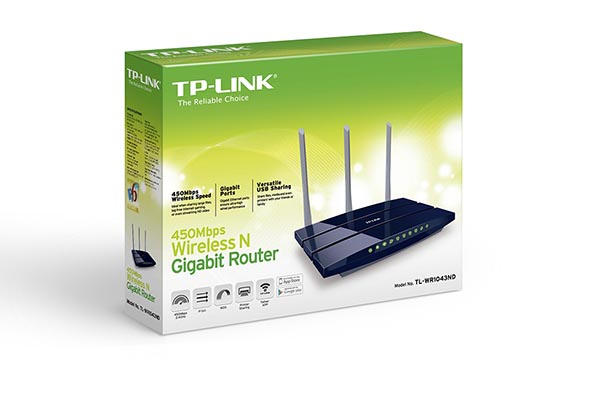 Ultimate Wireless N Gigabit Router TL-WR1043ND
450 Mbps draadloos snelheid en gigabit ethernet aansluitingen, ideaal voor meerdere HD video streams
Multifunctionele USB 2.0 aansluiting - gemakkelijk printers, bestanden en media delen met vrienden of familie, lokaal of via het Internet
Draadloos beveiliging met versleuteling door simpele druk op WPS toets
play

Introducing TP-LINK Wireless 450Mbps Routers
TP-LINK's TL-WR1043ND 300Mbps Wireless N Gigabit Router is an upgraded version with a brand-new exterior and better performance. Featuring a brand-new chipset solution, the TL-WR1043ND can provide users with faster wired/ wireless speed and stronger wireless coverage for an improved networking experience. The router is equipped with a USB storage port on its rear panel, convenient for sharing printers, files and media with everyone on the network.
Draadloze snelheden tot 450Mbps
Met draadloze snelheden tot 450 Mbps op de 2.4GHz band
kunt u nog meer genieten van vertragingsvrije HD video
streaming en online gamen dan met 300 Mbps of 150 Mbps.
2.4GHz
450Mbps
300Mbps
150Mbps
HD Video Streaming Online GamesOnline Chatten
HD Vidieo Streaming

Online Gaming

Online Chatting
Uitgebreide dekking

3 x 5 dBi antennes
De drie externe 5 dBi antennes, gecombineerd met de antenne techniek van hogere kwaliteit, biedt
gebruikers een grotere draadloos dekking en sterker draadloos signaal overal in en rond huis of kantoor.
Supersnel bekabeld

5 Gigabit Aansluitingen + 800Mbps Hardware NAT
Dankzij de 5 ingebouwde gigabit aansluitingen en hardware NAT functie beschikt de draadloze router over
krachtige dataverwerking functies. Zijn NAT WAN naar LAN doorvoer kan tot 800 Mbps+ bereiken, zodat
gebruikers het volle potentieel van hun netwerken kunnen benutten.
NAT Doorvoer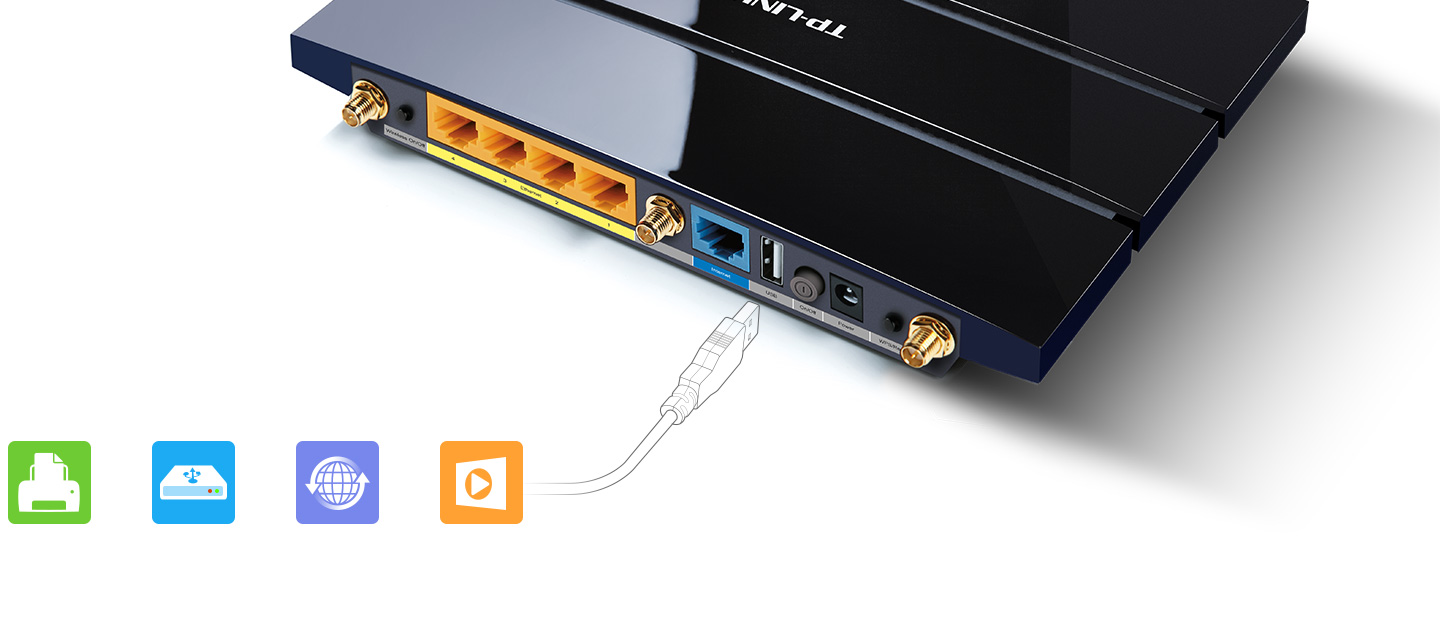 Eenvoudig voor delen

Multifunctionale USB-aansluiting
Gebruik de multifunctionele USB-aansluitingen van de TL-WR1043ND voor het delen van printers, bestanden
en media, via het netwerk thuis met verschillende computers, of zelfs onderweg. Dankzij de ftp server functie hebt u al uw bestanden altijd bij de hand.
Printer delen Opslag delenFTP ServerMedia Server
Functionaliteit van de Hardware
Interface
4 x 10/100/1000 Mbps LAN-aansluitingen
1 x 10/100/1000 Mbps WAN-aansluiting
1 x USB 2.0-aansluiting
Knop
WPS/Reset toets
Aan/uit toets
Wi-Fi toets
Externe Voeding
12 V DC / 1,5 A
Standaarden voor Draadloze Netwerken
IEEE 802.11n, IEEE 802.11g, IEEE 802.11b
Afmetingen ( B x D x H )
225 x 141 x 30 mm
Antenne
3 x 5 dBi afneembare omnidirectionele antennes (RP-SMA)
Draadloze Functies
Frequentie
2,4 - 2,4835 GHz
Overdrachtssnelheid
11n: tot 450 Mbps (dynamisch)
11g: tot 54 Mbps (dynamisch)
11b: tot 11 Mbps (dynamisch)
Ontvangstgevoeligheid
270M: -68dBm@10% PER
130M: -68dBm@10% PER
108M: -68dBm@10% PER
54M: -68dBm@10% PER
11M: -85dBm@8% PER
6M: -88dBm@10% PER
1M: -90dBm@8% PER
Draadloos Zendvermogen
CE:
<20dBm(2.4GHz)
FCC:
<30dBm
Draadloze Functies
Draadloos radio aan/uit, WDS Bridge, WMM, draadloos statistieken

Draadloze Beveiliging
64/128/152-bit WEP / WPA / WPA2,WPA-PSK / WPA2-PSK
Draadloos
64/128/152-bits WEP / WPA / WPA2, WPA-PSK / WPA2-PSK

Functionaliteit van de Software
Kwaliteit van de Dienst (QoS)
WMM, bandbreedte regeling
WAN-Type
Dynamic IP/Static IP/PPPoE/
PPTP (Dual Access)/L2TP (Dual Access)/BigPond
Management
Access Control
Local Management
Remote Management
DHCP
Server, Client, DHCP Client List,
Address Reservation
Poort Doorsturen
Virtual Server, Port Triggering, UPnP, DMZ
Dynamische DNS
DynDns, Comexe, NO-IP
VPN-Doorvoer
PPTP, L2TP, IPSec (ESP Head)
Toegangsbeheer
Parental Control, Local Management Control, Host List, Access Schedule, Rule Management
Firewallbeveiliging
DoS, SPI Firewall
IP Address Filter/MAC Address Filter/Domain Filter
IP en MAC Address Binding
Protocollen
Support IPv4 and IPv6
Gastnetwerk
2.4GHz Guest Network×1
Overige
Certificatie
CE, FCC, RoHS
Pakketinhoud
TL-WR1043ND
3 afneembare omnidirectionele antennes
Netspanningadapter
CD met hulpprogramma's e.d.
Installatie-instructies
Snelle installatie gids
Systeemvereisten
Microsoft® Windows® 8/7/Vista/XP/2000, MAC® OS, NetWare®, UNIX® of Linux
Omgeving
Gebruikstemperatuur: 0℃~40℃
Bewaartemperatuur: -40℃~70℃
Rel. luchtvochtigheid gebruik: 10%~90%, niet-condenserend
Rel. luchtvochtigheid opslag: 5%~90%, niet-condenserend
Awards

COMPUTER PRO-USER

TL-WR1043ND gain Editor's Choice of COMPUTER PRO-USER in HongKong, China, 2009.

2009, HongKong, China

E-Zone Choice

TL-WR1043ND won E-Zone Choice

2009, Hongkong, China

ajnlata

TL-WR1043ND got 'ajnlata' award from PC WORLD in Hungary

2010, Hungary

very good

TL-WR1043ND received the "very good" award from PCtipp Magazine

2010, Switzerland

HWM Magazine

TL-WR1043ND wins "Gold award-Must Buy Router" from HWM in Malaysia

2010, Malaysia

E-Zone Choice

TL-WR1043ND gains award from E-Zone Choice

2010, Hongkong, China

Dobry Produkt

TL-WR1043ND receives "Dobry Produkt" award from Benchmark

2010, Poland

Editor's Choice

TL-WR1043ND received 'Editor's Choice' award from Hard'n'Soft Magazine in Russia

2010, Russia

Silver Award

TL-WR1043ND wins Silver Award from Hardware.Info in Benelux

2010, Benelux

Value Award

TL-WR1043ND gains "Value Award" from PC3 magazine in Hongkong, China.

2010, Hongkong, China

Recommend

TL-WR1043ND won Recommend award from Hard'n soft in Russia

2010, Russia

Good Buy

TL-WR1043ND Received "Good Buy" Award from Komputer for Alle in Denmark

2011, Denmark

Best Wireless Router

TL-WR1043ND Receives "Best Wireless Router" Award from PC Magazine in Belgium

2011, Benelux

Editor's Choice

TL-WR1043ND Won "Editor's Choice" Award from PC-NET Magazine in Turkey

2011, Turkey

Best Product

TL-WR1043ND Wins "Best Product" Award in Revista Oficial Windows Magazine in Spain

2011, Spain

Best Product

TL-WR1043ND Wins "Best Product" Award from Revista Oficial Windows Magazine in Spain

2011, Spain

Prize-performance

TL-WR1043ND won "prize-performance" award from CHIP online in DE.

2011, Germany

Editor's Choice

TL-WR1043ND received "Editor's Choice" award from Computer!Totaal in Holland

2011, Holland

The Best Buy

TL-WR1043ND won "The Best Buy" award from PC World in Bulgaria.

2011, Bulgaria

Best-design

TL-WR1043ND won "Best-design" award from PC Station Magazine in Hongkong, China.

2011, Hongkong, China

Real Flow

TL-WR1043ND received "Real Flow" certification from Network Benchmarking Lab in Taiwan of China.

2011, Taiwan of China

Redactietip

TL-WR1043ND has received the award of "Redactietip" from Computer totaal

2011, Netherlands

Beste draadloze router

TL-WR1043ND has received the award of "Beste draadloze router" from PC MAG

2011, Netherlands

Best reviewed

TL-WR1043ND has received the award of"Best reviewed" from Kieskeurig.nl

2011, Netherlands

Best reviewed

TL-WR1043ND has received the award of "Best reviewed" from Best reviewed.

2011, Netherlands

Best reviewed

TL-WR1043ND has received the award of "Best reviewed" from Kieskeurig.nl

2011, Netherlands

Price Tip

TL-WR1043ND won "Price Tip" award from CHIP Test & Kauf in DE.

2012, Germany

TOP PRODUCT

TL-WR1043ND receives TOP PRODUCT-award from PC World in Czech Republic-2012

2012, Czech Republic

Price Tip

TL-WR1043ND receives "Price Tip" award from "Počítač pro každého" magazine in Czech Republic

2012, Czech Republic

Five Stars

TL-WR1043ND Won Five stars from PC Magazine Russian edition in Russia

2012, Russia

Excellent Product

TL-WR1043ND receives "Excellent Product" award from PC GUIA magazine in Portugal

2012, Portugal

Best on Test

TL-WR1043ND Wins Best on Test from Computer Active in India-2012

2012, India

Five Star

TL-WR1043ND got Five Star award from PC Magazine in Russia

2012, Russia

Product of the Year

TL-WR1043ND received "Product of the Year " from Benchmark.pl in Poland

2012, Poland

Best reviewed

TL-WR1043ND has received the award of "Best reviewed" from Kieskeurig.nl

2012, Netherlands

Best reviewed

TL-WR1043ND has received the award of "Best reviewed" from Kieskeurig.nl

2012, Netherlands

Best reviewed

TL-WR1043ND has received the award of "Best reviewed" from Kieskeurig.n

2012, Netherlands

Best reviewed

TL-WR1043ND has received the award of "Best reviewed" from Kieskeurig.nl

2012, Netherlands

Best reviewed

TL-WR1043ND has received the award of "Best reviewed" from Kieskeurig.nl

2012, Netherlands

Beste netwerkapparatuurfabrikant

TL-WR1043ND has received the award of "Beste netwerkapparatuurfabrikant" from Tweakers

2012, Netherlands

TL-WR1043ND

TL-WR1043ND has received the "Best reviewed" from Hardware.info

2013, Netherlands

Best reviewed

TL-WR1043ND has received the "Best reviewed" from Hardware.info

2013, Netherlands

Best reviewed

TL-WR1043ND has received the "Best reviewed" from Kieskeurig.nl

2013, Netherlands

Best reviewed

TL-WR1043ND has received the "Best reviewed" from Kieskeurig.nl

2013, Netherlands

Best reviewed

TL-WR1043ND has received the award of "Best reviewed" from Kieskeurig.nl

2013, Netherlands

Silver Award

TL-WR1043ND has received the "Silver Award" from Hardware.info

2015, Netherlands
Abonneer
TP-Link hecht veel waarde aan privacy. Voor meer informatie over ons privacybeleid kan je onze Privacy Policy bekijken.
Krijg updates over nieuwe producten, samenwerkingen en ander interessant nieuws