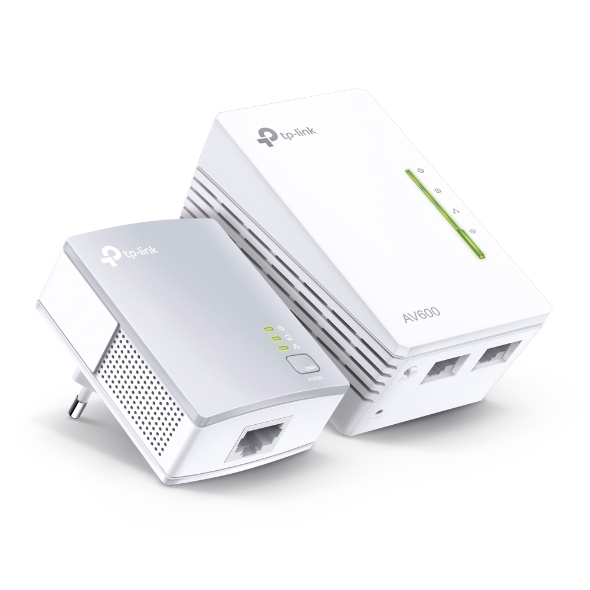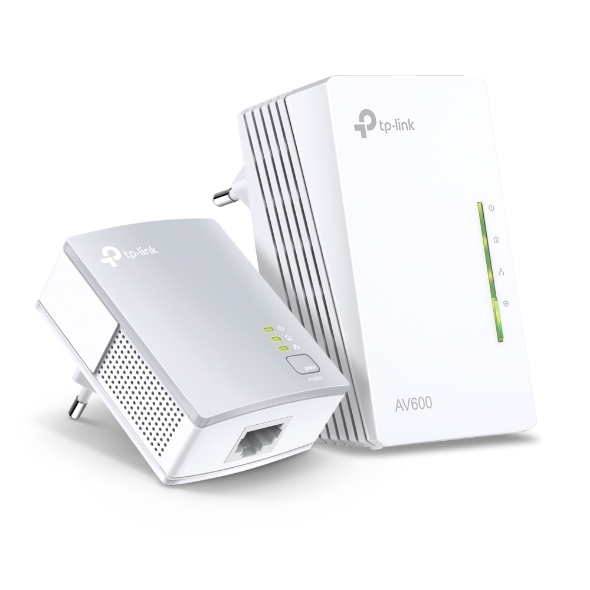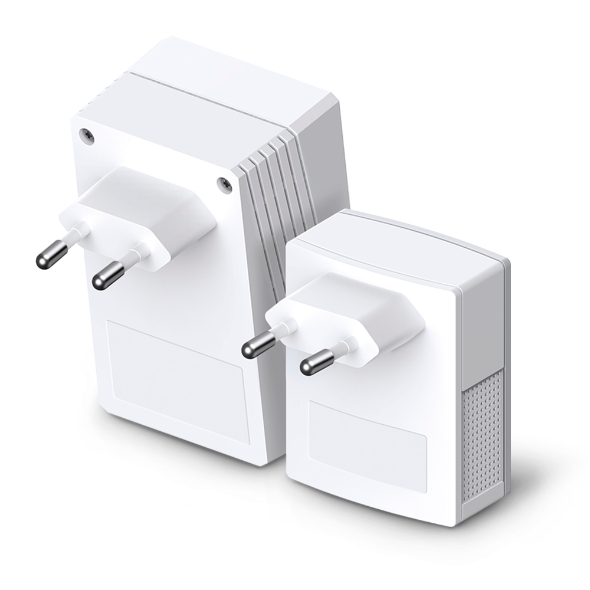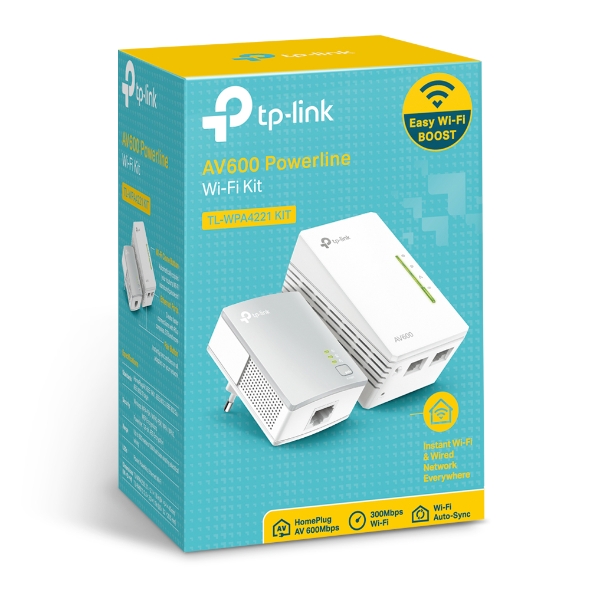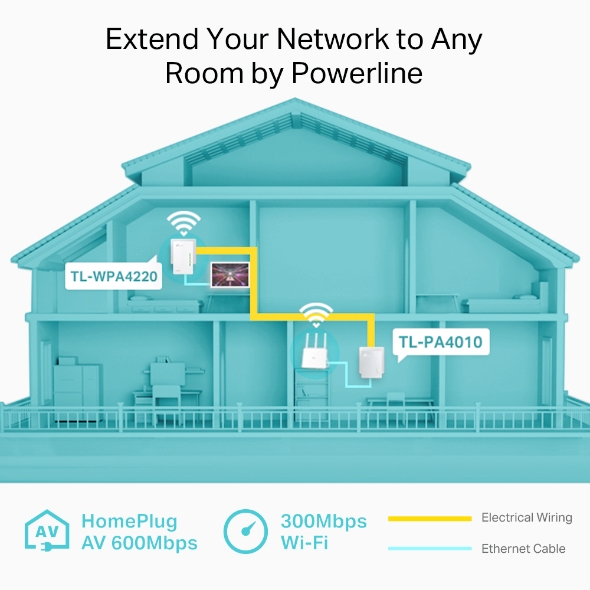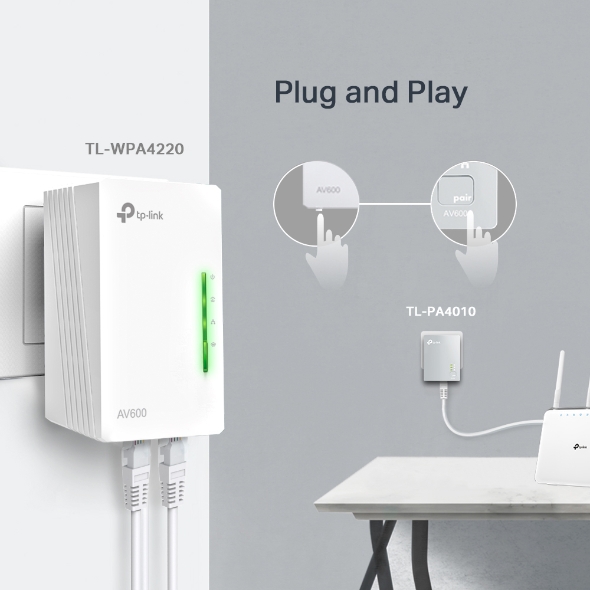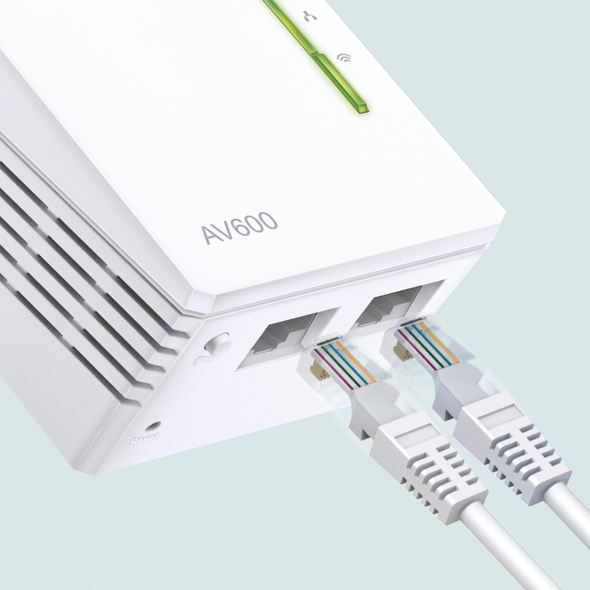 TL-WPA4221 KIT
300Mbps AV600 Wifi Powerline-extender Starterskit
De HomePlug AV-standaard levert tot 600 Mbps1 overdrachtssnelheden via het bestaande stroomnet, ideaal voor het lag-vrij streamen van HD- of 3D-video's en online gamen
Breid 300 Mbps draadloze verbindingen uit naar moeilijk te bereiken plaatsen in huis of op kantoor
Uitbreiding door een druk op de knop - De Wifi Clone-knop vereenvoudigt de configuratie en helpt om een naadloos en uniform thuisnetwerk te creëren
Plug & Play: geen configuratie nodig
Bedraad of draadloos?Waarom niet allebei!

De ideale oplossing voor thuisnetwerken
300Mbps AV600 Wifi Powerline-
extender Starterskit
TL-WPA4221 KIT
Wifi Auto-Sync voor een
uniform wifi-network
Wifi Auto-Sync creëert een simpele, intuïtieve powerline ervaring. Door op de Wifi Clone-knop te drukken, kopieert u meteen uw netwerknaam en -wachtwoord van uw router voor een eenvoudige installatie. Wifi Move past automatisch instellingen toe binnen het netwerk. Uw bestaande wifi-instellingen zullen automatisch worden gesynchroniseerd naar de nieuwe extender.
Breid uw Powerline-netwerk uit naar iedere kamer
Dankzij de Powerline-technologie wordt de uitbreiding van uw netwerk nooit meer beperkt door de minimale dekking van uw router. Door de geavanceerde HomePlug AV2 levert de TL-WPA4221 KIT stabiele en supersnelle overdrachtssnelheden tot wel 600 Mbps met een bereik tot 300 meter. Breid het netwerk uit naar iedere plek met een stopcontact.
HomePlug
AV 600 Mbps 300 Mbps
wifi
Plug and Play!
Steek de TL-PA4010 in het stopcontact en sluit deze met een ethernetkabel aan op de router. Steek vervolgens de TL-WPA4220 in het gewenste stopcontact. En klaar ben je! Geniet vervolgens van een naadloos en zeer snel draadloos en bedraad netwerk.
Druk vervolgens op iedere adapter op de pair-knop om een veilig netwerk tot stand te brengen.
* Powerline-adapters moeten op hetzelfde stroomnet worden aangesloten.
Koppelen
Koppelen
Beheer Powerline via uw smartphone
Met het tpPLC-hulpprogramma en de tpPLC app kunt u heel eenvoudig vanaf ieder iOs- of Android-apparaat het draadloze netwerk beheren, schema's instellen voor de beschikbaarheid van wifi en zelfs de ledlampjes van uw adapters beheren. De tpPLC app is beschikbaar voor iOS en Android. U kunt het intuïtieve nieuwe tpPLC hulpprogramma voor uw pc downloaden op www.tp-link.com/en.
Functionaliteit van de Hardware
Stekkertype
EU, AU
Standaarden en protocollen
HomePlug AV, IEEE802.3, IEEE802.3u, IEEE802.11b/g/n
Interface
2*10/100 Mbps ethernetpoort


Knop
Pair-knop, reset-knop, wifi/wifi clone-knop
Energieverbruik
Maximaal: 7,608 W (220 V/50 Hz)
Normaal: 7,216 W (220 V/50 Hz)
Stand-by: 4,610 W (220 V/50 Hz)
LED-Indicator
PWR, PLC, ETH, Wifi/Wifi Clone
Afmetingen ( B x D x H )
54×40×94 mm
BEREIK
300 meter over het stroomnet
Compatibility
Compatible with all HomePlug AV & AV2 standard powerline adapters
Transmission Speeds
Powerline: up to 600 MbpsEthernet: 10/100 Mbps
Draadloze Functies
Frequentie
2.4-2.4835 GHz
Overdrachtssnelheid
11n: tot 300 Mbps (dynamisch)
11g: tot 54 Mbps (dynamisch)
11b: tot 11 Mbps (dynamisch)
Ontvangstgevoeligheid
270M: -68 dBm@10% PER
130M: -68 dBm@10% PER
108M: -68 dBm@10% PER
54M: -68 dBm@10% PER
11M: -85 dBm@8% PER
6M: -88 dBm@10% PER
1M: -90 dBm@8% PER
Draadloos Zendvermogen
CE:<20 dBm (2.4 GHz)
FCC:< 30dBm
Draadloze Beveiliging
64/128-bits WEP / WPA / WPA2,WPA-PSK / WPA2-PSK
Geavanceerde Functies
Draadloze radio in- en uitschakelen, WMM, draadloze statistieken
Functionaliteit van de Software
Management
TP-Link tpPLC AppOr download new tpPLC Utility on PCs: www.tp-link.com/support/download.
Modulatietechnologie
OFDM (PLC)
Encryptie
Powerline-beveiliging:
128-bits AES
Draadloze beveiliging:
WEP, WPA/WPA2, WPA-PSK/WPA2-PSK-encryptie
Overige
Certificatie
CE, FCC, RoHS
Pakketinhoud
Powerline ethernetadapter TL-WPA4220 & TL-PA4010
Ethernetkabel (2 m) (RJ45)
Resource-cd
Snelle installatiegids
Systeemvereisten
Windows 10/8.1/8/7/Vista/XP, Mac OS, Linux
Omgeving
Gebruikstemperatuur: 0°C~40℃
Bewaartemperatuur: -40°C~70℃
Rel. luchtvochtigheid gebruik: 10%~90%, niet-condenserend
Rel. luchtvochtigheid bewaren: 5%~90%, niet-condenserend
De theoretische, maximale overdrachtssnelheid is afgeleid van de specificaties van HomePlug AV. De actuele overdrachtssnelheid zal per netwerkomgeving variëren door factoren als: afstand, netwerkverkeer, storing door elektriciteitskabels, bouwmateriaal en -constructie, kwaliteit van de elektrische installatie enz.
AbonneerTP-Link hecht veel waarde aan privacy. Voor meer informatie over ons privacybeleid kan je onze Privacy Policy bekijken.
Krijg updates over nieuwe producten, samenwerkingen en ander interessant nieuws
From United States?
Check products and services for your region.