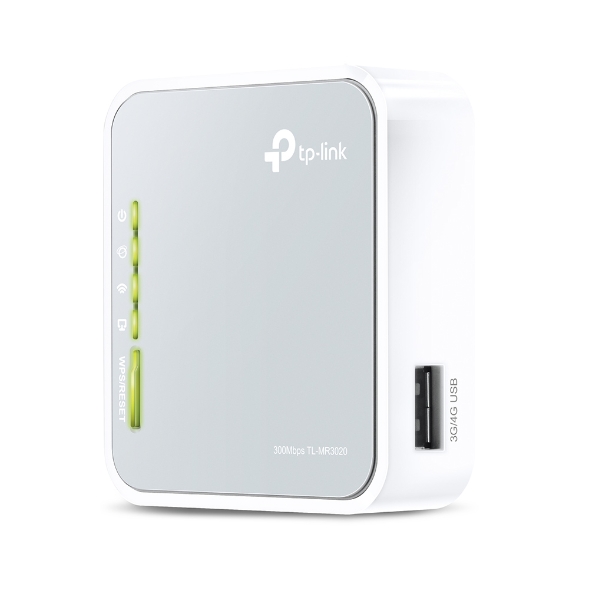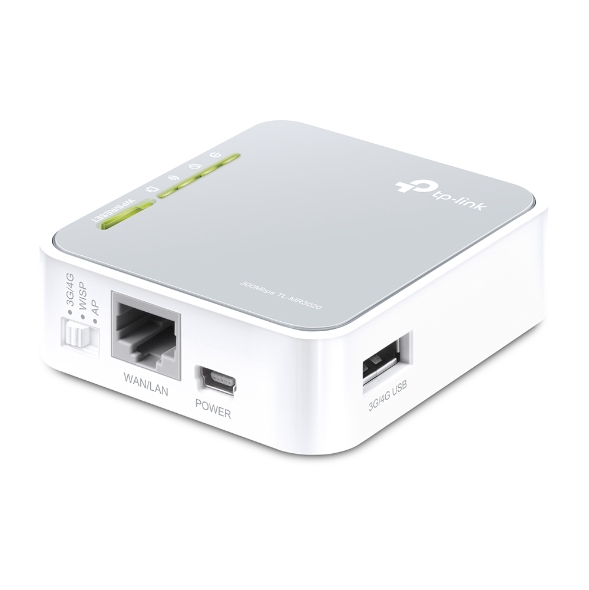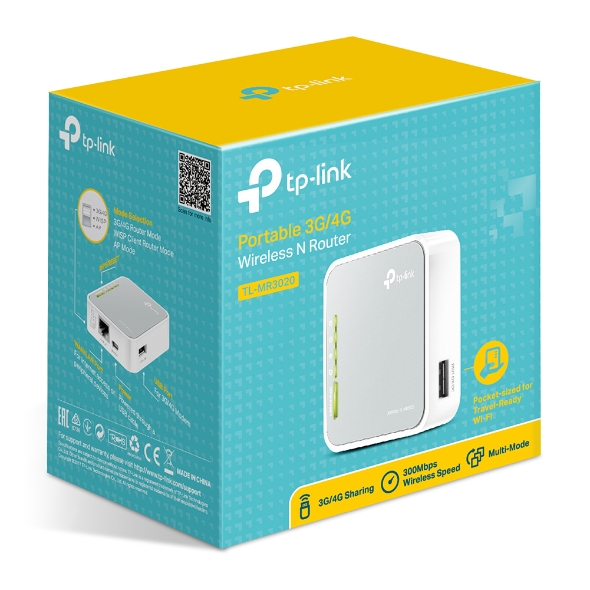 TL-MR3020
Draagbare 3G/4G Draadloze N-router
Sluit de 3G/4G usb-modem aan om je wifi-verbinding te delen. Compatibel met veel apparaten dankzij jarenlange tests

Draagbaar en stijlvol apparaat biedt draadloze verbindingen tijdens zakenreizen of gezinsvakanties

300 Mbps is genoeg voor alledaags gebruik

Met één knop wissel je tussen de modi 3G/4G, access point en WISP zodat je overal internettoegang hebt

Voeding is mogelijk via de usb-poort van een laptop, een usb-netadapter of een smartphonelader

3G/4G en WAN failover backup-strategie zorgt dat de TL-MR3020 een stabiele internetverbinding blijft leveren
Zet overal een eigen
wifi-hotspot op!
Draagbare 3G/4G Draadloze N-router
TL-MR3020
Reisrouter met 3G/4G-functie
Sluit een 3G/4G usb-dongle aan om je eigen wifi-spot te creëren. De TL-MR3020 is uitgebreid getest zodat hij compatibel is met meer dan 120 3G/4G usb-modems (LTE/HSPA+/HSPA/UMTS/EVDO) zodat je overal gebruik kunt maken van snelle, stabiele internetverbindingen.
Ondersteunt 120+
3G/4G usb-modems
LTE/HSPA+/HSPA/UMTS/EVDO
Klein design
De TL-MR3020 is ongeveer net zo groot als een bankpasje en neem je zo mee in je zak. Neem hem mee tijdens gezinsvakanties, lange reizen of zakenreizen. Zo geniet je nog meer van je reis!
1. Routermodus

Maak verbinding met ethernet en creëer in een mum van tijd een draadloos privénetwerk voor al je wifi-apparaten.

Internet

TL-MR3020

Tablets

Laptops

2. Access point-modus

Maak van jouw bestaande bedrade netwerk een draadloos netwerk.

Internet

Ethernetpoort

TL-MR3020

Telefoons

Laptops

3. Repeater/bridge-modus

Breid jouw bestaande draadloze netwerk uit of maak je internetverbinding stabieler met behulp van een ethernetkabel.

Internet

Hostrouter

TL-MR3020

Telefoons

Desktop

4. WISP-modus

Maak draadloos verbinding met het ISP-netwerk in gebieden zonder bedraad internet.

WISP

TL-MR3020

Tablets

Laptops
Ondersteunt tegelijkertijd tot 32 apparaten
De TL-MR3020 levert snelheden tot 300 Mbps voor de veeleisendste netwerktoepassingen, zoals het streamen van HD-beelden, online gamen en het downloaden van grote bestanden. Dit supercompacte apparaat levert betrouwbare wifi-verbindingen op maximaal 32 draadloze apparaten, zoals tablets, laptops en telefoons. Perfect als je de internetverbinding moet delen tijdens een zakelijk congres of een feestje.
Flexibele voeding — eenvoudig overal opladen
Met de ingebouwde micro usb-poort steek je de TL-MR3020 in je laptop, smartphonelader, voedingsadapter of powerbank om de router op te laden.
Gevoed door een
voedingsadapter
Gevoed door een
smartphonelader
Gevoed door een usb-poort
Gevoed door een voedingsadapter
Functionaliteit van de Hardware
Interface
1 WAN/LAN-poort (10/100 Mbps), usb 2.0-poort voor 3G/4G-modem, micro usb-poort voor de voeding.
Knop
Resetknop, modusknop
Afmetingen ( B x D x H )
74 x 67 x 22 mm
Type Antenne
Interne antenne
Draadloze Functies
Standaarden voor Draadloze Netwerken
IEEE 802.11n, IEEE 802.11g, IEEE 802.11b
Frequentie
2.4-2.4835 GHz
Draadloos Zendvermogen
<20 dBm
Draadloze Modi
3G-router, reisrouter (access point), WISP-clientrouter
Draadloze Beveiliging
Ondersteunt 64/128-bits WEP, WPA-PSK/WPA2-PSK, draadloos MAC-filter
Functionaliteit van de Software
Veiligheid
Firewall, MAC-filter, Denial of Service (DoS)
DHCP
Server, DHCP-clientlijst, adresreservering
Poort Doorsturen
Virtule server, Port Triggering, DMZ, UPnP
Toegangsbeheer
Ouderlijk toezicht, hostlijst, toegangsschema, regelbeheer
Overige
Certificatie
CE, FCC, RoHS
Pakketinhoud
TL-MR3020 router, snelle installatiegids, usb-kabel, ethernetkabel
Systeemvereisten
Microsoft® Windows® 98SE, NT, 2000, XP, Vista™ of Windows 7, 10, MAC® OS, NetWare®, UNIX® of Linux.
Omgeving
Gebruikstemperatuur: 0°C~40℃
Bewaartemperatuur: -40°C~70℃
Rel. luchtvochtigheid gebruik: 10%~90%, niet-condenserend
Rel. luchtvochtigheid bewaren: 5%~90%, niet-condenserend

Awards

Good Product

TL-MR3020 Receives "Good Product" Award from Benchmark.PL. in Poland

2012, Poland

Super Design

TL-MR3020 Receives "Super Design" Award from Benchmark.PL. in Poland

2012, Poland

Super Mobility

TL-MR3020 Receives "Super Mobility" Award from Benchmark.PL. in Poland

2012, Poland

Editor's Choice

TL-MR3020 Wins Editor's Choice from 3DNews in Russia

2012, Russia

9 stars

TL-MR3020 receives 9 stars out of 10 from Komputer for Alle Magazine in Denmark.

2012, Denmark

Recommend

TL-MR3020 receives anbefaler from Alt om DARA in Denmark

2012, Denmark

Best Buy

TL-MR3020 receives Best Buy award from ComputerBild in Russia

2012, Russia

Best Value

TL-MR3020 gained "Best Value" award from magazine PC Market in Hongkong, China.

2012, Hongkong, China

Mac User awards

TL-MR3020 wins the "Mac User" awards in UK

2012, UK
*Maximale draadloze signaalfrequentie op basis van specificaties van de IEEE 802.11-standaard. De werkelijke draadloze gegevensdoorvoer, het draadloos bereik en aantal verbonden apparaten kunnen niet gegarandeerd worden en variëren op basis van netwerkomstandigheden, clientbeperkingen en omgevingsfactoren met inbegrip van bouwmaterialen, obstakels, omvang en dichtheid van het verkeer en locatie van de client.
AbonneerTP-Link hecht veel waarde aan privacy. Voor meer informatie over ons privacybeleid kan je onze Privacy Policy bekijken.
Krijg updates over nieuwe producten, samenwerkingen en ander interessant nieuws
From United States?
Check products and services for your region.