Upgrading Your Network to WiFi 6E
WiFi 6E products are finally making their debut on the market. But before you go out and grab a WiFi 6E device, there are a few things you should know.
What is WiFi 6E?
Technically, WiFi 6E is an extension of WiFi 6 (hence the E). So, think of it as WiFi 6+.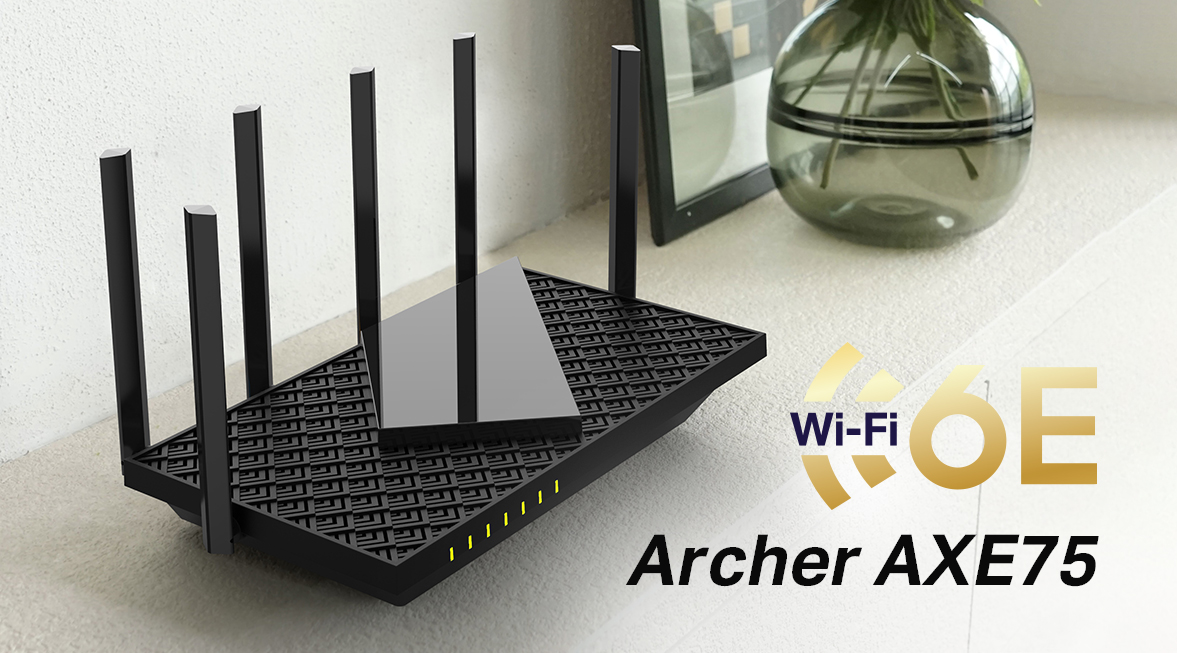 Before WiFi 6E, previous WiFi generations only used the 2.4 GHz and 5 GHz bands. WiFi 6E on the other hand, introduces home networks to the 6 GHz spectrum. Whereas older channels are congested with legacy devices, 6 GHz exists without overlap or interference.
Why 6 GHz?
It's been more than a decade since 5 GHz was released. And during that time, we've seen an explosion of wireless devices hitting the market every year.
By 2025, estimates point to around 100 billion internet connections worldwide. Add in the Internet of Things, the rise of Virtual Reality (VR) and Augmented Reality (AR), and other future technologies, 2.4 and 5 GHz just won't cut it.
Given the state of things to come, a new, open spectrum is needed to solve the problem of high usage, more devices, and increased data traffic.
Should You Upgrade to WiFi 6E?
Honestly, WiFi 6E is still in its infancy. So, there are some things you should consider before making the switch.
First, make sure the 6 GHz band is not prohibited by regulations in your area. Spectrum is an important resource. In different countries and regions, there may be variations in the allocation of the 6 GHz band.
Second, make sure both your router and devices support 6 GHz WiFi. Wireless networks are always backward compatible. That's pretty good since it guarantees all your devices will work properly. However, your device's WiFi standard still matters. If you have a WiFi 6E router without any WiFi 6E clients, the 6 GHz band won't be of any use.
Furthermore, check with your device's vendor if the WiFi 6E product requires a certain operating system. To get the full use out of your Archer TXE75E WiFi 6E adapter, for instance, we recommend using Windows 11 (x64) or the latest build available in the Dev Channel on Windows 10 (x64).
Does TP-Link have a WiFi 6E Solution?
Yes! TP-Link has just launched WiFi 6E products that include a router (Archer AXE75E) and a network adapter (Archer TXE75E). Remember though, to benefit from WiFi 6E, both the transmitter and the receiver need to support WiFi 6E.
Devices Available With WiFi 6E
Archer AXE75: AXE5400 Tri-Band Gigabit WiFi 6E Router
Equipped with a powerful chip, Archer AXE75 enables users to enjoy future innovations like AR/VR, multiple 8K streaming and more. With 5400 Mbps WiFi 6E,Archer AXE75 is able to meet the most needs of high-speed data transmission and high bandwidth applications. You can enjoy 4K/8K movies without buffering and a more vivid VR/AR experience with 8K streaming.
Archer AXE75 future-proofs your home networks by providing a higher capacity of up to 200+ connected devices. Advanced technologies like OFDMA raises the connection capacity in high-density scenarios, making your WiFi stronger by allowing multiple clients to share tri-band at the same time, utilizing the most radio space to maximize network capacity.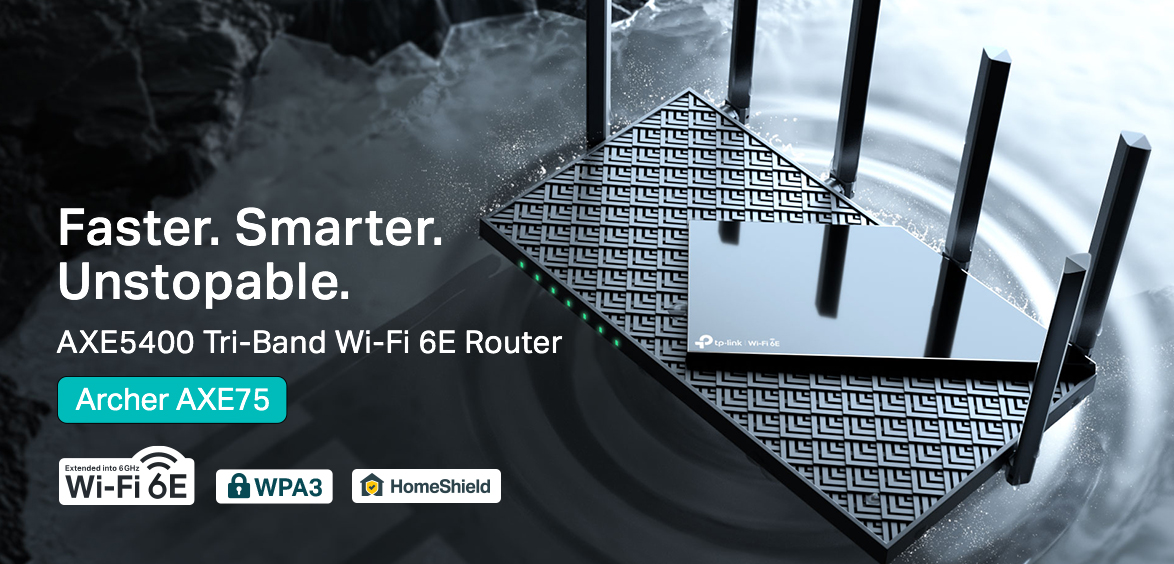 Deco XE75: AX5400 Smart Home Mesh WiFi 6E System
Benefitting from WiFi 6E, it delivers blazingly fast tri-band WiFi with 1024-QAM and 160 MHz channel technology, boosting overall speeds up to an incredible 11,000 Mbps. Enhance your whole home coverage up to 6,500 sq. ft/200 m2 (2-pack products) with a capacity of over 200 devices.
Higher simultaneous transmissions with 16× high-gain antennas, bring more data encoded at one time. Furthermore, Deco XE200 has better wired performance with multi-gigabit WAN/LAN ports, allowing you to take full advantage of your broadband speed. A 10 Gbps port enables ultra-fast 10G networking for studios and Ethernet enthusiasts.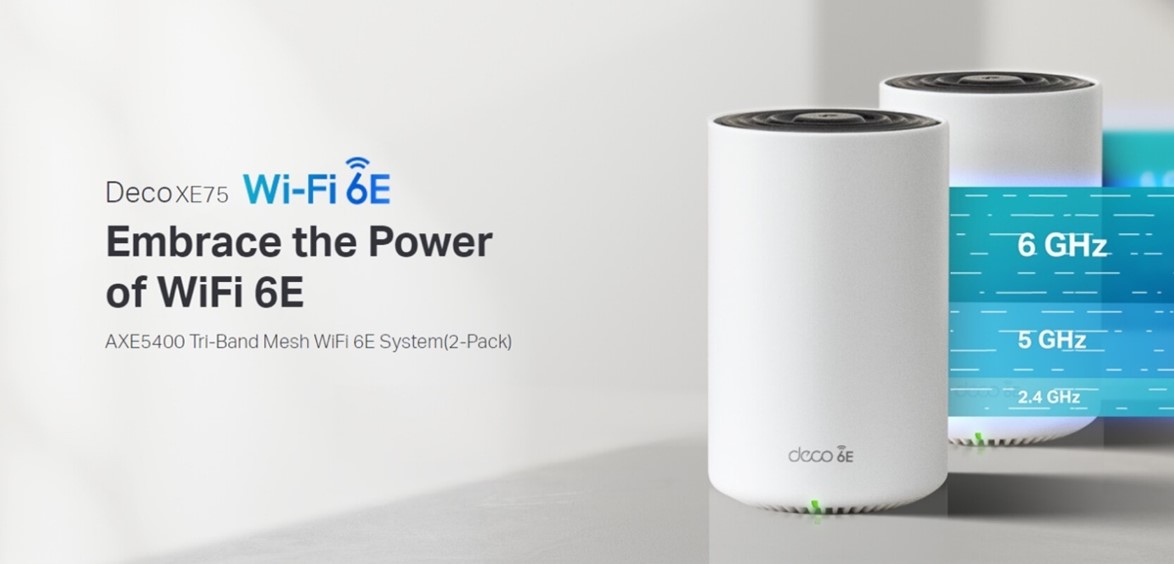 Archer TXE75E: AXE5400 WiFi 6E Bluetooth 5.2 PCIe Adapter
You can now easily upgrade an existing computer into a WiFi 6E device without waiting or paying for a new setup with TP-Link's first WiFi 6E PCIe network adapter, Archer TXE75E. By installing the new Archer TXE75E, your PC will benefit from the brand-new, exclusive 6 GHz band, which is wide enough for 7 extra 160 MHz channels. That's why Archer TXE75E delivers faster and clearer WiFi with its equipped 1024-QAM and MU-MIMO technology.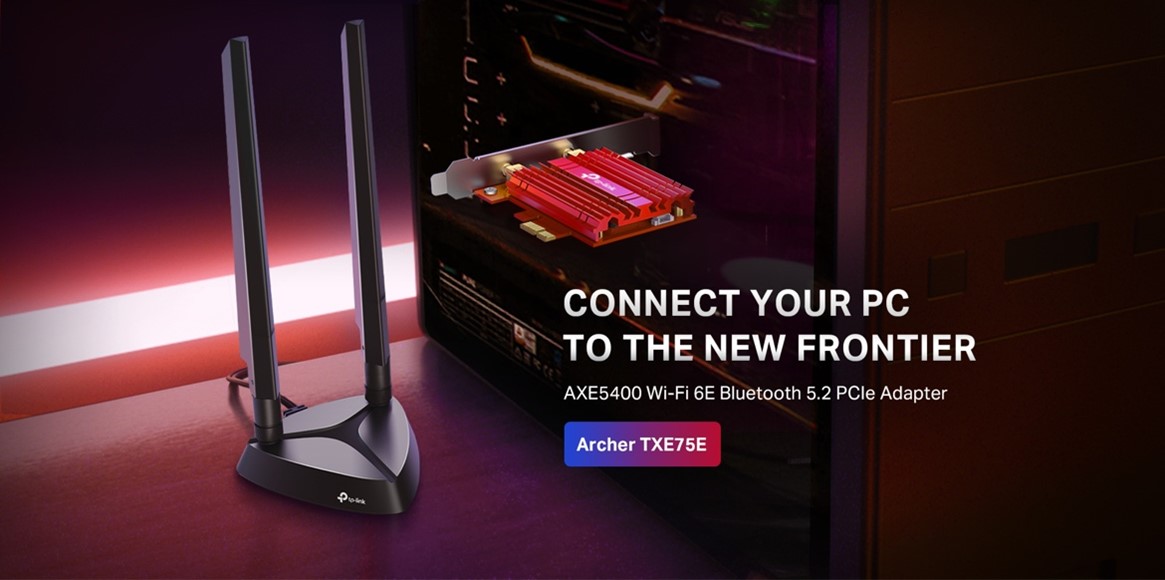 From United States?
Get products, events and services for your region.