How To Use Wi-Fi Cameras at Home To Keep an Eye On Your Babies
As working parents, it's natural to worry about your children (and pets) when you're away working. This also extends to constantly keeping a watchful eye on them, especially when you're missing them a little too much. Unfortunately, not all of us have the luxuries of working from home day in and day out, so what's the next best alternative? Wi-Fi Cameras, of course!
Wi-Fi Cameras are vital for baby monitoring, and even better, they're relatively easy to install. Whether you opt for a wired or wireless camera, it's important that you check the quality of the video (day or night) and how user-friendly the system is.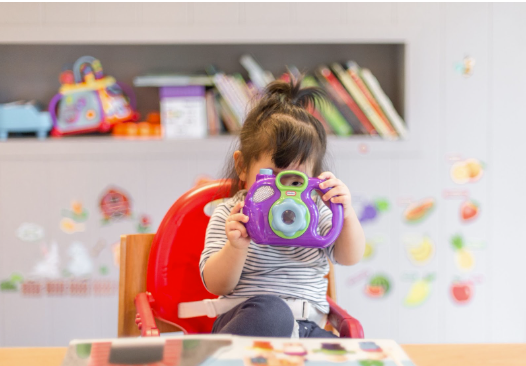 Imagine having a Smart AI babysitter looking after your kids!
Source: Unsplash
Once installed and everything is up and running, you'll be able to access live feeds straight from your smartphone via dedicated mobile apps. This also means that you can talk with your babies from afar in real time as if you were there! Some cameras even support two-way audio so both parties can have a conversation.
How do I install a Wi-Fi Camera?
Thankfully, with a WiFi camera system, you will no longer need to worry about a complicated power supply, video and power cables. The installation process of a wireless Wi-Fi Camera is relatively straightforward, and most models come with clear instructions. Typically, the first thing you'll want to do is decide where you'd like to position your camera. Keep in mind that any entry points should be within range of the camera's field of view, so it's always best to place them high up (this also makes it harder for intruders to reach).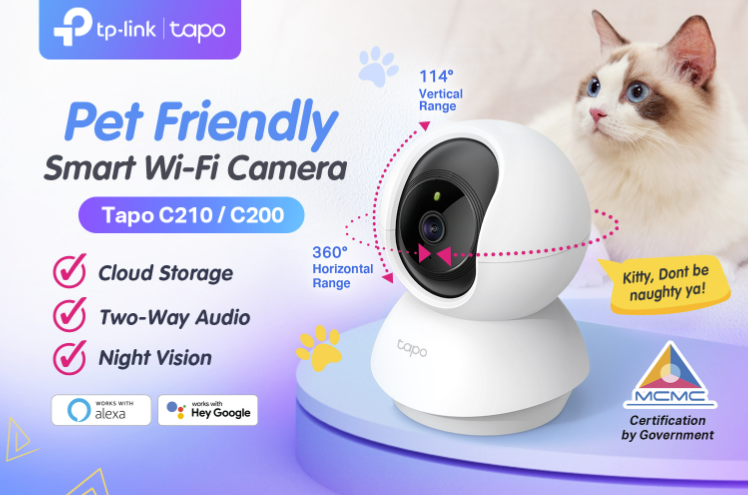 Having a security camera is no longer a want, it's a need!
Source: TP-Link
Depending on how many cameras you're installing, it may take some time to set up multiple feeds, but as long as all hardware components are connected properly, a Wi-Fi Camera installation will be seamless.
Once everything is in place and operational, don't forget to test out how far the wireless signal can go – this way, if you ever need remote access, you know how far the camera's signal will reach.
Which type of home Wi-Fi Camera should I buy?
Wireless Indoor Wi-Fi Camera
In terms of indoor Wi-Fi cameras, TP-Link would suggest to homeowners the Tapo C210 or the Tapo C110.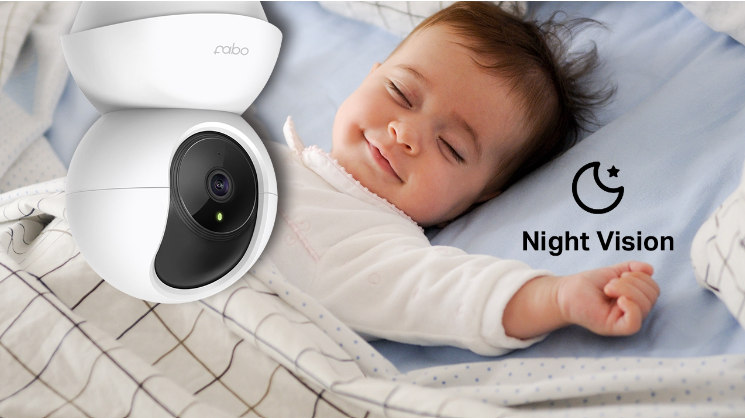 These two wireless indoor Wi-Fi cameras share several similarities, including a 1080p Full HD resolution, night vision capabilities, the ability to connect to the internet and be remotely accessed through the Tapo app, support for recording footage to a microSD card or to the cloud, and compatibility with Amazon Alexa and Google Assistant for voice control.
In terms of differences, the C210 is a cutting-edge device that provides homeowners with a secure and convenient way to keep an eye on their property. With its ultra-high-definition video, users can record every image with crystal-clear 3MP definition, ensuring that they never miss a detail. The camera also features pan and tilt capabilities, with a 360º horizontal range for complete coverage. Additionally, its advanced night vision allows for a visual distance of up to 30 ft, making it easy to monitor activity in low-light conditions.
The Tapo C110, on the other hand, is an excellent choice as a digital video recorder. Besides recording every image in ultra-high 3Mp definition, it also provides a visual distance at night of up to 30 feet.
As an additional safety feature, it comes equipped with motion detection and triggers light and sound effects to scare away any unwanted visitors.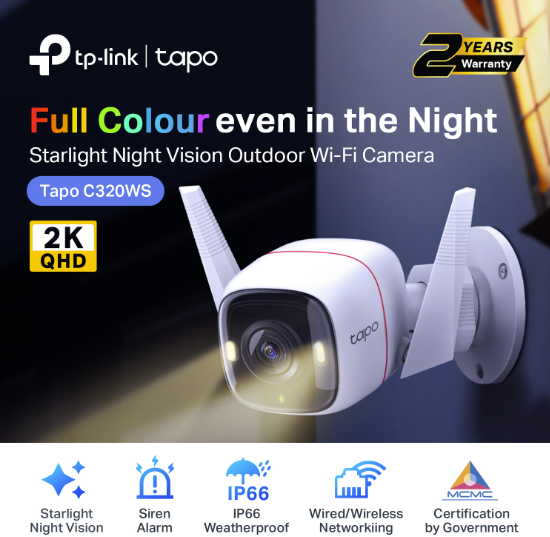 Tapo C320WS
When it comes to choosing a wireless outdoor Wi-Fi camera, TP-Link has a slew of options but today, we're gonna focus on the Tapo C320WS and the Tapo C310. Both cameras have motion detection and night vision capabilities (up to 98 ft), can be connected to the internet and remotely accessed through the Tapo app, support recording footage to a microSD card or to the cloud, and are compatible with Amazon Alexa and Google Assistant for voice control.
These features make both cameras reliable options for indoor security monitoring, with the Tapo C320WS recording every image in 4MP definition while the Tapo C310 records in crystal-clear 3MP definition. They offer added security with sound and light alarms alongside two-way audios as well. Believe it or not, these cameras can also be voice controlled!
The C320WS is a perfect addition to an outdoor Wi-Fi Camera, as you can opt for either wired or wireless networking. How? You can simply connect your camera to the network through Ethernet or WiFi for a more flexible installation. With a resolution of 2560x1440, QHD delivers more delicate detail and records every event outdoors and scares away any ill-meaning strangers. You can sleep in peace as the C320WS records in full colour even during the night time with high resolution. The device has the ability to store 4MP video footage of up to 256 GB on a microSD card, which allows for easy access to your recorded videos.
Finally, we have the C310 that allows you to receive instant notifications and check your feed when any motion is detected. Oh, and before you worry, the C310 is weatherproof, and the camera "weathers" even in harsh environments through rain and heat. It records during the night in black & white with full resolution and stores up to 128 GB 3MP video for convenient viewing.
Ultimately, Wi-Fi Cameras are great for keeping an eye on your babies when you're away from home – especially if you're a nervous parent. Check out TP-Link's wide selection of wireless security cameras and keep your family safe from today!

From United States?
Get products, events and services for your region.