Jan.2022

05
CES 2022 | TP-Link Unveils New Networking Technologies and Offerings, Making a Huge Leap Forward in Blazing-Fast Network Experience
SHENZHEN, China – Jan.5, 2022 – TP-Link®, a leading global provider of consumer and business networking products, has today unveiled its latest networking technologies and offerings. The Archer AXE200 Omni, the award-winning WiFi 6E router, boosts your WiFi speed to a new level. Deco XE200, with the leading WiFi 6E Mesh System incorporated, ensures reliable and robust WiFi throughout your home. Meanwhile, Smart Actions will power infinite synergies between your Tapo devices to suit your daily routines. TP-Link's 10G routers and switches, managed by the Omada SDN Controller, will also provide a direct and ultra-reliable network connection.
Tri-Band WiFi 6E Router with Mechanically Rotating Antennas
TP-Link, as always, has made every effort to develop products equipped with the most advanced WiFi technology. The AXE11000 Tri-Band WiFi 6E Router (Archer AXE200 Omni), a CES 2022 Innovation Awards Honoree§, is TP-Link's first WiFi 6E router. Archer AXE200 Omni features blazing-fast 11 Gbps WiFi and works on the 6 GHz band. It is also an excellent addition for the wired network with one 10G port and one 2.5G WAN/LAN port. As a result, you can take full advantage of your broadband speed.
Archer AXE200 Omni also comes with innovative mechanically rotating antennas. Rotating antennas can be automatically adjusted by the router or app instead of the manual adjustments required for traditional antennas. Antenna automation enhances both wireless signal transmission and user experience.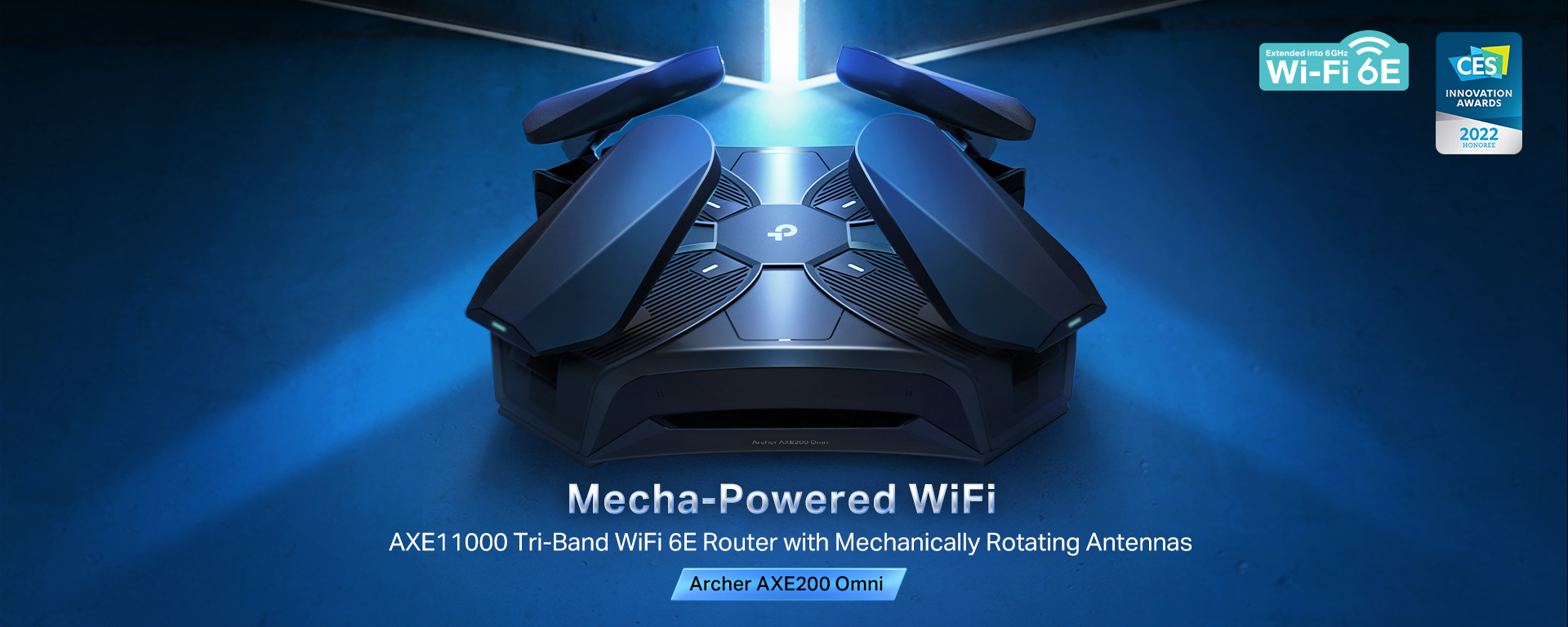 Deco XE200 with the AX11000 Whole-Home Tri-Band Mesh WiFi 6E System
Deco XE200 has incorporated the leading WiFi 6E Mesh System to deliver ultra-fast tri-band WiFi with 1024-QAM and 160 GHz channel up to an impressive speeds of up to 11,000 Mbps. It also greatly extends the WiFi coverage to 6500 sq. ft/m2 (2-pack products) with a capacity of over 200 devices. The sixteen high-gain antennas provide higher simultaneous transmission while also supporting multi-gigabit entertainment. Equipped with one 10 Gbps port and two Gigabit ports, it meets the needs of multi-gigabit entertainment like AR and VR.
Deco XE200 is also armed with AI-Driven Mesh technology. The advanced technology automatically learns and improves during use to continually provide a tailored Mesh WiFi that suits your needs and environment. With Deco XE200, seamless streaming and blazing-fast speed are always at your service.
Tapo Smart Actions Tailored to Your Own Needs
The ultimate goal of IoT devices is to make your life smarter, easier, and more secure. Tapo Smart Actions are here to help. The Tapo product line includes a variety of IoT devices, including smart switches, bulbs, and cameras. They work in synergy through the Smart Actions feature to meet your needs. With Smart Actions, you can set up customized life patterns and connections between devices. Triggered by motion or timer, your Tapo devices will perform the preset actions, freeing you from operating the devices one by one. With just one step, everything will be in order.
Deco Smart Antennas
TP-Link consistently seeks better solutions and develops technologies to improve the WiFi experience. Now, the upcoming Deco Smart Antennas will do the work. Built-in smart antennas can dynamically adjust antennas through over 256 antenna patterns. The intelligent algorithm will auto-detect Deco units within range and establish stronger backhaul between one another to deliver higher speed with better coverage. They unleash the most of WiFi potential by resisting interference, increasing speed, and widening WiFi coverage.
EasyMeshTM Enabling the Creation of a Whole-Home WiFi*
Based on the WiFi CERTIFIED EasyMesh™ standard, EasyMesh™ works as a whole-home WiFi solution between different access points to provide a stable and scalable wireless connection. TP-Link is now integrating EasyMesh™ in its routers and range extender. It allows you to build up a mesh network without replacing your existing EasyMesh™ devices. A set of EasyMesh™ products can extend the WiFi coverage in your home and eliminate dead zones. It also ensures that your network runs at optimal speed by selecting the optimal band, channel, and access points for your connection.
EasyMesh™ products go further to provide you seamless roaming when high speeds are guaranteed. All your EasyMesh™ routers and range extenders in your network share the same network name, and thus your devices will always stay connected when you are moving around.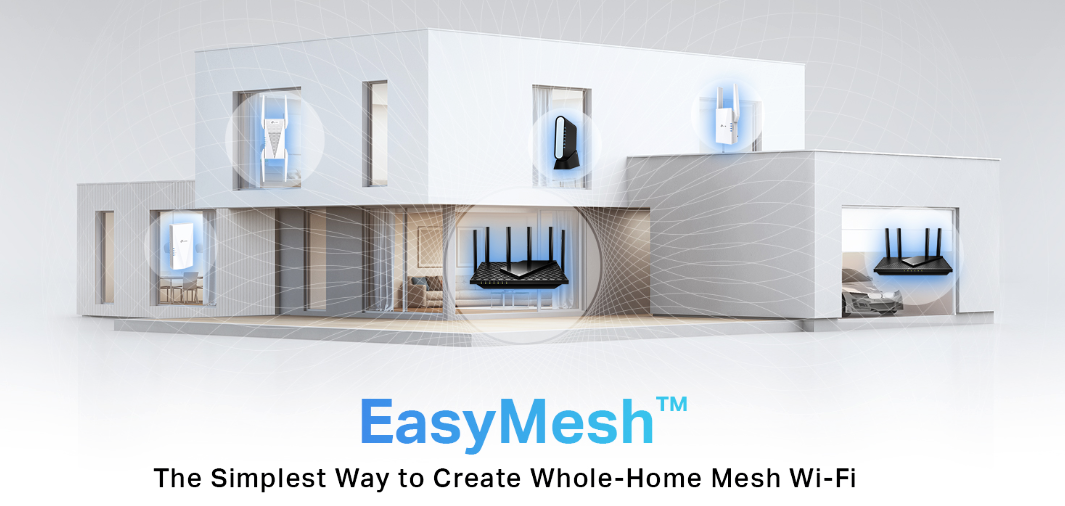 Note:
§The CES Innovation Awards are based upon descriptive materials submitted to the judges. CTA did not verify the accuracy of any submission or claims made and did not test the item to which the award was given.
*EasyMesh™ will be supported through firmware upgrades.
From United States?
Get products, events and services for your region.