Press Center
>
Blog
>
The Low-Down on WiFi 6E and Why You Need It
The Low-Down on WiFi 6E and Why You Need It

Ever suffered the mind-numbing wait for content to download? Then you'll want to know more about WiFi 6 and its big brother WiFi 6E.
Let's start with WiFi 6 or IEEE 802.11ax.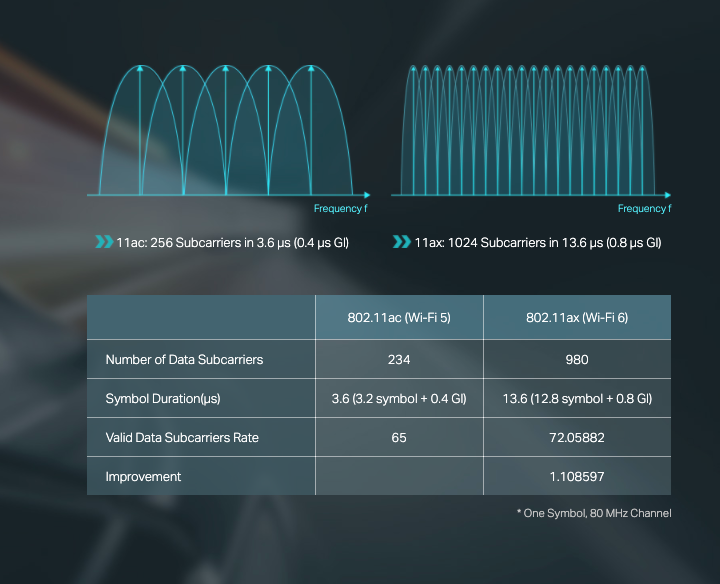 Here's what you need to know; it's packed full of performance-enhancing tech to make downloads silky smooth so more people can enjoy an online life at the same time.
AX - The Technical Stuff:
You can reach WiFi speeds up to 9.6Gbps
How? This latest WiFi standard uses 1024-QAM to pack more data into every second. This means there is less chance of Netflix buffering or suffering from lag when you play Overwatch or Minecraft. It also opens up the 160MHz channel to make your streaming even faster, making virtual reality a joy and 8K streaming crystal clear.

You can get x4 more capacity for even more connected devices
How? Combining the power of MU-MIMO, OFDMA, BSS Color, and 8x8 uplink/downlink, you can connect literally hundreds of devices to the same network at the same time without compromising performance. Perfect for all the best house parties.
E Is For Extend
OK, now we've established that WiFi 6 is the business; what's so special about WiFi 6E?
The letter 'E' stands for 'Extended' - a clear indicator that the bandwidth has been extended to include the 6GHz channel. Yep – more jargon. What's so special about the 6GHz channel? Basically, it quadruples the amount of airwaves an additional 14 x 80MHz channels and 7 x 160MHz channels, so you get less interference and an even better online experience.
In practical terms, expanding the spectrum means latency drops to less than 1 millisecond. Yep, that's right – gaming Nirvana where all your keyboard commands and mouse clicks are nearly instantaneous.
Like the sound of WiFi 6E? If you want mind-blowing WiFi performance, then you'll need to upgrade your router so that it's capable of broadcasting on the 6GHz channel. The flagship tech exhibition, CES, this year was full of announcements about WiFi 6E and WiFi 6E compatible devices, and we are no exception. This year we announced 4 WiFi 6E routers that will be hitting online and high street stores near you in the coming weeks and months.
What a sneak peek into the new range? From easy to implement and manage mesh, whole-home solutions to a 10Gbps Archer router for the most serious home offices or avid gamers.
AX5400 Whole Home Mesh WiFi 6E System with Smart Hub -- Deco X76 Plus operates on the 6 GHz Band, providing speeds of up to 5400 Mbps with Tri-Band WiFi. Equipped with a built-in Smart Hub allows you to bring all your devices together in one simple to use app. Additional features include AI-Driven Mesh, Seamless Roaming and TP-Link HomeShield, offering security for your network and smart devices.
AX7800 Tri-Band WiFi 6E Router -- Archer AX96 drives overall speeds up to an incredible 7800 Mbps with Tri-Band WiFi. Archer AX96 features a 6 GHz band for dedicated WiFi 6E, enabling a seamless 6 GHz band for uninterrupted connectivity.
AX7800 Whole Home Mesh WiFi 6E System -- Deco X96 operates on the 6 GHz Band, a newly opened frequency that brings more bandwidth and lower latency. Overall speeds reach an incredible 7800 Mbps with Tri-Band WiFi. The Deco X96's AI-Driven Mesh learns your network environment so it is able to provide you with ideal WiFi, especially for your home.
AX11000 Tri-Band WiFi 6E Router with 10G Ports -- Archer AX206 is the ultimate 10G Router with fast WiFi speeds up to 10 Gbps, along with unprecedented and flexible Multi-Gig. 1× 10 Gbps WAN/LAN SFP+ port, 1× 10 Gbps WAN/LAN port, and 1× 2.5 Gbps WAN/LAN port enable ultra-fast 10G networking for studios and Ethernet enthusiasts.
Want to be the first know when you can get your hands on WiFi 6E routers? Sign up to our email below and we'll let you know as soon as the'[1]
Sign up for news & offersTP-Link takes your privacy seriously. For further details on TP-Link's privacy practices, see TP-Link's Privacy Policy.
From United States?
Check products and services for your region.