วิธีกำหนดค่าเราเตอร์ TP-Link Wi-Fi ให้ทำงานกับโมเด็ม DSL (UI สีฟ้าที่ออกแบบใหม่)
คำถามที่พบบ่อยนี้เหมาะสำหรับผู้ใช้ที่ใช้บริการ PPPoE ด้วยชื่อผู้ใช้และรหัสผ่านที่ได้รับจาก DSL / โทรศัพท์ ISP หากคุณกำลังใช้เคเบิล/ ไฟเบอร์โมเด็มโปรดข้าม
ขั้นตอนที่ 1 การเตรียมการ
· ตรวจสอบให้แน่ใจว่า ISP ได้ให้บริการบรอดแบนด์อินเทอร์เน็ต (PPPoE) กับคุณแล้ว
· โปรดเชื่อมต่อเราเตอร์กับคอมพิวเตอร์ที่ใช้เชื่อมต่อโดยตรงกับโมเด็มของคุณ
· ใช้พอร์ต Ethernet บนโมเด็มเท่านั้น หากคุณใช้การเชื่อมต่อ USB ก่อนที่จะใช้เราเตอร์ให้ถอดสายเคเบิล USB และเชื่อมต่อสายเคเบิลอีเธอร์เน็ตเข้ากับพอร์ต WAN ของเราเตอร์
· ตรวจสอบให้แน่ใจว่าคุณได้ปิดการใช้งานหรือถอนการติดตั้งซอฟต์แวร์การโทร PPPoE ส่วนที่สามอื่น ๆ เช่น WinPoet, Broadjump หรือ Enternet 300 จากคอมพิวเตอร์ของคุณไม่เช่นนั้นคุณจะไม่สามารถเชื่อมต่ออินเทอร์เน็ตได้ ผู้ให้บริการอินเทอร์เน็ตบางรายยังจัดเตรียมซอฟต์แวร์การเรียกเลขหมาย PPPoE ที่คล้ายกัน
ขั้นตอนที่ 2 เชื่อมต่อเครือข่ายของคุณ
1 . เชื่อมต่อพอร์ต WAN ของเราเตอร์เข้ากับพอร์ต LAN ของโมเด็ม DSL ของคุณด้วยสายอีเธอร์เน็ต
2 . เชื่อมต่อสายโทรศัพท์ (สาย DSL) เข้ากับพอร์ต Line ของโมเด็ม DSL ของคุณ
3 . เชื่อมต่อคอมพิวเตอร์ของคุณเข้ากับพอร์ต LAN หนึ่งพอร์ตของเราเตอร์ TP-Link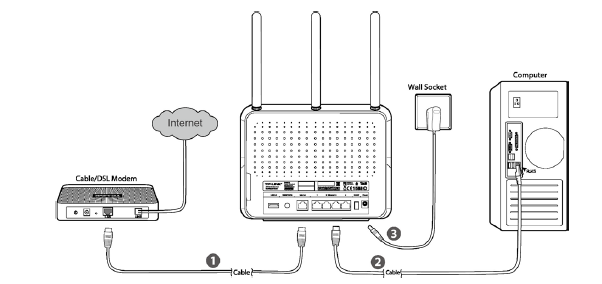 ขั้นตอนที่ 3 เข้าสู่ระบบ ไปยัง หน้าการจัดการเว็บ
ขั้นตอนที่ 4 การกำหนดค่า
( 1 ) หลังจากเข้าสู่เราเตอร์คุณจะเห็น Quick Setup→choose the Region and Time Zone→Next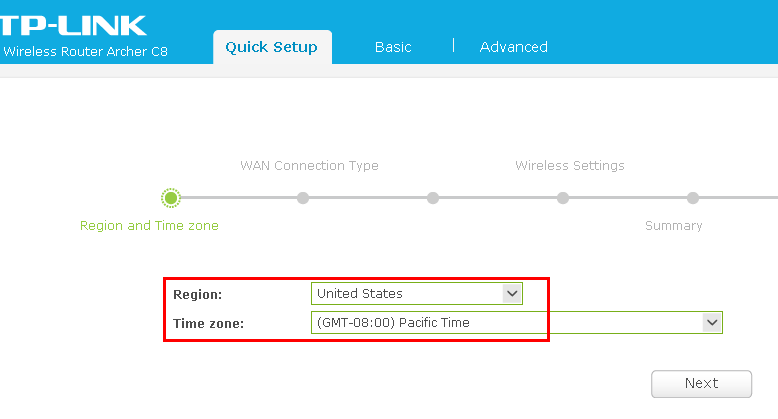 ( 2 ) เลือก WAN Connection Type PPPoE→Next.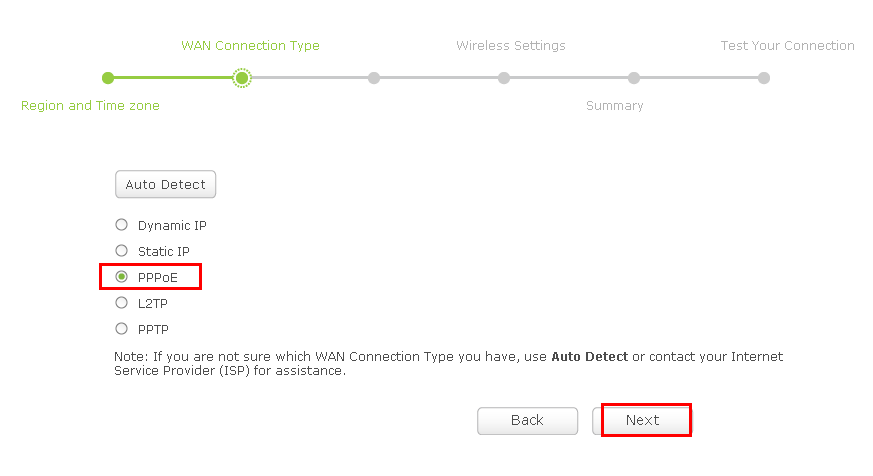 ป้อนชื่อผู้ใช้และรหัสผ่าน PPPoE ของคุณซึ่ง ISP ของคุณให้ไว้→Next.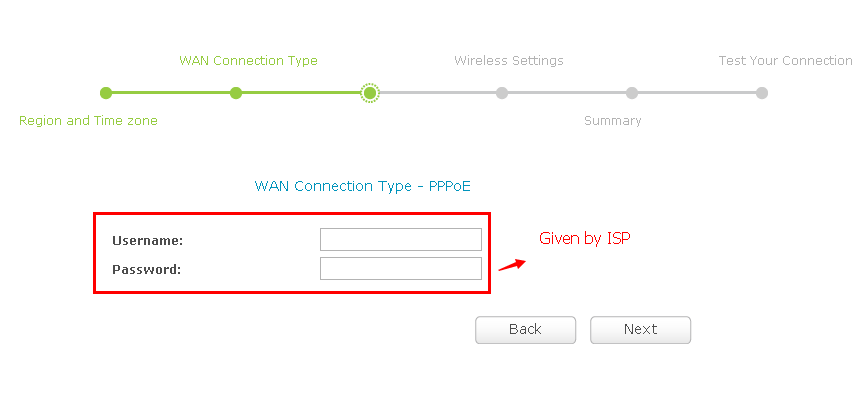 หมายเหตุ: ชื่อผู้ใช้และรหัสผ่านต้องคำนึงถึงตัวพิมพ์เล็กและตัวพิมพ์ใหญ่พวกเขาควรให้บริการของคุณโดยไม่สามารถสร้างได้ด้วยตัวเอง
( 3 ) เปลี่ยนชื่อเครือข่ายไร้สายและรหัสผ่านของคุณเองสำหรับ Wireless 2.4GHz และ 5GHz → Next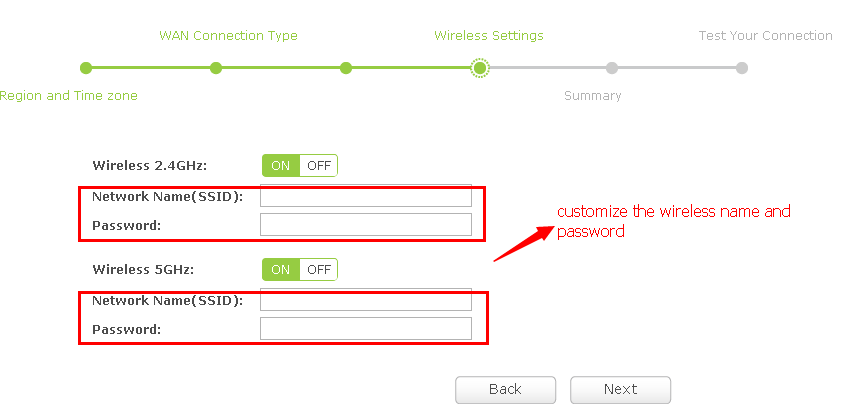 ( 4 ) คลิก Save เพื่อบันทึกการตั้งค่า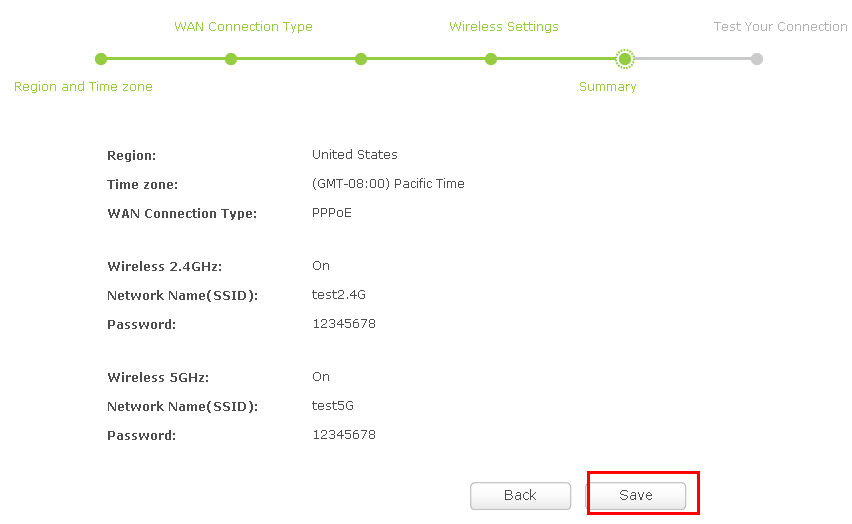 ( 5 ) คลิก Test Internet Connection หากกำหนดค่าเรียบร้อยแล้วคุณจะเห็นข้อความ Success จากนั้นคลิก Finish เพื่อปิดการตั้งค่าด่วน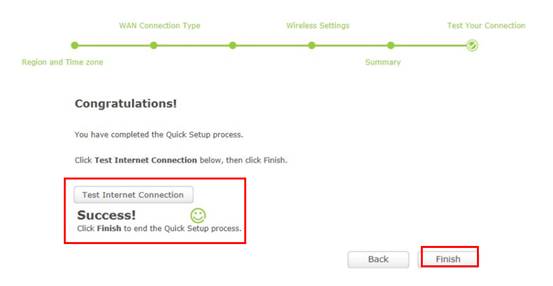 หากการทดสอบล้มเหลวโปรดกลับไปเพื่อยืนยันการตั้งค่าและลองอีกครั้ง
หมายเหตุ: หากโมเด็ม DSL ของคุณไม่ได้อยู่ในโหมดบริดจ์ซึ่งหมายความว่าประเภทการเชื่อมต่อ WAN ควรเป็น IP แบบไดนามิกไม่ใช่ PPPoE
Get to know more details of each function and configuration please go to Download Center to download the manual of your product.
Is this faq useful?
Your feedback helps improve this site.
From United States?
Get products, events and services for your region.