วิธีการกำหนดค่าโหมดเราเตอร์ 3G / 4G บน TL-MR3020
สร้างเครือข่ายไร้สายส่วนตัวทันทีและแบ่งปันเครือข่าย 3G / 4G กับอุปกรณ์ท้องถิ่น TL-MR3020 ใช้เวลาในการเชื่อมต่อ
1. สลับโหมดการทำงานเป็น 3G / 4G และเชื่อมต่อฮาร์ดแวร์ตามขั้นตอน A ถึง C

2. เข้าสู่เราเตอร์ สำหรับคำแนะนำโปรดอ้างอิง How to log into the web management page of TL-MR3020 (new logo)?
การตั้งค่าด่วนจะนำคุณเข้าสู่กระบวนการเพื่อตั้งค่าเราเตอร์ของคุณ
3. เลือก Time Zone ของคุณ และ คลิก Next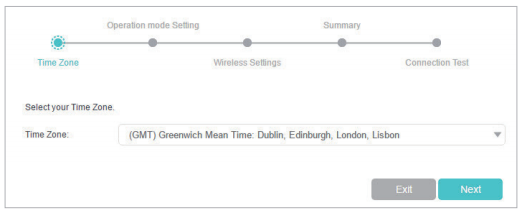 4. เลือก 3G/4G Router Mode โหมดเราท์เตอร์และคลิก Next.
หมายเหตุ: เราเตอร์สามารถกำหนดค่าด้วยการเชื่อมต่อ 3G / 4G หลักและการเชื่อมต่อ WAN เป็นโซลูชั่นการสำรองข้อมูลเพื่อให้แน่ใจว่าการเชื่อมต่ออินเทอร์เน็ต" ตลอดเวลา"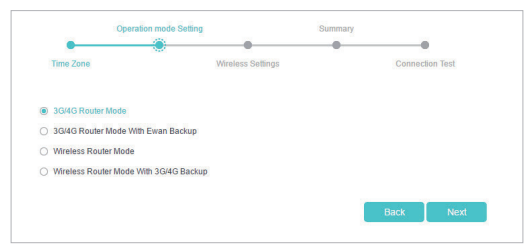 5. เลือก Mobile ISP ของคุณหรือตั้งค่าด้วยตนเองโดยใช้พารามิเตอร์ที่ ISP มือถือกำหนด หาก ISP ของคุณไม่อยู่ในรายการ จากนั้นคลิก Next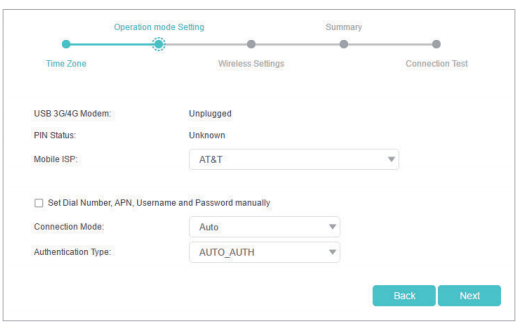 6. ปรับแต่งชื่อเครือข่าย (SSID) ของคุณ และ รหัสผ่าน หรือ ตั้งเป็นค่าโรงงานจากนั้นคลิกถัดไป Next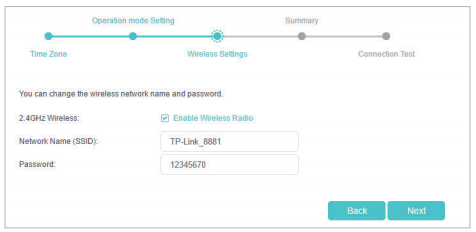 7. ตรวจสอบการตั้งค่าไร้สาย และ คลิก Save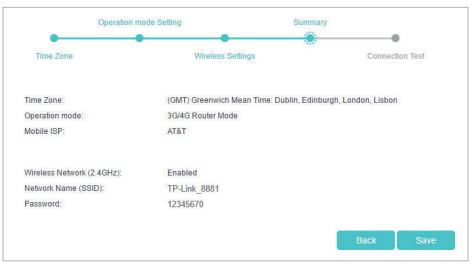 8. คลิก Finish เพื่อกำหนดค่าให้เสร็จสมบูรณ์ ตอนนี้เชื่อมต่ออุปกรณ์ของคุณกับอินเทอร์เน็ต!

Get to know more details of each function and configuration please go to Download Center to download the manual of your product.
Is this faq useful?
Your feedback helps improve this site.
SubscriptionTP-Link takes your privacy seriously. For further details on TP-Link's privacy practices, see TP-Link's Privacy Policy.
From United States?
Get products, events and services for your region.