การสร้างโปรไฟล์การเชื่อมต่อกับเราเตอร์ LTE LTE Dual-Band แบบไร้สาย 4G (โลโก้ใหม่)
หากเราเตอร์ไม่พบการตั้งค่า ISP ของคุณคุณสามารถสร้างโปรไฟล์การเชื่อมต่ออินเทอร์เน็ตโดยทำตามขั้นตอนด้านล่าง:
1.1)เชื่อมต่อคอมพิวเตอร์ของคุณกับเราเตอร์
วิธีที่ 1: สายเชื่อมต่อพอร์ต LAN ของคอมพิวเตอร์ของคุณเข้ากับพอร์ต LAN หนึ่งพอร์ตใน Archer MR200 ผ่านสายLAN
วิธีที่ 2: ไร้สายใช้ SSID เริ่มต้น (ชื่อเครือข่ายไร้สาย) และรหัสผ่านไร้สายที่พิมพ์บนฉลากผลิตภัณฑ์ของเราเตอร์เพื่อเชื่อมต่อแบบไร้สาย
1.2) เปิดเว็บเบราว์เซอร์และพิมพ์ใน http://tplinkmodem.net หรือ http://192.168.1.1 ตั้งรหัสผ่านที่รัดกุมโดยใช้อักขระ 1-15 ตัวและคลิกบันทึก
2. ไปที่ advanced > network > internet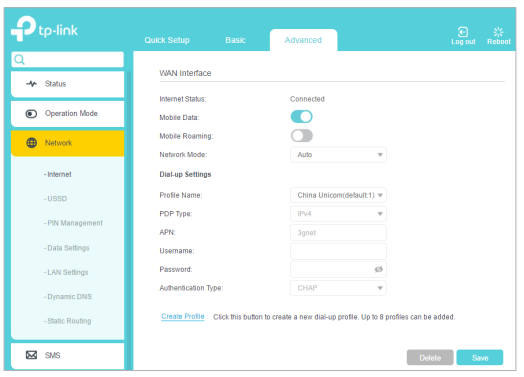 3. คลิ๊ก create profile
4. ระบุ profile name username และ password เลือก ประเภท PDP , ประเภท APN และ ประเภทการตรวจสอบความถูกต้อง ตาม ISP ของคุณ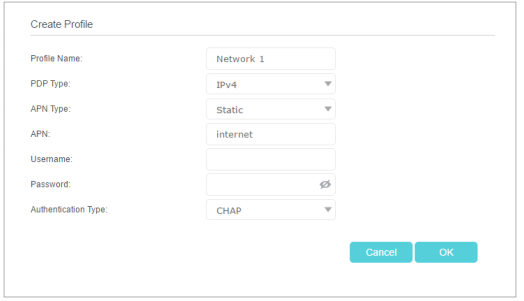 5. คลิ๊ก OK เพื่อให้การตั้งค่ามีประสิทธิภาพและโปรไฟล์ใหม่จะถูกใช้เพื่อตั้งค่าการเชื่อมต่อใหม่
เคล็ดลับ:
1. คุณสามารถดูการเชื่อมต่ออินเทอร์เน็ตทั้งหมดหรือแก้ไขการเชื่อมต่อที่ตั้งค่าด้วยตนเองในหน้านี้
2. คุณสามารถเปลี่ยน โหมดเครือข่าย เป็น 4G เท่านั้น หรือ 3G เท่านั้น ตามความต้องการของคุณ
Get to know more details of each function and configuration please go to Download Center to download the manual of your product.
Is this faq useful?
Your feedback helps improve this site.
SubscriptionTP-Link takes your privacy seriously. For further details on TP-Link's privacy practices, see TP-Link's Privacy Policy.
From United States (English)?
Check products and services for your region.