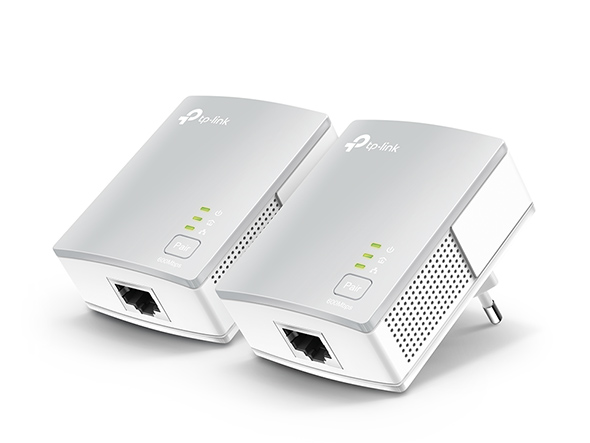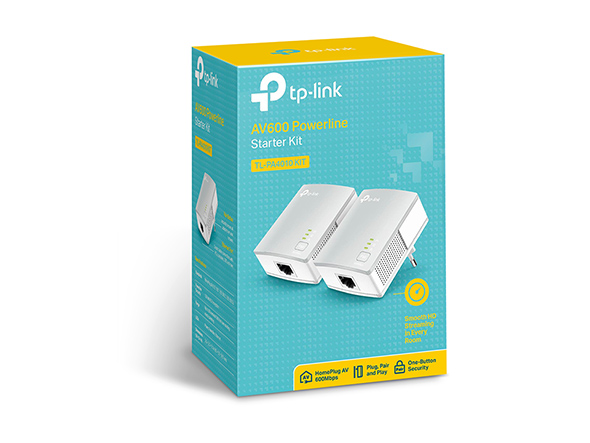 TL-PA4010 KIT
End of Life
AV500 Nano Powerline Adapter Starter Kit
ตรงตามมาตรฐาน HomePlug AV ความเร็วสูงอัตราการถ่ายโอนข้อมูลสูงสุดถึง 500Mbps
กระทัดรัดยิ่งกว่า มีเล็กขนาดเล็กกว่าPowerline โดยทั่วไปในตลาด พร้อมใช้งานกับเต้าเสียบประภทต่างๆ
ไม่ต้องลากสายใหม่ , การใช้งานง่ายในรูปแบบ Plug and Play , ไม่ต้องทำการตั้งค่า
ได้สิทธิบัตรในเรื่องโหมดประหยัดพลังงานอัตโนมัติจะช่วยลดการใช้พลังงานโดยlสูงถึง 85 %
*ข้อมูลที่เกิดขึ้นจริงจะแตกต่างกันเนื่องจากสภาพเครือข่ายและปัจจัยด้านสิ่งแวดล้อม
ความเร็วสูงสุด 500Mbps สำหรับสตรีมมิ่ง VDO HD
ด้วยการเทคโนโลยี HomePlug AV ขั้นสูง, TL-PA4010KIT ทำให้ผู้ใช้สามารถใช้ความเร็วในการโอนถ่ายข้อมูลที่ 500 Mbps บนระยะทาง 300 เมตร ได้อย่างเสถียร ร่วมกัยการมีการเข้ารหัส AES อยู่ภายในตัว จึงทำให้ TL-PA4010 เป็นทางเลือกที่ยอดเยี่ยมในการจัดการปัญหาของการเชื่อมต่อของตัวอุปกรณ์ภายในบ้าน—จากคอมพิวเตอร์และเครื่องเล่นเกมส์ไปยังกล่องรับสัญญาณ IPTV หรือไปยังเครื่องปริ้นและฮาร์ดดิสแบบ NAS
Router
ออกแบบมีขนาดเล็กและกระทัดรัด
ด้วยการออกแบบให้มีขนาดกระทัดรัดยิ่งขึ้น TL-PA4010KIT นั้นมีขนาดที่เล็กกว่าผลิตภัณฑ์ Powerline แบบ 500Mbps ของ TP-LINK รุ่นก่อน หนาเพียง 28.5mm
ปุ่มจับคู่สำหรับตั้งความรักษาความปลอดภัยเครือข่าย
เพียงแค่กดปุ่มจัคู่บนตัวอุปกรณ์ทผู้ใช้สามารถตั้งค่าครือข่ายบนPowerlineได้อย่างไม่ยากเย็น ภายในไม่กี่นาที พร้อมด้วยการเข้ารหัส AES ขนาด 128 บิตสำหรับการป้องกันข้อมูลและความปลอดภัยบนเครือข่าย
1. เสียบตัวอุปกรณ์ที่ปลั๊กไฟ
2. เชื่อมต่อตัวอุปกรณ์ผ่านสายเคเบิลยัง Powerline
3. กดปุ่มจับคุ๋บนตัวอุปกรณ์เป็นเสร็จสิ้นกระบวนการ
Power LED
Powerline LED
Ethernet LED
Pair Button
Note: ชุด Powerline จะต้องใช้อย่างน้อยสองตัวหรือมากกว่า
เสียบตัวอุปกรณ์ที่ปลั๊กไฟ
เชื่อมต่ออแดปเตอร์เข้า PCs / แล็ปท็อป/ อินเตอร์เน็ต TV หรืออุปกรณ์เน็ตเวิร์คอื่นๆ

แนะนำเพิ่มเติม:

กดปุ่ม Pair เพื่อเชื่อมต่อระบบรักษาความปลอดภัยและป้องกันข้อมูล
HARDWARE FEATURES
Plug Type
EU, UK, US
Standards and Protocols
HomePlug AV, IEEE802.3, IEEE802.3u
Interface
1*10/100Mbps Ethernet Port
Button
Pair Button
Power Consumption
Maximum: 4.60W (220V/50Hz)
Typical: 4.26W (220V/50Hz)
Standby: 0.88W (220V/50Hz)
LED Indicator
PWR, PLC, ETH
Dimensions ( W x D x H )
2.6 x 2.0 x 1.1 in.(65×52×28.5mm)
Range
Up to 300 meters/1000 feet over existing electrical wiring
OTHERS
Certification
CE, FCC, RoHS
Package Contents
Powerline Ethernet Adapter
Ethernet cable (RJ45)
Resource CD,
Quick Installation Guide

System Requirements
Windows 8/7/Vista/XP/2000, Mac, Linux
Environment
Operating Temperature: 0~40 (32~104)
Storage Temperature: -40~70 (-40~158)
Operating Humidity: 10%~90% non-condensing
Storage Humidity: 5%~90% non-condensing
รางวัล

BUY IT Now

TL-PA4010KIT received a 'Buy It Now' award from ComputerActive in UK.

2013, UK

Best Tested

TL-PA4010KIT won Best Tested in Powerline Adaptors comparison test

2013, Netherland
The theoretical maximum channel data transfer rate is derived from HomePlug AV specifications. Actual data transfer rate will vary from network environment including: distance, network traffic, noise on electrical wires, building material and construction, quality of electrical installation and other adverse conditions.
Actual data will vary because of the network conditions and environment factors.
SubscriptionTP-Link takes your privacy seriously. For further details on TP-Link's privacy practices, see TP-Link's Privacy Policy.
From United States?
Get products, events and services for your region.