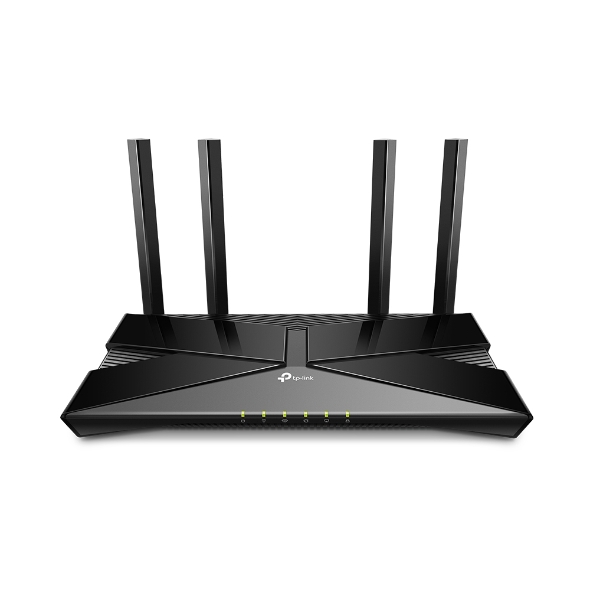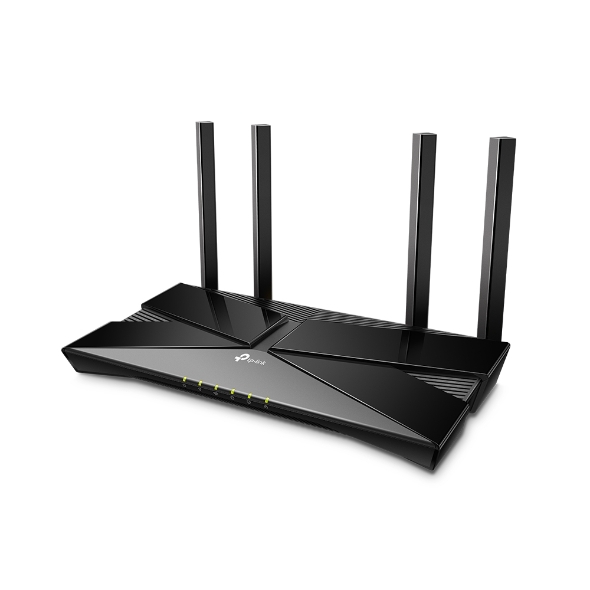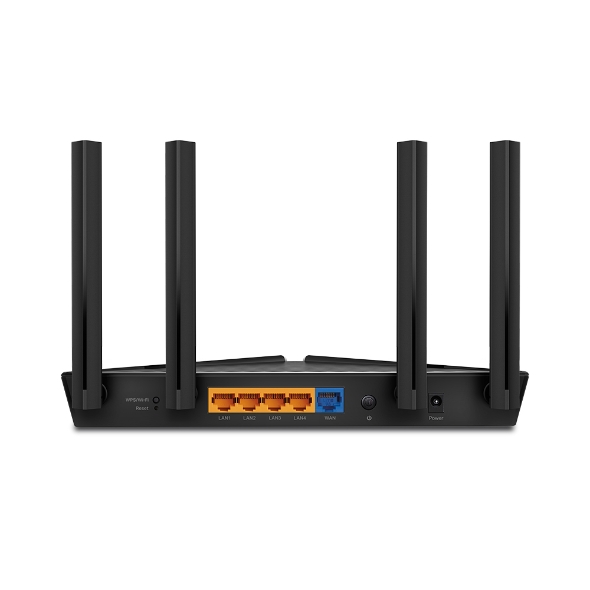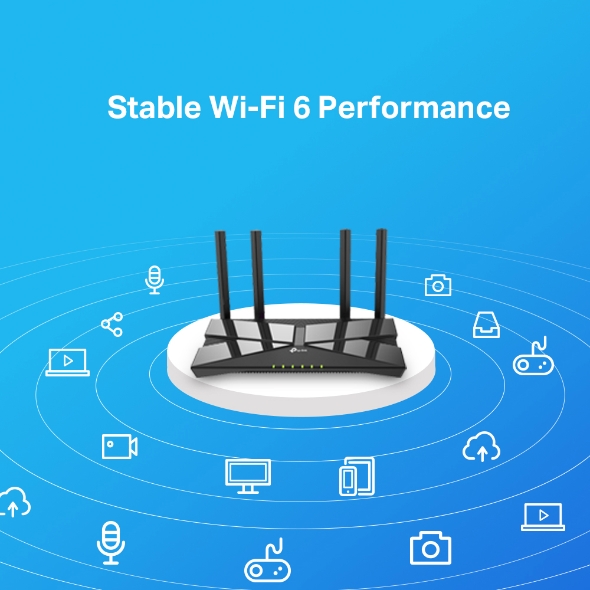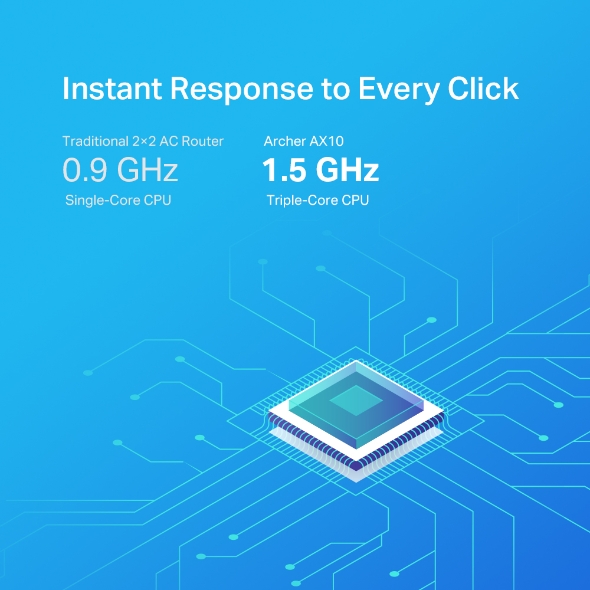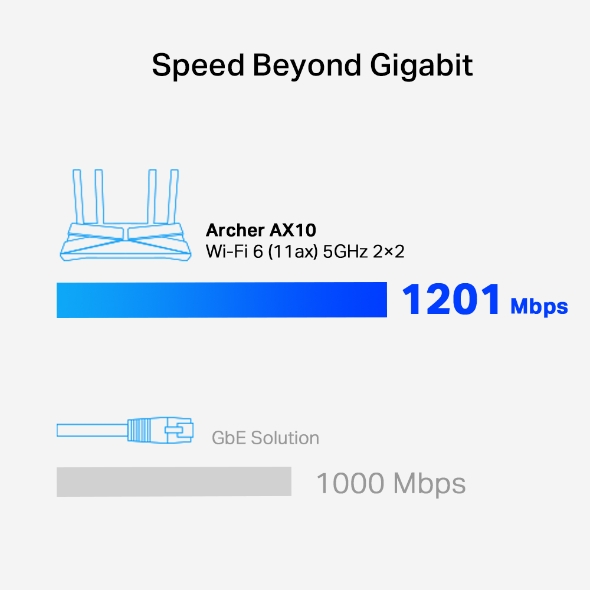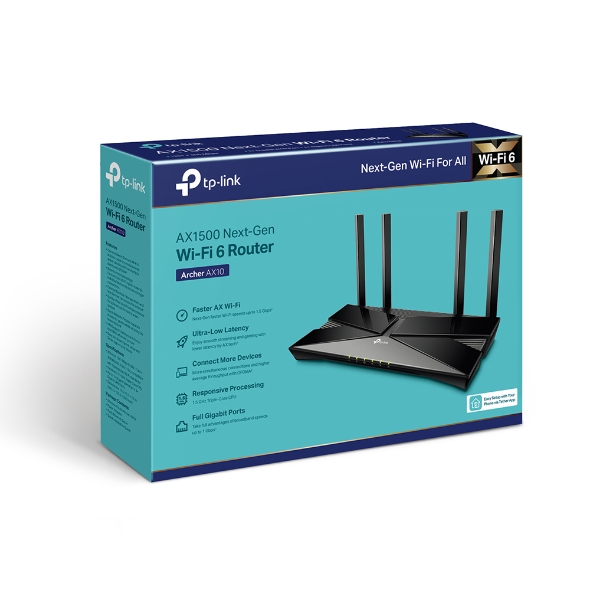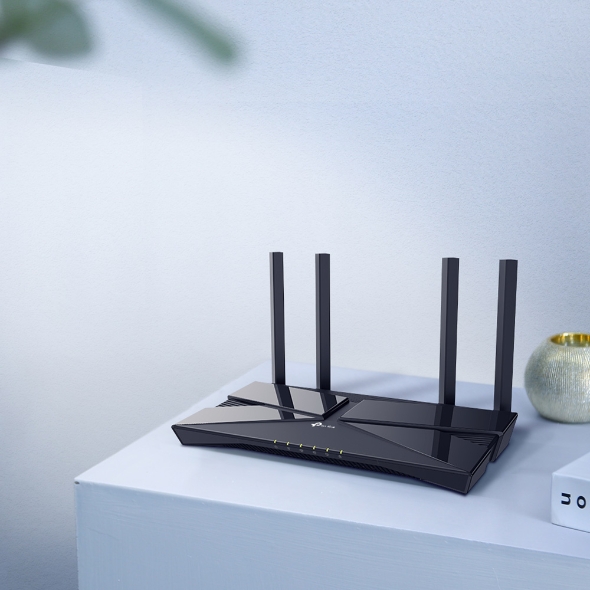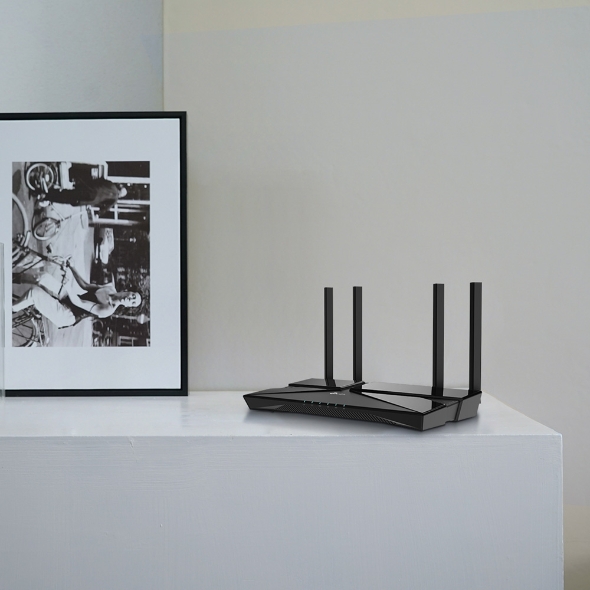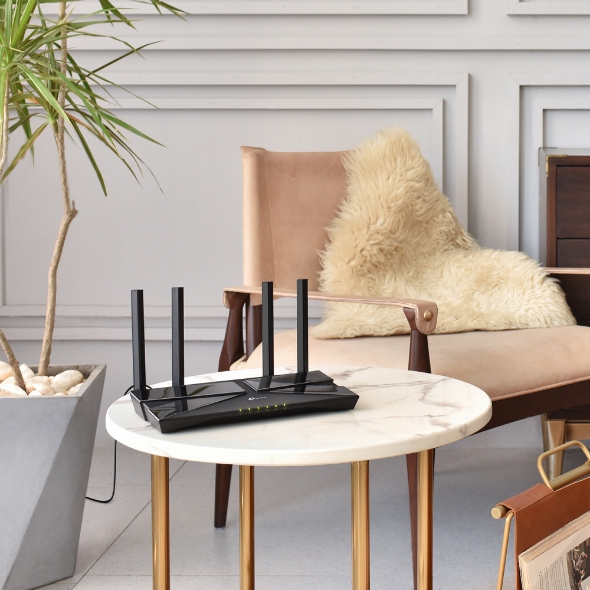 AX1500 Wi-Fi 6 Router I เราเตอร์สุดคุ้ม
Wi-Fi 6 Technology—Archer AX10 มาพร้อมกับเทคโนโลยีใหม่ Wi-Fi 6 ที่จะมอบความเร็วอินเตอร์เน็ตที่เร็วกว่า เสถียรมากขึ้น
Next-Gen 1.5 Gbps Speeds—Archer AX10 มาพร้อม 2 ย่านความถี่ เข้าถึงความเร็วยิ่งขึ้นถึง 1.5 Gbps (1201 Mbps บนย่านความถี่บนคลื่น 5 GHz และ 300 Mbps บนย่านความถี่ 2.4 GHz)
Connect Dozens of Devices—เชื่อมต่อพร้อมกันมากขึ้นและลดค่าความหน่วง ด้วย OFDMA และ MU-MIMO
Triple-Core CPU—ประมวลผลอย่างรวดเร็วด้วย CPU แบบ Triple-Core ความเร็ว 1.5 Ghz
Broader Coverage—เสาสัญญาณ 4 เสา และเทคโนโลยี Beamforming ช่วยปรับแต่งสัญญาณให้ครอบคลุมมากยิ่งขึ้น

Full Gigabit Ports—ให้คุณได้ใช้งานอินเตอร์เน็ตได้อย่างเต็มที่ความเร็วรวมสูงสุด 1 Gbps
Easy Setup—ติดตั้งด้วยปลายนิ้วของคุณด้วยแอพ Tether
Compatible with Alexa—ควบคุมเราเตอร์ของคุณผ่านคำสั่งเสียงและช่วยให้ชีวิตคุณง่ายขึ้นด้วย Amazon Alexa
Triple-Core CPU Powered Wi-Fi 6 Stable Next-Gen Performance
Archer AX10
AX1500 Wi-Fi 6 Router
Advanced, Revolutionary

Wi-Fi 6
Wi-Fi 6 พร้อมแล้วที่จะมอบความเร็วแบบ Hi-speed , ใช้เทคโนโลยีล่าสุดนี้เพื่อลดหรือแก้ไขสัญญาณที่ช้า หรือรบกวน และพร้อมสนุกไปกับเทคโนโลยีแห่งอนาคตกับความเร็วอินเตอร์เน็ตที่เหนือกว่า
Speed Beyond Gigabit
---
ด้วยคลื่นสัญญาณ 1024-QAM ล่าสุด ที่มีประสิทธิภาพมากขึ้นช่วยเพิ่มความเร็ว รวมไปถึงเพิ่มประสิทธิภาพในการรับ-ส่งข้อมูลสำหรับอุปกรณ์ในระดับ Gigabit เชื่อมต่อความเร็วอินเตอร์เน็ต 1 Gbps ด้วยโทรศัพท์หรือแลปท้อปของคุณ และเพลิดเพลินกับความเร็วเทียบเท่ากับการเสียบสาย Ethernet †
Archer AX10 Wi-Fi 6 (11ax) 5 GHz 2×2
1201 Mbps
2×2 Wi-Fi 5 (11ac) Solution
867 Mbps
1×1 Wi-Fi 5 (11ac) Solution
433 Mbps
Connect Dozens of Devices
---
เพิ่มการเชื่อมต่ออุปกรณ์ได้มากขึ้นโดยที่ประสิทธิภาพไม่ลดลง เทคโนโลยี OFDMA รองรับการใช้งานได้หลายอุปกรณ์ในเวลาเดียวกันได้มากขึ้นเมื่อเทียบกับเราเตอร์ Wi-Fi 5
OFDMA
Without OFDMA
Connected Device*
Total Throughtput
Less Lag, More Fun
---
Wi-Fi 6 มีเทคโนโลยีประสิทธิภาพสูงในการรับ-ส่งข้อมูล ช่วยลดค่าความหน่วงให้คุณ สนุกกับวิดีโอความเร็วสูง หรือการเล่นเกมที่ดีขึ้น แม้กระทั่งการดาวน์โหลดวีดีโอในเวลาเดียวกัน
4K Streaming
FPS Online Gaming
Live Video Chat
Triple-Core Processor
Instant Response to Every Click
CPU 1.5 GHz triple-core ให้พลังงานความเร็วอย่างมีประสิทธิภาพ ลดความหน่วงในเครือข่ายของคุณ ให้คุณได้เพลิดเพลินกับการตอบสนองอย่างรวดเร็วในขณะการเล่นเกมส์ออนไลน์ของคุณ หรือกรใช้งานอินเตอร์เน็ตต่างๆ
Traditional 2×2 AC Router
0.9 GHz
Single-Core CPU
Archer AX10
1.5 GHz
Triple-Core CPU
Boosted Wi-Fi Coverage
Archer AX10 มาพร้อมกับเทคโนโลยี Beamforming และเสาสัญญาณประสิทธิภาพสูง 4 เสาที่จะเชื่อมต่อสัญญาณไร้สายกับทุกอุปกรณ์ของคุณอย่างรวดเร็ว เข้าถึงทุกพื้นที่ภายในบ้าน ไม่ต้องกังวลเรื่องจุดอับสัญญาณ
TP-Link OneMesh™ :
Flexibly Create a Whole-Home Wi-Fi
OneMesh™ is a simple way to form a Mesh network with a single Wi-Fi name for seamless whole-home coverage. Just connect a OneMeshTM range extender to a OneMesh™ router. No more searching around for a stable connection.
Wi-Fi Dead-Zone Killer

Eliminate weak signal areas with Wi-Fi coverage for the whole house

Smart Roaming

Uninterrupted streaming when moving around your home

One Wi-Fi Name

No more switching Wi-Fi network names

Unified Management

Manage the whole-home Wi-Fi by managing the central node via Tether app/Web UI
Traditional Router with Extender

OneMesh™ Router + Range Extender
Gigabit Broadband Internet Access
พอร์ต Gigabit ทั้งหมดจะช่วยให้คุณได้ใช้งานอินเตอร์เน็ตได้อย่างเต็มที่ด้วยความเร็วรวมสูงสุด 1 Gbps ทั้งพีซีของคุณ smart TVs และ game consoles ก็ไม่พลาดทุกความสนุก
up to
1000 Mbps
Internet Access§
Easy Setup and Use
ติดตั้ง Archer AX10 ผ่านหน้าเว็บอินเตอร์เฟส หรือบนแอพลิเคชั่น Tether สามารถใช้งานได้ทั้งบนระบบปฎิบัติการ Android กับ iOS
การควบคุมโดยผู้ปกครอง

บล็อคเนื้อหาที่ไม่เหมาะสมและจำกัดเวลาการใช้งานอินเตอร์เน็ต

VPN Service

เข้าถึงไฟล์อย่างปลอดภัยในบ้านของคุณไม่ว่าคุณจะอยู่ที่ไหนด้วยการเชื่อมต่อ VPN

Quality of Service

จัดลำดับความสำคัญของอุปกรณ์และแอปพลิเคชันเพื่อประสิทธิภาพที่รวดเร็วขึ้นเมื่อต้องการ
WIRELESS
Standards
Wi-Fi 6IEEE 802.11ax/ac/n/a 5 GHzIEEE 802.11n/b/g 2.4 GHz
WiFi Speeds
AX15005 GHz: 1201 Mbps (802.11ax)2.4 GHz: 300 Mbps (802.11n)
WiFi Range
3 Bedroom Houses

---

4× Fixed AntennasMultiple antennas form a signal-boosting array to cover more directions and large areasBeamformingConcentrates wireless signal strength towards clients to expand WiFi rangeHigh-Power FEMImproves transmission power to strengthen signal coverage
WiFi Capacity
High

---

Dual-BandAllocate devices to different bands for optimal performanceOFDMASimultaneously communicates with multiple Wi-Fi 6 clientsAirtime FairnessImproves network efficiency by limiting excessive occupationDFSAccess an extra band to reduce congestion4 StreamsConnect your devices to more bandwidth
Working Modes
Router ModeAccess Point Mode
HARDWARE
Processor
1.5 GHz Triple-Core CPU
Ethernet Ports
1× Gigabit WAN Port4× Gigabit LAN Ports
Buttons
WPS/Wi-Fi ButtonPower On/Off ButtonLED On/Off ButtonReset Button
Power
12 V ⎓ 1.5 A
SECURITY
WiFi Encryption
WPAWPA2WPA3WPA/WPA2-Enterprise (802.1x)
Network Security
SPI FirewallAccess ControlIP & MAC BindingApplication Layer Gateway
Guest Network
1× 5 GHz Guest Network1× 2.4 GHz Guest Network
VPN Server
OpenVPNPPTP
SOFTWARE
Protocols
IPv4IPv6
OneMesh™
OneMesh™ SupportedWithout replacing your existing devices or buying a whole new WiFi ecosystem, OneMesh™ helps you create a more flexible network that covers your entire home with TP-Link OneMesh™ products. Learn More>All OneMesh Products>
Parental Controls
URL FilteringTime Controls
WAN Types
Dynamic IPStatic IPPPPoEPPTPL2TP
Quality of Service
QoS by Device
Cloud Service
Auto Firmware UpgradeOTA Firmware UpgradeTP-Link IDDDNS
NAT Forwarding
Port ForwardingPort TriggeringDMZUPnP
IPTV
IGMP ProxyIGMP SnoopingBridgeTag VLAN
DHCP
Address ReservationDHCP Client ListServer
DDNS
TP-LinkNO-IPDynDNS
Management
Tether AppWebpageCheck Web Emulator>
PHYSICAL
Dimensions (W×D×H)
10.2 × 5.3 ×1.5 in(260.2 × 135.0 × 38.6 mm)
Package Contents
Wi-Fi Router Archer AX10Power AdapterRJ45 Ethernet CableQuick Installation Guide
OTHER
System Requirements
Internet Explorer 11+, Firefox 12.0+, Chrome 20.0+, Safari 4.0+, or other JavaScript-enabled browserCable or DSL Modem (if needed)Subscription with an internet service provider (for internet access)
Certifications
FCC, CE, RoHS
Environment
Operating Temperature: 0℃~40℃ (32℉ ~104℉)Storage Temperature: -40℃~70℃ (-40℉ ~158℉)Operating Humidity: 10%~90% non-condensingStorage Humidity: 5%~90% non-condensing
TEST DATA
WiFi Transmission Power
CE: <20dBm(2.4 GHz)<23dBm(5.15 GHz~5.25 GHz)FCC:<30dBm(2.4 GHz & 5.15 GHz~5.825 GHz)
WiFi Reception Sensitivity
5 GHz:11a 6Mbps:-97dBm, 11a 54Mbps:-79dBm11ac VHT20_MCS0:-96dBm, 11ac VHT20_MCS11:-66dBm11ac VHT40_MCS0:-94dBm, 11ac VHT40_MCS11:-63dBm11ac VHT80_MCS0:-91dBm, 11ac VHT80_MCS11:-60dBm11ax HE20_MCS0:-95dBm, 11ax HE20_MCS11:-63dBm11ax HE40_MCS0:-92dBm, 11ax HE40_MCS11:-60dBm11ax HE80_MCS0:-89dBm, 11ax HE80_MCS11:-58dBm2.4 GHz:11g 6Mbps:-91dBm, 11a 54Mbps:-74dBm11n HT20_MCS0:-90dBm, 11n HT20_MCS7:-73dBm11n HT40_MCS0:-88dBm, 11n HT40_MCS7:-70dBm
† Maximum wireless signal rates are the physical rates derived from IEEE Standard 802.11 specifications. Actual wireless data throughput, wireless coverage, and the number of connected devices are not guaranteed and will vary as a result of network conditions, client limitations, and environmental factors, including building materials, obstacles, volume and density of traffic, and client location.
‡ Use of 802.11ax (Wi-Fi 6), and features including OFDMA, 1024-QAM, and BSS Color requires clients to also support those features.
§ 1000 Mbps internet speeds require compatible service plans and equipment.
From United States?
Get products, events and services for your region.