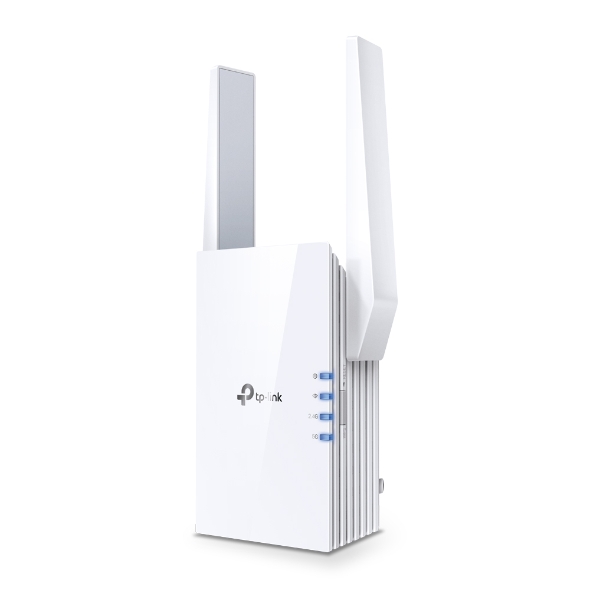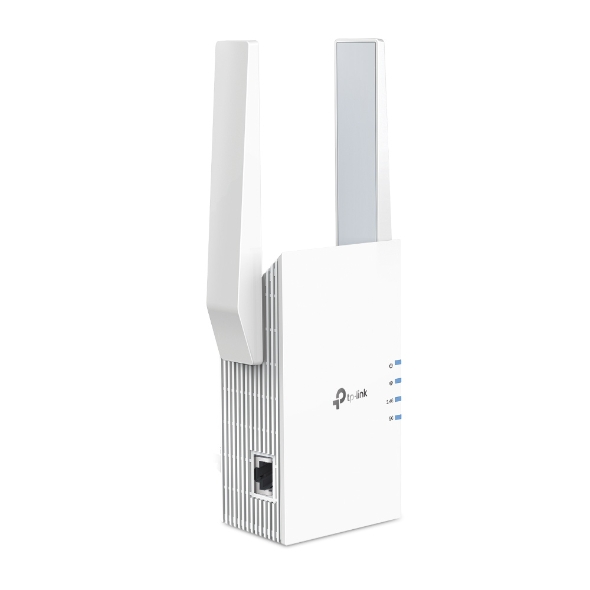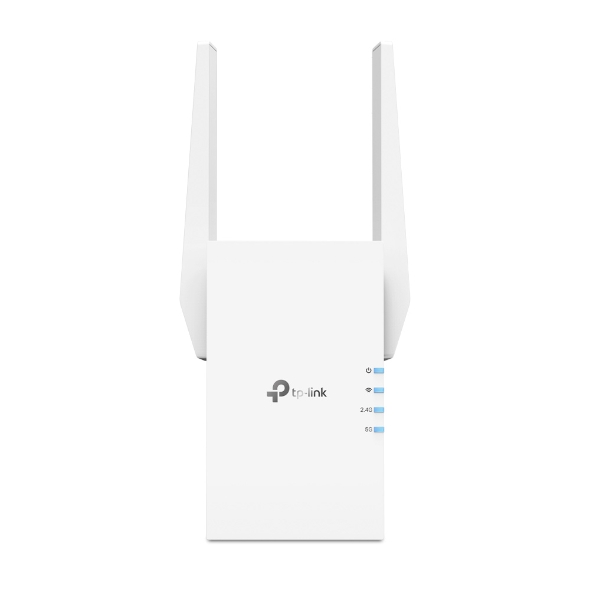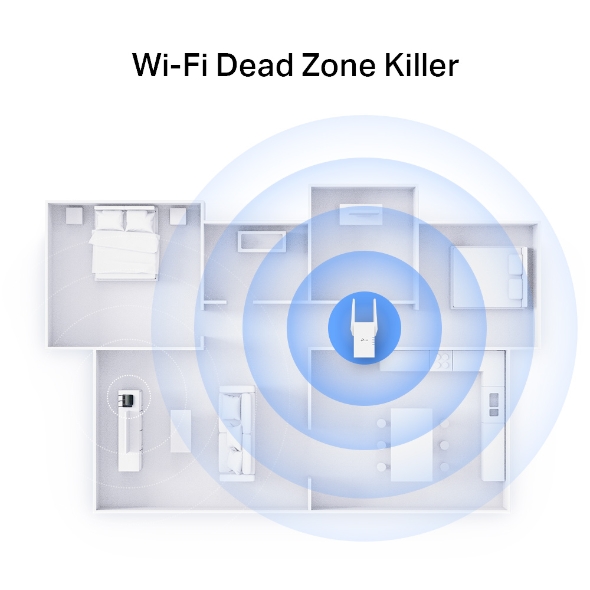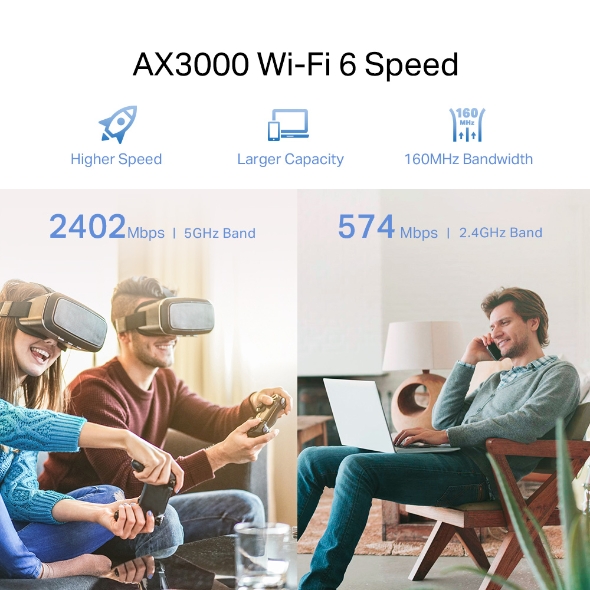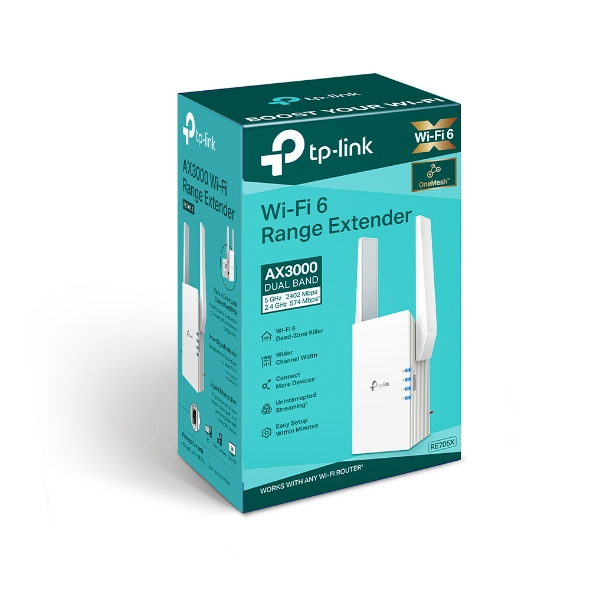 AX3000 Mesh WiFi 6 Range Extender
RE705X มาพร้อมกับเทคโนโลยีล่าสุดอย่างเทคโนโลยี Wi-Fi 6 คลื่น

5 GHz (2402 Mbps) and 2.4 GHz (574 Mbps)

ที่พร้อมจะมอบความเร็วที่มากกว่า แรงกว่า และเสถียรมากขึ้น
สามารถสร้างเครือข่าย one Mesh โดยเชื่อมต่อกับเราเตอร์ One mesh เพื่ออินเทอร์เน็ตที่ครอบคลุมทั่วทั้งบ้าน
Gigabit Ethernet Port – มอบการเชื่อมต่ออินเทอร์เน็ตความเร็วแบบมีสายเพื่อการเชื่อมต่อที่ดีขึ้นบนสมาร์ททีวี , คอมพิวเตอร์ และเครื่องเล่มเกมส์
Intelligent Signal Light – ไฟสัญญาณอัจฉริยะที่ช่วยให้ค้นหาที่ตั้งสัญญาณ Wi-Fi ที่ครอบคลุมได้ดีที่สุด โดยแสดงความเหมาะสมของสัญญาณ
AP Mode –Access Point สร้างการเชื่อมต่อ Wi-Fi access point ใหม่ ๆ เพื่อเพิ่มเครือข่ายแบบใช้สายของคุณให้มีความสามารถในการเชื่อมต่อด้วย Wi-Fi
TP-LINK Tether App – ง่ายต่อการจัดการอุปกรณ์บนสมาร์ทโฟนผ่าน Tether APP รองรับทั้ง iOS และบนแอนดรอยด์
Ultimate Compatibility – ขยายช่วงสัญญาณของเราเตอร์ Wi-Fi หรือ ไวเลส access point
ไม่แนะนำให้เชื่อมต่อผ่าน Hotspot มือถือ
Cover Every Corner with
Blazing Fast WiFi 6
AX3000 WiFi 6 Range Extender
RE705X

1000 M
Ethernet Port
AX3000
Extremely-Fast WiFi
2402 Mbps
5 GHz 574 Mbps
2.4 GHz
Works with any WiFi router1
160 MHz Bandwidth
Streaming Network for
Multi-Devices
Dual Band
MU-MIMO2
OneMesh™
Life in the fast lane with advanced WiFi6
WiFi 6 พร้อมมอบประสบการณ์ : ความเร็วที่เร็วขึ้น และการเชื่อมต่อที่มากขึ้น นอกจากนี้ยังมีอัตราการส่งข้อมูลเร็วขึ้น 25% เมื่อเทียบกับ WiFi รุ่นล่าสุด ด้วย 1024-QAM ช่วยการเพิ่มความเร็วนี้ คุณจะได้เชื่อมต่อ WiFi ความเร็วสูงและเสถียรทั่วทั้งห้องของคุณ.
WiFi6 1024-QAM
25 % faster
WiFi 5 256-QAM
Double Channel Speed3 with HE160
Higher Efficiency, Lower Latency
รองรับ 2x2 160MHz บนแบนด์ 5G เพลิดเพลินกับแบนด์วิดท์ที่กว้างกว่าและความเร็วที่เร็วกว่า 80MHz แบบเดิม
4 high-performance amplifiers, we got you covered
เพลิดเพลินกับการสตรีมและเล่นเกม 4K ในทุกห้องที่คุณอยู่ด้วยแอมพลิฟายเออร์ประสิทธิภาพสูง 4 ตัวของ RE705X ไม่ว่าคุณจะอาศัยอยู่ในบ้านส่วนไหนก็ตาม RE705X จะส่งสัญญาณที่ชัดเจนไปยังพื้นที่อับสัญญาณได้ดี
OFDMA4
More efficient data.
การเข้าถึงหลายส่วนสำหรับความถี่ในแนวฉากช่วยผสานรวมข้อมูลของอุปกรณ์ปลายทางที่แตกต่างกันเพื่อประสิทธิภาพที่สูงขึ้น
WiFi 6
OFDMA
Data Transmitted
WiFi 5
OFDM
Data Transmitted
Beamforming
Strong, targeted WiFi.
ค้นหาทิศทางของโทรศัพท์หรือแล็ปท็อปของคุณและเร่งความแรงของสัญญาณ
Adaptive Path Selection
ช่วยให้เครือข่ายของคุณทำงานด้วยความเร็วสูงสุดโดยการเลือกเส้นทางการเชื่อมต่อที่เร็วที่สุดไปยังเราเตอร์โดยอัตโนมัติ
Without Adaptive Path Selection
OneMesh™
Roaming Redefined
OneMesh™ คืออีกหนึ่งทางเลือกของ Mesh network ที่จะให้คุณใช้สัญญาณอินเทอร์เน็ตเพียงชื่อเดียว ก็ครอบคลุมทั่วทั้งบ้านของคุณ แต่เพียงต่ออุปกรณ์ขยายสัญญาณ OneMeshTM ไปที่เราเตอร์ OneMeshTM เท่านี้คุณก็จะได้สัญญาณอินเทอร์เน็ตที่มั่นคงและเสถียร พร้อมรองรับทุกงานใช้งาน
Traditional Router with Extender

OneMesh™ Router + Range Extender
Smart Roaming

Uninterrupted streaming when moving around your home

One Wi-Fi Name

No more switching Wi-Fi
network names

Easy Creation

OneMesh™ Router and OneMesh™ Range Extenders pair instantly

Unified Management

Manage the entire network all
from the TP-Link Tether app
Wide.
Wider.
Widest.5
ให้ความสำคัญกับอินเทอร์เน็ตของคุณในห้องเดี่ยวหรือครอบคลุมทั้งชั้นด้วย WiFi โดยเลือกระดับความแรง 3 ระดับในแอป Tether
Built-In
Access Point Mode
RE705X เป็นมากกว่าตัวขยายช่วงไร้สาย เพียงเสียบสายอีเทอร์เน็ตเข้ากับพอร์ตอีเทอร์เน็ต และเปลี่ยนการเชื่อมต่ออินเทอร์เน็ตแบบมีสายของคุณให้เป็นจุดเชื่อมต่อไร้สายแบบดูอัลแบนด์ 2×2 MU-MIMOt.
1

Power Indicator

2

Signal indicator

3

2.4 GHz Indicator

4

5 GHz Indicator

5

Reset

6

WPS Button

7

Gigabit Port
WIRELESS
Working Modes
Range Extender / Access Point
HARDWARE FEATURES
Ports
1 Gigabit Ethernet Port
Button
WPS Button, Reset Button
Input Power
100-240V~50/60Hz
Power Consumption
12.6W
Dimensions ( W x D x H )
97*46*158
Antenna
2 External Antennas
WIRELESS FEATURES
Wireless Standards
IEEE 802.11a/n/ac/ax 5GHz, IEEE 802.11b/g/n/ax 2.4GHz
Frequency
2.4GHz and 5GHz
Signal Rate
574 Mbps at 2.4GHz, 2402 Mbps at 5GHz
Reception Sensitivity
5GHz: 11a 6Mbps:-97dBm11a 54Mbps:-78dBm11ax HE20 MCS0: -97dBm 11ax HE20 MCS11: -66dBm11ax HE40 MCS0: -94dBm 11ax HE40 MCS11: -62dBm11ax HE80 MCS0: -91dBm 11ax HE80 MCS11: -61dBm 11ax HE160 MCS11: -59dBm 2.4GHz: 11g 6Mbps:-96dBm11g 54Mbps:-78dBm11ax HE20 MCS0: -95dBm 11ax HE20 MCS11: -66dBm11ax HE40 MCS0: -93dBm 11ax HE40 MCS11: -62dBm
Transmit Power
CE: 2.4GHz ≤16dBm, 5GHz ≤21dBm
Wireless Modes
Range Extender / Access Point
Wireless Functions
Enable/Disable Wireless Radio, Wireless Statistics
Wireless Security
WEP, WPA, WPA2, WPA3
Transmission Power
CE: 2.4GHz ≤16dBm, 5GHz ≤21dBm
OTHERS
Certification
CE, RoHS
Package Contents
Wi-Fi Range Extender RE705X Quick Installation Guide
System Requirements
Microsoft Windows 98SE, NT, 2000, XP, Vista™ or Windows 7, 8, 8.1, 10, MAC OS, NetWare, UNIX or Linux Internet Explorer 11, Firefox 12.0, Chrome 20.0, Safari 4.0, or other Java-enabled browser
Environment
Operating Temperature: 0℃~40℃ (32℉ ~104℉)Storage Temperature: -40℃~70℃ (-40℉ ~158℉)Operating Humidity: 10%~90% non-condensingStorage Humidity: 5%~90% non-condensing
1.The product may not be compatible with routers or gateways with firmware that has been altered, is based on open source programs, or is non-standard or outdated.
2.Use of MU-MIMO requires clients to also support MU-MIMO.
3.Need to be used in 5G frequency band with equipment supporting 160MHz
4.Requires compatible AX clients with DL-OFDMA and UL-OFDMA support.
5.Maximum option is enabled by default.
From United States?
Get products, events and services for your region.