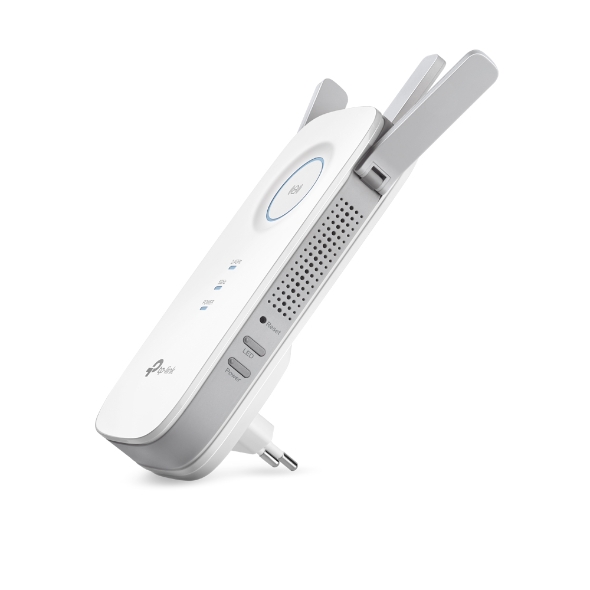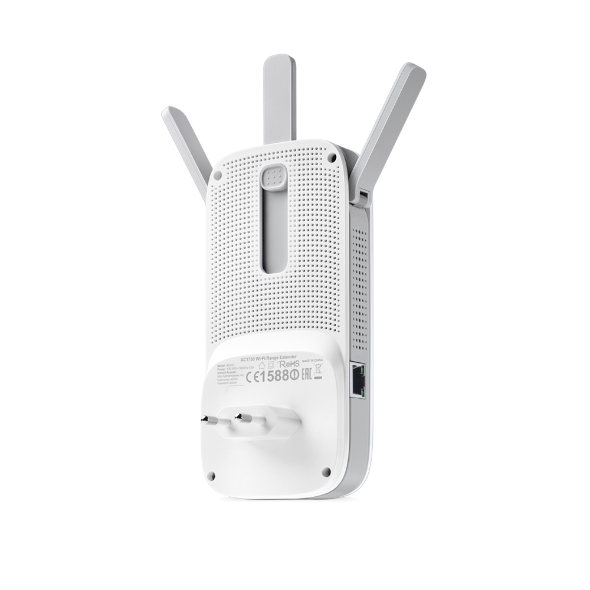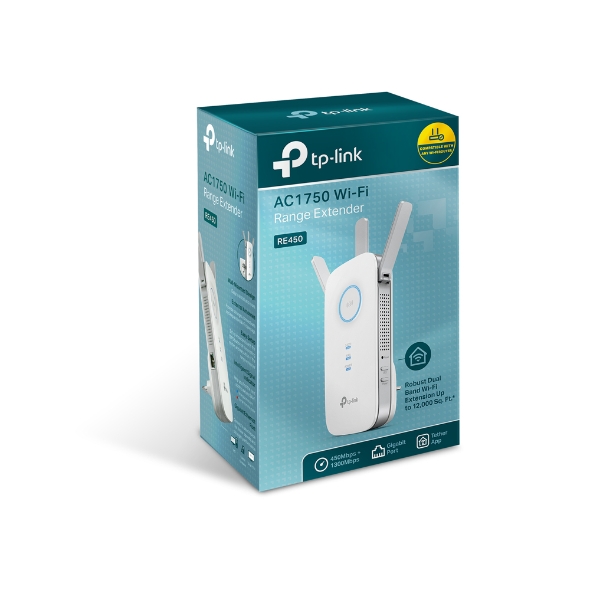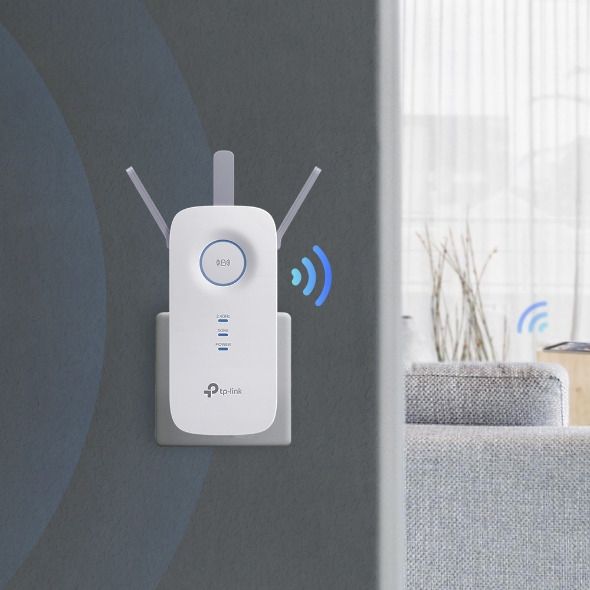 AC1750 Wi-Fi Range Extender
ขยายเครือข่าย Wi-Fi สำหรับประสิทธิภาพที่ดีที่สุด
ขยายความเร็ว Wi-Fi 450Mbps ที่ 2.4GHz + 1300Mbps ที่ 5GHz ทั้งหมด 1750Mbps
3 สายสัญญาณภายนอกที่ปรับได้ ให้สัญญาณ Wi-Fi ครอบคลุมที่ดีที่สุดและการเชื่อมต่อที่เชือถือได้
ทำงานที่พอร์ตกิกะบิตอีเทอร์เน็ตเป็นการปรับสัญญาณไร้สายให้เชื่อมต่อกับอุปกรณ์แบบมีสายไปยังเครือข่ายของคุณที่ความเร็วระดับกิกะบิต
ไฟสัญญาณอัจฉริยะที่ช่วยให้ค้นหาที่ตั้งสัญญาณ Wi-Fi ที่ครอบคลุมได้ดีที่สุด โดยแสดงความแรงของสัญญาณ
ทำงานกับ Wi-Fi เร้าเตอร์ หรือ แอคเซสพอยท์ใดก็ได้
ไม่แนะนำให้เชื่อมต่อผ่าน Hotspot มือถือ
Wi-Fi Expansion

Delicate Design

Super-fast Wi-Fi

Gigabit Wired

Easy Installation

Quick Position

External Antennas

High Speed Mode
สัญญาณ Wi-Fi ที่ครอบคลุม
คุณเหนื่อยกับโซนที่ไม่มีสัญญาณ Wi-Fi ไหม ? ตัวขยายสัญญาณของ TP-LINK AC1750 Wi-Fi ทำการเชื่อมต่อสัญญาณไร้สายของคุณ สัญญาณที่แรงและขยายไปยังพื้นที่ที่ไปไม่ถึง อุปกรณ์ยังช่วยลดสัญญาณรบกวนเพื่อให้แน่ใจว่าสัญญาณ Wi-Fi ที่เชื่อถือได้ ครอบคลุมตลอดทั้งบ้านหรือสำนักงานของคุณ

ความเร็วสูงสุดมาตรฐาน Wi-Fi AC ยุคใหม่
TP-LINK RE450 มาพร้อมกับมาตรฐานเทคโนโลยี Wi-Fi 802.11 AC ยุคใหม่ มีความเร็วที่เหนือกว่าความเร็ว 802.11n อยู่ 3 ระดับ, RE450 ส่งด้วย Wi-Fi 2 ช่องสัญญาณความเร็วสูงถึง 1750 Mbps, ให้การเชื่อมต่อที่มีเสถียรภาพสำหรับการใช้งานที่ต้องใช้แบนด์วิดธ์จำนวนมาก เช่นการสตรีมมิ่งความละเอียดสูง/4K , การเล่นเกมส์ที่ต่อเนื่อง การดาวน์โหลดไฟล์ขนาดใหญ่
ความเร็วกิกะบิตแบบเชื่อมต่อด้วยสาย
พอร์ตกิกะบิตอีเทอร์เน็ตเปลี่ยนเป็นตัวขยายสัญญาณไปยังบริดจ์ไร้สาย ให้คุณได้เชื่อมต่ออุปกรณ์ที่มีสายเช่น เครื่องเล่น Blu-ray, เกมส์คอนโซล, DVR, หรือ สมาร์ท TV ไปยังโครงข่าย Wi-Fi ของคุณ
ตั้งค่าได้ง่ายและวางตำแหน่งได้รวดเร็ว
ติดตั้งได้ง่ายด้ายปุ่ม RE
ตัวขยายสัญญาณ RE450 ทำงานด้วยเร้าเตอร์ไวเลสมาตรฐานทั่วไป เชื่อมต่อรวดเร็วไปยังเร้าเตอร์โดยการกดปุ่ม RE ของตัวขยายสัญญาณหลังจากกดปุ่ม WPS ของเร้าเตอร์ (ถ้ามี)
เมื่อเขื่อมต่อกับเร้าเตอร์ที่มีอยู่แล้ว คุณสามารถนำ RE450 ไปวางที่ที่เหมาะสม โดยไม่ต้องตั้งค่าอะไรอีก
RE BUTTON
PUSH TO
CONNECT
WPS BUTTON
สายอากาศภายนอกประสิทธิภาพสูง
3 สายอากาศภายนอกแบบสองช่องสัญญาณ (3 x 2dBi for 2.4GHz and 3 x 3dBi for 5GHz) สนับสนุนให้ไวเลสของคุณครอบคลุมพื้นที่และมีความเสถียร, ช่วยให้อุปกรณ์ของคุณยังคงเชื่อมต่ออยู่ในที่ใดก็ตามที่เครื่อข่ายคุณไปถึง.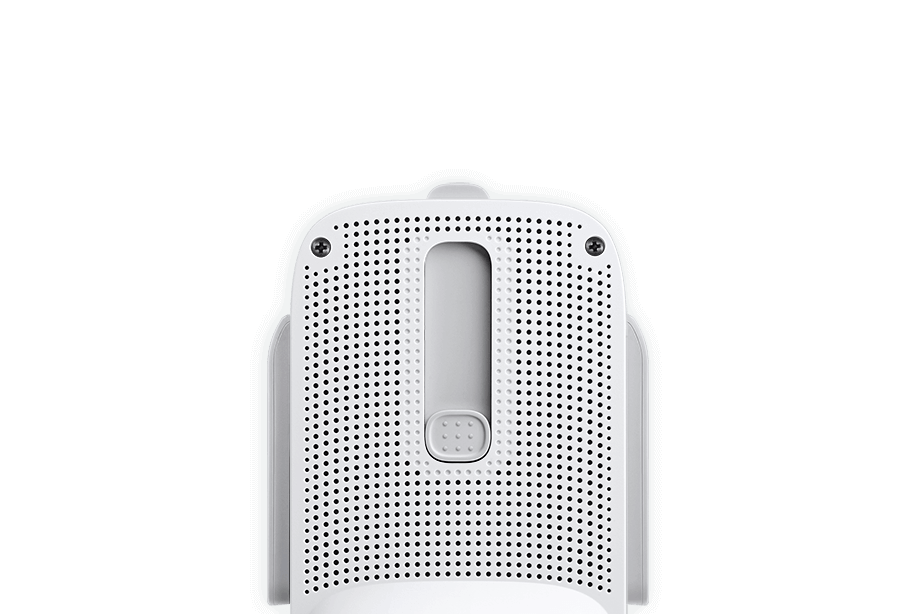 โหมดความเร็วสูง
โหมดความเร็วสูงช่วยเพิ่มประสิทธิภาพโดยรวม ด้วยการรวมแบนด์วิดธ์ช่องสัญญาณทั้ง 5GHz และ 2.4 GHzเพื่อสร้างการเชื่อมต่อได้อย่างรวดเร็วต้วยหนึ่งช่องสัญญาณที่ส่งข้อมูลและช่องอื่นๆ ที่คอยรับข้อมูล.
Easy Management with Tether App
TP-LINK Mobile App Tether provides the easiest way to access and manage your RE450from your iOS or Android devices. From setup to access control, Tether provides a simple, intuitive user interface to see what the status of your range extender is, who's online and what their privileges are.
*Maximum extended Wi-Fi coverage specification is based on performance test results. Actual Wi-Fi coverage may vary due to different environment, building material and wireless interferences.
WIRELESS
Working Modes
Range Extender/Access Point
HARDWARE FEATURES
Plug Type
EU, UK, US
Standards and Protocols
IEEE802.11ac, IEEE 802.11n, IEEE 802.11g, IEEE 802.11b
Interface
1 * 10/100/1000M Ethernet Port (RJ45)
Ports
1 Gigabit Ethernet Port
Button
RE (Range Extender) Button, Reset Button, LED Button, Power Button
Input Power
100-240V~50/60Hz
Power Consumption
9W(max power consumption)
Dimensions ( W x D x H )
6.4x 3.0 x 2.6 in. (163 x 76.4 x 66.5mm)
Antenna
3* external
WIRELESS FEATURES
Wireless Standards
IEEE 802.11a/n/ac 5 GHz, IEEE 802.11b/g/n 2.4 GHz
Frequency
2.4GHz & 5GHz(11ac)
Signal Rate
5GHz:Up to 1300Mbps
2.4GHz:Up to 450Mpbs
Reception Sensitivity
5GHz:
11a 6Mbps:-93dBm@10% PER
11a 54Mbps: -76dBm@10% PER
11ac HT20 mcs8: -68dBm@10% PER
11ac HT40 mcs9: -64dBm@10% PER
11ac HT80 mcs9: -61dBm@10% PER
2.4GHz
11g 54M: -77dBm@10% PER
11n HT20 mcs7: -73dBm@10% PER
11n HT40 mcs7: -70dBm@10% PER
Wireless Modes
Range Extender
Wireless Functions
Wireless Statistic
Concurrent Mode boost both 2.4G/5G WiFi band
High Speed Mode for great speed for HD Gaming and video
Access Control
LED Control
Domain Login Function
Wireless Security
64/128-bit WEP
WPA-PSK / WPA2-PSK
Transmission Power
<20dBm(2.4GHz)
<23dBm(5GHz)
OTHERS
Certification
CE, FCC, RoHS
Package Contents
AC1750 Wi-Fi Range Extender RE450
Quick Installation Guide
Box Dimensions (W X D X H)
7.9 x 4.9 x 3.4in. (202x 125 x 86mm)
System Requirements
Microsoft® Windows® 98SE, NT, 2000, XP, Vista or Windows 7, 8, 10, Mac® OS, NetWare®, UNIX® or Linux.
Environment
Operating Temperature: 0°C~30°C (32°F~86°F)
Storage Temperature: -40°C~70°C (-40°F~158°F)
Operating Humidity: 10%~90% non-condensing
Storage Humidity: 5%~90% non-condensing
From United States?
Get products, events and services for your region.