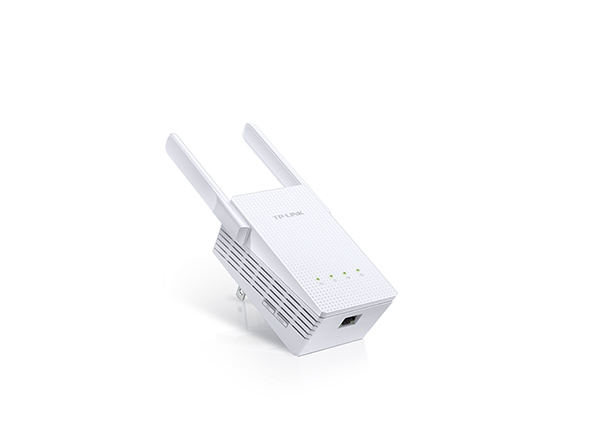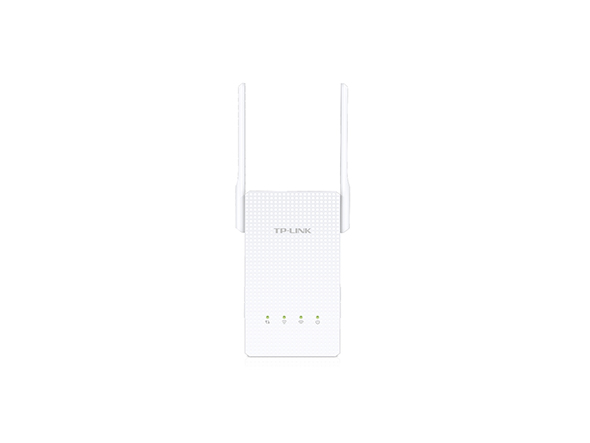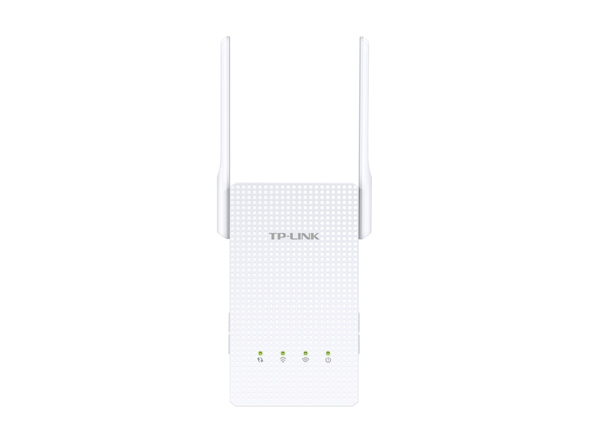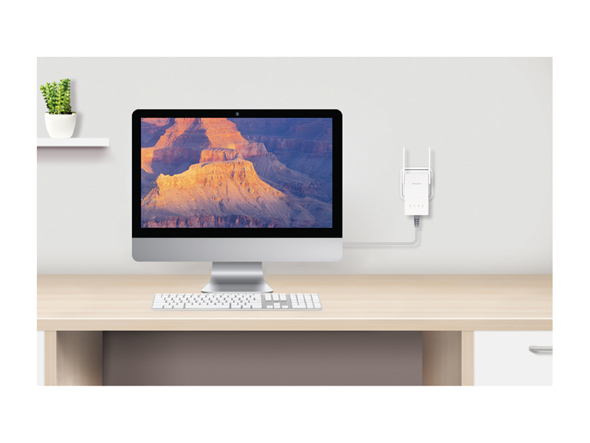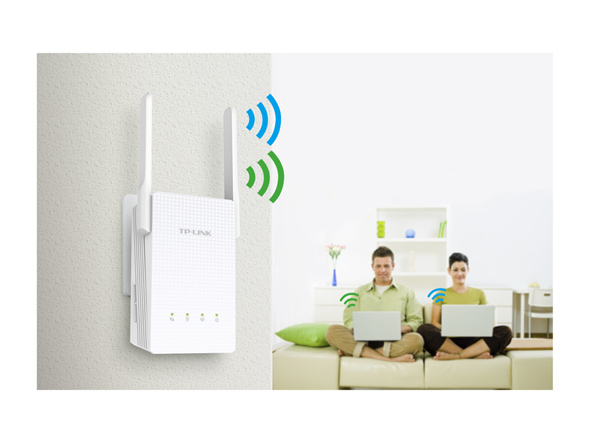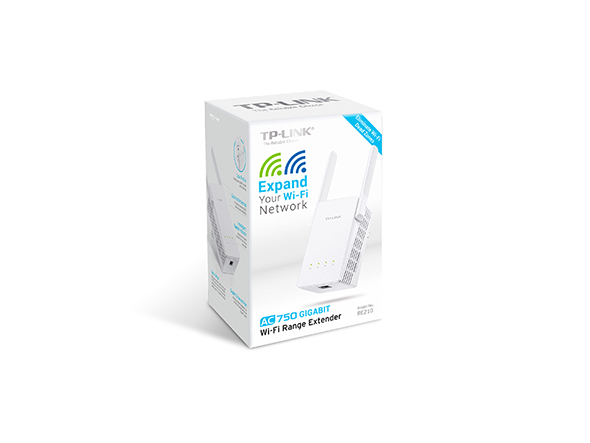 AC750 Wi-Fi Range Extender
สนับสนุนสัญญาณไร้สายของคุณ , ขจัดพื้นที่ที่เข้าใช้งานไม่ได้ หรือ โซนที่ใช้งานไม่ได้
รองรับ 802.11 a/b/g/n/ac ทั้งหมดของเร้าเตอร์ไวไฟ และไวเลสแอคเซสพอยท์
เทคโนโลยีไร้สาย AC ส่งความเร็วรวมทั้งสองช่องสัญญาณ ที่ความเร็วถึง 750 Mbps
พอร์ตกิกะบิตอีเทอร์เน็ตอนุญาตให้ขยายการเชื่อมต่ออุปกรณ์แบบมีสายทำเป็นบริดจ์ไร้สาย
กะทัดรัด , ออกแบบมาให้ติดตั้งที่กำแพงเพื่อให้ง่ายและยืดหยุ่นในการปรับใช้งาน
สนับสนุนเครือข่ายไร้สายของคุณ
คุณเหนื่อยกับโซนที่ไม่มีสัญญาณ Wi-Fi ไหม ? ตัวขยายสัญญาณของ TP-LINK ทำการเชื่อมต่อสัญญาณไร้สายของคุณ สัญญาณที่แข็งแกร่งและขยายไปยังพื้นที่ที่ไปไม่ถึง อุปกรณ์ยังช่วยลดสัญญาณรบกวนเพื่อให้แน่ใจว่าสัญญาณ Wi-Fi ที่เชื่อถือได้ ครอบคลุมตลอดทั้งบ้านหรือสำนักงานของคุณ
สายอากาศภายนอกที่มีประสิทธิภาพสูง
สองสายอากาศภายนอกที่ช่วยเสริมให้สัญญาณ Wi-Fi ของคุณและมีความน่าเชื่อถือ, ช่วยให้อุปกรณ์ของคุณยังคงมีการเชื่อมต่ออยู่ ไม่ว่าเป็นที่ใดก็ตามที่เครือข่ายของคุณไปถึง
มาตรฐาน Wi-Fi ยุคใหม่ที่เข้ากันได้หลากหลาย
คุณสมบัติตัวขยายสัญญาณของมาตรฐาน 802.11ac Wi-Fi ยุคใหม่ เทคโนโลยีไร้สาย AC ทำงานบนสองช่องสัญญาณที่รวมความเร็วสูงถึง 750 Mbps , รวมทั้งความเร็ว 433Mbps ที่ 5 GHz และ 300Mbps ที่ 2.4 GHz บวกกับการขยายสัญญาณสามารถทำงานที่มาตรฐาน Wi-Fi เร้าเตอร์หรือไวเลสแอคเซสพอยท์ใดก็ได้
Works With Any Wi-Fi Router
*Actual Wi-Fi speeds may vary due to different user environments.
ความเร็วกิกะบิตแบบเชื่อมต่อด้วยสาย
พอร์ตกิกะบิตอีเทอร์เน็ตเปลี่ยนเป็นตัวขยายสัญญาณไปยังบริดจ์ไร้สาย ให้คุณได้เชื่อมต่ออุปกรณ์ที่มีสายเช่น เครื่องเล่น Blu-ray, เกมส์คอนโซล, DVR, หรือ สมาร์ท TV ไปยังโครงข่าย Wi-Fi ของคุณ
Gigabit Ethernet port
โหมดความเร็วสูง
โหมดความเร็วสูงที่มีประสิทธิภาพเต็มรูปแบบโดยการรวมแบนด์วิดธ์ของช่องสัญญาณทั้ง 5GHz และ 2.4GHz เพื่อสร้างการเชื่อมต่อได้อย่างรวดเร็วด้วยหนึ่งช่องสัญญาณในการส่งข้อมูลและรับข้อมูลอื่น ๆ การตั้งค่านี้เหมาะกับงานที่มีแบนด์วิดธ์มากเช่นการสตรีมมิ่งวิดีโอความละเอียดสูงและการเล่นเกมส์ออนไลน์





A Design for Easy Use
Intelligent Signal Indicator

The Intelligent Signal light changes colors to indicate the strength of the signal received from your wireless router, locating the ideal spot to place the range extender easily.

User-friendly Design

Push the LED on/off button to turn off the lights at night. Wall-mounted design for flexible placement.

RE Button for Easy Setup

Once the extender is plugged in, press its RE button and the WPS button on your router and the two will pair with each other within two minutes.
HARDWARE FEATURES
Plug Type
EU, UK, US, AU
Standards and Protocols
IEEE802.11ac, IEEE 802.11n, IEEE 802.11g, IEEE 802.11b
Interface
1 * 10/100/1000M Ethernet Port (RJ45)
Button
RE (Range Extender) Button, Reset Button, LED Button, Power Button
Power Consumption
About 6.5W
Dimensions ( W x D x H )
3.7x 2.1 x 3.0in. (94 x 54 x 75.2mm)
Antenna
2* external
WIRELESS FEATURES
Frequency
2.4GHz & 5GHz(11ac)
Signal Rate
5GHz:Up to 433Mbps
2.4GHz:Up to 300Mpbs
Reception Sensitivity
2.4G:
270M: -70dBm@10% PER
130M: -70dBm@10% PER
108M: -73dBm@10% PER
54M: -75dBm@10% PER
11M: -86dBm@8% PER
6M: -92dBm@10% PER
1M: -94dBm@8% PER
5G:
390M: -60dBm@10% PER
29.3M: -83dBm@10% PER
180M: -64dBm@10% PER
13.5M: -87dBm@10% PER
78M: -68dBm@10% PER
6.5M: -90dBm@10% PER
54M: -75dBm@10% PER
6M:-90dBm@10% PER
Transmit Power
< 20 dBm (EIRP)
Wireless Modes
Range Extender
Wireless Functions
WMM (Wi-Fi Multimedia)
Wireless Statistic
Concurrent Mode boost both 2.4G/5G WiFi band
High Speed Mode for great speed for HD Gaming and video
Wireless Mac Filter
Domain Login Function
Wireless Security
64/128-bit WEP
WPA-PSK / WPA2-PSK
OTHERS
Certification
CE, FCC, RoHS
Package Contents
AC750 WiFi Range Extender RE210
RJ-45 Ethernet Cable
Quick Installation Guide
Box Dimensions (W X D X H)
4.0 x 3.5 x 6.1in. (100.5 x 89 x 155.5mm)
System Requirements
Microsoft® Windows® 98SE, NT, 2000, XP, Vista or Windows 7, 8, 10, Mac® OS, NetWare®, UNIX® or Linux.
Environment
Operating Temperature: 0°C~40°C (32°F~104°F)
Storage Temperature: -40°C~70°C (-40°F~158°F)
Operating Humidity: 10%~90% non-condensing
Storage Humidity: 5%~90% non-condensing
SubscriptionTP-Link takes your privacy seriously. For further details on TP-Link's privacy practices, see TP-Link's Privacy Policy.
From United States?
Get products, events and services for your region.