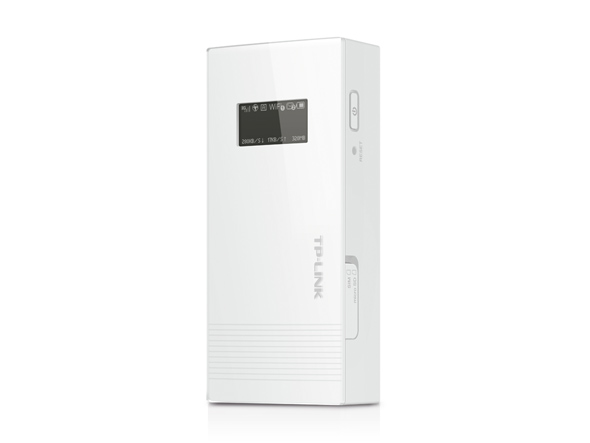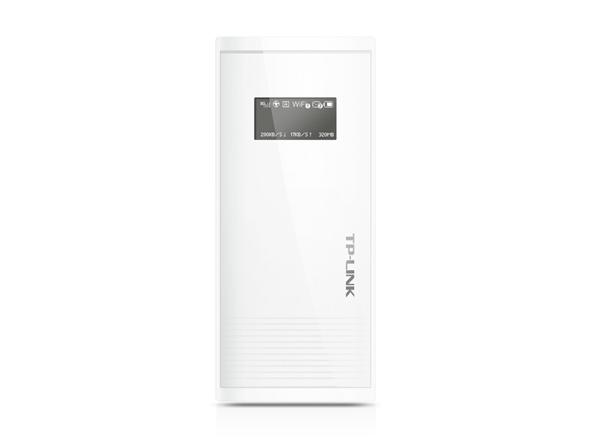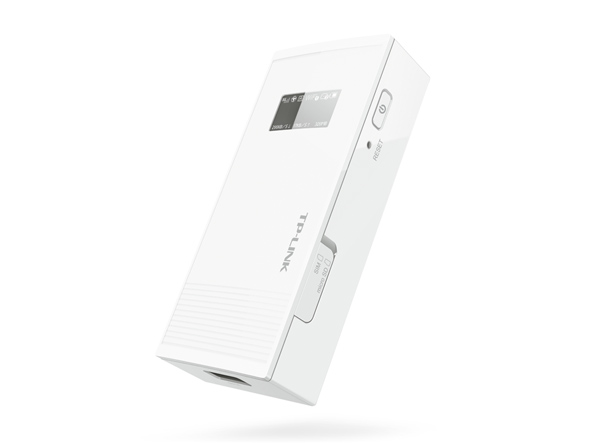 3G Mobile WiFi, 5200mAh Power Bank
รองรับ 3G HSPA+ ซึ่งสามารถรองรับความเร็วดาวน์โหลดสูงสุดที่ 21.6Mbps และอัพโหลดสูงสุดที่ 5.76Mbps
รองรับการใช้งานอุปกรณ์ได้ถึง 10 เครื่อง พร้อมกัน
สามารถตรวจสอบข้อมูลต่าง ๆ ได้อย่างง่ายดายจากจอแสดงผลบนอุปกรณ์
แบตเตอรี่ขนาด 5200mAh สามารถใช้งานได้สูงสุด 16 ชั่วโมง
มีพอร์ต USB สำหรับชาร์จโทรศัพท์มือถือและแท็บเล็ตได้ (5V/1A)
สามารถใส่ Micro SD card และอัพได้สูงสุดถึง 32GB
ใช้งาน 3G ร่วมกันอย่างง่ายดาย
TP-LINK M5360 คืออุปกรณ์ที่แบ่งปันข้อมูลในระบบ 3G ชั้นแนวหน้า ผสมผสาน การเชื่อมต่ออินเตอร์เน็ตความเร็วสูงเข้ากับรูปแบบมาตราฐาน Wi-Fi 802.11n ใช้งานได้โดยไม่จำเป็นต้องพึ่งอุปกรณ์พ่วงตัวอื่น เพียงใส่ซิมการ์ดก็สามารถสร้าง จุดปล่อยสัญญาณ Wi-FI เพื่อแบ่งปันการใช้งานระบบ 3G ในขณะเดินทางได้ทุกที่ ที่มีสัญญาณ 3G ครอบคลุมรองรับการทำงาน HSPA+ การใช้งาน Wi-FI ความเร็วสูง แบบเคลื่อนที่ รองรับ Micro SD ความจุสูงสุดถึง 32GB
รองรับ Micro SD ความจุสูงสุดถึง 32GB
ความเร็วในการดาวน์โหลดสูงถึง 21.6Mbps
รองรับการทำงาน HSPA+ การเชื่อมต่ออินเตอร์เน็ตความเร็วสูง กับความเร็วการดาวน์โหลดสูงสุดถึง 21.6 Mbps และอัพโหลดที่ 5.76 Mbps สามารถใช้งานการเชื่อมต่อสัญญาณ 3G ให้ผู้ใช้ได้รับประสบการณ์การใช้งานอินเตอร์เน็ตที่ลื่นไหลอย่างเพลิดเพลิน
Download Speeds/Mbps
ความเร็วในการดาวน์โหลดขึ้นอยู่กับการใช้งานและสภาพแวดล้อมที่ต่างกัน
จอแสดงผลแบบ OLED ที่ทำให้ดูข้อมูลได้ง่ายและรวดเร็ว
ด้วยรูปทรงที่มีขนาดกะทัดรัดและหน้าจอ OLED แบบฝัง ทำให้ M5360 เห็นสถานะการทำงานของ อุปกรณ์ เช่น สถิติการใช้งาน แบตเตอรี่ ความแรงของสถานะ Wi-Fi หมายเลขผู้ใช้และอื่นๆ
ชนิดและความเข้มของสัญญาณ
การเชื่อมต่ออินเตอร์เน็ต
โหมดการเชื่อมต่ออัตโนมัติ
จำนวนผู้ใช้
ข้อความ
สถานะแบตเตอรี่
ความเร็วในการดาวน์โหลด
ความเร็วในการอัพโหลด
สถิติของการจราจรข้อมูล
แบตเตอรี่ภายในขนาด 5200 mAh
ด้วยแบตเตอรี่ภายในขนาด 5200 mAh ทำให้ M5360 สามารถใช้งานได้นาน 16-26 ชั่วโมง ในรูปแบบ การใช้งานปกติหรือ 16-17 ชั่วโมงในกรณีที่มีการใช้งานแบนด์วิธด์จำนวนมาก (ในขณะที่แบตเตอรี่เต็ม) นอกจากนี้ตัวอุปกรณ์สามารถชาร์ตผ่านสาย USB ที่เชื่อมต่อกับคอมพิวเตอร์ได้ เมื่อทำการต่อที่ชาร์ตไว้ จะทำให้สามารถเล่น 3G ได้อย่างไม่จำกัดเวลา
16-17 ชั่วโมง
ระยะเวลาขึ้นอยู่กับการใช้งานและสภาพแวดล้อมที่แตกต่างกัน
ใช้งานเป็น
พาวเวอร์แบงค์
ด้วยแบตเตอรี่ขนาด 5200 mAh ทำให้ M5360 สามารถจ่ายไฟ (สูงถึง 5V/1A) ให้แก่อุปกรณ์แบบพกพาต่างๆ อาทิ โทรศัพท์มือถือหรือแท็บเล็ต ได้ในทุกที่และทุกเวลาที่คุณต้องการการหลีกเลี่ยงปัญหาที่ต้องพกที่ชาร์ต ในขณะที่การเดินทางและไม่ต้องกังวลกับสถานะของแบตเตอรี่บนโทรศัพท์ และแท็บเล็ตที่ต่ำเมื่อถึงเวลาที่จำเป็นจะต้องใช้งาน
แชร์สัญญาน Wireless ใช้งานพร้อมกันถึง 10 คน
M5360 สามารถให้บริการการเชื่อมต่อไร้สายแก่ผู้ใช้งานได้พร้อมกันถึง 10 คน ทำให้คุณสามารถที่จะเชื่อมต่ออินเตอร์เน็ตความเร็วสูงในระบบ 3G กับเพื่อนๆ และคนในครอบครัวได้
TP-LINK's 3G Mobile WiFi Series
HARDWARE FEATURES
Interface
1 micro USB port for power supply
1 USB 2.0 port for charging smart phones/tablets
SIM card slot
Micro SD card slot
Button
Power On/Off Button
Reset Button
Power Supply
Internal 5200mAh Rechargeable Battery (undetachable)
Network Type
3G: DC-HSPA+/HSPA/UMTS B1/B8 (2100/900MHz)
2G: EDGE/GPRS/GSM Quad Band (850/900/1800/1900MHz)

Data Rates
DL: 21.6Mbps, UL: 5.76Mbps
Dimensions ( W x D x H )
3.9×1.7×1.1in.(100×44.3×28.5mm)
Antenna
Internal Antenna
Micro SD Card Reader
Up to 32GB
Band
WCDMA: 900/2100Mhz
GSM: 850/900/1800/1900Mhz
OLED Display
Traffic statistics, Wi-Fi status, user numbers, network type (2G/3G), signal strength, Internet connection status, messages, battery meter.
WIRELESS FEATURES
Wireless Standards
IEEE 802.11b, IEEE 802.11g, IEEE 802.11n
Frequency
2.4-2.4835GHz
Transmit Power
<20dBm
Wireless Security
Support WPA-PSK/WPA2-PSK,Wireless MAC Filtering, Enable/Disable SSID Broadcast
DHCP
DHCP server, DHCP Client List
OTHERS
Certification
CE, FCC, RoHS
Package Contents
3G Mobile Wi-Fi, 5200mAh Power Bank M5360
Micro USB Cable
Micro to Standard SIM Card Adapter
Nano to Standard SIM Card Adapter
Quick Installation Guide
System Requirements
Windows 8/7/vista/XP, Mac OS, Android, iOS, Windows Phone
รางวัล

The Best Mobile Solution

M5360 won The Best Mobile Solution from Magazine Byte TI in Spain

2014, Spain
From United States?
Get products, events and services for your region.