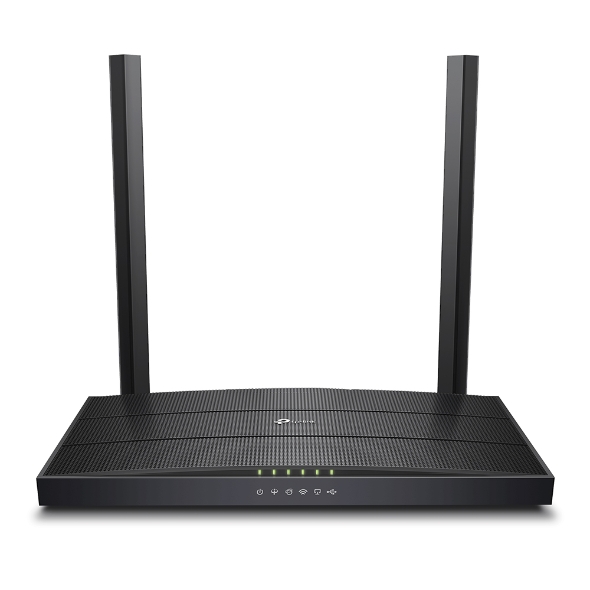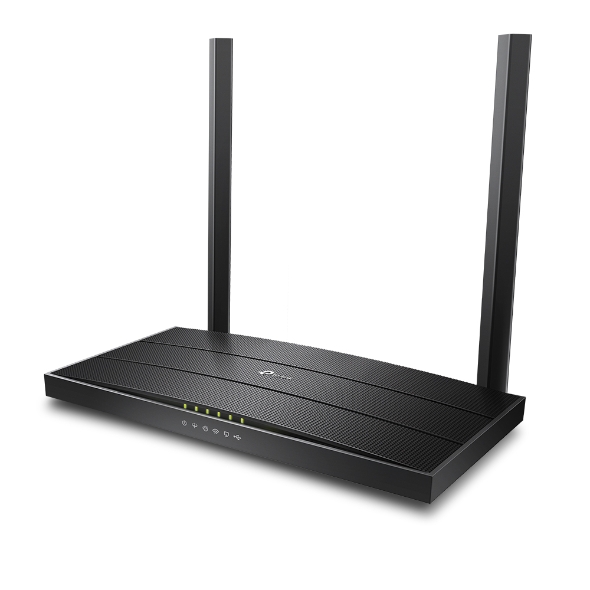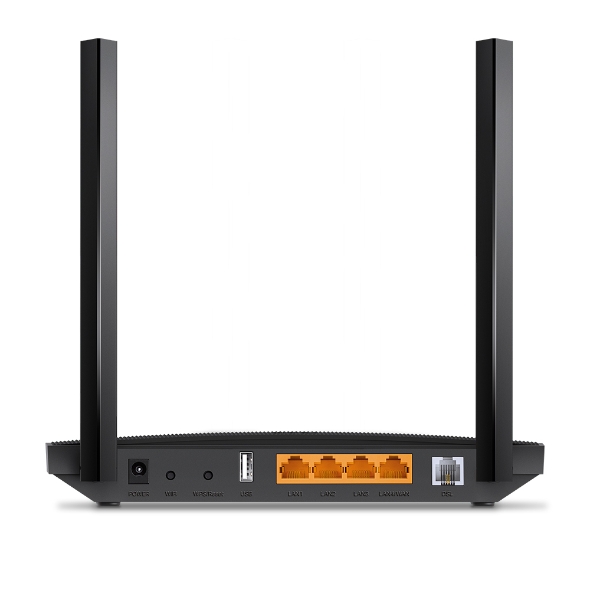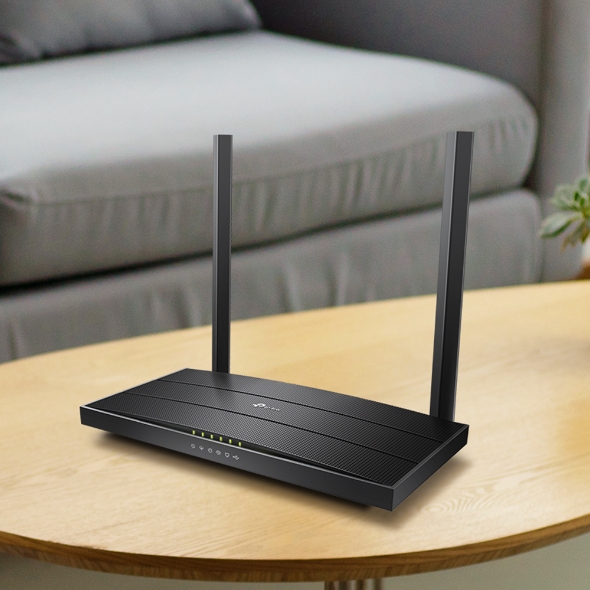 AC1200 Wireless VDSL/ADSL Modem Router
Superfast Wi-Fi –ด้วยความเร็ว 300Mbps (2.4GHz) และ 867Mbps (5GHz) เชื่อมต่อ 2 ย่านความถี่
Superior Range – ด้วยสายอากาศแบบถอดได้ถึง 3 สาย ช่วยให้การเชื่อมต่อมีความเสถียรและให้การครอบคลุมที่มากขึ้น
Versatile Connectivity – สามารถเชื่อมต่อได้ทั้ง VDSL2/ADSL2+/ADSL2/ADSL มาตรฐานเช่นเดียวกับสายไฟเบอร์ สายเคเบิล และบริการอินเทอร์เน็ต 3g 4g
Beamforming Technology – เป็นเทคโนโลยีที่ช่วยเพิ่มประสิทธิภาพในการส่งสัญญาณไปยังเครื่องปลายทางได้ดียิ่งขึ้น
พอร์ต USB - รองรับการจัดเก็บข้อมูลและการบริการแชร์งานพิมพ์ , FTP สื่อเซิร์ฟเวอร์ ตลอดจน อุปกรณ์เชื่อมต่อ 3G / 4G
Tether App – เป็นแอปพลิเคชันที่ช่วยให้สามารถตั้งค่าเราเตอร์ได้ง่ายๆ ผ่านทางมือถือของคุณ โดยสามารถใช้ได้ทั้ง iOS และ Android
Supercharge
Your Wi-Fi
AC1200 Wireless VDSL/ADSL
Modem Router
Superfast Wi-Fi - Up to 1.2Gbps
Archer VR400 ปลดล็อคศักยภาพของการเชื่อมต่ออินเทอร์เน็ตของคุณโดยให้ความเร็วของ 2 คลื่นความถี่สัญญาณ Wi-Fi ถึง 1.2Gbps , 300Mbps บนความถี่ 2.4GHz และ 867Mbps บนความถี่ 5GHz, การจำกัดความล่าช้าและบัฟเฟอร์จากความชำนาญในด้านการออนไลน์
เฉพาะสองเครือข่าย Wi-fi ที่สนับสนุนอุปกรณ์มากขึ้นและลดสัญญาณรบกวนแบบไร้สายเพื่อสร้างการเชื่อมต่อที่มีเสถียรภาพ
5GHz 867Mbps
2.4GHz 300Mbps
Superfast VDSL Broadband
เทคโนโลยี VDSL2 ล่าสุดช่วยให้ Archer VR400 ทำความเร็ว VDSL ความเร็วสูงถึง 100 Mbps , ซึ่งจากการทดสอบห้าครั้งเร็วกว่า ADSL2+ , Archer VR400 ทำหน้าที่เป็นโมเด็ม DSL และเราเตอร์ Wireless รวมสองอุปกรณ์เข้าในหนึ่งเดียว , พอร์ต DSL สนับสนุนทุกการเชื่อมต่อมาตรฐาน DSL รวมทั้ง VDSL2, ADSL2 + ADSL2 และ ADSL
Versatile Backup Connectivity
ด้วยหลายปัจจัยการเชื่อมต่อ Archer VR400 ให้คุณมีความหลากหลายของตัวเลือกเมื่อเชื่อมต่อกับอินเทอร์เน็ต เท่ากับการสำรอง พอร์ต Ewan ช่วยให้ Archer VR400 ยอมรับการเชื่อมต่อจากสายเคเบิลใยแก้วนำแสงและโมเด็มผ่านสายอีเธอร์เน็ต นอกจากนี้พอร์ต USB ยังสนับสนุนการเชื่อมต่อ 3G / 4G ผ่าน อุปกรณ์ dongle ด้วย
Fiber/Cable Modem
LAN/WAN Port
Ethernet Cable
Superior Range and Stability
ประสิทธิภาพสูงของเสาอากาศภายนอก 3 เสาช่วยให้ Archer VR400 สร้างเครือข่ายภายในบ้านกว้างขวาง ด้วยเทคโนโลยีขั้นสูง Beamforming การส่งสัญญาณอัตโนมัติไปยังที่ตั้งอุปกรณ์ไร้สายและจุดที่กำหนดเป้าหมายการเชื่อมต่อไร้สายที่มีประสิทธิภาพสูง
*Archer VR400 only supports Beamforming Technology at 5GHz band.
Beamforming
Other Router without Beamforming
USB Ports
Printer

Music

Photos

Video
Gigabit Ethernet Port
4K HD TV

Desktop

NAS

Game Console
Blazing Fast Wired Performance
ช่วยให้อุปกรณ์ทำงานได้อย่างมีประสินธิภาพสูงสุด ที่ตัวเร้าเตอร์ Port Gigabit Ethernet ทำงานได้เร็วกว่า Ethernet ถึง 10 เท่า การเชื่อมต่อไดร์ฟภายนอกเข้ากับ Port USB 2.0 ช่วยให้คุณสามารถแบ่งปันไฟล์ภาพถ่ายเพลงและวิดีโอกับอุปกรณ์ใด ๆ บนเครือข่าย
Easy Setup and Use
ด้วยเว็บอินเตอร์เฟสที่ใช้งานง่ายและแอปพลิเคชั่นที่มีประสิทธิภาพ ช่วยให้คุณสามารถตั้งค่า Archer VR400 ได้ภายในไม่กี่นาที และยังช่วยให้คุณจัดการการตั้งค่าเครือข่ายได้ด้วยอุปกรณ์ Android หรือ iOS รวมทั้งสามารถควบคุมการใช้งานโดยผู้ปกครองและการแบ่งปันสื่อมีเดีย
Guest Network

Provide visitors with Wi-Fi access separate from your main network

Parental Controls

Manage when and how connected devices can access the Internet

Advanced Security

WPA-WPA2 encryption actively defends against security threats
HARDWARE FEATURES
Interface
3 10/100 RJ45 LAN Ports
1 10/100/1000 RJ45 LAN/WAN Port
1 RJ11 Port
1 USB 2.0 Port
Button
WPS Button, Wi-Fi On/Off Button, Reset Button
External Power Supply
12V/1A
IEEE Standards
IEEE 802.3, IEEE 802.3u, 802.3ab
VDSL2 Standards
ITU G.993.2, Up to 17a profile (POTS)ITU-T G.993.5 (G.vector)ITU-T G.998.4 (G.INP)
ADSL Standards
Full-rate ANSI T1.413 Issue 2,ITU-T G.992.1(G.DMT),ITU-T G.992.2(G.Lite),ITU-T G.994.1 (G.hs),
ADSL2 Standards
ITU-T G.992.3 (G.DMT.bis)
ADSL2+ Standards
ITU-T G.992.5
Dimensions ( W x D x H )
8.5 × 4.9 × 1.2 in (215.6 × 124.6 × 31.6 mm)
Antenna Type
3 Fixed External Antennas
WIRELESS FEATURES
Wireless Standards
IEEE 802.11ac/n/a 5GHz, IEEE 802.11b/g/n 2.4GHz
Frequency
2.4 GHz and 5 GHz
Signal Rate
867Mbps at 5 GHz, 300Mbps at 2.4 GHz
Wireless Functions
Enable/Disable Wireless Radio, WMM, Wireless Statistics
Wireless Security
64/128-bit WEP, WPA/WPA2, WPA-PSK/WPA2-PSK encryptions
Transmission Power
<20dBm (2.4 GHz), <23dBm (5 GHz)
Wireless Schedule
Support 2.4 GHz and 5 GHz Wireless Schedule
SOFTWARE FEATURES
Security
NAT Firewall, SPI Firewall, Access Control, Service Filtering, Denial of Service (DoS), SYN Flooding, Ping of Death, IP and MAC Address Binding
Operating Modes
VDSL/ADSL Modem Router, Wireless Router, 3G/4G Router
Management
Web-Based Configuration (HTTP / HTTPS ), Remote management, Command Line Interface, SSL for TR-069, SNMP v1/2c, Firmware Upgrade, Diagnostic Tools, Free Online Firmware Update
DHCP
Server, Client, DHCP Client List, Address Reservation, DHCP Relay
Port Forwarding
Virtual Server, Port Triggering, DMZ, ALG, UPnP
Dynamic DNS
DynDns, NO-IP, TP-Link
VPN
OpenVPN, PPTP VPN, IPSec VPN
Protocols
Supports IPv4 and IPv6
ATM/PPP Protocols
ATM Forum UNI3.1/4.0, PPP over ATM (RFC 2364), PPP over Ethernet (RFC2516), IPoA (RFC1577/2225), MER\IPoE (RFC 1483 Routed), Bridge (RFC1483 Bridge), PVC – Up to 8 PVCs
Advanced Features
Parental Controls, Network Address Translation(NAT), Port Mapping(Grouping), Static Routing, DDNS, IGMP V1/V2/V3
Guest Network
2.4GHz Guest Network, 5GHz Guest Network
OTHERS
Certification
CE, RCM, RoHS
Package Contents
AC1200 Wireless MU-MIMO VDSL/ADSL Modem Router Archer VR400External SplitterRJ11 DSL CableRJ45 Ethernet CablePower AdapterQuick Installation Guide
System Requirements
Microsoft Windows 98SE, NT, 2000, XP, Vista™ or Windows 7, 8, 8.1, 10, macOS, NetWare, UNIX or LinuxInternet Explorer 11, Firefox 12.0, Chrome 20.0, Safari 4.0, or otherJava-enabled browserSubscription with an internet service provider (for internet access)
Environment
Operating Temperature: 0℃~40℃ (32℉ ~104℉)Operating Humidity: 10%~90% non-condensing
SubscriptionTP-Link takes your privacy seriously. For further details on TP-Link's privacy practices, see TP-Link's Privacy Policy.
From United States?
Get products, events and services for your region.