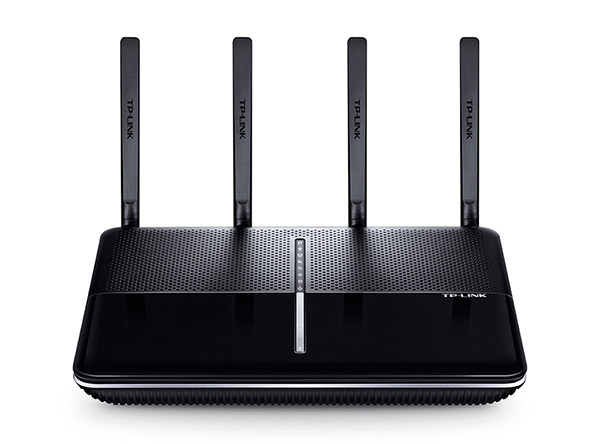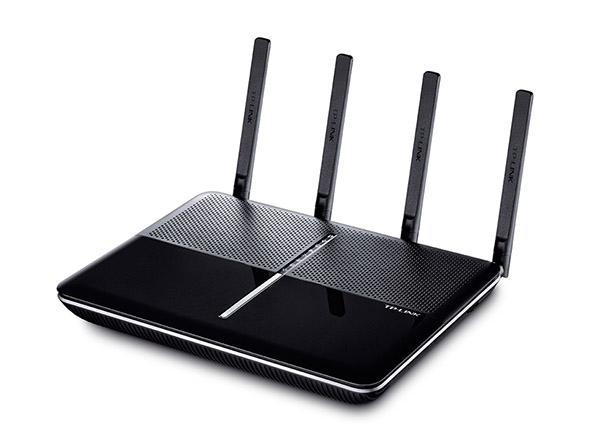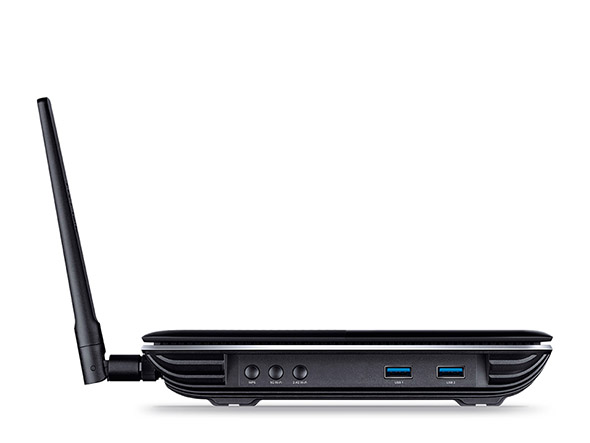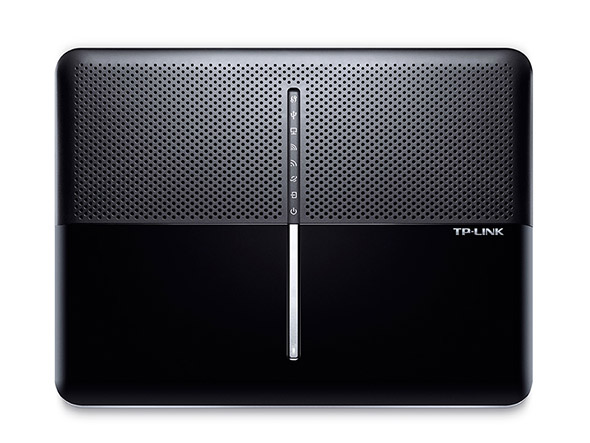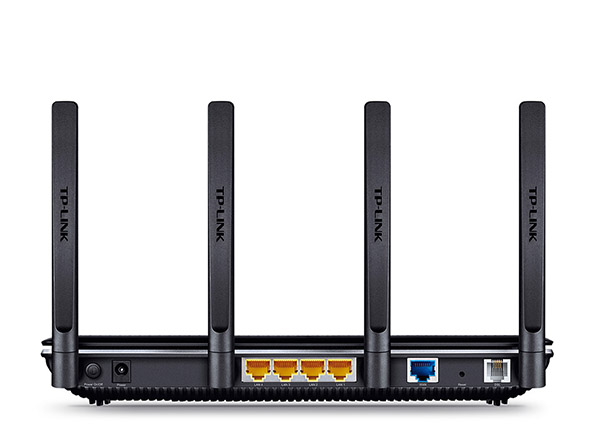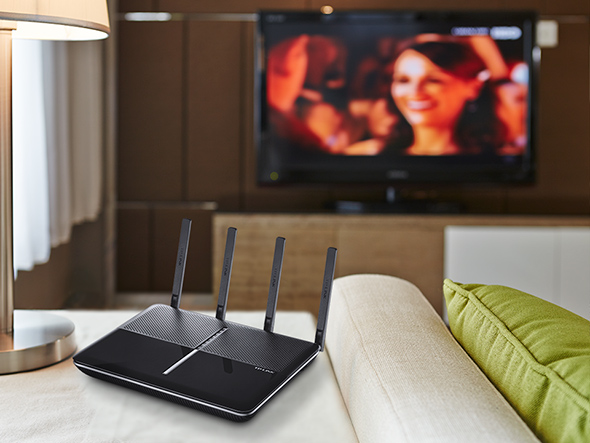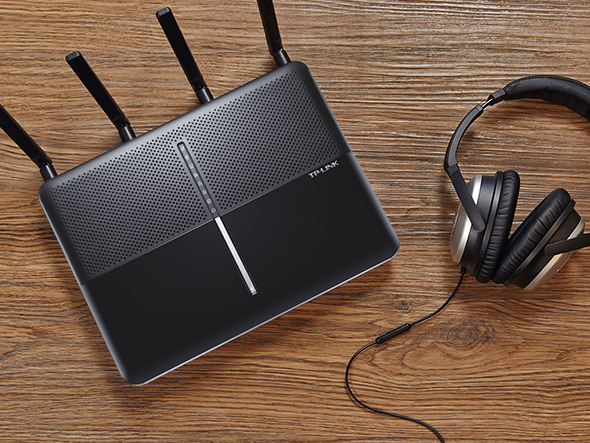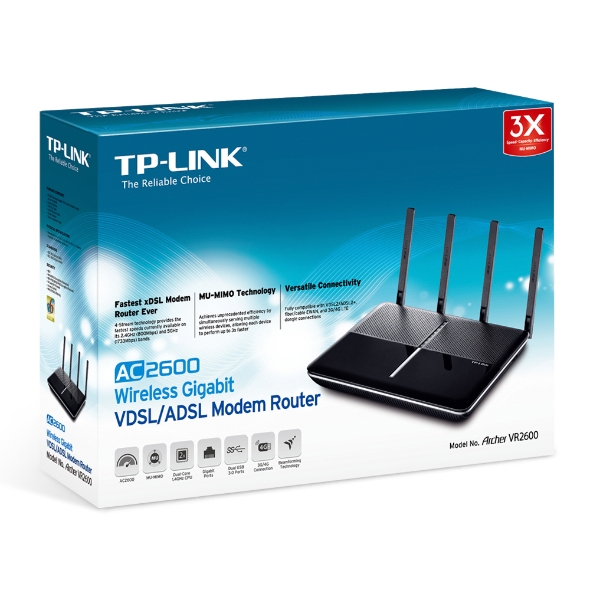 Archer VR2600
AC2600 Wireless Gigabit VDSL/ADSL Modem Router
เทคโนโลยี 4-Stream สำหรับเพิ่มความเร็วสัญญาณ Wi-Fi ทำให้ Archer VR2600 สามารถให้ความเร็วในย่าน 2.4GHz (800Mbps) และย่าน 5GHz (1733Mbps)
สามารถเชื่อมต่อได้หลากหลาย โดยสามารถใช้งานผ่านพอร์ต DSL EWAN และ USB โดย Archer VR2600 สามารถเชื่อมต่อผ่านสาย DSL / Fiber / Cable และ USB 3G/4G
รองรับการใช้งานพร้อมกันหลายอุปกรณ์ ซึ่ง Archer VR2600 ประกอบด้วยเทคโนโลยี MU-MIMO ซึ่งทำให้สามารถส่งข้อมูลได้หลายอุปกรณ์ในเวลาเดียวกัน จึงทำให้สามารถให้ความเร็วในการส่งผ่านข้อมูลได้สูงถึง 3 เท่า เมื่อเปรียบเทียบกับเทคโนโลยีเดิม
ด้วยประสิทธิภาพของหน่วยประมวลผลแบบ dual-core ที่มีความเร็วในการประมวลผลที่ 1.4GHz จึงทำให้สามารถใช้งานท่องเว็บไซต์ สตรีมมิ่งวิดีโอ และเล่นเกมส์ได้อย่างราบรื่นแม้จะใช้งานพร้อมกันก็ตาม
4 เสาสัญญาณ 2 ย่านความถี่ที่มีประสิทธิภาพสูง และเทคโนโลยี Beamforming จึงทำให้สัญญาณไร้สายครอบคลุมรอบทิศทางตามที่ต้องการ
TP-LINK Tether App ทำให้คุณสามารถเข้าถึงและจัดการเราเตอร์ของคุณได้อย่างง่ายดาย ผ่านอุปกรณ์ Android หรือ iOS
Unlock the Wi-Fi Potential with Powerful Multitasking
AC2600 Wireless Gigabit VDSL/ADSL Modem Router
Groundbreaking MU-MIMO: A Giant Leap in Wireless World
ด้วยเทคโนโลยี MU-MIMO บน Archer VR2600 จึงทำให้สามารถรองรับการเชื่อมต่อพร้อมกันได้หลายอุปกรณ์ โดยจะส่งข้อมูลให้หลายอุปกรณ์ในเวลาเดียวกันจึงทำให้ไม่เกิดความล่าช้าในการใช้งาน และให้ความเร็วในการส่งผ่านข้อมูลได้สูงกว่าเดิมถึง 3 เท่า
คุณสามารถเพลิดเพลินกับการสตรีมมิ่งวิดีโอ สนทนาวิดีโอ และเล่นเกมส์ออนไลน์ ได้ในเวลาเดียวกันโดยไม่เกิดความล่าช้าในการใช้งาน
เทคโนโลยี MU-MIMO ช่วยให้ Archer VR2600 สามารถให้การเชื่อมต่อได้หลายอุปกรณ์ในเวลาเดียวกัน พร้อมความเร็วในการส่งผ่านข้อมูลมากกว่าเดิมเป็น 3 เท่า ช่วยให้สามารถรองรับการใช้งาน สตรีมมิ่งวิดีโอ HD ขนาด 4K และ เล่นเกมส์ออนไลน์ได้ในเวลาเดียวกัน
Learn more about MU-MIMO technology
>
Traditional Router
Stream data to one device at a time
MU-MIMO Router
Stream data to multiple devices simultaneously
Industry-leading Wi-Fi Speed
เพื่อให้ได้รับความเร็วของการส่งผ่านข้อมูลที่ดีที่สุดทั้งย่าน 2.4GHz และย่าน 5GHz Archer VR2600 จึงใช้เทคโนโลยี 4-Stream เพื่อเพิ่มความสามารถของสัญญาณไร้สายได้ความเร็วสูงสุดถึง 800Mbps (2.4GHz) + 1733Mbps (5GHz)ซึ่งสามารถรองรับการทำงานที่ต้องใช้งานแบนด์วิดธ์มากได้อย่างราบรื่น
Superfast VDSL Broadband
ด้วยเทคโนโลยี VDSL2 จีงทำให้ Archer VR2600 สามารถรองรับความเร็วของเทคโนโลยี VDSL ได้สูงถึง 100 Mbps คิดเป็นเกือบ 5 เท่าของเทคโนโลยี ADSL2+ ซึ่ง Archer VR2600 สามารถทำหน้าที่เป็นโมเด็ม DSL โดยสามารถรองรับการทำงานได้ทั้ง VDSL2 / ADSL2+ / ADSL2 / ADSL
1Mbps
24Mbps
100Mbps
ADSL2+
VDSL2
Downstream Rate
Upstream Rate
Versatile Connectivity
ด้วยช่องทางการเชื่อมต่อที่หลากหลาย จึงทำให้ Archer VR2600 สามารถเชื่อมต่ออินเทอร์เน็ตได้หลายช่องทาง และสามารถสำรองข้อมูลหรือใช้งาน 3G/4G ผ่านพอร์ต USB นอกจากนี้ยังมีพอร์ต WAN ที่ช่วยให้ Archer VR2600 สามารถรองรับการใช้งานอินเทอร์เน็ตแบบเคเบิลและใยแก้วนำแสงได้ โดยเชื่อมต่อจากโมเด็มผ่านสายอีเทอร์เน็ต
RJ11 Cable
DSL Port
USB 3.0 Ports
3G/4G Dongle
Greatly Enhanced Processing
หน่วยประมวลผลแบบ dual-core ความเร็ว 1.4GHz จึงทำให้ Archer VR2600 มีประสิทธิภาพในการรองรับการใช้งานได้ดี ไม่เกิดความล่าช้า แม้จะมีการใช้งานท่องเว็บ สตรีมวิดีโอ หรือเล่นเกมส์ออนไลน์ในเวลาเดียวกันก็ตาม
Superior Wi-Fi Coverage
4 เสาสัญญาณภายนอกที่มีประสิทธิภาพสูงจึงช่วยให้ Archer VR2600 สามารถสร้างเครือข่ายไร้สายที่มีเสถียรภาพ และยังมีเทคโนโลยี Beamforming ที่ช่วยให้เพิ่มความครอบคลุมของสัญญาณและมุ่งเน้นสัญญาณไปยังอุปกรณ์ที่เชื่อมต่อของคุณทำให้อุปกรณ์ได้รับสัญญาณที่มีเสถียรภาพและการเชื่อมต่อที่สมบูรณ์.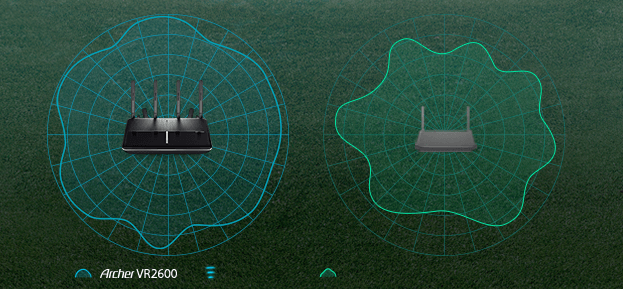 Beamforming
Other Router without Beamforming
Lightning-Fast Wired Connection
Archer VR2600 มาพร้อมพอร์ต USB 3.0 2 พอร์ต ซึ่งมึความเร็วมากกว่า USB 2.0 ถึง 10 เท่า และยังมีพอร์ตอีเทอร์เน็ตความเร็วกิกะบิตซึ่งมีความเร็วมากกว่าพอร์ตอีเทอร์เน็ตแบบมาตรฐานถึง 10 เท่า
HDTV
Online Gaming
Laptop
HD Video
USB 2.0
USB 3.0
10x
1x
Hard Disk
Digital Camera
Printer
Flash Drive
Lightning-Fast Wired Connection
Archer VR2600 มาพร้อมพอร์ต USB 3.0 2 พอร์ต ซึ่งมึความเร็วมากกว่า USB 2.0 ถึง 10 เท่า คุณสามารถเชื่อมต่ออุปกรณ์เก็บข้อมูลภายนอกเข้ามาเพื่อแบ่งปันข้อมูล รูปภาพ เพลง และวิดีโอผ่านเครือข่ายของคุณได้อย่างง่ายดาย
เพื่อช่วยให้การเชื่อมต่อผ่านสายแลนมีประสิทธิภาพจึงมาพร้อมกับพอร์ตอีเทอร์เน็ตความเร็วกิกะบิตซึ่งมีความเร็วมากกว่าพอร์ตอีเทอร์เน็ตแบบมาตรฐานถึง 10 เท่า
Easy Setup and Use
สามารถติดตั้งและตั้งค่า Archer VR2600 ได้อย่างง่ายดายผ่านหน้าเว็บหรือ Tether app ที่ช่วยให้คุณสามารถตั้งค่าเครือข่ายของคุณผ่านอุปกรณ์ Android หรือ iOS
HARDWARE FEATURES
Interface
1 10/100/1000Mbps RJ45 WAN Port
4 10/100/1000Mbps RJ45 LAN Ports
1 RJ11 Port
2 USB 3.0 Port

Button
WPS Button, LED Button, Wireless 2.4GHz On/Off Button,
Wireless 5GHz On/Off Button,
Power On/Off Button
External Power Supply
12V/3.3A
IEEE Standards
IEEE 802.3, IEEE 802.3u, 802.3ab
VDSL2 Standards
ITU-T G.993.2, Up to 17a profile (POTS)
ITU-T G.993.5 (G.vector)
ITU-T G.998.4 (G.INP)

ADSL Standards
Full-rate ANSI T1.413 Issue 2,
ITU-T G.992.1(G.DMT),
ITU-T G.992.2(G.Lite),
ITU-T G.994.1 (G.hs),
ITU-T G.995.1

ADSL2 Standards
ITU-T G.992.3 (G.DMT.bis),
ITU-T G.992.4 (G.lite.bis)

ADSL2+ Standards
ITU-T G.992.5
Dimensions ( W x D x H )
10.4 x 7.8 x 1.5 in. (263.8 x 197.8x 37.3 mm)
Antenna Type
4 external detachable dual band antennas
Antenna Gain
4 x 3.1dBi for 2.4GHz and 4 x 5dBi for 5GHz
WIRELESS FEATURES
Wireless Standards
IEEE 802.11a/n/ac 5GHz,
IEEE 802.11b/g/n 2.4GHz

Frequency
2.4GHz and 5GHz
Signal Rate
1733Mbps at 5GHz, 800Mbps at 2.4GHz
Transmit Power
2.4GHz <20dBm(EIRP)
5GHz <23dBm(EIRP)

Wireless Functions
Enable/Disable Wireless Radio, WDS Bridge, WMM,
Wireless Statistics
Wireless Security
64/128-bit WEP, WPA/WPA2, WPA-PSK/WPA-PSK2
encryptions, Wireless MAC Filtering

SOFTWARE FEATURES
Quality of Service
ATM QoS, Bandwidth Control
Security
NAT Firewall, Access Control,
IP and MAC Address Binding

Operating Modes
VDSL/ADSL Modem Router, Wireless Router, 3G/4G Router
Management
Web Based Conguration (HTTP), Remote management,
command Line Interface, SSL for TR-069, SNMP v1/2c,
Web Based Firmware Upgrade, Diagnostic Tools

DHCP
Server, Client, DHCP Client List, Address
Reservation, DHCP Relay
Port Forwarding
Virtual Server, Port Triggering, DMZ, ALG, UPnP
Dynamic DNS
DynDns, NO-IP
VPN Pass-Through
PPTP, L2TP, IPSec Passthrough
Protocols
Supports IPv4 and IPv6
ATM/PPP Protocols
ATM Forum UNI3.1/4.0, PPP over ATM (RFC 2364),
PPP over Ethernet (RFC2516), IPoA (RFC1577/2225), MER\IPoE
(RFC 1483 Routed), Bridge (RFC1483 Bridge), PVC – Up to 8 PVCs

Advanced Functions
Parental Control, Network Address Translation(NAT),
Port Mapping(Grouping), Static Routing, RIP
v1/v2(optional), DNS Relay,
DDNS, IGMP V1/V2/V3

USB Sharing
Support Samba(Storage)/FTP Server/Media Server/
Printer Server, 3G/4G Modem
Guest Network
2.4GHz guest network, 5GHz guest network
IPSec VPN
Supports up to 10 IPSec VPN tunnels
OTHERS
Certification
CE,RoHS
Package Contents
AC2600 Wireless Gigabit VDSL/ADSL Modem Router
Archer VR2600
External Splitter
RJ11 DSL Cable
RJ45 Ethernet Cable
Power Adapter
Quick Installation Guide

System Requirements
Microsoft Windows 98SE, NT, 2000, XP, Vista™ or Windows 7, 8, 8.1,
MAC OS, NetWare, UNIX or Linux
Internet Explorer 11, Firefox 12.0, Chrome 20.0, Safari 4.0,
or other Java-enabled browser
Cable or DSL Modem
Subscription with an Internet Service Provider (for Internet access)

Environment
Operating Temperature: 0℃~40℃ (32℉ ~104℉)
Storage Temperature: -40℃~70℃ (-40℉ ~158℉)
Operating Humidity: 10%~90% non-condensing
Storage Humidity: 5%~90% non-condensing

From United States?
Get products, events and services for your region.