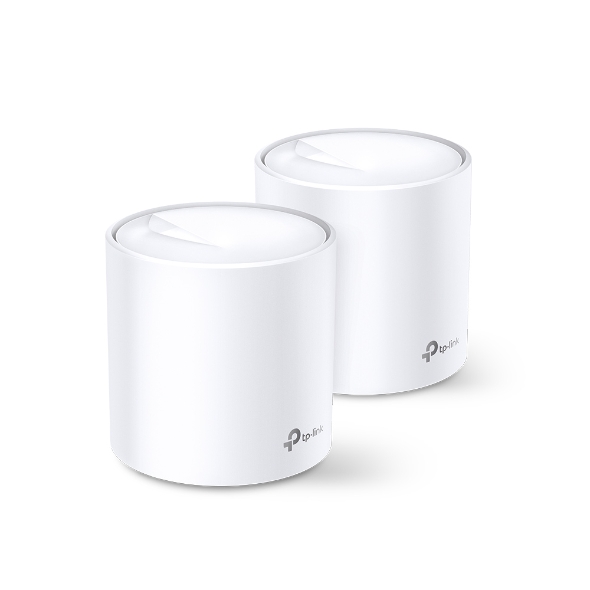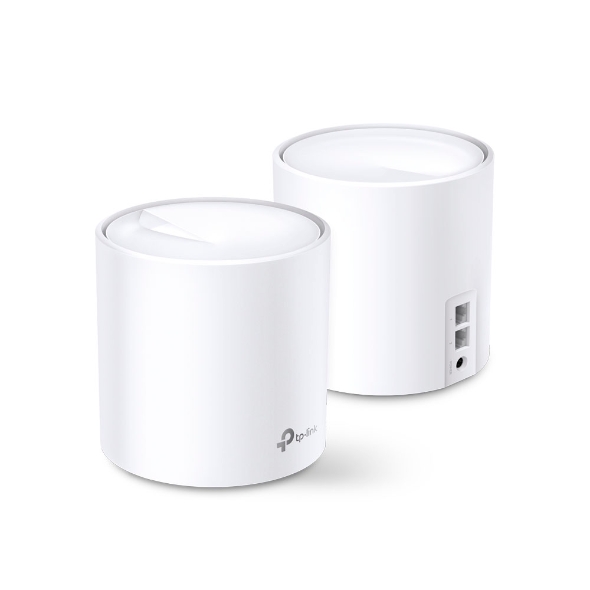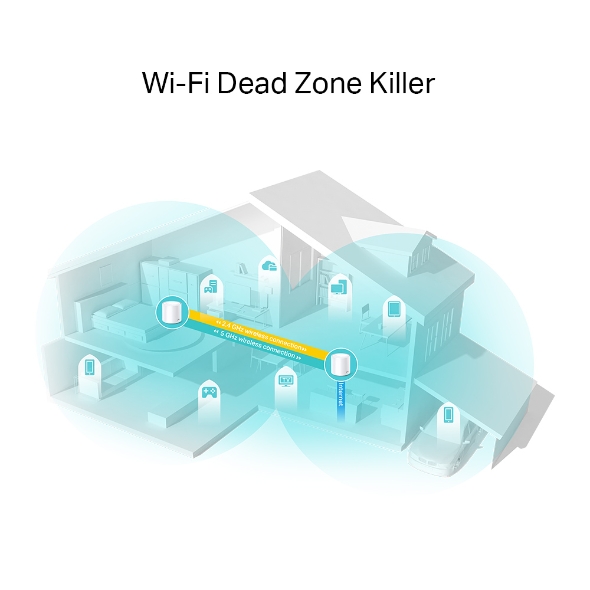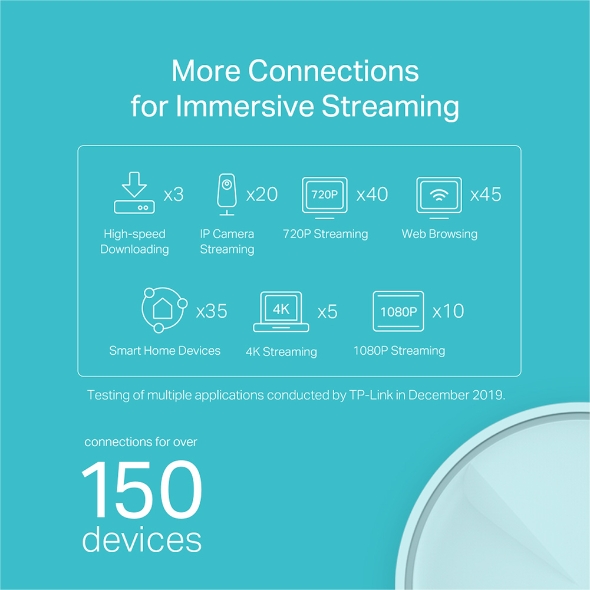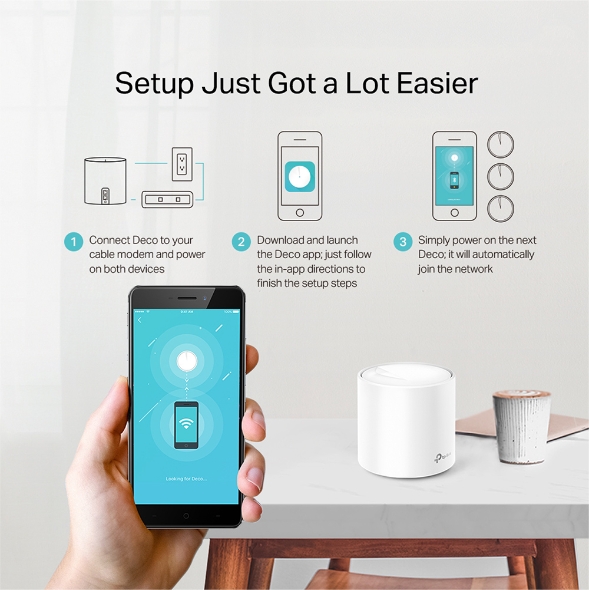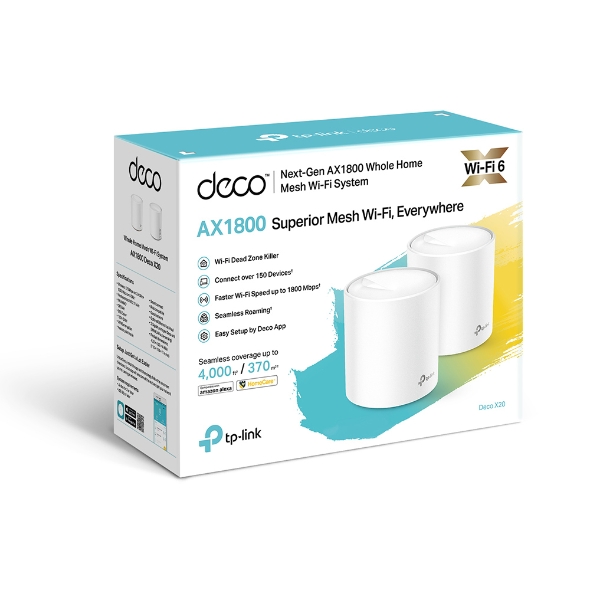 AX1800 Whole Home Mesh Wi-Fi 6 System
Faster Connections: ความเร็วอินเตอร์เน็ตเทคโนโลยี Wi-Fi 6 ความเร็ว Wireless รวมสูงสุดที่ 1,800 Mbps—1,201 Mbps บนย่านความถี่ 5 GHz และ 574 Mbps บนย่านความถี่ 2.4 GHz.
Connect More Devices: OFDMA และเทคโนโลยี MU-MIMO สมรรถนะ 4 เท่า เพื่อการรับ-ส่งข้อมูลไปยังอุปกรณ์อื่นเพิ่มมากขึ้น
Boosted Seamless Coverage: สัญญาณครอบคลุมทั่วบ้านได้มากขึ้นและเถสียรยิ่งขึ้นด้วยเทคโนโลยีใหม่ Wi-Fi 6
Ultra-Low Latency: ลดค่าความหน่วงทำให้สนุกกับการเล่นเกมหรือการวิดีโอแชทได้อย่างไม่มีสะดุด
One Unified Network: เลือกสัญญาณที่ดีที่สุดอัติโนมัติ ให้คุณมั่นใจได้ว่าคุณจะได้รับสัญญาณอินเตอร์เน็ตที่เร็วและเสถียรอย่างแน่นอน
Total Security: WPA3 encryption และ TP-Link HomeCareTM พร้อมจะมอบฟีเจอร์ให้แก่คุณ รวมถึงการควบคุมโดยผู้ปกครอง , แอนตี้ไวรัส และ
คุณภาพของการบริการ (QoS) เพื่อให้ปลอดภัยทุกการเล่นอินเตอร์เน็ตออนไลน์
Setup Made Easier Than Ever: ตั้งค่าง่ายด้วยแอพลิเคชั่น Deco ที่พร้อมจะแนะนำทุกขั้นตอนเชื่อมต่อให้แก่คุณ
Meet the Next-Gen Mesh Wi-Fi
Next-Gen AX1800 Whole Home Mesh Wi-Fi 6 System
Deco X20


Advanced Mesh Powered by Wi-Fi 6
ผสานพลังกับเทคโนโลยี Wi-Fi 6 , Deco whole home mesh Wi-Fi ถูกออกแบบมาเพื่อเพิ่มการครอบคลุมให้มากขึ้น ความเร็วที่มากขึ้น และสมรรถนะที่แข็งแกร่ง , mesh Wi-Fi พร้อมให้คุณสนุกกับอินเตอร์เน็ตแห่งอนาคตที่รวดเร็วและเชื่อมต่อได้มากขึ้นแล้ว △
Enhanced Whole Home Coverage

Seamless Roaming

Connects over
150 Devices

Faster Wi-Fi 6 Speed

Greatly Reduced Lag
Wi-Fi Dead Zone Killer
ด้วยสัญญาณที่เสถียรและแข็งแกร่งนี้โดยเทคโนโลยี BSS Color และ Beamforming, Deco X20 สัญญาณครอบคลุมทั่วบ้านมากถึง 5,800 ตร.ฟุต (3-pack).† การเชื่อมต่อที่ยอดเยี่ยมและ Ethernet backhaul ที่ประสานพลังรวมกันเพื่อเชื่อมต่อ มั่นใจได้เลยว่าคุณจะได้รับสัญญาณอินเตอร์เน็ตที่เร็วและครอบคลุมอย่างแน่นอน อยากจะสัญญาณให้ครอบคลุม ง่ายๆ เพียงเพิ่ม Deco
1-PACK

ครอบคลุมสัญญาณ 200 ตร.ม.

2-PACK

ครอบคลุมสัญญาณ 370 ตร.ม.
True Seamless Roaming for Greater Experiences
TP-Link Mesh หมายถึง Deco จะทำงานร่วมกันเพื่อสร้างเครือข่ายหนึ่งเดียว โทรศัพท์มือถือหรือแล็ปท็อปของคุณจะเชื่อมต่อ Deco ตัวที่สัญญาณดีที่สุดโดยอัตโนมัติ เมื่อคุณเคลื่อนที่ภายในบ้านของคุณ Deco พร้อมมอบการเชื่อมต่อ Wi-Fi ที่ไร้รอยต่ออย่างแท้จริง ‡
More Connections for Immersive Streaming
ให้คุณได้สนุกกับสัญญาณอินเตอร์เน็ตที่มากขึ้นถึง 4เท่า ครอบคลุมทุกอุปกรณ์เชื่อมต่อของคุณแม้สภาพแวดล้อมที่หนาแน่น ก็ใช้งานได้อย่างไม่มีสะดุดด้วยเทคโนโลยี Wi-Fi 6 △. Deco X20 คุณเชื่อมต่อได้สูงสุดถึง 150 อุปกรณ์โดยประสิทธิภาพไม่ลดลง†.
connections for over
150
devices
High-speed Downloading

IP Camera Streaming

720P Streaming

Web Browsing

Smart Home Devices

4K Streaming

1080P Streaming
Testing of multiple applications conducted by TP-Link in December 2019.
Faster Wi-Fi 6 Speed = No Wait
ด้วยคลื่นสัญญาณ 1024-QAM และ higher symbol จะทำให้คุณได้รับความเร็ว Wireless รวมสูงสุดที่ 1.8 Gbps—เหมาะสำหรับงานที่ใช้แบนด์วิดท์สูงเช่นการเล่นเกมบนคลาวด์และดูวิดีโอแบบ 4K UHD ทุกครอบครัวจะสนุกกับการดูไลฟ์สตรีมมิ่งที่ไม่มีสะดุด วิดีโอภาพคมชัด พร้อมทั้งคุณภาพเสียงที่ดีที่สุด△†
5GHz:

1200Mbps

2.4GHz:

575Mbps
1024-QAM

More data encoded at one time

Higher Symbol Rate

11% faster speed
Greatly Red uced Lag, More Fun
เทคโนโลยี Wi-Fi 6 จะช่วยให้การเชื่อมต่อของคุณสเถียร รวดเร็ว และครอบคลุม สนุกกับทุกการตอบสนองที่ไม่มีสะดุดไม่ว่าจะเป็นการเล่นเกมหรือวิดีโอแชทในเวลาเดียวกัน ทุกอุกปกรณ์ก็สามารถเชื่อมต่อได้อย่างมีประสิทธิภาพ△.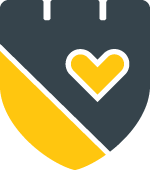 HomeCareTM
Your Home, Our Care
TP-Link HomeCareTM จะช่วยปกป้องการเล่นอินเตอร์เน็ตของคุณ เพื่อให้แน่ใจว่าทุกอุปกรณ์ของคุณจะได้รับความปลอดภัย การควบคุมโดยผู้ปกครองที่มีประสิทธิภาพความสามารถ จำกัดการใช้งานอินเตอร์เน็ตและบล็อคเนื้อหาที่ไม่เหมาะสมตามโปรไฟล์ที่สร้างขึ้นสำหรับสมาชิกครอบครัวแต่ละคน§
Robust Parental Controls

บล็อคเนื้อหาที่ไม่เหมาะสมและกำหนดเวลาการใช้งานอินเตอร์เน็ต

Built-In Antivirus

ปกป้องทุกอุปกรณ์ของคุณจากภัยคุกคามออนไลน์

Quality of Service

จัดลำดับความสำคัญของอุปกรณ์และแอปพลิเคชันเพื่อประสิทธิภาพที่รวดเร็วขึ้นเมื่อต้องการ
Setup Just Got a Lot Easier
เพียงแกะกล่อง ติดตั้งแอพลิเคชั่น และทำตามขั้นตอนคำแนะนำ เท่านี้คุณก็พร้อมแล้วที่จะสนุกกับประสบการณ์อินเตอร์เน็ตแบบใหม่
1 เชื่อมต่อ Deco กับโมเด็มเราเตอร์ของคุณ จากนั้นเปิดการทำงานของทั้งสองเครื่อง

2 ดาวน์โหลดและเริ่มการใช้งาน Deco App

3 ทำตามคำแนะนำบนหน้าแอพลิคเชั่น
Wi-Fi Made Easy
Easy Management

จัดการอินเตอร์เน็ตในบ้านของคุณผ่านแอพลิเคชั่น Deco ดูทุกการเชื่อมต่อของอุปกรณ์ จัดลำดับความสำคัญของอุปกรณ์ ติดตั้งการใช้งานสำหรับผู้ใช้งานภายนอก และอื่นๆ

Voice Control

จับคู่กับด้วยเพื่อควบคุม Deci X20 ง่ายๆผ่านคำสั่งเสียง ให้คุณสนุกกับชีวิตที่ชาญฉลาดอย่างแท้จริง

All Decos Work Together

Deco X20 สามารถทำงานร่วมกับ Deco รุ่นอื่นด้วยการทำงานแบบ Mesh Network กระจายสัญญาณ mesh Wi-Fi ให้ครอบคลุมทุกที่ทุกเวลา เพียงแค่เปิด Deco ในบ้านของคุณ
True Seamless Roaming
Deco units work together to form one unified network with a single network name. You phone or tablet automatically connects to the fastest Deco as you move through your home. The switching takes less than 0.3 second and is smooth and unnoticeable, creating a truly seamless online experience.
Adaptive Path Selection

TP-Link Mesh Technology dynamically chooses the best route and band for your connections and applications, guaranteeing a fast Wi-Fi no matter where you are in the home.
Self-Healing

If one Deco has an issue, the system will automatically reroute data via the other Decos to make sure you stay online.
Wi-Fi + Powerline
Powerline connections utilize your home's electrical circuit to link Decos, bypassing even the thickest of walls and ceilings.
The dual-band Wi-Fi and powerline work together to transmit data between Deco units. The total network speed is greatly improved compared with using Wi-Fi only.
Wi-Fi + Powerline:

Hybird Wi-Fi System

Boosted Speeds

Traditional Mesh Wi-Fi:

Standard Wi-Fi System
Powerline

Note:Wi-Fi + Powerline is only for Deco P9
IoT Mesh
Unlike traditional smart hubs, TP-Link Mesh Technology provides whole-home IoT coverage with Wi-Fi, Bluetooth and Zigbee integrated into a single system.Enjoy the magic of your smart home in every room with TP-Link Mesh Technology. Say goodbye to countless hubs.
- - -

Wi-Fi

- - -

Zigbee

- - -

Bluetooth
Wi-Fi 6 Mesh
Armed with Wi-Fi 6 technology,
Deco whole home mesh Wi-Fi is designed to deliver a huge boost in coverage, speed, and total capacity. Get on the latest mesh Wi-Fi to enjoy the future network that loads faster and connects more.
Broader coverage

More Connections

Faster Wi-Fi 6 Speed
without Wi-Fi 6 technology
AI-Driven Mesh
Armed with AI Mesh technology,Deco automatically learns and improves itself from experience.
This provides the ideal mesh Wi-Fi unique to your home and network environment.
Walk through your home and enjoy seamless streaming at the fastest possible speeds.
Why TP-Link Mesh Technology
an industry leading solution?
Compete Comparison

Model Number
TP-Link Deco
Netgear Orbi
Google WiFi
Wireless Backhaul
Tri-Band(2.4G+5G_1+5G_2)¹
Single-Band(5G_1 Only)
Dual-Band(2.4G+5G)
Mesh Protocol Supported
IEEE 802.11k/v/r
IEEE 802.11k/v
IEEE 802.11s
True Seamless Roaming
✔
×
×
APS(Adaptive Path Selection)
✔
×
✔
IoT Mesh
✔²
×
×
Wi-Fi 6 Mesh
✔5
✔
×
AI-Driven Mesh
✔6
×
×
Powerline Backhaul
✔³
×
×
Wireless + Powerline Bandwidth
✔⁴
×
×
Band Steering
✔
✔
✔
AP Steering
✔
✔
✔
Self-Healing
✔
✔
✔

Notes: 1&2 For Deco M9 Plus Only;5 for Deco X20;Deco X90;6 for Deco X90 only.




Spec sourced by Dec. 2019
WIRELESS
Standards
Wi-Fi 6IEEE 802.11ax/ac/n/a 5 GHzIEEE 802.11ax/n/b/g 2.4 GHz
WiFi Speeds
AX18005 GHz: 1201 Mbps (802.11ax)2.4 GHz: 574 Mbps (802.11ax)
WiFi Range
4-6 Bedroom Houses (3-pack)

---

TP-Link Mesh TechnologyOptional Ethernet backhaul work together to link Deco units to provide seamless coverage2× Antennas (Internal)Multiple antennas form a signal-boosting array to cover more directions and large areasBeamformingConcentrates wireless signal strength towards clients to expand WiFi range
WiFi Capacity
High

---

Dual-BandDistribute devices to different bands for optimal performanceMU-MIMOSilmultaneously communicates with multiple MU-MIMO clientsOFDMASilmultaneously communicates with multiple WiFi 6 clients4 StreamsMore than enough bandwidth for connected devices
Working Modes
Router ModeAccess Point Mode
HARDWARE
Processor
1 GHz Quad-Core CPU
Ethernet Ports
2× Gigabit Ports*Per Deco Unit Supports WAN/LAN auto-sensing
Buttons
Reset Button
Power
12 V ⎓ 1.2 A
SECURITY
WiFi Encryption
WPAWPA2WPA3
Network Security
SPI FirewallAccess ControlHomeCare™ Antivirus

---

\Malicious Site CheckerPort Intrusion PreventionInfected Device IsolationNotification and Log
Guest Network
1× 5 GHz Guest Network1× 2.4 GHz Guest Network
SOFTWARE
Protocols
IPv4 IPv6
Service Kits
HomeCare™Learn More>
Parental Controls
HomeCare™ Parental Controls

---

Custom ProfilesContent FilteringURL FIlteringTime Limit Time Schedule (Bed Time)Log InsightUsage MonitorMonthly Reports
WAN Types
Dynamic IPStatic IPPPPoEPPTPL2TP
Quality of Service
HomeCare™ QoS

---

QoS by DeviceQoS by Application
Cloud Service
OTA Firmware UpgradeTP-Link ID DDNS
NAT Forwarding
Port Forwarding Port Triggering DMZ UPnP
IPTV
IGMP ProxyIGMP SnoopingBridge Tag VLAN
DHCP
Address ReservationDHCP Client ListServer
DDNS
TP-Link
Management
Deco App
PHYSICAL
Dimensions (W×D×H)
4.33 × 4.33 × 4.99 in (110 × 110 × 114 mm)
Package Contents
Deco X20 (3-pack)3 Deco X20 Units1 RJ45 Ethernet Cable3 Power Adapters1 Quick Installation GuideDeco X20 (2-pack)2 Deco X20 Units1 RJ45 Ethernet Cable2 Power Adapters1 Quick Installation GuideDeco X20 (1-pack)1 Deco X20 Unit1 RJ45 Ethernet Cable1 Power Adapter1 Quick Installation Guide
OTHERS
System Requirements
Android 4.4 or lateriOS 9.0 or later
Certifications
CE, FCC, IC, RoHS, RCM, JPA, JRF, VCCI
Environment
Operating Temperature: 0℃~40℃ (32℉ ~104℉)Storage Temperature: -40℃~70℃ (-40℉ ~158℉)Operating Humidity: 10%~90% non-condensingStorage Humidity: 5%~90% non-condensing
TEST DATA
WiFi Transmission Power
CE:<20 dBm (2.4 GHz)<23 dBm (5 GHz)FCC:<30 dBm (2.4 GHz)<30 dBm (5 GHz)
△Use of Wi-Fi 6 and other features including OFDMA, MU-MIMO, 1024-QAM, and BSS Color require clients to also support the corresponding features.
†Maximum wireless signal rates are the physical rates derived from IEEE Standard 802.11 specifications. Actual wireless data throughput and wireless coverage, and quantity of connected devices are not guaranteed and will vary as a result of network conditions, client limitations, and environmental factors, including building materials, obstacles, volume and density of traffic, and client location.
‡Clients need to support 802.11k/v/r and may require additional set up. Performance may vary depending on the client device.
§HomeCareTM Pro is available for free for the first few months after subscription. Please check: www.tp-link.com/homecare for more information.
SubscriptionTP-Link takes your privacy seriously. For further details on TP-Link's privacy practices, see TP-Link's Privacy Policy.
From United States?
Check products and services for your region.