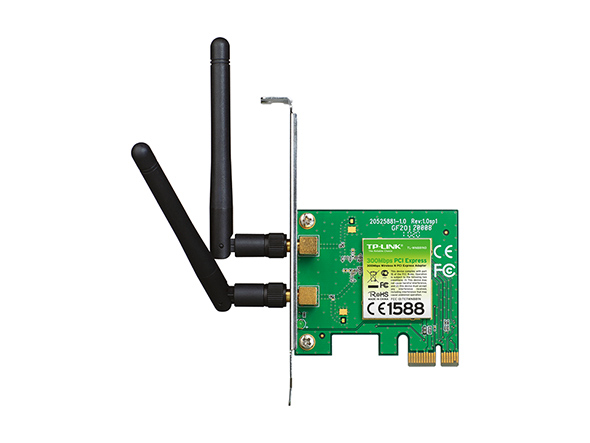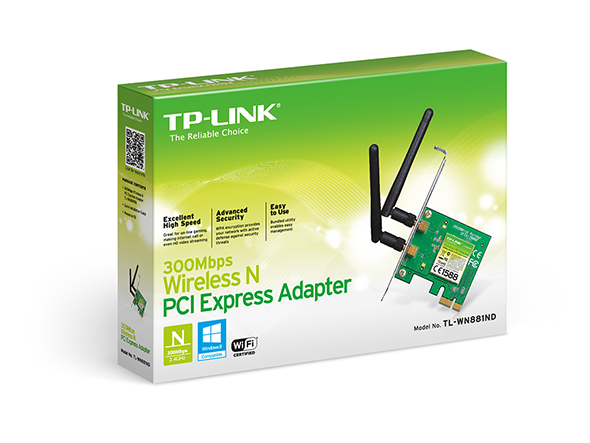 TL-WN881ND
300Mbps Wireless N PCI Express Adapter
ความเร็วสัญญาณไร้สายมาตรฐานไวเลส N ทำให้คุณได้พบกับสิ่งที่ดีที่สุดสำหรับการสตรีมมิ่งวิดีโอความละเอียดสูง หรือการโทรศัพท์ผ่านอินเทอร์เน็ต
2 สายสัญญาณช่วยเพิ่มความแรงของสัญญาณไวเลสและความเสถียรของสัญญาณ
เทคโนโลยี MIMO ทำให้สัญญาณมีประสิทธิภาพมากขึ้นสามารถทะลวงพื้นที่ได้ดี ครอบคลุมในวงกว้าง มีประสิทธิภาพและความเสถียรที่ดีขึ้น
สร้างการเชื่อมต่อไร้สายที่มีความปลอดภัยสูงด้วยการกดปุ่ม WPS ™ (Wi-Fi Protected Setup)
รองรับการใช้งานร่วมกับ Windows XP / Vista / 7 / 8
มี Low Profile Bracket ภายในกล่อง
ผลิตภัณฑ์นี้ทำอะไร
Wireless N PCI Express 2.0 (x1) Adapter TL-WN881ND ช่วยให้คุณสามารถเชื่อมต่อเครื่องคอมพิวเตอร์กับเครือข่ายไร้สายและการเข้าถึงการเชื่อมต่ออินเทอร์เน็ตความเร็วสูง สอดคล้องกับมาตรฐาน IEEE 802.11n สามารถเครือข่ายไร้สายความเร็วสูงถึง 300Mbps ซึ่งจะเป็นประโยชน์สำหรับการเล่นเกมออนไลน์หรือแม้กระทั่ง HD วิดีโอสตรีมมิ่ง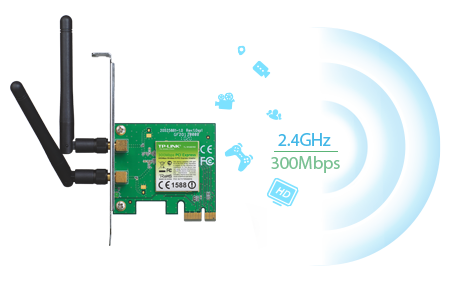 Wireless N - Speed & Range
MIMO (หลายเสาอากาศในการรับส่งสัญญาณ) เทคโนโลยีนี้แสดงให้เห็นความสามารถที่ยอดเยี่ยมมากขึ้นของการลดการสูญเสียข้อมูลในระยะทางไกลและผ่านอุปสรรคในสำนักงานขนาดเล็กหรืออพาร์ทเม้นขนาดใหญ่แม้จะอยู่ในอาคารเหล็กและคอนกรีต เหนือสิ่งอื่นใดคุณสามารถจะรับเครือข่ายไร้สายระหว่างการเชื่อมต่อระยะไกลที่ผลิตภัณฑ์แบบ 11g อาจไม่สามารถทำได้!

CCA Technology - Stable Wireless Signals
ช่องการประเมินที่ชัดเจน (CCA) โดยการเลือกช่องสัญญาณโดยอัตโนมัติเพื่อหลีกเลี่ยงความขัดแย้งในการใช้ช่อง คุณลักษณะการเลือกช่องทางที่ชัดเจนและตระหนักถึงข้อดีของการรวมสถานีที่เพิ่มขึ้นอย่างมากประสิทธิภาพการทำงานแบบไร้สาย
WPA / WPA2 Encryptions

WPA / WPA2 มาตรฐานการเข้ารหัสให้แน่ใจว่าการเชื่อมต่อไร้สายของคุณปลอดภัยจากผู้บุกรุก

Easy Setup

อินเตอร์เฟซที่ผู้ใช้สามารถใช้งานง่ายและตัวช่วยสร้างการติดตั้งหรือแผ่นซีดี (รวม) จะช่วยการติดตั้งให้คุณได้ 'ออนไลน์' อย่างรวดเร็วและง่ายดาย
HARDWARE FEATURES
Interface
PCI Express(x1)
Dimensions ( W x D x H )
4.8 x 3.1 x 0.8in. (120.8 x 78.5 x 21.5mm)
Antenna Type
Detachable Omni Directional (RP-SMA)
Antenna Gain
2dBi
WIRELESS FEATURES
Wireless Standards
IEEE 802.11n, IEEE 802.11g, IEEE 802.11b
Frequency
2.400-2.4835GHz
Signal Rate
11n: Up to 300Mbps(dynamic)
11g: Up to 54Mbps(dynamic)
11b: Up to 11Mbps(dynamic)
Reception Sensitivity
270M: -68dBm@10% PER
130M: -68dBm@10% PER
108M: -73dBm@10% PER
54M: -73dBm@10% PER
11M: -89dBm@8% PER
6M: -87dBm@10% PER
1M: -90dBm@8% PER
Transmit Power
<20dBm(EIRP)
Wireless Modes
Ad-Hoc / Infrastructure mode
Wireless Security
Support 64/128 bit WEP, WPA-PSK/WPA2-PSK
Modulation Technology
DBPSK, DQPSK, CCK, OFDM, 16-QAM, 64-QAM
OTHERS
Certification
CE, FCC, RoHS
Package Contents
Wireless Adapter
2x Detachable Omni directional antenna
Resource CD
Quick Installation Guide
Standard & Low Profile Bracket Included
System Requirements
Windows 10/8.1/8/7,Linux
Environment
Operating Temperature: 0℃~40℃ (32℉~104℉)
Storage Temperature: -40℃~70℃ (-40℉~158℉)
Operating Humidity: 10%~90% non-condensing
Storage Humidity: 5%~90% non-condensing
SubscriptionTP-Link takes your privacy seriously. For further details on TP-Link's privacy practices, see TP-Link's Privacy Policy.
From United States?
Check products and services for your region.