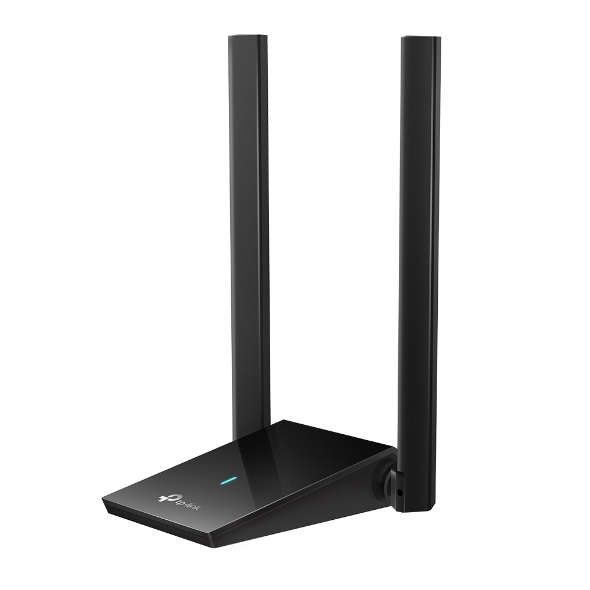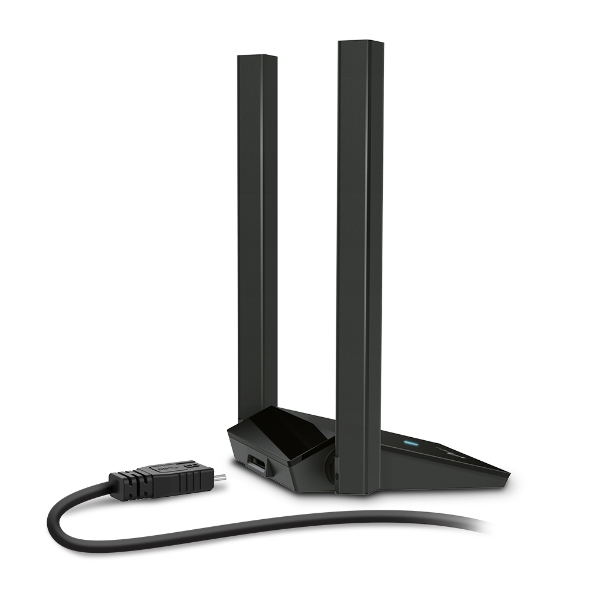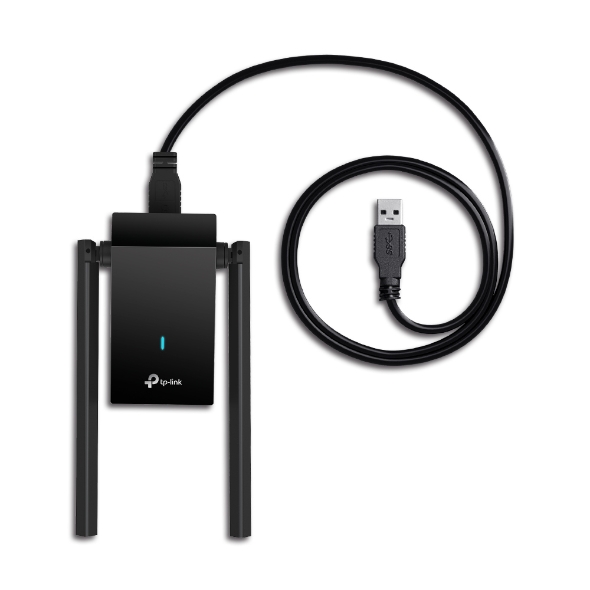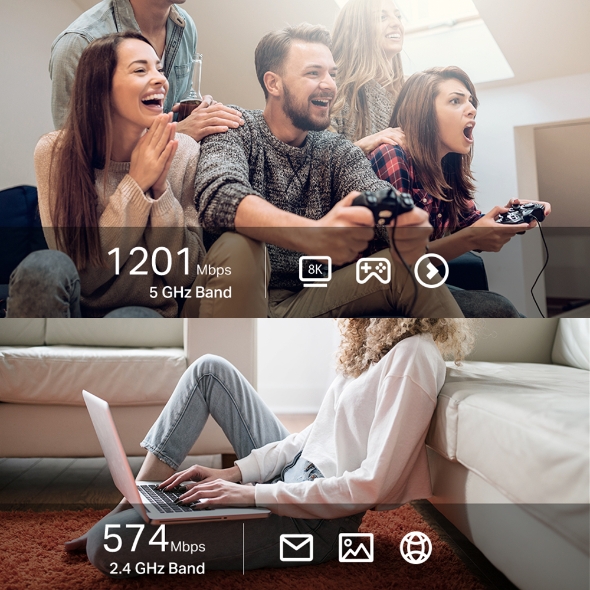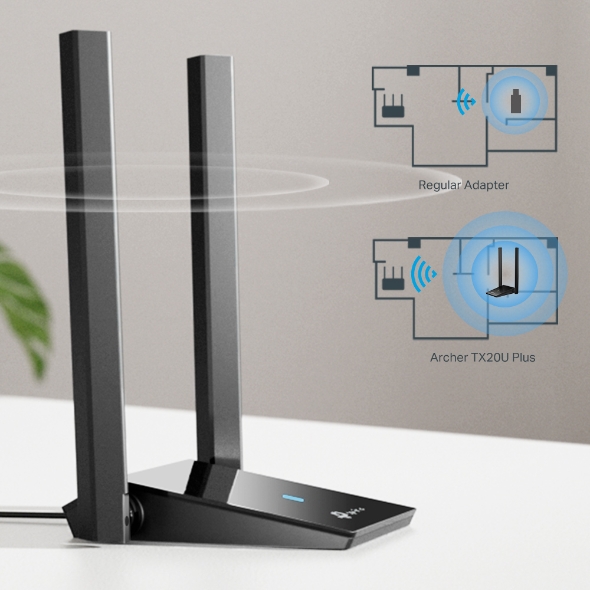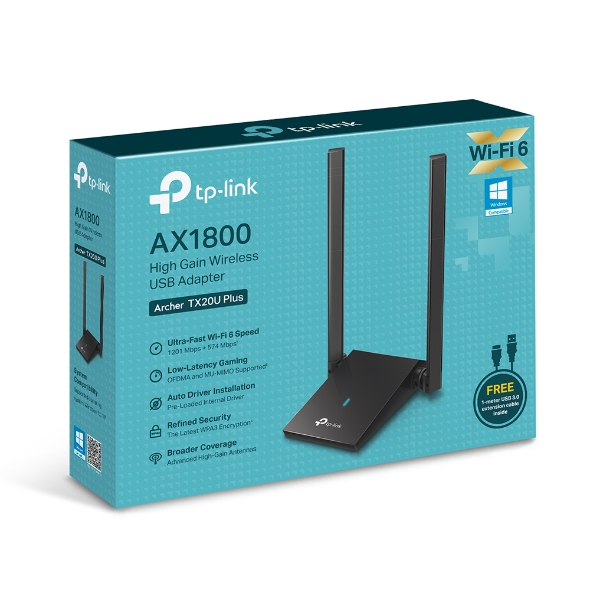 AX1800 Dual Antennas High Gain Wireless USB Adapter
Lightning-Fast

WiFi

6 –

สตรีมวิดีโอ ได้อย่างไร้ที่ติด้วยความเร็วไร้สาย 1800 Mbps (1201 Mbps บน 5 GHz + 574 Mbps บน 2.4 GHz)

Flexible Dual Band –

ให้ความมั่นใจได้ว่าพีซีของคุณมีการเชื่อมต่อที่ดีที่สุด บนย่านความถี่ 5 GHz และ 2.4 GHz

Dual

High-Gain

Antennas –

เชื่อมต่อจากระยะไกล ด้วยสัญญาณและการส่งสัญญาณ จากเสาที่มีคุณภาพสูง

MU-MIMO

– รักษาความเร็วสปีดในการดาวน์โหลดและอัพโหลดให้สูงคงที่ แม้ในขณะที่มีอุปกรณ์อื่นๆ ใช้แบนด์วิดท์ของคุณ

OFDMA

– ลดคลื่นสัญญาณการรบกวน สำหรับการประชุมและการเล่นเกมที่ไร้ที่ติบนเครือข่ายที่แออัด

SuperSpeed USB

3.0

– ความเร็วในการโอนถ่ายข้อมูลเร็วกว่า USB 2.0 ถึง 10 เท่า

Refined Security –

ปกป้องข้อมูลส่วนบุคคลของคุณด้วยการเข้ารหัส WPA3 ล่าสุด
Fast Simultaneous Downloads and Uploads
Quality Reception for Extensive Coverage
Ultra Low Latency
1800 Mbps Dual Band Speeds
The Latest Encryption Security
Auto Driver Installation
Windows 11 Compatible
Your Upgrade to WiFi 6
ลืมการซื้อพีซีเครื่องใหม่ได้เลย เมื่อคุณใช้ TX20U Plus ที่มอบสัญญาณ WiFi 6 Dual Band อันทรงพลัง เพื่อส่งตรงไปยังอุปกรณ์ของคุณ ให้การเชื่อมต่อที่ยอดเยี่ยมและความเร็วสูงถึง 1800 Mbps.
1201Mbps
5 GHz Band
574Mbps
2.4 GHz Band
Coverage Powered by Beamforming
ด้วยเสาอากาศกำลังส่งสูงรวมกับเทคโนโลยี Beamforming ทำให้สัญญาณ WiFi ไปยังเราเตอร์ของคุณ เพื่อการรับสัญญาณที่ดีขึ้นและการเชื่อมต่อจากระยะไกลได้เต็มประสิทธิภาพ
Regular Adapter

Archer TX20U Plus
Escape the Congestion with MU-MIMO
สัมผัสประสบการณ์การสตรีม การเล่นเกม และการอัปโหลดที่รวดเร็วอย่างไร้ที่ติ ไม่ว่าในขณะที่เครือข่ายของคุณจะประมวลผลแบนด์วิดท์สำหรับอุปกรณ์หลายเครื่องพร้อมกัน
MU-MIMO Router
Regular Adapter
MU-MIMO Router
MU-MIMO Adapter
Lower Your Ping with OFDMA
ในขณะที่คุณทำงานเชื่อมต่อกับเราเตอร์ พีซีของคุณจะได้รับข้อมูลพร้อมกับอุปกรณ์อื่นๆ ในสตรีมเวลาเดียวกัน ซึ่งหมายความว่าแทบไม่มีความล่าช้าใดๆ เลยสำหรับดูหนัง 8K หรือเล่นเกมออนไลน์
Data Transmitted

Waiting

Client 2

Waiting

Without OFDMA

Data Transmitted

Client 1

Client 2

Client 3

With OFDMA
A Perfect Match for Faster Speeds
USB 3.0 ช่วยให้มั่นใจได้ว่าไม่มีการส่งไฟล์ที่ล่าช้าระหว่าง TX20U Plus และพีซีของคุณ
Adjustable, Multi-Directional Antennas
เสาสัญญาณหมุนและปรับได้ 180° เพื่อการรับสัญญาณที่ดีที่สุดจากทุกที่
Simple Design and Placement

Find the best spot for network reception with TX20U Plus's desktop-friendly design and 1-meter USB cable.
Setup Made Easy

Archer TX20U Plus มาพร้อมกับไดรเวอร์ที่โหลดอย่างง่ายดาย เพียงแค่เสียบและติดตั้ง

Next-Gen Security

WPA3 encryption protects your PC from brute-force attacks, keeping your personal data safe.

Operating Systems

รองรับการใช้งานได้กับ Windows 11/10
HARDWARE FEATURES
LED
Status
Dimensions
84 × 156.3 × 19.2 mm (3.3 × 6.2 × 0.76 in)
Antenna
2× High-Gain Dual-Band Antennas
WIRELESS FEATURES
Wireless Standards
IEEE 802.11a/b/g/n/ac/ax
Signal Rate
5 GHz:11ax: Up to 1201 Mbps(dynamic)11ac: Up to 867 Mbps(dynamic)11n: Up to 300 Mbps(dynamic)11a: Up to 54 Mbps(dynamic)2.4 GHz:11ax: Up to 574 Mbps(dynamic)11n: Up to 400 Mbps(dynamic)11g: Up to 54 Mbps(dynamic)11b: Up to 11 Mbps(dynamic)
Reception Sensitivity
5 GHz:11ax HE80 MCS0: -90 dBm11ax HE80 MCS11: -59 dBm11a 54Mbps: -77 dBm11ac VHT80 MCS0: -92dBm11ac VHT80 MCS9: -64dBm2.4 GHz:11ax HE40 MCS0: -94 dBm11ax HE40 MCS11: -66 dBm11g 54Mbps: -79 dBm11n HT40 MCS9: -74dBm
Transmit Power
5 GHz: 19dBm(FCC) /16dBm(CE) (EIRP)2.4 GHz : 19dBm(FCC) / 14.5dBm(CE) (EIRP)
Wireless Modes
Infrastructure mode
Wireless Security
WEP, WPA/WPA2/WPA3, WPA-PSK/WPA2-PSK
OTHERS
Certification
FCC, CE, RoHS
Package Contents
AX1800 Dual Antennas High Gain Wireless USB Adapter Archer TX20U PlusQuick Installation Guide1-meter USB 3.0 Cable
System Requirements
Supported operating systems include Windows 10, 11
Environment
Operating Temperature: 0℃~40℃ (32℉ ~104℉)Operating Humidity: 10%~90% non-condensingStorage Humidity: 5%~90% non-condensing
†Maximum wireless signal rates are the physical rates derived from IEEE Standard 802.11 specifications. Actual wireless data throughput and wireless coverage are not guaranteed and will vary as a result of 1) environmental factors, including building materials, physical objects, and obstacles, 2) network conditions, including local interference, volume and density of traffic, product location, network complexity, and network overhead, and 3) AP limitations, including rated performance, location, connection quality, and AP condition.
△Use of Wi-Fi 6 and other features, including OFDMA and MU-MIMO, require your APs to also support the corresponding features.
From United States?
Get products, events and services for your region.