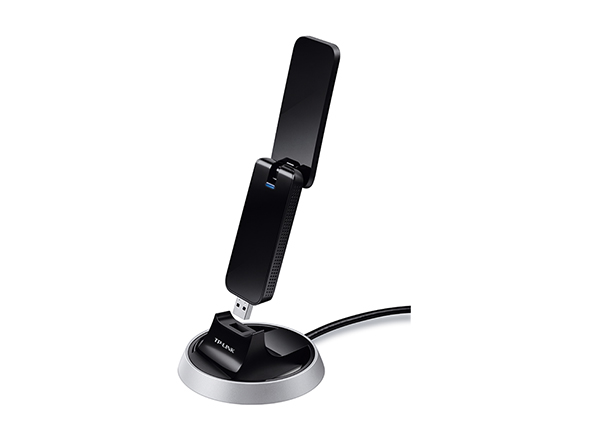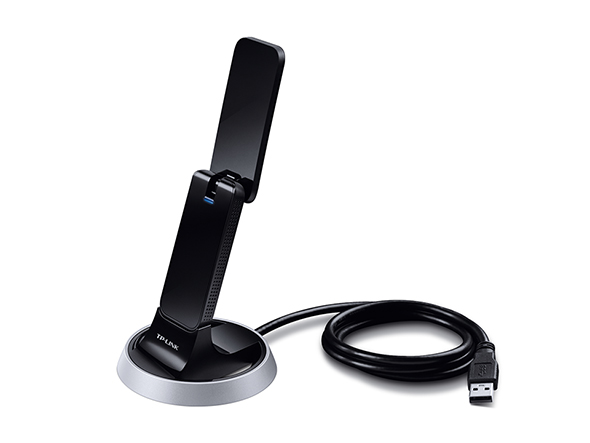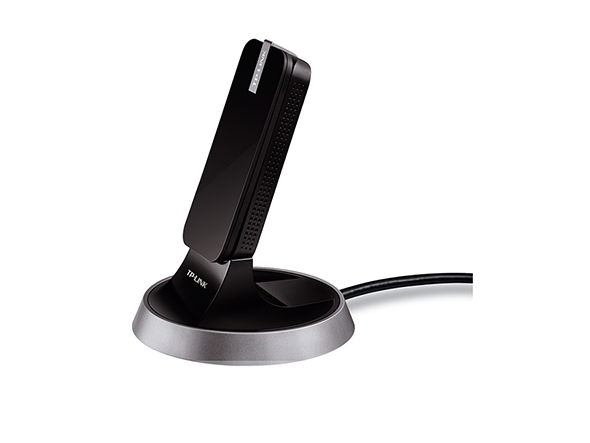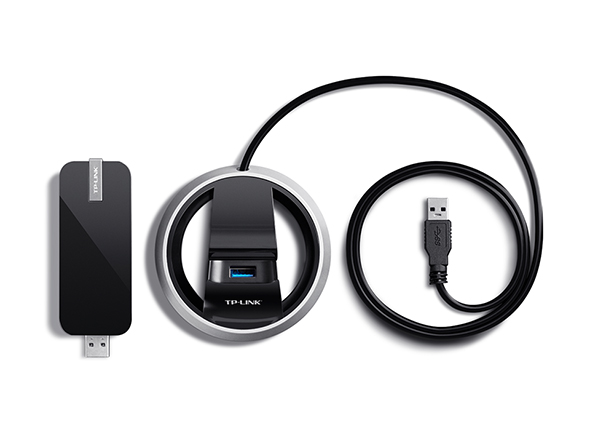 AC1200 High Gain Wireless Dual Band USB Adapter
เร็วและแรงกว่าด้วยความเร็วของสัญญาณ Wireless รวมสูงถึง 1200 (867+300)Mbps บนมาตราฐาน 802.11ac
แถบความถี่คู่ (Dual Band) ทำให้การเชื่อมต่อไม่ติดขัดเหมาะสำหรับใช้งานวิดิโอสตรีมมิ่งและเล่นเกมส์
พอร์ต USB 3.0 ซึ่งเป็นพอร์ตความเร็วสูงกว่า USB 2.0 ถึง 10 เท่า
ง่ายต่อการใช้งานการเข้ารหัสความปลอดภัยสัญญาณไร้สายเพียงกดปุ่ม WPS เพียงครั้งเดียว
สายอากาศภายนอกกำลังสูง ทำให้ประสิทธิภาพในการส่งและรับสัญญาณที่ดีขึ้น
มีสายต่อพวงกับ USB เพื่อความสะดวกและยืดหยุ่นในการใช้งาน
รองรับการใช้งานร่วมกับ Windows 10
802.11ac – มาตราฐานใหม่ของ Wi - Fi

TP-LINK Archer T4U พัฒนาขึ้นมาพร้อมกับมาตราฐาน Wi-Fi 802.11.ac ซึ่งเป็นมาตรฐานใหม่ที่กำลังจะถูกนำมาใช้ ซึ่งความเร็วนั้นมากกว่ามาตราฐานปัจจุบันที่ใช้งาน (N) ถึง 3 เท่าโดยความเร็วของสัญญาณไร้สายที่ 867 Mbps ในย่านความถี่ 5GHz และ 300 Mbps ในย่านความถี่ 2.4GHz Archer T4UH จึงเป็นทางเลือกที่เหนือกว่าสำหรับการสตรีมมิ่งในระบบความความชัดสูงให้เป็นไปอย่างไม่กระตุกการเล่นเกมส์ออนไลน์ และลักษณะการทำงานที่ต้องการใช้งานแบนด์วิดธ์สูง
ความเร็วของสัญญาณในระดับ AC 1200



ความเร็ว 867 Mbps ในย่านความถี่ 5 GHz ซึ่งเหมาะกับการใช้งานการรับชมวิดิโอสตรีมมิ่งในระบบความคมชัดสูงและทำให้การเล่นเกมส์ออนไลน์ราบรื่น ในขณะที่มีย่านความถี่ 2.4GHz ที่มีความเร็ว 300 Mbps เพื่อการใช้งาน Wi-Fi สำหรับการใช้งานเว็บไซด์ปกติ
USB 3.0 ที่มีความเร็วสูงกว่า USB 2.0 ถึง 10 เท่า

คุณจะสัมผัสได้อย่างชัดเจนกับการถ่ายโอนข้อมูลความเร็วสูงถึง 4.8Gbps โดย USB 3.0 - มาตรฐานล่าสุดของการเชื่อมต่อ USB 3.0 ถ่ายโอนข้อมูลได้เร็วกว่า ถึง 10 เท่าของ USB 2.0 และยังใช้งานร่วมกับ USB 2.0 ได้ อัตราการถ่ายโอนความเร็วสูงนี้ได้รวมบนมาตราฐาน 802.11ac เหมาะสำหรับสตรีมมิ่งในระดับ ความคมชัดสูง เล่นเกมออนไลน์และการดาวน์โหลดไฟล์ขนาดใหญ่

.
สองย่านความถี่ที่ดีที่สุด

TP-LINK Archer T4UH AC1200 เป็นตัวแปลงสัญญาณไร้สายแบบสองย่านความถี่ผ่าน USB ที่มีความสามารถในการส่งผ่านข้อมูลอย่างไร้ที่ติ บนการเชื่อมต่อบนย่านความถี่ 5GHz หรือ แบบเดิมบนย่านความถี่ 2.4 GHz เพื่อยกระดับโน้ตบุ๊คหรือเครื่องคอมพิวเตอร์ให้มีความสามารถในการใช้งานบนเครือข่ายไร้สายแบบใหม่บนย่านความถี่ 5GHz ขณะที่ยังคงมั่นใจได้ว่ายังคงสามารถเข้าถึงเครือข่ายไร้สายแบบเดิมที่ย่านความถี่ 2.4GHz




| | |
| --- | --- |
| | Archer T4UH จะมีสายต่อพ่วง USB 3.0 ขนาดความยาว 1 เมตร ซึ่งจะช่วยเพิ่มระยะการเชื่อมต่อ USB ทำให้มีความสะดวกยิ่งขึ้นในการเชื่อมต่ออุปกรณ์ USB เข้าหรือออกจากช่องเสียบอุปกรณ์ และด้วยความเรียบหรูและการออกแบบที่มีสไตล์ที่มีความเหมาะสมกับการใช้งานในบ้านและยังทำให้บ้านหรือที่ทำงานคุณดูดีมีระดับขึ้น |
HARDWARE FEATURES
Interface
USB 3.0
Button
WPS button
Dimensions ( W x D x H )
3.5×2.7×0.7 in. (90×68×16.8mm)
Antenna Type
Omni Directional
WIRELESS FEATURES
Wireless Standards
IEEE 802.11ac, IEEE 802.11a,
IEEE 802.11n, IEEE 802.11g, IEEE 802.11b
Frequency
5GHz
2.4GHz
Signal Rate
5GHz
11ac: Up to 867Mbps(dynamic)
11n: Up to 300Mbps(dynamic)
11a: Up to 54Mbps(dynamic)
2.4GHz
11n: Up to 400Mbps(dynamic)
11g: Up to 54Mbps(dynamic)
11b: Up to 11Mbps(dynamic)
Reception Sensitivity
5GHz:
11a 6Mbps: -96dBm
11a 54Mbps: -79dBm
11nHT20: -63dBm
11nHT40: -61dBm
11ac HT20: -73dBm
11ac HT40: -67dBm
11ac HT80: -63dBm
2.4GHz:
11b 11Mbps: -92dBm
11g 54Mbps: -77dBm
11n HT20: -71dBm
11n HT40: -69dBm
Transmit Power
<20dBm (EIRP)
Wireless Modes
Ad-Hoc / Infrastructure mode
Wireless Security
Support 64/128 bit WEP, WPA-PSK/WPA2-PSK, 802.1x
Modulation Technology
DBPSK, DQPSK, CCK, OFDM, 16-QAM, 64-QAM
OTHERS
Certification
CE, FCC, RoHS
Package Contents
Wireless Adapter Archer T4UH
Resource CD
Quick Installation Guide
USB Cable
System Requirements
Windows 8.1 (32/64bits), Windows 8 (32/64bits),
Windows 7 (32/64bits), Windows XP(32/64bits),
Mac OS X 10.7~10.10, Linux
Environment
Operating Temperature: 0℃~40℃ (32℉~104℉)
Storage Temperature: -40℃~70℃ (-40℉~158℉)
Operating Humidity: 10%~90% non-condensing
Storage Humidity: 5%~90% non-condensing
SubscriptionTP-Link takes your privacy seriously. For further details on TP-Link's privacy practices, see TP-Link's Privacy Policy.
From United States?
Get products, events and services for your region.