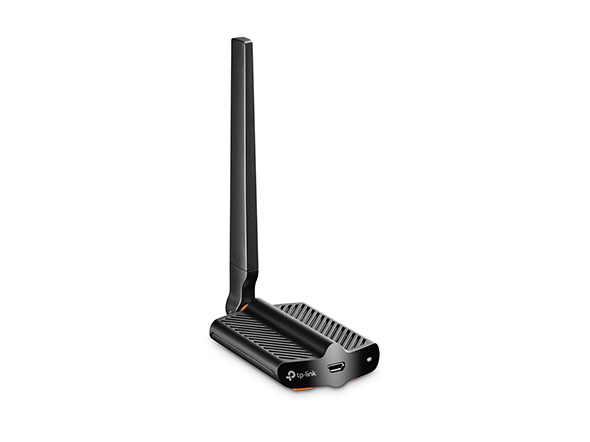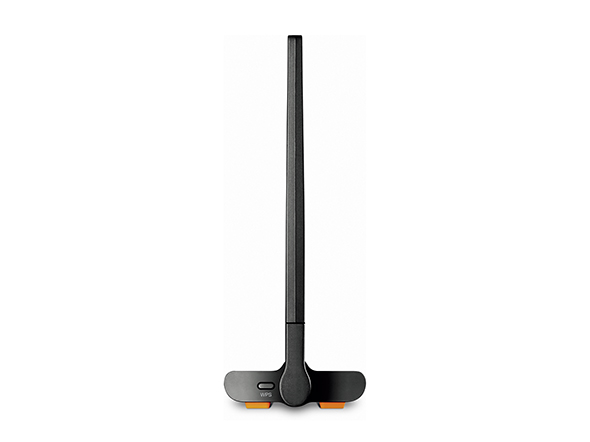 AC600 High Power Wireless Dual Band USB Adapter
Maximized Range – เสาสัญญาณกำลังส่งสูง จึงทำให้สามารถรับ-ส่งสัญญาณไร้สายในระยะที่เพิ่มมากขึ้น
Stronger Penetrability – รักษาเสถียรภาพของการเชื่อมต่อของสัญญาณไร้สาย แม้จะใช้งานผ่านผนังหรือข้ามชั้นก็ตาม
Ultimate Wi-Fi Speed –ความเร็วสัญญาณไร้สาย AC600 (150Mpbs บน 2.4GHz และ 433Mbps บน 5GHz) ซึ่งเป็นมาตรฐานสัญญาณไร้สายในอนาคต 802.11ac
Dual Band Wireless –ย่านความถี่ 2.4GHz และ 5GHz เพื่อเพิ่มการเชื่อมต่อที่ยืดหยุ่นมากยิ่งขึ้น
Flexible Deployment – มาพร้อมแท่น USB เพื่อความยืดหยุ่นในการใช้งาน
WPS Button – สามารถเข้ารหัสความปลอดภัยของสัญญาณไร้สายได้อย่างง่ายดายเพียงกดปุ่ม WPS
Compatibility – รองรับการใช้งานบนระบบปฏิบัติการ Windows 10/8.1/8/7/XP 32/64 บิต ระบบปฏิบัติการ Mac OS X 10.6-10.11 และ Linux
AC600 High Power Wireless Dual Band USB Adapter
Archer T2UHP
High Gain Detachable
Antenna for Maximized Range
Archer T2UHP มีเสาสัญญาณภายนอกเพื่อให้รักษาเสถียรภาพและการเชื่อมต่อที่สมบูรณ์ของสัญญาณ Wi-Fi ซึ่งเสาสัญญาณภายนอกสามารถถอดหรือปรับทิศทางได้ เพื่อให้เหมาะสมกับการใช้งานของคุณ
Archer T2UHP มาพร้อมเสาสัญญาณกำลังส่งสูง เพื่อการเชื่อมต่อของสัญญาณที่สมบูรณ์และมีเสถียรภาพในการใช้งานภายในบ้านของคุณ
Dual Band AC600 Speed for Ultimate Connections
Archer T2UHP ให้ความเร็วในการส่งข้อมูลสูงถึง 433Mbps ในย่าน 5 GHz เหมาะสำหรับการใช้สตรีมมิ่งวิดีโอ HD หรือเล่นเกมส์ออนไลน์ในขณะที่ย่าน 2.4GHz มาพร้อมความเร็ว 150Mbps เหมาะสำหรับการใช้งานปกติ เช่น ท่องเว็บไซต์ ส่งอีเมล์ เป็นต้น
Archer T2UHP สามารถรองรับการเชื่อมต่อได้ 2 ย่านความถี่ ซึ่งย่านความถี่ 2.4GHz มาพร้อมความเร็ว 150Mbps เหมาะสำหรับการท่องเว็บไซต์ในขณะที่ย่านความถี่ 5GHz มีความเร็ว 433Mbps ซึ่งเหมาะสำหรับการสตรีมมิ่งวิดีโอ HD และเล่นเกมส์ออนไลน์
5GHz

433Mbps

2.4GHz

150Mbps
High Power for Strong Penetrability
ด้วยกำลังส่งสูงของ Archer T2UHP ทำให้มีความน่าเชื่อถือในการเชื่อมต่อ มีประสิทธิภาพในการทะลุทะลวงสิ่งกีดขวางจึงมั่นใจได้ว่าสามารถใช้งานผ่านกำแพงหรือผนังได้
ด้วยเสาสัญญาณกำลังส่งสูงของ Archer T2UHP ทำให้เมื่อใช้งานผ่านผนังหรือข้ามชั้นสามารถเชื่อมต่อได้อย่างมีประสิทธิภาพ
Router
Other
Wireless Adapter
Router
Archer T2UHP
Easy Setup with Desktop-Friendly Design
ออกแบบให้สามารถตั้งใช้งานได้และสาย USB ความยาว 1 เมตร ช่วยให้ Archer T2UHP สามารถจัดวางในตำแหน่งที่ดีที่สุดในการรับสัญญาณเครือข่ายไร้สาย สร้างความยืดหยุ่นสำหรับการใช้งานกับคอมพิวเตอร์ภายในห้องของคุณ
ออกแบบให้สามารถตั้งใช้งานได้และสาย USB ความยาว 1 เมตร ช่วยให้ Archer T2UHP สามารถจัดวางในตำแหน่งที่ดีที่สุดในการรับสัญญาณเครือข่ายไร้สาย
Universal Fit with Cross-Platform Compatibility
Archer T2UHP สามารถทำงานร่วมกับระบบปฏิบัติการ Windows 10/8.1/8/7/XP 32/64 บิต ระบบปฏิบัติการ Mac OS X 10.6-10.11 และ Linux
Archer T2UHP สามารถใช้งานร่วมกับระบบปฏิบัติการ Windows 10/8.1/8/7/XP 32/64 บิต ระบบปฏิบัติการ Mac OS X 10.6-10.11 และ Linux.
Windows 10 Support
Mac Support
Linux Support
HARDWARE FEATURES
Interface
Micro USB 2.0
Button
WPS
Wireless Standards
IEEE 802.11ac,IEEE 802.11a,IEEE 802.11n, IEEE 802.11g, IEEE 802.11b
Dimensions ( W x D x H )
71.3*50.7*18.4mm
Antenna Type
Detachable Omni Directional (RP-SMA)
Antenna Gain
2.4-2.5GHz&5.15-5.85GHz:3.0dBi&6.0dBi
WIRELESS FEATURES
Frequency
2.4-2.4835GHz&5.150-5.850GHz
Signal Rate
5G Tx Up to 433Mbps&2.4G Tx Up to 150Mbps5G Rx Up to 433Mbps&2.4G Rx Up to 150Mbps
Transmit Power
2.4-2.5GHz:<20dBm&5.15-5.85GHz:<23dBm(EIRP, For countries using CE Standards)<30dBm (EIRP, For countries using FCC Standards)
Wireless Modes
Ad-Hoc / Infrastructure mode
Wireless Security
Support 64/128 bit WEP,WPA/WPA2,WPA-PSK/WPA2-PSK,802.1x
OTHERS
Package Contents
Archer T2UHP3dBi&6dBi Detachable Omni Directional AntennasResource CDQuick Installation Guide1.0m USB Extension Cable
System Requirements
Windows 10 (32/64bits),
Windows 8.1 (32/64bits),
Windows 8 (32/64bits),
Windows 7(32/64bits),
Windows XP(32/64bits)
Mac OS X10.7_10.11
Linux
Environment
Operating Temperature: 0~40℃ (32~104)Storage Temperature: -40~70℃(-40~158)Operating Humidity: 10%~90% non-condensingStorage Humidity: 5%~90% non-condensing
From United States?
Get products, events and services for your region.