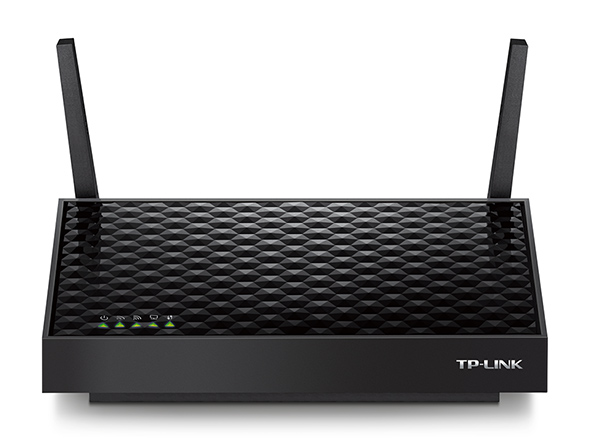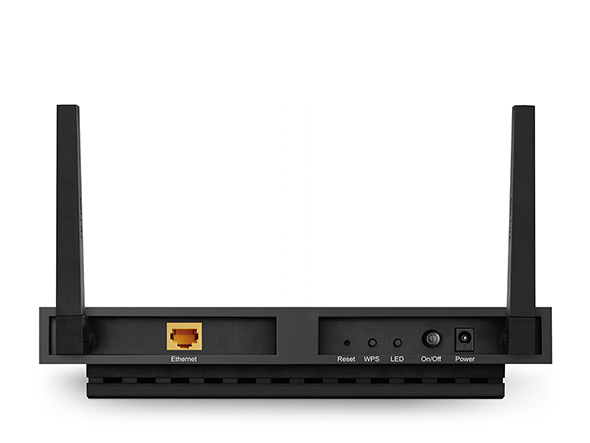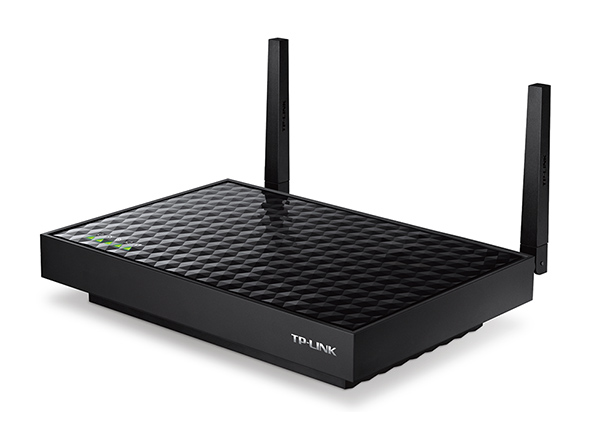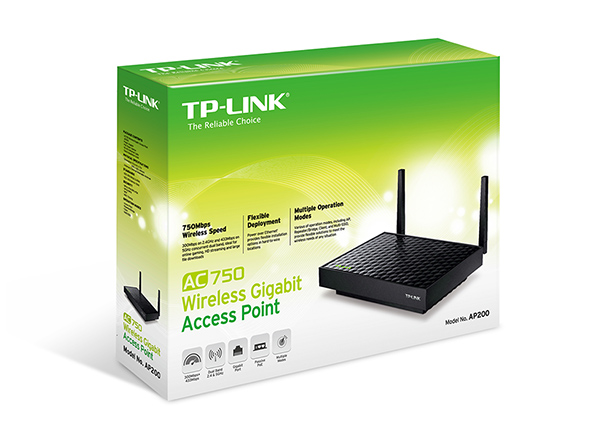 AC750 Wireless Gigabit Access Point AP200
ด้วยความเร็วรวมทั้งหมด 750Mbps ซึ่งแบ่งออกเป็นความเร็ว 300Mbps บนย่านความถี่ 2.4GHz และ 433Mbps บนย่านความถี่ 5GHz จึงเหมาะสำหรับการสตรีมมิ่งไฟล์ขนาด 4K และเล่นเกมส์ออนไลน์
รองรับการใช้งาน Passive POE ความยาวสูงสุดถึง 30 เมตร ทำให้มีความยืดหยุ่นในการใช้งาน
ด้วยพอร์ตอีเทอร์เน็ตแบบกิกะบิตจึงทำให้ได้รับการเชื่อมต่อที่รวดเร็วสำหรับอุปกรณ์ที่ใช้สายอีเทอร์เน็ตในการเชื่อมต่อ
2 เสาสัญญาณภายนอกที่สามารถถอดออกได้ ช่วยเพิ่มความครอบคลุมของสัญญาณและลดจุดอับของสัญญาญได้
สามารถตั้งค่าใช้งานได้หลากหลายโหมด เช่น AP, Repeater/Bridge, Client, and Multi-SSID เพื่อทำให้สามารถตอบสนองความต้องการของการใช้งานที่หลากหลายได้
Upgrade Your
Wi-Fi Network to 11AC
Wireless Gigabit Access Point
AP200
Lightning-Fast AC750 Dual Band Wi-Fi
เสริมสร้างเครือข่ายไร้สายแบบ 2 ย่านความถี่ ภายในบ้านและที่ทำงานของคุณให้มีประสิทธิภาพสูงขึ้น ด้วยมาตรฐาน 802.11ac มีความเร็วในการส่งข้อมูลรวมถึง 750Mbps เหมาะกับการใช้งานหลายอุปกรณ์ในเวลาเดียวกัน ซึ่งในย่านความถี่ 5GHz เหมาะสำหรับสตรีมมิ่งวิดีโอขนาด Ultra HD และเล่นเกมส์ออนไลน์ ในขณะที่ย่านความถี่ 2.4GHz เหมาะสำหรับการใช้ท่องเว็บไซต์หรือการส่งอีเมล์
Superior Wi-Fi Coverage
2 เสาสัญญาณภายนอกที่สามารถถอดได้ ช่วยเสริมสร้างสัญญาณ Wi-Fi ให้ครอบคลุมพื้นที่ของคุณและกำจัดจุดอับสัญญาณได้
providing superior coverage to eliminate dead zones.
เปิดการเชื่อมต่อเครือข่ายให้กับสัญญาณไร้สาย ช่วยให้คุณสามารถเชื่อมต่ออุปกรณ์ไวลเลสเข้ากับเครือข่ายได้
Expands coverage and transmits an existing
wireless signal into previously unreachable areas
Acts as a powerful wireless adaptor, allowing you to connect your wired device to a wireless network
Simultaneously supports up to four separate SSIDs and VLANs, making it ideal for offices where different departments with different access policies share a Wi-Fi network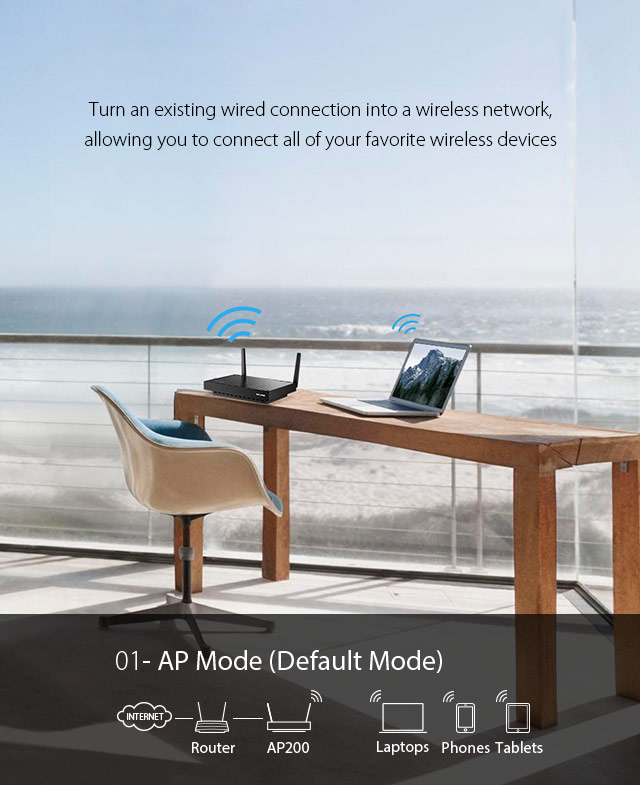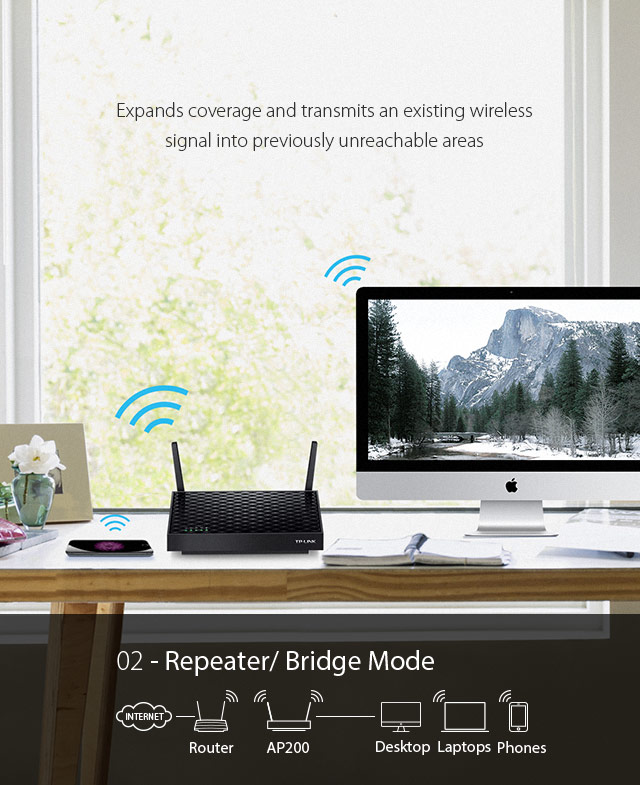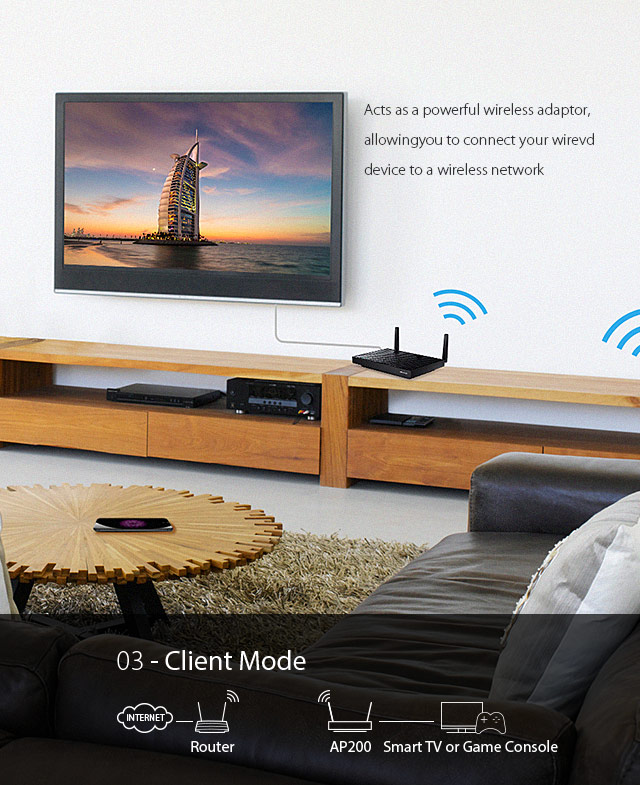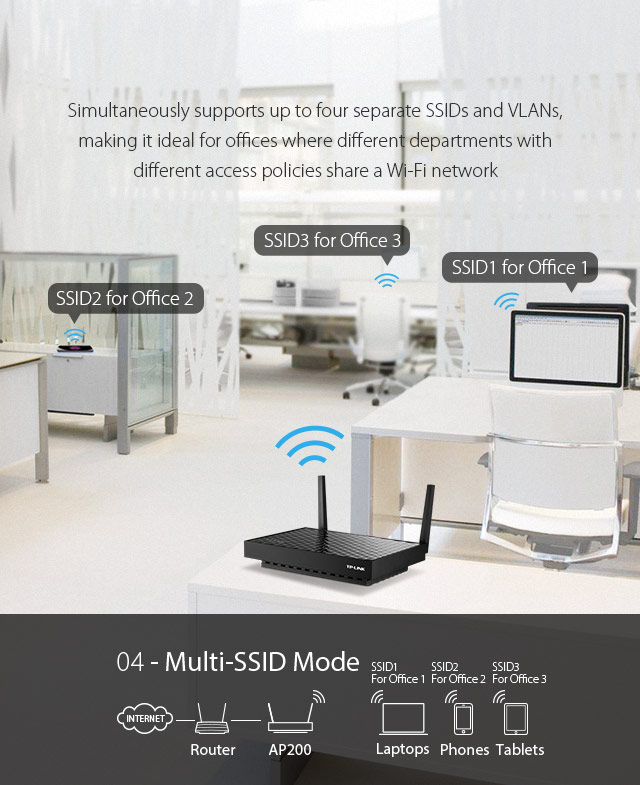 Passive PoE Supported


More Flexible Deployment

The AP200 is able to be powered using an Ethernet
cable up to 30 meters. Allow you to place the device
more flexible and effortless.
Socket
Passive PoE Injector
Router
Gigabit-Class Wired Performance
The Ethernet port can provide gigabit-class Internet access or an ultra-fast connection for wired device such as smart TV, game console, etc.
Smart TV
or
Game consoles
or
Desktop
Easy Setup and Use
The AP200's powerful web interface allows it to be set up and configured in a matter of minutes. The intuitive design makes installation faster and easier than ever and allows users to monitor and personalize settings for a wide range of functions.
HARDWARE FEATURES
Interface
1 * 10/100/1000Mbps Ethernet Port (RJ45)
Button
WPS Button, Reset Button, LED Button, Power Button
External Power Supply
12V/1A
Dimensions ( W x D x H )
9.5 X 6.4 X 1.7 in. (242 X 162 X 44mm)
Antenna
2 dual band detachable antennas
WIRELESS FEATURES
Wireless Standards
IEEE 802.11a/ac, IEEE 802.11b/g/n
Frequency
2.4GHz & 5GHz(11ac)
Signal Rate
2.4GHz: Up to 300Mbps5GHz: Up to 433Mbps
Reception Sensitivity
2.4GHz:11g 54M: -76dBm@10% PER11n HT20 MCS7: -73.5dBm@10% PER11n HT40 MCS7: -71dBm@10% PER5GHz:11a 6Mbps:-93dBm@10% PER11a 54Mbps: -75dBm@10% PER11ac HT20 MCS8: -67dBm@10% PER11ac HT40 MCS9: -62.5dBm@10% PER11ac HT80 MCS9: -59.5dBm@10% PER
Transmit Power
CE: <20dBm(2.4GHz), <23dBm(5GHz), FCC: <30dBm
Wireless Modes
Access Point, Repeater (Range Extender)/Bridge with AP, Client, Multi-SSID
Wireless Functions
Wireless Statistic, Concurrent Mode boost both 2.4G/5G WiFi band, LED Control, Domain Login Function
Wireless Security
64/128-bit WEP, WPA-PSK / WPA2-PSK
OTHERS
Certification
CE, FCC, RoHS
Package Contents
AC750 Wireless Gigabit Access Point, AP2002 Detachable AntennasPower AdapterPoE Power InjectorRJ-45 Ethernet CableDesktop Mounting StandQuick Installation Guide
System Requirements
Microsoft® Windows® 98SE, NT, 2000, XP, Vista or Windows 7, 8, 8.1, 10, Mac® OS, NetWare®, UNIX® or Linux
Environment
Operating Temperature: 0°C~40°C (32°F~104°F)Storage Temperature: -40°C~70°C (-40°F~158°F)Operating Humidity: 10%~90% non-condensingStorage Humidity: 5%~90% non-condensing
SubscriptionTP-Link takes your privacy seriously. For further details on TP-Link's privacy practices, see TP-Link's Privacy Policy.