From United States (English)?
Get products, events and services for your region.
O que devo fazer se não conseguir abrir um site através da rede Deco?
Troubleshooting
Updated 01-21-2019 16:14:14 PM
O artigo aplica-se a:
Deco X20(3-pack) , Deco X60(1-pack) , Deco X60(2-pack) , Deco X20 , Deco X60 , Deco X60(3-pack) , Deco X20(1-pack) , Deco M4(3-pack) , Deco M9 Plus , Deco M3 , Deco M5 , Deco M4 , Deco P7 , Deco S4(2-pack) , Deco S4(1-pack) , Deco S4 , Deco X20(2-pack) , Deco M5 Plus , Deco S4(3-pack)
Verifique o Histórico do Antivírus para verificar se não se trata de um site bloqueado.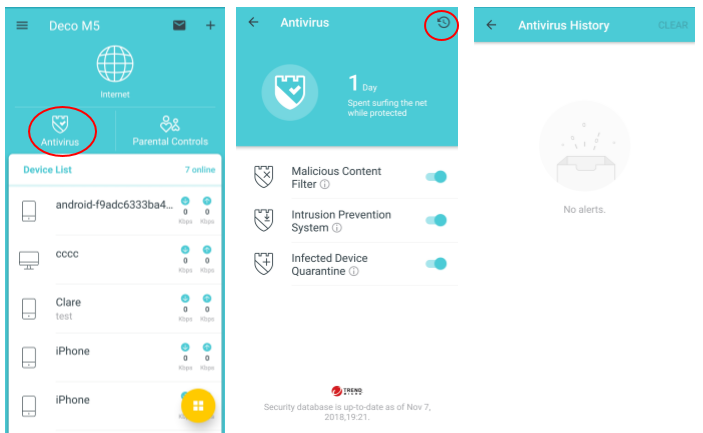 Se estiver bloqueado pela Trend Micro, então o site está listado como malicioso na base de dados da Trend Micro. Poderá desativar o Antivírus ou contactar a Trend Micro caso pretenda que o site seja removido da base de dados.
Para conhecer em maior detalhe cada função e configuração do seu aparelho deverá proceder ao download do manual do produto em questão através do Centro de Downloads.
Este guia foi útil?
A sua resposta ajuda-nos a melhorar o nosso site.
Quer deixar alguma sugestão?
How can we improve it?
Thank you
We appreciate your feedback.
Click
here
to contact TP-Link technical support.
SubscriptionTP-Link takes your privacy seriously. For further details on TP-Link's privacy practices, see TP-Link's Privacy Policy.
Sobre Nós
Comunicado de imprensa
Learning Center