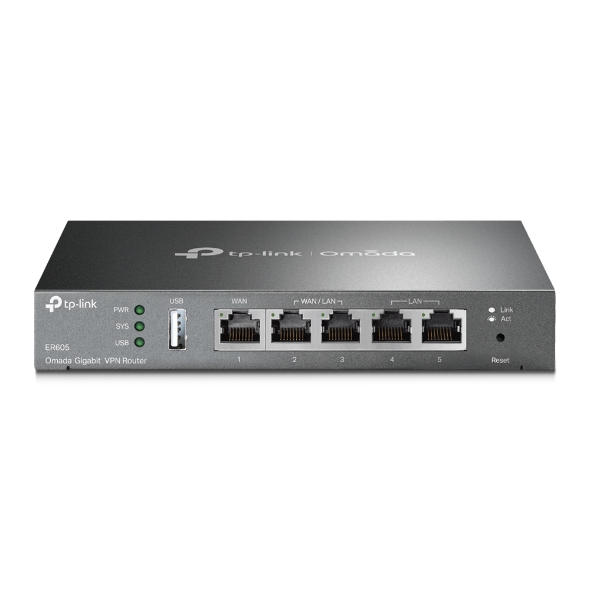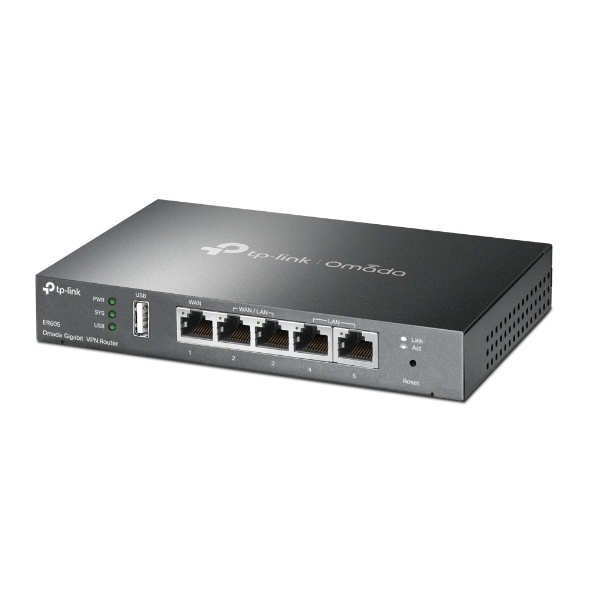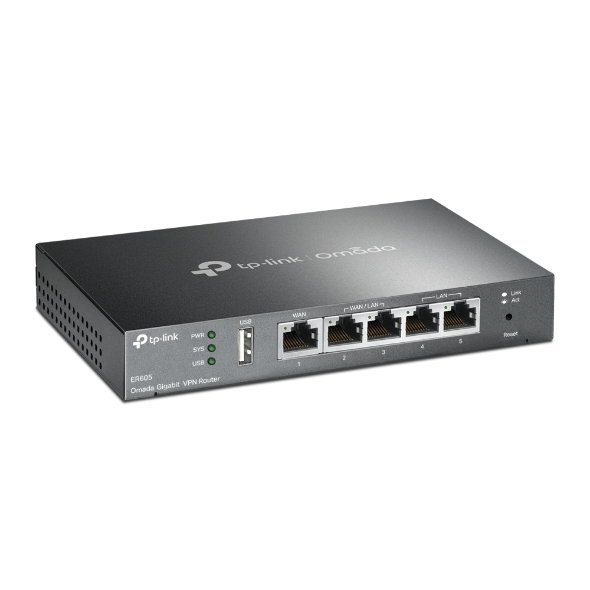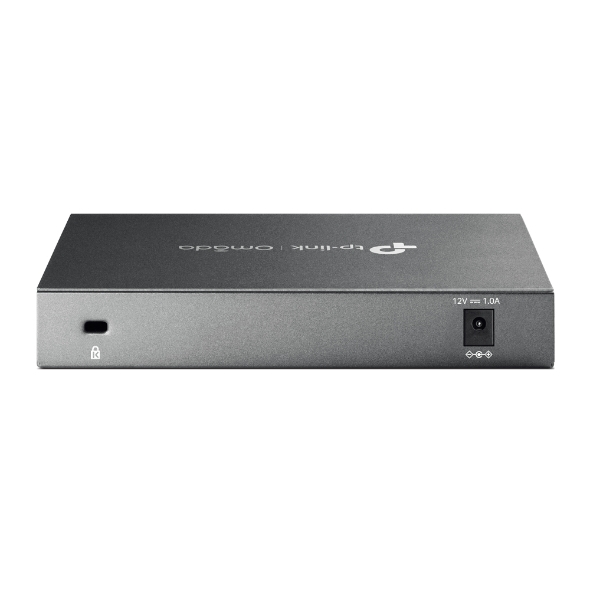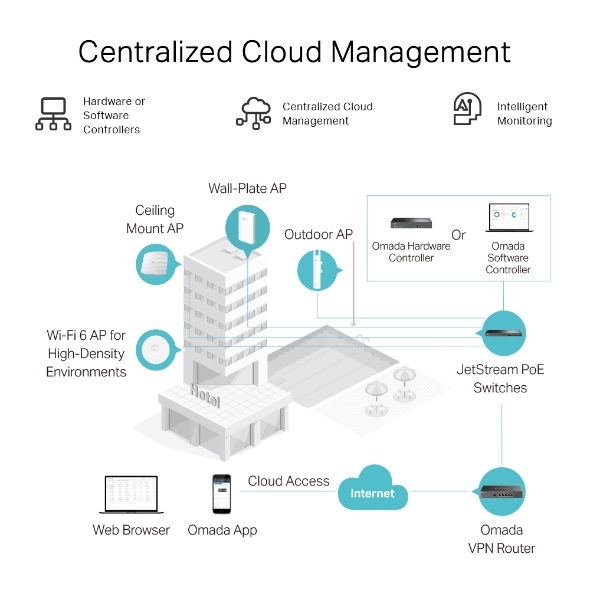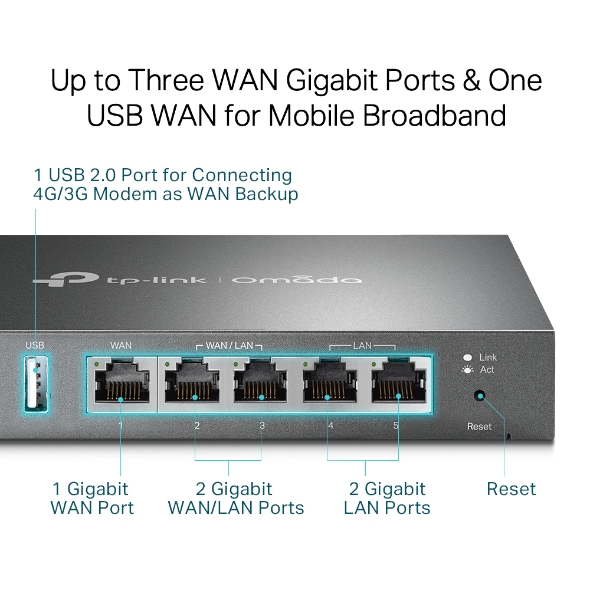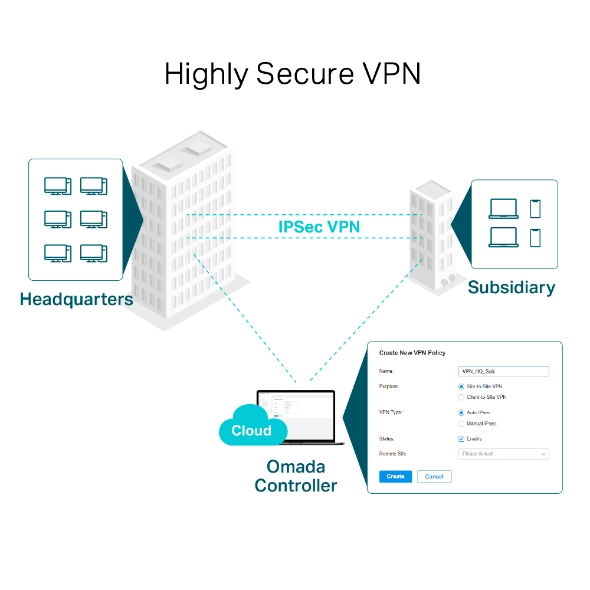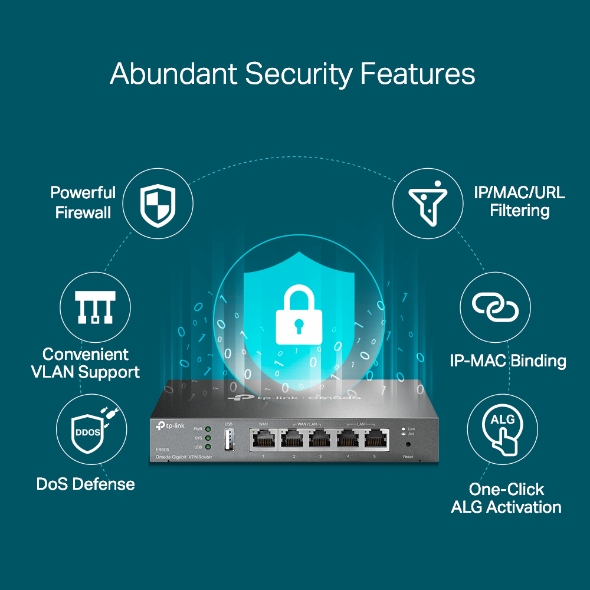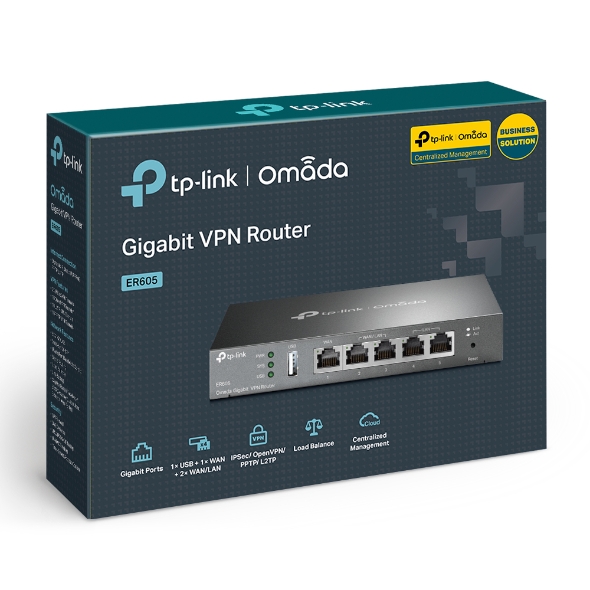 Integrado no Omada SDN: Provisão zero-toque (ZTP)***, Gestão centralizada Cloud e monitorização inteligente.
Gestão Centralizada: Acesso Cloud e app Omada para implementação e gestão dinâmica.
Cinco Portas Gigabit: conectividade Ethernet de alta velocidade.
Até 3 portas WAN: 1 gigabit porta WAN e 2 portas gigabit WAN/LAN com balanço de carga aumentam a taxa de utilização da banda com vários ISP.
VPN Segura: Suporta até 20× LAN-to-LAN IPsec, 16× OpenVPN*, 16× L2TP, and 16× PPTP VPN.△
Porta USB WAN de Backup: Suporte para uma ligação de Backup ISP 3/4G de forma a manter as comunitações.‡
Abundantes Funcionalidades de Segurança: Políticas avançadas de firewall, defesa do DoS,filtragem IP/MAC/URL e mais funções de segurança protegem a sua rede e dados.

Centralized Management
Fiável,
Seguro, Router VPN Gigabit
ER605
Gestão Centralizada

Portas

Gigabit

1 USB + 1 WAN + 2 WAN/LAN

Load Balance

IPSec/OpenVPN/ PPTP/L2TP

Robusta

Firewall

VLAN

Aplicação

Omada
Omada SDN — A Solução de Rede Cloud Inteligente para a Sua Empresa
Como o Router Gateway que se integra perfeitamente na plataforma Omada Software Defined Networking (SDN), o ER605 permite uma gestão remota e centralizada, em qualquer lugar, a qualquer momento. A gestão autónoma através da Web UI ou app também está disponível para maximizar as opções de implementação.
Controladores por

Hardware ou Software

Gestão Centralizada

Cloud

Monitorização Inteligente
Wi-Fi 6 AP Ambientes de Alta Densidade
Omada Hardware Controller
Omada Software Controller
Até Três Portas WAN Gigabit & Uma USB WAN para Banda Larga Móvel
Duas portas híbridas (WAN ou LAN) que permitem ao router suportar até três portas WAN WAN de entrega de ISP para satisfazer vários requisitos de acesso à Internet através de um equipamento. A função multi-WAN Load Balancing distribui fluxos de dados de acordo com a proporção de largura de banda de cada porta WAN para aumentar a taxa de utilização da multi-line broadband.
A banda larga móvel através do acesso WAN 4G/3G através da ligação à porta USB também é suportada como Backup para manter as comunicações e serviços online.
1× Porta USB 2.0 para Conectividade 4G/3G como WAN Backup
2× Portas Gigabit WAN/LAN
High-Security e High-Performance VPN
ER605 suporta IPSec/PPTP/L2TP VPN sobre protocolos IPSec/SSL. Um clique automático IPSec VPN* simplifica consideravelmente a configuração VPN e facilita a gestão e implementação da rede. Também protege e encripta comunicações de dados locais privadas que viajam pela internet. Esta versão melhora o desempenho da VPN em 4-5 vezes graças à linha aberta de comunicação com a base de utilizadores da Omada.
Abundantes Recursos de Segurança
Robusta Firewall
Políticas avançadas de Firewall
proteger a sua rede e dados.
Apoio Abrangente da VLAN
Criar segmentos de rede virtuais para
segurança reforçada e simplificada
gestão de rede.
Proteção DoS
Deteta e bloqueia automaticamente a Negação de Serviço
(DoS) ataques como TCP/UDP/ICMP Inundações, Ping
of Death, e outras ameaças relacionadas.
IP/MAC/URL Filtering
Prevenir vigorosamente vírus e ataques
de intrusos.
IP-MAC Binding
Reservas estáticas de atribuição de IP para
clientes de rede para defender contra ataques ARP
e spoofing.
One-Click ALG Activation
Ativação One-Click ALG para
implementações como FTP, H323, SIP,
IPsec e PPTP.
Estratégia de Gestão do Acesso à Internet
Normalize o comportamento online dos utilizadores e especifique facilmente os direitos e estratégias de acesso à Internet do colaborador através da Lista de Filtragem e Controlo de Acesso IP/MAC/URL (ACL). A autenticação do Portal Cativo facilita o controlo de recursos de rede através da captura, autenticação e classificação do acesso do utilizador. Os recursos de rede adequados também podem ser atribuídos a utilizadores convidados específicos.
Ainda mais vantajoso com a APP OMADA
Siga as instruções de configuração na aplicação gratuita Omada para implementar uma rede em minutos. A Aplicação Omada permite-lhe ajustar configurações, supervisionar o estado da rede e gerir os clientes, tudo a partir de um smartphone ou tablet.
CARACTERÍSTICAS DE HARDWARE
Protocolos e Normas
• IEEE 802.3, 802.3u, 802.3ab, IEEE 802.3x, IEEE 802.1q• TCP/IP, DHCP, ICMP, NAT, PPPoE, NTP, HTTP, HTTPS, DNS, IPSec, PPTP, L2TP, OpenVPN, SNMP
Interface
• 1 Fixed Gigabit WAN Port• 1 Fixed Gigabit LAN Port• 3 Changeable Gigabit WAN/LAN Ports
Network Media
• 10BASE-T: UTP category 3, 4, 5 cable (Max 100m)EIA/TIA-568 100Ω STP (Max 100m)• 100BASE-TX: UTP category 5, 5e cable (Max 100m)EIA/TIA-568 100Ω STP (Max 100m)• 1000BASE-T: UTP category 5, 5e, 6 cable (Max 100m)
Botão
Reset Button
Fonte de alimentação
External 9V/0.85A DC Adapter
Flash
SPI 16MB
DRAM
128 MB
LED
PWR, SYS, WAN, LAN
Dimensões (L x P x A)
6.2 × 4.0 × 1.0 in (158 × 101 × 25mm)
Max Power Consumption
7.94 W
PERFORMANCE
Concurrent Session
25,000
New Sessions /Second
2,600
NAT (Static IP)
• Upload: 945.77 Mbps• Download: 945.56 Mbps• Bi-Directional: 1808.29 Mbps
NAT(DHCP)
• Upload: 945.93 Mbps• Download: 945.43 Mbps• Bi-Directional: 1808.11 Mbps
NAT(PPPoE)
• Upload: 940.44Mbps• Download: 940.52 Mbps• Bi-Directional: 1804.27 Mbps
NAT (L2TP)
• Upload: 845.64 Mbps• Download: 802.65 Mbps• Bi-Directional: 931.96 Mbps
NAT (PPTP)
• Upload: 771.66 Mbps• Download: 874.81 Mbps• Bi-Directional: 999.54 Mbps
64 Byte Packet Forwarding Rate
• Upload/Download: 1,402,238 pps• Bi-Directional: 1,681,548 pps
IPsec VPN Throughput
41.5 Mbps
OpenVPN
• 21.70 Mbps
L2TP VPN Throughput
• Unencrypted: 864.65 Mbps• Encrypted: 47.11 Mbps
PPTP VPN Throughput
• Unencrypted: 703.20 Mbps• Encrypted: 76.65 Mbps
BASIC FUNCTIONS
WAN Connection Type
• Static/Dynamic IP• PPPoE• PPTP• L2TP
MAC Clone
Modify WAN/LAN MAC Address†
DHCP
• DHCP Server/Client• DHCP Address Reservation• Multi-net DHCP*• Multi-IP Interfaces*
IPv6
Developing‡
VLAN
802.1Q VLAN
IPTV
IGMP v2/v3 Proxy
FUNÇÕES AVANÇADAS
ACL
IP/Port/Protocol/Domain Name Filtering
Advanced Routing
• Static Routing• Policy Routing
Bandwidth Control
• IP/Port-based Bandwidth Control• Guarantee & Limited Bandwidth
Load Balance
• Intelligent Load Balance• Application Optimized Routing• Link Backup (Timing§, Failover)• Online Detection
NAT
• One-to-One NAT§• Multi-Net NAT• Virtual Server• Port Triggering§• NAT-DMZ• FTP/H.323/SIP/IPSec/PPTP ALG, UPnP
Security
• SPI Firewall• VPN Passthrough• FTP/H.323/PPTP/SIP/IPsec ALG• DoS Defence, Ping of Death• Local Management
Session Limit
IP-based Session Limit
VPN
IPsec VPN
• 20 IPsec VPN Tunnels• LAN-to-LAN, Client-to-LAN• Main, Aggressive Negotiation Mode• DES, 3DES, AES128, AES192, AES256 Encryption Algorithm• IKEv1/v2*• MD5, SHA1 Authentication Algorithm• NAT Traversal (NAT-T)• Dead Peer Detection (DPD)• Perfect Forward Secrecy (PFS)*These functions require the use of Omada Hardware Controller, Software Controller, or Cloud-Based Controller
PPTP VPN
• PPTP VPN Server• 10 PPTP VPN Clients• 16 Tunnels• PPTP with MPPE Encryption
L2TP VPN
• L2TP VPN Server• 10 L2TP VPN Clients• 16 Tunnels• L2TP over IPSec
OpenVPN
• OpenVPN Server*• 10 OpenVPN Clients*• 16 OpenVPN Tunnels*
SEGURANÇA
Filtering
WEB Group Filtering§URL FilteringWeb Security§
ARP Inspection
• Sending GARP Packets§• ARP Scanning§• IP-MAC Binding§
Attack Defense
• TCP/UDP/ICMP Flood Defense• Block TCP Scan (Stealth FIN/Xmas/Null)• Block Ping from WAN
Access Control
Source/Destination IP Based Access Control
AUTHENTICATION
Web Authentication
• No Authentication• Simple Password*• Hotspot(Local User / Voucher* / SMS* / Radius*)• External Radius Sever• External Portal Sever*• Facebook*
GESTÃO
Omada App
Yes
Centralized Management
• Omada Cloud-Based Controller• Omada Hardware Controller (OC300)• Omada Hardware Controller (OC200)• Omada Software Controller
Cloud Access
Yes (Through OC300, OC200, Omada Cloud-Based Controller, or Omada Software Controller)
Service
Dynamic DNS (Dyndns, No-IP, Peanuthull, Comexe)
Maintenance
• Time Setting• Diagnostic• Firmware Upgrade• Factory Defaults/Reboot• Backup&Restore• System Log• Remote Management• Statistics• Controller Settings• SNMP
Zero-Touch Provisioning
Yes. Requiring the use of Omada Cloud-Based Controller.
Management Features
• Automatic Device Discovery• Intelligent Network Monitoring• Abnormal Event Warnings• Unified Configuration• Reboot Schedule• Captive Portal Configuration• ZTP (Zero-Touch Provisioning)**
OUTROS
Certificações
CE, FCC, RoHS
Conteúdo da embalagem
• Gigabti VPN Router ER605• Power Adapter• RJ45 Ethernet Cable• Quick Installation Guide
Requisitos de Sistema
Microsoft® Windows® 10, 8, 7,Vista™, XP or MAC® OS, NetWare®, UNIX® or Linux
Environment
• Operating Temperature: 0–40 ℃ (32–104 ℉);• Storage Temperature: -40–70 ℃ (-40–158 ℉)• Operating Humidity: 10–90% RH non-condensing• Storage Humidity: 5–90% RH non-condensing
‡Para a lista completa de compatibilidade das PEN USB Internet Móvel 4G/3G, vá a https://www.tp-link.com/pt/er605/compatibility/
*Estas funções requerem a utilização do Controlador por Hardware Omada, do Controlador de Software ou do Controlador Cloud..
† endereço LAN MAC só pode ser modificado no modo Standalone.
§ Estas funções são suportadas apenas no Modo Standalone.
△Para o OpenVPN: Quando configurado como um servidor VPN, cada porta WAN pode ligar-se a até 10 clientes VPN. Ao mesmo tempo, o ER605 pode funcionar como um cliente VPN para se conectar com até 10 servidores VPN. O número total de túneis OpenVPN está limitado a 16.
**Para PPTP e L2TP VPN: O ER605 pode funcionar como cliente VPN e pode ligar-se a até 10 servidores VPN.
***Zero-Touch Provisioning somente está disponível no Omada Cloud-Based Controller. Por favor, consulte a seguinte página https://www.tp-link.com/pt/omada-cloud-based-controller/product-list/ para confirmar quais os modelos compatíveis com o Omada Cloud-Based Controller.
SubscriçãoA TP-Link Corporation Limited leva a sua privacidade a sério. Para mais detalhes sobre as Politicas de Privacidade da TP-Link, consulte Termos e Condições de Privacidade.
From United States?
Obtenha produtos, eventos e serviços para a sua região.