How to Configure IPTV function on Deco?
This article will introduce the configuration of IPTV function. Before we start, please make sure the internet is working on the Deco unit, if the internet is not working, please setup the internet connection of the deco unit first.
Notes:
If you have already had accessed to Internet and IPTV function normally by default, please ignore this article, just keep the default settings of IPTV page. In this case, you can connect your IPTV device to the IPTV port of your home modem/router.
Currently IPTV only support four modes, Singapore-Singtel, Malaysia-Unifi, Malaysia-Maxis1 and Malaysia-Maxis2. Will add custom options in the next firmware release.
Here we use Malaysia-Maxis1 mode for example:
On the Deco App, please go to the More->Advanced->IPTV page.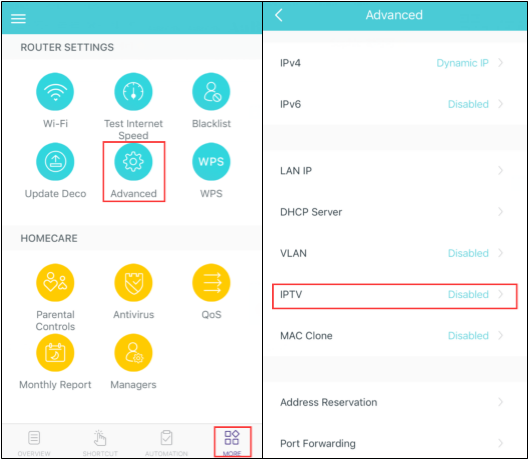 Enable IPTV, select the Malaysia-Maxis1 Mode, click on Save, then the IPTV setup process is finished.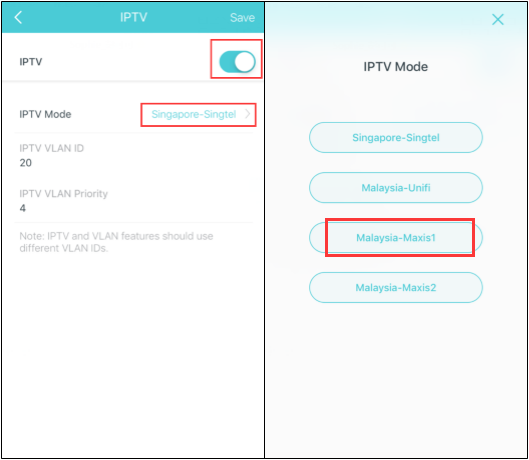 Notes:
Currently it only supports IPTV based on 802.11q VLAN tagging. Will add support for IPTV based on Bridging in next firmware release.
The IPTV function only takes effect on the other Ethernet port of the main Deco.
Currently only Deco M9 Plus and Deco M5 support this feature, other Deco models will support IPTV function by firmware update in the near future.
Is this faq useful?
Your feedback helps improve this site.
SuscripciónTP-Link toma en serio su privacidad. Para obtener más detalles sobre las prácticas de privacidad de TP-Link, consulte la Política de privacidad de TP-Link.