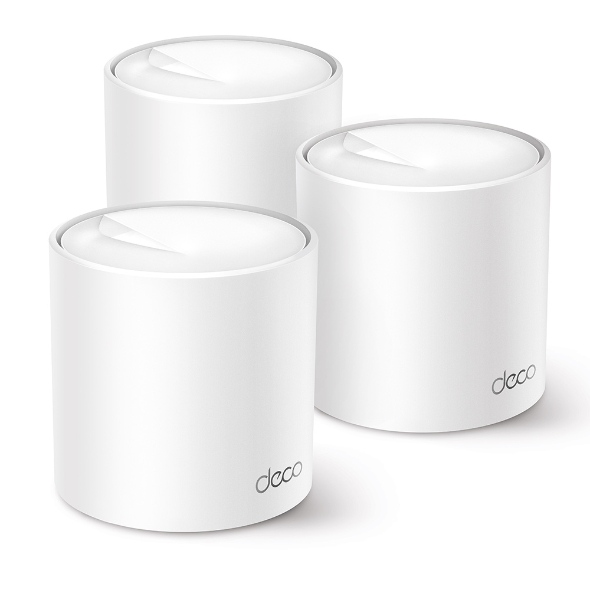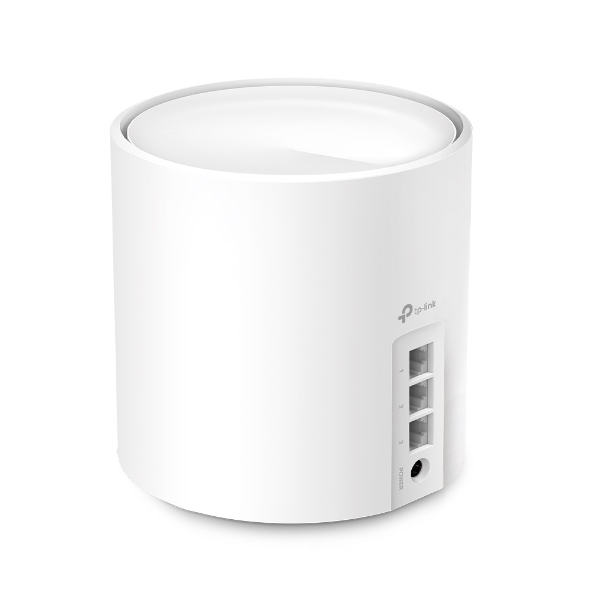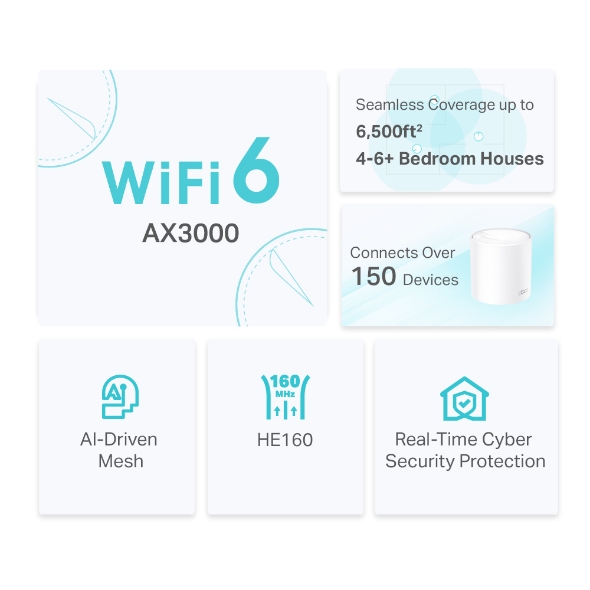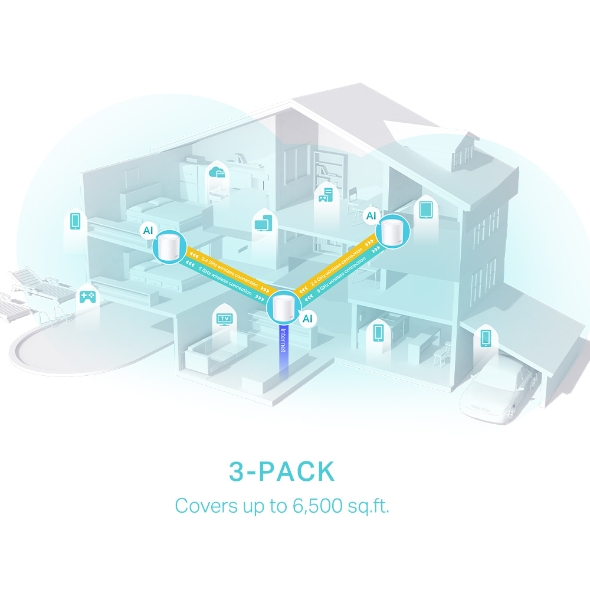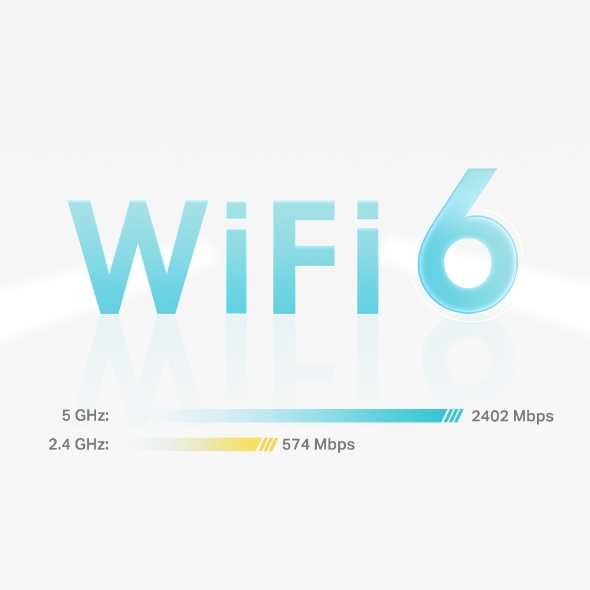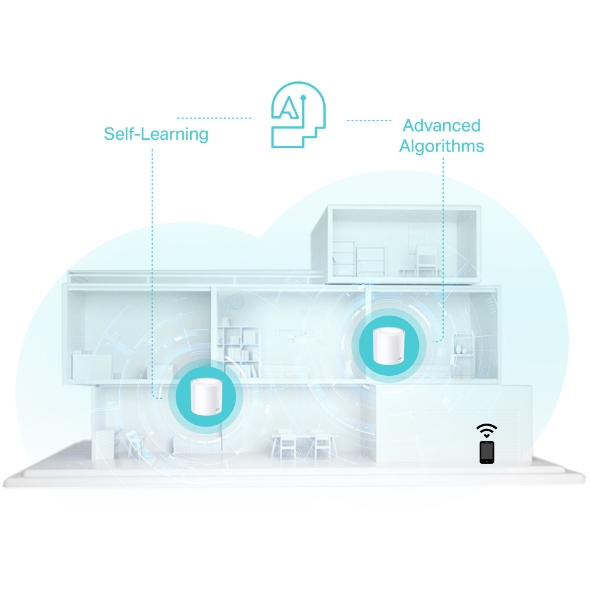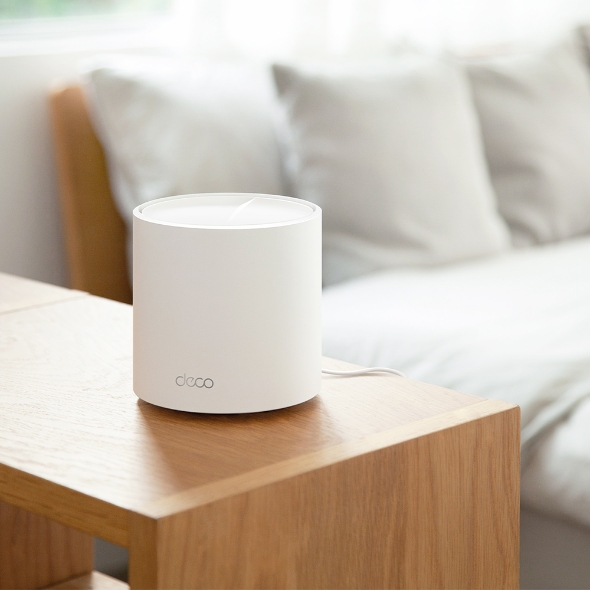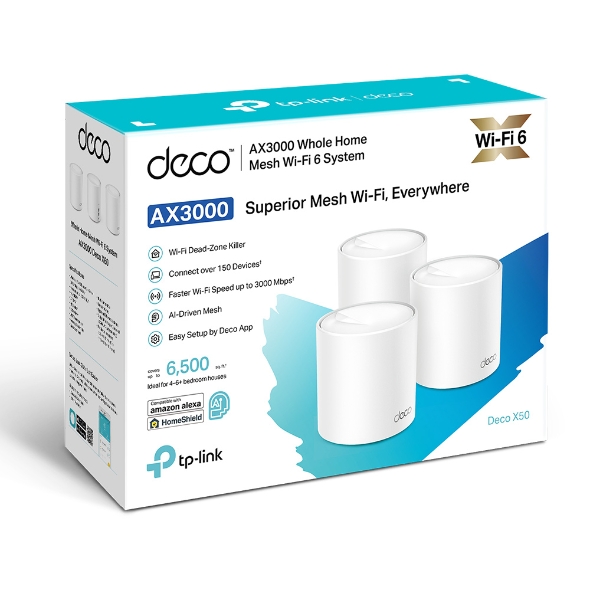 Deco X50
Sistema Wi-Fi 6 Mesh AX3000 para Toda la Casa
Wi-Fi AX3000 Doble Banda - Wi-Fi 6 súper rápido con velocidades de hasta 3,0 Gbps
4 Flujos, Menos Lag - 2×2/HE160 2402 Mbps + 2×2 574 Mbps
Velocidad Cableada Gigabit - 3× Puertos Gigabit por unidad que proporcionan suficiente conectividad
Cobertura Reforzada sin Fisuras - Cobertura Wi-Fi Mesh sin fisuras de hasta 600 m2 (pack de 3)
Mesh Impulsado por IA - Aprende de forma inteligente el entorno de la red para proporcionar un Wi-Fi ideal y único para tu hogar
TP-Link HomeShield - Proporciona una completa protección de la red, sólidos controles parentales y protección del IoT en tiempo real
Configuración más Fácil que Nunca - La aplicación Deco te guía paso a paso por la configuración
Deco X50
Wi-Fi Mesh Superior, En Todas Partes
Sistema Wi-FI 6 Mesh AX3000 para Toda la Casa
*Amazon Alexa actualmente disponible solo en inglés.
AX3000
Cobertura sin Fisuras hasta 600 m2
Casas de 4-6+ Dormitorios
Conecta más de 150 Dispositivos
Mesh Impulsado por IA
HE160
Protección de Ciberseguridad en Tiempo Real
Wi-Fi 6 Mesh Ultrarrápido
Equipado con la tecnología Wi-Fi 6, el Wi-Fi Mesh para toda la casa de Deco está diseñado para ofrecer un gran impulso en la cobertura, velocidad y capacidad total de dispositivos conectados. Súbete a lo último en Wi-Fi Mesh para disfrutar de la futura red que carga más rápido y conecta más.△
4× Mayor Capacidad

3× Mayor Velocidad

1024-QAM

HE160
Duplicación del Ancho de Banda

Compatible con Versiones Anteriores
5 GHz:
2.4 GHz:
2402 Mbps
574 Mbps
Wi-Fi 6 Mesh
Mayor Cobertura

Más Conexiones
Cobertura en Toda la Casa: Acaba con las Zonas sin Wi-Fi
Con señales más claras y potentes mejoradas por BSS Color y Beamforming, el Deco X50 aumenta la cobertura Wi-Fi de toda la casa con un gran rendimiento. Las conexiones inalámbricas y el backhaul Ethernet opcional funcionan conjuntamente para enlazar las unidades Deco, proporcionando velocidades de red aún más rápidas y una cobertura realmente perfecta. ¿Quieres más cobertura? Simplemente añade otro Deco.†
BSS Color Minimiza los Conflictos Wi-Fi

Beamforming Concentra la Fuerza de la Señal
2-PACK
Cubre hasta 420 m2
3-PACK
Cubre hasta 600 m2
Streaming 720P
Cámaras IP
Descargas de Alta Velocidad
Dispositivos SmartHome
Streaming 1080P
Streaming 4K
Navegar por la Web
Hasta 4x Veces más Capacidad para una Transmisión Inmersiva†
Mejorado con Wi-Fi 6, con tecnología OFDMA y MU-MIMO, Deco X50 te permite conectar más de 150 dispositivos. Disfruta de una red más eficiente que se carga más rápido sin que se resienta el rendimiento.†
conexiones para
150
dispositivos
Mesh Impulsado por IA: Siempre Aprendiendo, Constantemente Optimizando
Equipado con AI-Driven Mesh, Deco X50 ofrece un Wi-Fi inteligente que te sigue allá donde estés, sin interrupciones. Aprende automáticamente el entorno de la red, la calidad del cliente y los comportamientos del usuario. Los sofisticados algoritmos tienen en cuenta varios factores para que el Deco X50 proporcione un Wi-Fi en malla ideal, único para tu hogar. Recorre tu casa y disfruta de una transmisión sin interrupciones a la mayor velocidad posible.*
Auto-Aprendizaje
Algoritmos Avanzados
Roaming sin Interrupciones con 1 Solo Nombre de Red Wi-Fi
TP-Link Mesh significa que las unidades Deco trabajan juntas para formar una red unificada. Tu teléfono o tablet se conecta automáticamente al Deco más rápido a medida que te desplazas por tu casa, creando una experiencia Wi-Fi realmente perfecta.‡
Deja que los Expertos Aseguren Tu Hogar
Personaliza tu red doméstica con una seguridad mejorada mediante el kit de funciones integradas de TP-Link HomeShield. Ya sea para identificar los agujeros de seguridad de la red, limitar el tiempo que tus hijos pasan en línea o bloquear sitios web, HomeShield te ofrece las herramientas que necesitas para gestionar completamente tu red.*
Detecta las ciberamenazas para mantener tu privacidad y tus dispositivos conectados bien protegidos.

Controles Parentales Robustos

Gestiona el tiempo en línea y bloquea los contenidos inapropiados para mantener a las familias sanas en línea.

Calidad de Servicio (QoS)

Prioriza tus necesidades de ancho de banda para conseguir una experiencia de red más rápida.

Obtén estadísticas y datos completos que te ayuden a conocer mejor tu red doméstica.
Configuración Rápida con la Aplicación Deco
Saca los Deco, instala la aplicación y sigue las instrucciones en pantalla. La aplicación Deco se encargará del resto, poniendo en marcha tu red en cuestión de minutos.
1 Conecta el Deco a tu módem de cable y enciende ambos dispositivos.

2 Descarga e inicia la aplicación Deco; sólo tienes que seguir las instrucciones de la aplicación para finalizar los pasos de configuración.

3 Para conectar el siguiente Deco, basta con encenderlo para que se una automáticamente a la red.
Wi-Fi Fácil de Usar
Gestión Sencilla

Gestiona tu Wi-Fi en casa o fuera de ella en la aplicación Deco, incluyendo la visualización de todos los dispositivos conectados, la priorización de los tuyos, la configuración de una red de invitados y mucho más.

Control por Voz*

Emparéjalo con Alexa para controlar Deco X50 con simples comandos de voz. Disfruta de una vida cómoda. *Actualmente disponible solo en inglés.

Todos los Decos Trabajan Juntos

El Deco X50 es compatible con cualquier otro modelo de Deco para formar una red de malla. Amplía la cobertura Wi-Fi Mesh en cualquier momento simplemente añadiendo más Decos.
Más que un Router, Funcional y Bonito
El diseño blanco puro, sencillo pero envolvente, evoca un ambiente invernal o un brillante día de verano. El Deco X50, con una elegante carcasa, es perfecto para integrarse en las distintas decoraciones del hogar.
True Seamless Roaming
Deco units work together to form one unified network with a single network name. Your phone or tablet automatically connects to the fastest Deco as you move through your home. The switching takes less than 0.3 second and is smooth and unnoticeable, creating a truly seamless online experience.
Adaptive Path Selection

TP-Link Mesh Technology dynamically chooses the best route and band for your connections and applications, guaranteeing a fast Wi-Fi no matter where you are in the home.
Self-Healing

If one Deco has an issue, the system will automatically reroute data via the other Decos to make sure you stay online.
Wi-Fi + Powerline
Powerline connections utilize your home's electrical circuit to link Decos, bypassing even the thickest of walls and ceilings.
The dual-band Wi-Fi and powerline work together to transmit data between Deco units. The total network speed is greatly improved compared with using Wi-Fi only.
Wi-Fi + Powerline:

Hybird Wi-Fi System

Boosted Speeds

Traditional Mesh Wi-Fi:

Standard Wi-Fi System
Powerline

Note:Wi-Fi + Powerline is only for Deco P9
IoT Mesh
Unlike traditional smart hubs, TP-Link Mesh Technology provides whole-home IoT coverage with Wi-Fi, Bluetooth and Zigbee integrated into a single system.Enjoy the magic of your smart home in every room with TP-Link Mesh Technology. Say goodbye to countless hubs.
- - -

Wi-Fi

- - -

Zigbee

- - -

Bluetooth
Wi-Fi 6 Mesh
Armed with Wi-Fi 6 technology,
Deco whole home mesh Wi-Fi is designed to deliver a huge boost in coverage, speed, and total capacity. Get on the latest mesh Wi-Fi to enjoy the future network that loads faster and connects more.
Broader coverage

More Connections

Faster Wi-Fi 6 Speed
without Wi-Fi 6 technology
AI-Driven Mesh
Armed with AI Mesh technology, Deco automatically learns and improves itself from experience.
This provides the ideal mesh Wi-Fi unique to your home and network environment.
Walk through your home and enjoy seamless streaming at the fastest possible speeds.
Why TP-Link Mesh Technology
an industry leading solution?
Compete Comparison

Model Number
TP-Link Deco
Netgear Orbi
Google WiFi
Wireless Backhaul
Tri-Band(2.4G+5G_1+5G_2)¹
Single-Band(5G_1 Only)
Dual-Band(2.4G+5G)
Mesh Protocol Supported
IEEE 802.11k/v/r
IEEE 802.11k/v
IEEE 802.11s
True Seamless Roaming
✔
×
×
APS(Adaptive Path Selection)
✔
×
✔
IoT Mesh
✔²
×
×
Wi-Fi 6 Mesh
✔5
✔
×
AI-Driven Mesh
✔6
×
×
Powerline Backhaul
✔³
×
×
Wireless + Powerline Bandwidth
✔⁴
×
×
Band Steering
✔
✔
✔
AP Steering
✔
✔
✔
Self-Healing
✔
✔
✔

Notes: 1&2 For Deco M9 Plus Only;5 for Deco X20;Deco X90;6 for Deco X90 only.




Spec sourced by Dec. 2019
Deco Network Management at Your Fingertips!
The Deco app provides the easiest way to set up, manage and monitor your Deco Whole Home Mesh Wi-Fi System through your iOS or Android devices.
Setup Just Got a Lot Easier
Unbox Deco, install the app and then simply follow the on-screen directions. Deco app will take care of the rest and get your network up and running in minutes.
Connect Deco to your cable modem and turn on both devices

Download and launch the Deco app

Follow the in-app instructions to configure your Deco system.
Simple Management
Deco makes it easy to manage your Wi-Fi from anywhere, whether you're on the couch, at work, or anywhere in between.
Simple Management Dashboard

View the working status of your network, check the connected devices and get all the features your router offers.

Multiple Decos, One App

The Deco app manages all your Deco networks and devices connected to your Deco Wi-Fi.

Check the Connected Devices

View a list of your connected devices with the ability to pause and resume internet access, test the internet speed and prioritize or block the devices.

Remote Management

Remotely take control of the network with a tap of your phone—no matter where you find yourself.
Powerful Parental Controls
Simple, intuitive parental controls make it easy to keep your children safe while they're online.
Easily create a profile for each family member and set custom time limits and online time allowances. Assign devices to profiles so rules extend to individual devices as well as family members.

Keep your family safe online with one-touch security settings that block content based on age-appropriateness.

Set limits on how much time each person in your family can spend online.

With Insights, you can check out which sites your children visit and how much time they spend on each. It's a great way to know your children are safe while they're having fun online.

Take a break from Wi-Fi for dinner and family game nights. Just tap a button to suspend internet access for everyone in your home.
An Intuitive App Full of Features
Monthly Usage Summary
See a comprehensive list of your network details every month, including usage,
blocked content, security threats and more.
Home Automation
Make your life easy with powerful automation and voice control tools.
*Currently only for Deco M9 Plus
Flexible Shortcut
Flexibly control all devices from your phone or tablet with just one click.
*Currently only for Deco M9 Plus
Protect Your Network
Built-in Antivirus helps you defend against malicious website and guard your online payment.
*Currently only for Deco M9 Plus, Deco P7 and Deco M5
Prioritize Your Devices
Choose which devices always have the fastest connections
or set priority for a specific time duration.
Set Application Priorities
Allocate more bandwidth for the activities most important to you with simple controls.
*Currently only for Deco M9 Plus, Deco P7 and Deco M5
Share Wi-Fi with Friends
Set up separate Wi-Fi profiles for guests and share the password to
make it easier for them to hop online.
Check Your Speed
Run a speed test to ensure you're getting the internet speeds you're paying for.
View every device on your network and see how much bandwidth they're using.
Our Support Always Has Your Back
Have questions about Deco? Help is always just a click away. Find the answers in Deco app and don't hesitate to contact us with just a simple click.
Support
Notes: App interfaces and functions may vary slightly based on the app version and Deco models.
WIRELESS
Standards
Wi-Fi 6IEEE 802.11ax/ac/n/a 5 GHzIEEE 802.11ax/n/b/g 2.4 GHz
WiFi Speeds
AX30005 GHz: 2402 Mbps (802.11ax, HE160)2.4 GHz: 574 Mbps (802.11ax)
WiFi Range
4-6+ Bedroom Houses (3-pack)

---

TP-Link Mesh TechnologyOptional Ethernet backhaul work together to link Deco units to provide seamless coverageAI-Driven MeshIntelligently learns the network environment to provide ideal Wi-Fi unique to your home2× Antennas (Internal)Multiple antennas form a signal-boosting array to cover more directions and large areasBeamformingConcentrates wireless signal strength towards clients to expand WiFi range
WiFi Capacity
High

---

Dual-BandDistribute devices to different bands for optimal performance2×2 MU-MIMOSimultaneously communicates with multiple MU-MIMO clientsOFDMASimultaneously communicates with multiple WiFi 6 clients4 StreamsMore than enough bandwidth for connected devices
Working Modes
Router ModeAccess Point Mode
HARDWARE
Processor
1 GHz Dual-Core CPU
Botón
Reset Button
Ethernet Ports
3× Gigabit Ports*Per Deco Unit Supports WAN/LAN auto-sensing
SEGURIDAD
WiFi Encryption
WPA-Personal
WPA2-Personal
WPA3-Personal
Network Security
SPI FirewallAccess ControlHomeShield Security

---

Real-Time IoT ProtectionMalicious Site BlockerIntrusion Prevention SystemDDoS Attack PreventionHome Network Scanner
Guest Network
1× 5 GHz Guest Network1× 2.4 GHz Guest Network
SOFTWARE
Protocols
IPv4 IPv6
Service Kits
HomeShieldLearn More>
Parental Controls
HomeShield Parental Controls

---

Custom ProfilesProfessional Content Filter LibraryFamily TimeBedtimeOff TimeTime RewardsFamily Online Time RankingPause the InternetWeekly and Monthly Reports
WAN Types
Dynamic IPStatic IPPPPoEPPTPL2TP
Quality of Service
HomeShield QoS

---

QoS by Device
Cloud Service
OTA Firmware UpgradeTP-Link ID DDNS
NAT Forwarding
Port Forwarding
UPnP
IPTV
IGMP ProxyIGMP SnoopingBridgeTag VLAN
DHCP
Address ReservationDHCP Client ListServer
DDNS
TP-Link
Management
Deco App
PHYSICAL
Dimensions (W×D×H)
4.33 × 4.33 × 4.49 in (110 × 110 × 114 mm)
Package Contents
Deco X50 (1-pack)1 Deco X50 unit1 RJ45 Ethernet cable1 Power adapter1 Quick Installation GuideDeco X50 (2-pack)2 Deco X50 units1 RJ45 Ethernet cable2 Power adapters1 Quick Installation GuideDeco X50 (3-pack)3 Deco X50 units1 RJ45 Ethernet cable3 Power adapters1 Quick Installation Guide
Otros
Requisitos del Sistema
Android 4.4 or lateriOS 9.0 or later
Certificaciones
CE, FCC, RoHS, RCM
Ambiente
Operating Temperature: 0°C~40°C (32°F~104°F)Storage Temperature: -40°C~70°C (-40°F~158°F)Operating Humidity: 10%~90% non-condensingStorage Humidity: 5%~90% non-condensing
TEST DATA
WiFi Transmission Power
CE:<20 dBm (2.4 GHz)<23 dBm (5 GHz)FCC:<30 dBm (2.4 GHz)<30 dBm (5 GHz)
△El uso de Wi-Fi 6 y otras funciones como OFDMA, MU-MIMO, 1024-QAM, HE160 y BSS Color requiere que los clientes también admitan las funciones correspondientes. El ancho de banda de 160 MHz puede no estar disponible en la banda de 5 GHz en algunas regiones/países debido a restricciones normativas.
†Las velocidades máximas de la señal inalámbrica son las velocidades físicas derivadas de las especificaciones del estándar 802.11 del IEEE. El rendimiento real de los datos inalámbricos y la cobertura inalámbrica, así como la cantidad de dispositivos conectados, no están garantizados y variarán como resultado de las condiciones de la red, las limitaciones del cliente y los factores ambientales, incluidos los materiales de construcción, los obstáculos, el volumen y la densidad del tráfico y la ubicación del cliente.
‡Los clientes deben ser compatibles con 802.11k/v/r y pueden requerir una configuración adicional. El rendimiento puede variar en función del dispositivo del cliente.
*HomeShield incluye el Plan Básico gratuito. El Plan Pro es de pago. Visite tp-link.com/homeshield para obtener más información.
From United States?
Get products, events and services for your region.