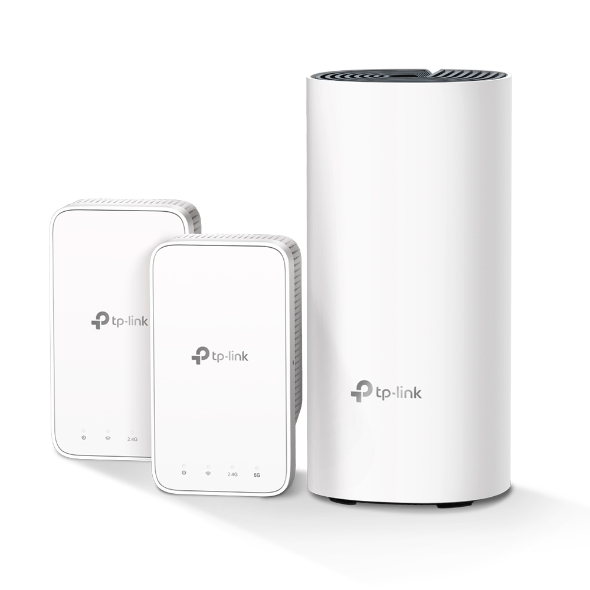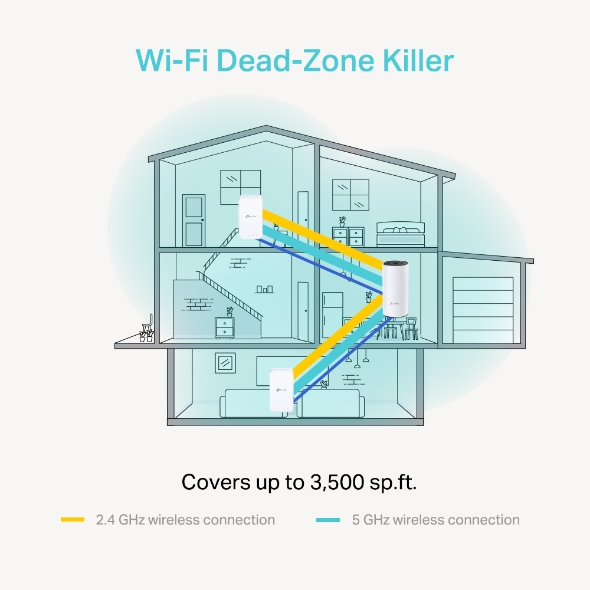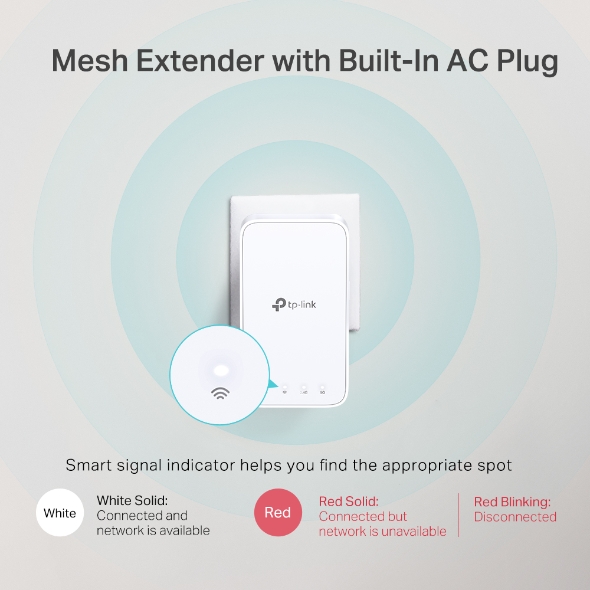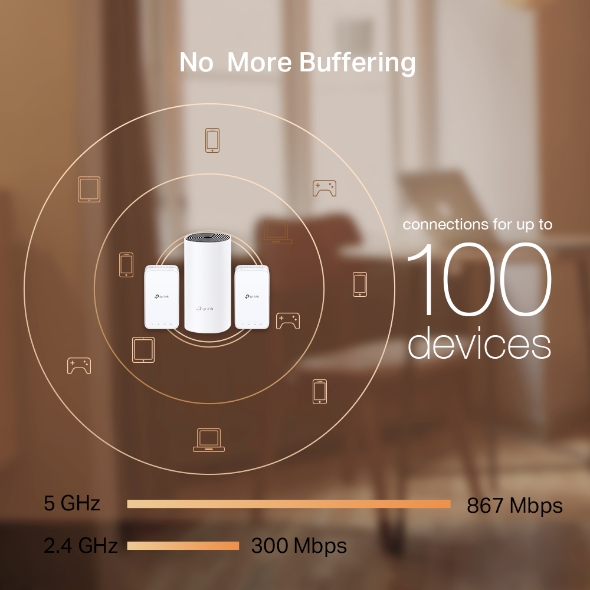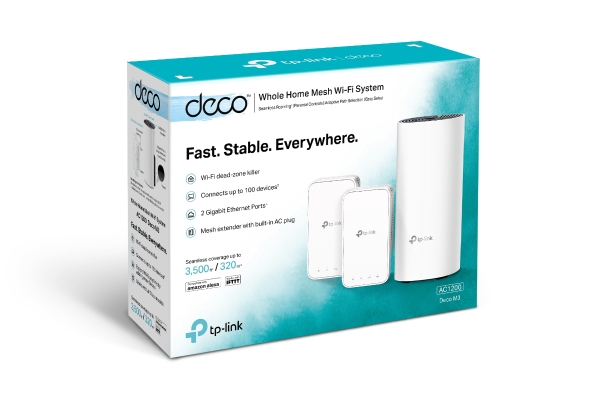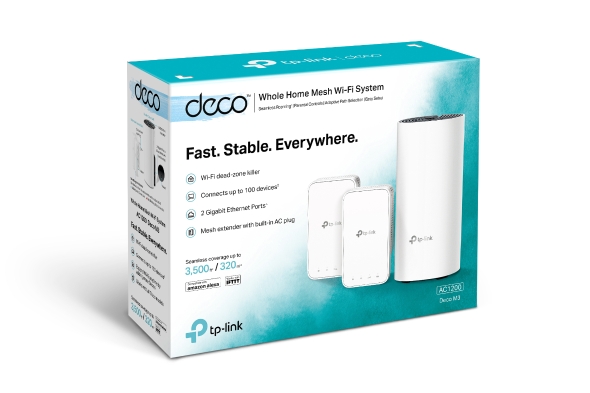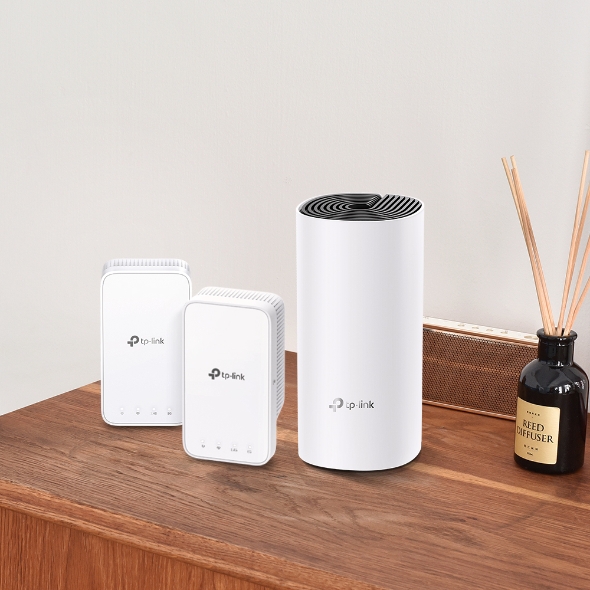 Sistema Wi-Fi Mesh para todo tu hogar AC1200
Deco utiliza un sistema de unidades para lograr cobertura Wi-Fi
Un paquete de tres Deco M3 (1 router-Deco M4R y 2 extensores-Deco M3W) ofrece Wi-Fi en un área de hasta 3,500 pies cuadrados (versión de la UE)..
Obtenga más cobertura Wi-Fi de malla simplemente enchufándolo.
Extensor adicional Deco Deco M3W en una toma de corriente.
Con la avanzada tecnología Deco Mesh, red unificada con un solo nombre de red. Cambia automáticamente de Decos a medida que te mueves por tu casa para obtener las velocidades más rápidas posibles.
Deco M3 proporciona conexiones rápidas y estables con velocidades de hasta 1167 Mbps y funciona con un importante proveedor de servicios de Internet (ISP) y módem.
Deco puede manejar el tráfico desde la red más ocupada, proporcionando conexiones gratuitas para hasta 100 dispositivos.
Controles parentales.
La configuración es más fácil que nunca con la aplicación Deco.
Rápido. Estable. En todos lados.
Sistema Wi-Fi Mesh para todo tu hogar AC1200
Deco M3

¿Por qué necesitas Deco M3?
¿No puedes acceder a Wi-Fi en tu
habitación?

¿Pierdes la conexión mientras caminas
alrededor de tu casa?

Interrupción de señal
¿todo el tiempo?

Preocupado por tus hijos
!Seguridad de la red!
Wi-Fi que Elimina Zonas Muertas
Deco M3 es una manera simple de garantizar una señal de Wi-Fi fuerte en cada esquina de su hogar de hasta 3,500 pies cuadrados (paquete de 3, versión de la UE). Las conexiones inalámbricas de 2,4 GHz y 5 GHz funcionan juntas para proporcionar velocidades de red aún más rápidas y una cobertura verdaderamente fluida.
¿Quieres más cobertura? Simplemente agregue más Decos. †
Casa estilo rancho
Inicio de varios pisos
Casa en forma de L
Conexión inalámbrica de 2,4 GHz Conexión inalámbrica de 5 GHz
Conveniente Wi-Fi enchufable para cobertura adicional
¿Señal débil de Wi-Fi en el pasillo, la cocina, el garaje o el sótano? Obtenga más cobertura de Mesh Wi-Fi simplemente conectando más extensores compactos adicionales Deco Deco M3W a la toma de pared y disfrute de todas las funciones del enrutador principal.
Notas: Deco M3W necesita trabajar con enrutadores Deco para extender Mesh Wi-Fi.
Conecte el extensor a medio camino entre el enrutador principal y la zona muerta de Wi-Fi. El indicador de señal inteligente lo ayuda a encontrar el lugar adecuado, solo de un vistazo, de manera flexible y conveniente.
Blanco

Blanco sólido:
Conectado y la red está disponible

Rojo

Rojo sólido:
Conectado pero la red no está disponible

Parpadeo rojo:
Desconectado
Seamless Roaming with One Wi-Fi Name
TP-Link Mesh significa que las unidades Deco trabajan juntas para formar una red unificada con un solo nombre de red. Disfruta de la transmisión ininterrumpida, la descarga, los juegos y mucho más mientras te mueves por tu casa, y no cambies más los nombres de Wi-Fi, creando una experiencia en línea verdaderamente perfecta. ‡
Roaming continuo

Transmisión ininterrumpida al moverse por el extensor de su hogar

Un solo nombre de wifi

No más cambio de nombres de red Wi-Fi

Permanece rápido, siempre

La selección de ruta adaptativa mantiene su red funcionando a la máxima velocidad

Autocuración

Asegúrate de permanecer en línea incluso si un nodo falla al redirigir automáticamente los datos
Enrutador tradicional con extensor
Deco M3
No más búfer
Las velocidades de red tres veces más rápidas que los enrutadores de la generación anterior, gracias a la tecnología inalámbrica 802.11ac, hacen que Deco sea capaz de proporcionar una conexión sin demoras a hasta 100 dispositivos. †
Single-application
connections for up to
100
devices
Operación suave para múltiples aplicaciones
* Pruebas de múltiples aplicaciones realizadas por TP-Link en diciembre de 2018.
Controles parentales robustos
Los controles parentales simples e intuitivos hacen que sea fácil
mantenga a sus hijos seguros mientras están en línea.
Cree fácilmente un perfil para cada miembro de la familia y establezca límites de tiempo personalizados y asignaciones de tiempo en línea.

Mantenga a su familia segura en línea con la configuración de seguridad de un toque que bloquea los sitios web según la idoneidad de la edad.

Establezca límites sobre cuánto tiempo cada persona de su familia puede pasar en línea.

Vea qué sitios visitan sus hijos y cuánto tiempo pasan en cada uno para garantizar que sus hijos estén seguros mientras se divierten en línea.

Tómese un descanso del Wi-Fi para la cena y las noches de juegos familiares. Simplemente toque un botón para suspender el acceso a Internet para todos en su hogar.
Wi-Fi fácil
La configuración ahora es mucho más fácil

Instalar Deco M3 es rápido y fácil. Simplemente desempaquete el sistema, descargue la aplicación Deco y siga las instrucciones en pantalla.

Learn how to set up the Deco system >>

Manejo conveniente

Administre su Wi-Fi en casa o fuera en la aplicación Deco, que incluye ver los dispositivos conectados, priorizar sus dispositivos, configurar una red de invitados y más.

Control de voz

Empareje con Alexa para controlar Deco M3 con comandos de voz simples.
Todas las decoraciones
Trabajar juntos
Deco M3 es compatible con otros modelos Deco para
formar red de malla. Ampliar la cobertura de Mesh Wi-Fi
en cualquier momento simplemente agregando más Decos.
Notas: Un paquete de dos Deco M3 se compone de un enrutador (Deco M4R) y un extensor (Deco M3W).
† Las velocidades máximas de señal inalámbrica se derivan de las especificaciones IEEE Standard 802.11. La presente invención está destinada a abordar los problemas de las condiciones de la red, las limitaciones del cliente y los factores ambientales, incluidos los materiales de construcción, las barreras, el volumen y la densidad del tráfico y la ubicación del cliente.
‡ El roaming continuo requiere que los clientes necesiten soportar 802.11k / v / r y puede requerir una configuración adicional. El rendimiento puede variar según el dispositivo del cliente.
True Seamless Roaming
Deco units work together to form one unified network with a single network name. You phone or tablet automatically connects to the fastest Deco as you move through your home. The switching takes less than 0.3 second and is smooth and unnoticeable, creating a truly seamless online experience.
Adaptive Routing

TP-Link Mesh Technology dynamically chooses the best route and band for your connections and applications, guaranteeing a fast Wi-Fi no matter where you are in the home.
Self-Healing

If one Deco has an issue, the system will automatically reroute data via the other Decos to make sure you stay online.
Wi-Fi + Powerline
Powerline connections utilize your home's electrical circuit to link Decos, bypassing even the thickest of walls and ceilings.
The dual-band Wi-Fi and powerline work together to transmit data between Deco units. The total network speed is greatly improved compared with using Wi-Fi only.
Wi-Fi + Powerline:

Hybird Wi-Fi System

Boosted Speeds

Traditional Mesh Wi-Fi:

Standard Wi-Fi System
Powerline

Note:Wi-Fi + Powerline is only for Deco P9
IoT Mesh
Unlike traditional smart hubs, TP-Link Mesh Technology provides whole-home IoT coverage with Wi-Fi, Bluetooth and Zigbee integrated into a single system.Enjoy the magic of your smart home in every room with TP-Link Mesh Technology. Say goodbye to countless hubs.
- - -

Wi-Fi

- - -

Zigbee

- - -

Bluetooth
Wi-Fi 6 Mesh
Armed with Wi-Fi 6 technology,
Deco whole home mesh Wi-Fi is designed to deliver a huge boost in coverage, speed, and total capacity. Get on the latest mesh Wi-Fi to enjoy the future network that loads faster and connects more.
Broader coverage

More Connections

Faster Wi-Fi 6 Speed
without Wi-Fi 6 technology
AI-Driven Mesh
Armed with AI Mesh technology,Deco automatically learns and improves itself from experience.
This provides the ideal mesh Wi-Fi unique to your home and network environment.
Walk through your home and enjoy seamless streaming at the fastest possible speeds.
Why TP-Link Mesh Technology
an industry leading solution?
Compete Comparison

Model Number
TP-Link Deco
Netgear Orbi
Google WiFi
Wireless Backhaul
Tri-Band(2.4G+5G_1+5G_2)¹
Single-Band(5G_1 Only)
Dual-Band(2.4G+5G)
Mesh Protocol Supported
IEEE 802.11k/v/r
IEEE 802.11k/v
IEEE 802.11s
True Seamless Roaming
√
×
×
APS(Adaptive Path Selection)
√
×
√
IoT Mesh
√²
×
×
Wi-Fi 6 Mesh
√5
√
×
AI-Driven Mesh
√6
×
×
Powerline Backhaul
√³
×
×
Wireless + Powerline Bandwidth
√⁴
×
×
Band Steering
√
√
√
AP Steering
√
√
√
Self-Healing
√
√
√

Notes: 1&2 For Deco M9 Plus Only;5 for Deco X20;Deco X90;6 for Deco X90 only.




Spec sourced by Dec. 2019
ALIMENTACIÓN
Entrada del adaptador AC
Deco M4R: 100-240V~ 50/60Hz 0.4ADeco M3W: 100-240V~ 50/60Hz 0.3A
Salida del adaptador AC
Deco M4R: 12V ⎓ 1A; Deco M3W: N/A
CARACTERÍSTICAS DE HARDWARE
Interface
Deco M4R: 2 Gigabit Ethernet Ports (WAN/LAN auto-sensing), 1 Power PortDeco M3W: N/A
Botón
Deco M4R: 1 Reset buttonDeco M3W: 1 Reset button
Flash
Deco M4R: 16 MB; Deco M3W: 8 MB
SDRAM
Deco M4R: 128 MB; Deco M3W: 128 MB
Dimensiones
Deco M4R: 7.5 × 3.6 × 3.6 in. (190.5 × 90.7 × 90.7 mm)Deco M3W (without plug): 4.9 × 2.7 × 1.4 in. (124 × 69 × 35 mm)
Tipo de Antena
Deco M4R: 2 internal dual-band antennasDeco M3W: 2 internal dual-band antennas
CARACTERÍSTICAS INALÁMBRICAS
Estándares Inalámbricos
IEEE 802.11 ac/n/a 5 GHz, IEEE 802.11 b/g/n 2.4 GHz
Frecuencia
2.4 GHz and 5 GHz
Tasa de Señal
300 Mbps on 2.4 GHz867 Mbps on 5 GHz
Potencia de Transmision
FCC: <30 dBmCE: <20 dBm (2.4 GHz)<23 dBm (5 GHz)
Seguridad Inalámbrica
WPA-PSK/WPA2-PSK
CARACTERÍSTICAS DE SOFTWARE
Calidad de servicio
WMM
IPv6
Support
WAN Type
Dynamic IP/Static IP/PPPoE/L2TP/PPTP
Administración
Local Management, Remote Management
DHCP
Server, Client
Port Forwarding
Support
Control de Acceso
Blacklist
Seguridad de cortafuegos
SPI Firewall
Protocolos
Supports IPv4 and IPv6
Características Avanzadas
Parental ControlsQuality of Service
Funciones Avanzadas
Monthly ReportsAuto FW UpdateExpand Wi-Fi by adding more Deco units
Red de invitados
2.4 GHz guest network x 15 GHz guest network x 1
Beamforming
Support
APP
Easy setup via Deco App
Modos de Trabajo
Router, Access Point
Otros
Certificacion
CE, FCC, IC, NCC, BSMI, IDA, RCM, JPA, JRF, VCCI, KC, RoHS
Contenidos del Paquete
● Deco M3 (3-pack):1 router Deco M4R2 wall-plug extenders Deco M3W1 RJ45 Ethernet cable1 power adapters1 quick installation guide● Deco M3 (2-pack):1 router Deco M4R1 wall-plug extender Deco M3W1 RJ45 Ethernet cable1 power adapter1 quick installation guide
Requisitos de Teléfono Inteligente / Tableta
iOS 9.0 or later, Android 4.4 or later
Ambiente
Operating Temperature: 0℃~40℃ (32℉~104℉)Storage Temperature: -40℃~70℃ (-40℉~158℉)Operating Humidity: 10%~90% non-condensingStorage Humidity: 5%~90% non-condensing
SuscripciónTP-Link toma en serio su privacidad. Para obtener más detalles sobre las prácticas de privacidad de TP-Link, consulte la Política de privacidad de TP-Link.