OC200
Omada Hardware Controller - Gestione centralizzata Hybrid Cloud
Omada SDN Hybrid-Cloud controller - Gestione professionale centralizzata per Access Point Wi-Fi, Switch Jeststream e Router VPN integrati nella soluzione Omada SDN. Installazione on-premises e accesso da remoto tramite Cloud con app Omada (Android e iOS) o Interfaccia Web.
Nuova interfaccia di gestione - La comoda interfaccia di gestione del network permette di avere sotto controllo l'intera rete, verificare gli accessi e le statistiche di utilizzo, effettuare operazioni di troubleshooting in modo semplice e intuitivo anche da remoto.
Installazione flessibile - Alimentazione USB 5V o PoE 802.3af
Porta USB - Per back-up automatico su storage esterno USB
Captive Portal - Accesso sicuro alla rete con molteplici opzioni di log-in.
Per accedere alla nuova interfaccia effettua prima il backup delle configurazioni aggiornando il controller alla versione 3.2.12. Successivamente potrai aggiornare il firmware alla versione Omada SDN. Si consiglia l'upgrade tramite lan (o rete locale) in quanto non è possibile eseguire il backup e restore della configurazione tramite il cloud. Segui la guida all'aggiornamento.
Hardware Controller Hybrid Cloud
Management centralizzato
per Reti Wi-Fi professionali
OC200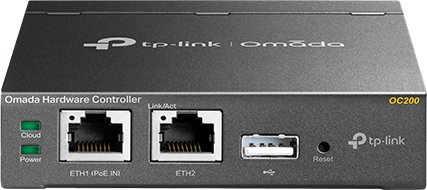 Gestione centralizzata Hybrid-Cloud per network scalabili
Omada Hardware Controller OC200 è la soluzione studiata per la gestione centralizzata dei dispositivi della linea Omada. Potrai monitorare le statistiche del network in real time grazie ai grafici di traffico della rete, creare captive portal, effettuare upgrade e riavvii del sistema, rendendo il tuo business ancora più performante.
Nessun PC/Server necessario

Affidabilità e sicurezza

Pratica gestione Cloud
Omada SDN - Soluzione Cloud Business Networking
Omada SDN è la soluzione Software Defined di TP-Link che offre soluzioni wireless e cablate ideali per strutture alberghiere e sanitarie, edifici scolastici, aziende, spazi pubblici e molto altro. Omada SDN integra una gamma completa di dispositivi - Access Point, Switch, Gateway e Hardware Controller - in una soluzione altamente scalabile con gestione Full-Cloud e Hybrid-Cloud.
Access point Wi-Fi 6
Acces Point Indoor
Access Point Wall-Plate
Access Point Outdoor
Switch PoE JetStream
OC200
Router SafeStream
Accesso Cloud
Gestione centralizzata in Cloud
Il supporto Cloud permette di accedere alla rete da remoto, ovunque ti trovi, tramite app Omada o interfaccia Web
Hardware design d'avanguardia
Con un design hardware d'avanguardia e un chipset di ultima generazione, OC200 ha tutta la potenza necessaria a sostenere la gestione della tua rete business.
Scocca in metallo resiste
Porta USB Port per Auto-Backup
Rete Guest con autenticazione via Facebook e SMS
I tuoi ospiti avranno a disposizione una rete wireless sicura a cui accedere tramite Captive Portal. Inoltre, la nuova funzione di autenticazione SMS semplifica la connessione, mentre l'autenticazione con Facebook ti aiuterà ad aumentare la popolarità della tua attività.
Gestione ancora più intuitiva e semplice con l'app Omada
Effettua l'accesso da remoto e configura OC200 dal tuo smartphone ovunque ti trovi.
Hospitality

La soluzione Omada SDN consente di realizzare reti business wireless affidabili e performanti per andare incontro alle esigenze in continua evoluzione del settore Hospitality.

Piena copertura Wi-Fi e connessione cablata
Controllo flessibile degli accessi alla rete
Seamless roaming
Gestione intuitiva

Education

TP-Link offre soluzioni di networking professionali stabili, sicure e scalabili a supporto degli istituti scolastici, dalla scuola primaria all'università ideali per affrontare le attuali esigenze di ammodernamento digitale.

Gestione intuitiva
Piena copertura wireless e connessioni cablate ad alta velocità
Wi-Fi performante in ambienti ad alta densità di dispositivi wireless
Funzionalità di sicurezza avanzate
Implementazione VPN per accesso da remoto alle risorse dell'Istituto

Wi-Fi Marketing

Here you will have the opportunity to show them your products, services, offers, promotions or simply information related to your business. With TP-Link captive portal functions, boost your online business through guest Wi-Fi with Facebook Login, Voucher, and other flexible authentication options.

Boost Business with a Customized Page
Facebook WiFi
Secure Guest Network
Easy Configuration
Supported by all Omada APs
Aero Club Milano

TP-Link Professional Solution per aeroporto di Bresso, sede di Aero Club Milano, realizzata da TP-Link Partner CPD Consulting di Paolo Comito.

Aero Club Milano

TP-Link Professional Solution per aeroporto di Bresso, sede di Aero Club Milano, realizzata da TP-Link Partner CPD Consulting di Paolo Comito.

Regional Hospital No.1

Providing Wi-Fi for Regional Hospital No.1 of the Tyumen Region

Regional Hospital No.1

Providing Wi-Fi for Regional Hospital No.1 of the Tyumen Region

"TP-Link Wi-Fi solution provided the Regional Hospital No.1 with Internet access for the patients, as well as enterprise Wi-Fi network to facilitate the Smart-medicine concept. The solution, offered by the partner "First integrator", is easily scalable and allows integration in other hospital units in the long term."
CARATTERISTICHE HARDWARE
Interfaccia
10/100Mbps Ethernet Port*2USB 2.0 Port*1Micro USB Port*1
Alimentazione
802.3af/at PoE or Micro USB(DC 5V/Minimum 1A)
Dimensions
3.9×3.9×1.0in. (100×98×25mm)
FEATURES
Wireless Fuction
L3 ManagementMulti-SSIDLoad BalanceBand SteeringAirtime FarinessBeamformingRate LimitWireless ScheduleQoS
Wireless Security
Captive Portal AuthenticationAccess ControlWireless Mac Address FilteringWireless Isolation Between ClientsSSID to VLAN MappingRogue AP Detection
AP Management
Automatic Discovery Unified ConfigurationReboot ScheduleBatch Firmware UpgradeLED ON/OFF
Authentication
Captive Portal
GESTIONE
Omada App
Yes
Centralized Management
Up to 100 Omada access points, JetStream switches, and SafeStream routers
Cloud Access
Yes
L3 Management
Yes
Multi-site Management
Yes
Management Features
• Automatic Device Discovery • Batch Configuration• Batch Firmware Upgrading • Intelligent Network Monitoring• Abnormal Event Warnings• Unified Configuration• Reboot Schedule• Captive Portal Configuration
ALTRO
Certificazione
CE, FCC, RoHS
Contenuto della confezione
Omada Cloud ControllerOC200Quick Installation Guide Ethernet Cable
Requisiti di sistema
Microsoft® Windows®10, 8, 7,Vista™, XP or MAC® OS, NetWare®, UNIX® or Linux
Ambiente
Operating Temperature: 0℃~40℃ (32℉~104℉)Storage Temperature: -40℃~70℃ (-40℉~158℉)Operating Humidity: 10%~90% non-condensingStorage Humidity: 5%~90% non-condensing
Iscriviti alla newsletter
TP-Link prende la Privacy seriamente. Per maggiori informazioni sul trattamento dei tuoi dati consulta l'Informativa Privacy.
L'azienda
Stampa
Partner Program
Learning Center
From United States (English)?
Check products and services for your region.