How to set up Wireless Schedule on your TP-Link Router?
Ce document concerne les modèles suivants :
You can automatically turn off your wireless network at a specific time when you do not need the wireless connection.
Here takes Archer C4000 as demonstration.
1. Visit http://tplinkwifi.net, and log in with the password you set for the router.
2. Go to Advanced > Wireless > Wireless Schedule page.
3. Enable the Wireless Off Time Schedule feature.

4. Click Add to specify a wireless off period during which you need the wireless off automatically, and click Save.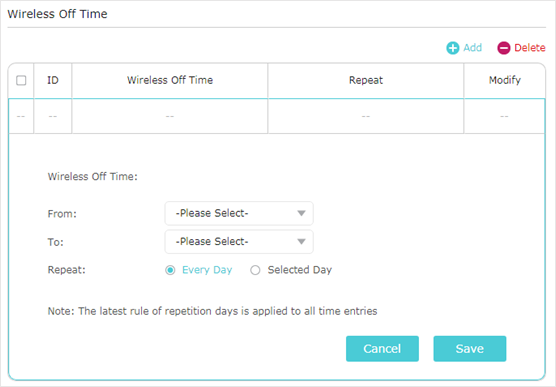 Note:
1. Make sure that the time of the router is correct before using this function. You can go to Advanced > System Tools > Time Settings to modify the time.
2. The wireless network will be automatically turned on after the time period you set.
Get to know more details of each function and configuration please go to Download Center to download the manual of your product.
Est-ce que ce FAQ a été utile ?
Vos commentaires nous aideront à améliorer ce site.
Newsletter TP-LinkTP-Link prend votre vie privée au sérieux. Pour plus de détails sur la politique de confidentialité de TP-Link, veuillez consultez la page suivante Politique de confidentialité de TP-Link .