How to make my TP-Link Wi-Fi products work with IFTTT?
IFTTT, short for IF This Then That, is a free web service that makes your home smarter by creating useful connections between devices, apps, services and websites.
These connections, called Applets, work using a Trigger and an Action: If something happens, Then do something else. For example, if I post a new status on my Facebook, then post the status to my Instagram synchronously.
To use IFTTT service, you must have:
Get Started: How to connect TP-Link Wi-Fi product to IFTTT?
Step 1.
Visit the IFTTT official website on your PC and sign in with your IFTTT account.
Note: You can also use IFTTT app and follow similar steps to connect your device to the IFTTT. In this FAQ we take the website setting method for example.

Step 2.
"Search" for "tp-link", and then click "TP-Link Router" service.
Step 3.
Click "Connect", then login your TP-Link ID and then tap "Authorize".
Step 4.
Successfully connect your IFTTT account to your TP-Link ID. You are ready to enjoy the IFTTT service of TP-Link Wi-Fi products now.
Instructions: 2 methods to use IFTTT with TP-Link Wi-Fi products.
a). Select from a list of popular Applets on TP-Link Router service page.
b). Create a new Applet on your own.
Method 1.
On TP-Link Router service page, choose an existing Applet you need, turn on it and then finish the configuration.
Click "My Applets" at the top and then click "New Applet" at the right top corner of the webpage to create a new Applet.


Step 1. Create a Trigger.
Tap "this" to choose a Trigger. You can search for "tp-link" to choose a TP-Link Trigger.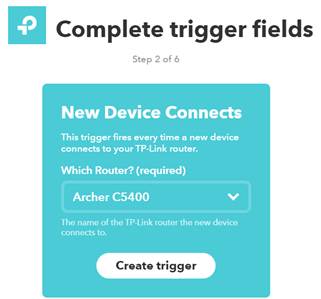 We select "New Device Connects" to Archer C5400_V2 as the Trigger.
Step 2. Create an Action.
Tap "that" to choose an Action. You can also search for "tp-link" to choose a TP-Link Action.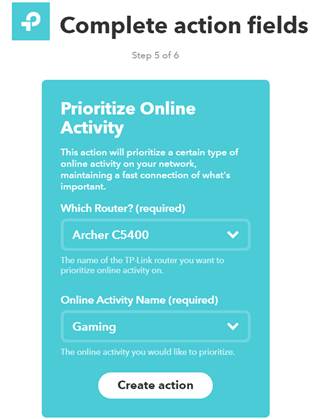 We select "Prioritize Online Activity – Gaming" of Archer C5400_V2 as the Action in this case.
Note: There are 3 TP-Link Triggers and 2 TP-Link Actions you can choose from to create an Applet. Click here to know more about the TP-Link Triggers and TP-Link Actions.
Step 3.
New Applet "If a new device connects to the Archer C5400_V2, then Archer C5400_V2 will prioritize online activity – gaming" is created as a result
Note:
1. The combination of Trigger and Action is random, which means TP-Link Router service can work with other services as well.
2. You could also configure your IFTTT Applets relevant to TP-Link Wi-Fi products via Tether or Deco app. Click here for the details.
Is this faq useful?
Your feedback helps improve this site.
SubscriptionTP-Link takes your privacy seriously. For further details on TP-Link's privacy practices, see TP-Link's Privacy Policy.