General Questions about the Kasa Cam (for all Kasa Cams)
Q1: What kind of devices and OS version is the TP-Link Kasa App compatible with?
Any mobile device running iOS 10 or above, Android 5.x or above.
Note: Currently, there is no plan to support the OS such as Windows phone, Kindle or Kindle Fire, and the Kasa App is only available on mobile devices but not computers.
Q2: What encryption types do the cameras support?
The Kasa cameras only support WEP and WPA/WPA2 encryptions. Portal, WPA/WPA2 enterprise and open/unsecured networks are not supported.
Note: Kasa smart devices do support hidden SSIDs.
Q3: What are the frequencies used for Kasa Cams? Does the Kasa Cam use the 2.4GHz or 5GHz band?
KC120 and KC200 support both 2.4GHz and 5GHz, while all the other Kasa Cams and Kasa Spot Cams support 2.4GHz only.
Q4: What do the various LED colors mean on the Kasa Cam?
The Kasa Cam has an LED on the front, you can know the current status of the camera from the LED.
| | |
| --- | --- |
| System LED Colors | Status |
| Solid amber | Rebooting |
| Alternating amber and green | SoftAP Mode |
| Flashing red | Connecting to Wi-Fi |
| Flashing green | Connected to Wi-Fi |
| Solid green | Bound to Cloud |
| Flashing amber | Resetting to SoftAP/Factory mode |
Q5: How good is the audio and video quality on the Kasa Cams?
The Kasa Cams provide crystal clear 1080p video streaming with a 130-degree wide-angle field of view. Kasa Cams support both daylight and night vision with up to 20-30 feet of clarity, click here for more details. Kasa Cams are also equipped with industry-leading microphones and speakers to give you an excellent 2-way audio experience straight out of the box.
Note: There is also a 75-decibel built-in siren to deter unwanted intruders on Kasa Cam outdoor.
Q6: How secure is this camera?
Data security is important to us and we understand that it is essential for your peace of mind. We use industry-standard AES 128-bit encryption with SSL/TLS. Kasa uses Amazon Web Services (AWS) for cloud infrastructure and storage. For more information regarding Amazon's security policy refer to AWS Cloud Security. Refer to TP-Link's Term of Use for more information.
Q7: How much data will my Kasa camera use when watching live video or uploading the clips to Cloud?
The recommended bandwidth for uploading a camera video to the cloud will vary due to different camera types and resolutions. The upload bandwidth for each camera would be around 2-2.5Mbps to stream a live feed or upload videos at 1080p resolution. Please ensure your network meets this requirement and if necessary, adjust the resolution accordingly to stay within the upstream limit.
Most importantly, however, the actual streaming experience would be affected by the surrounding wireless interference and the signal strength, even when the bandwidth is enough. In this case, it's suggested to eliminate possible wireless interference (like Bluetooth devices, USB 3.0 devices, cordless phones and microwave ovens) or place the camera closer to the router.
Q8: How can I use Kasa cameras with Chromecast?
To use Kasa cameras with Google Assistant, you need a Google Chromecast, a Google Home Hub and any smart display that supports Chromecast (such as a TV with built-in Chromecast). After configured, you can watch the live feed from any Kasa cameras via a spoken command, and you can refer to this link to know the commands the camera support.
Currently, the Kasa cameras don't support "camera on/off" command due to possible security risks. For example, an intruder could potentially shut off your cameras with a simple command.
Watching the live feed of Kasa cameras through Google Assistant will use your internet traffic as it's a Cloud-to-Cloud service. In consideration of your extranet traffic and performance, the live feed will stop after 10 minutes. However, you can ask Google to show the camera again if you want to continue streaming.
Q9: Who can view my camera and video clips?
Only the individuals who have signed into the associated Kasa account can view your camera and clips. All video streams and activities associated with your Kasa Cam are private and can only be viewed by those signed into the Kasa Account. Right now, we only support one account per household.
*Note: We recommend that you never share your account information with anyone.
Q10: Can I view multiple Kasa cameras at the same time?
Users can view multiple Kasa cameras at the same time. All Kasa cameras will list on the Camera page of the Kasa App and you are allowed to view all of them by just sliding up and down.
Q11: How many Kasa cameras can be managed by one account?
There is no quantitative limit on the cameras that can be set up or controlled by one account on the Kasa App.
Q12: Can multiple accounts/devices view the Kasa camera at the same time?
Currently, one camera can be controlled or managed by only one account. But it allows different mobile devices (up to 4 devices) which login with the same account to view the camera at the same time.
Q13: What should I do if I've forgotten my password?
You can refer to this link to solve your problem.
Q14: How do I change my login email address on Kasa App for Kasa cam?
If you want to change the login email address on Kasa App, please click on the three-line icon on the top left corner of Kasa App, hit the current login account and you will see Sign out from Kasa, just click on it and sign out. Then click Log In again and type in your new email address and password, and you will be able to see all the devices bound to the new account.
But please note if your Kasa devices have already been bound to the previous account, you will need to remove those devices first from the old account and bind them to the new one, here is the guide for unbinding them from the old account.
Q15: Can I record continuous video when motion or sound is detected by Kasa Cam?
Continuous recording is not supported on Kasa Cam. You can only record video (clips up to 3 minutes at a time) to the cloud triggered by motion and/or sound detection. If no motion/sound is detected for more than 10s, the video clip will be cut off as well.
Q16: Does the Kasa camera support manual recording?
Manual recording function can be enabled on the Kasa camera's live view interface. Click on the red dot, and the manual recording will be on. The manually recorded clip can be up to 5 minutes long and users can view these clips in the Activity list on Kasa App (same place where the users visit detection clips).
Currently, Kasa Cam does not support CVR service (24h continuous recording).
Note:
Kasa Care [Free Plan]: The cloud clip is limited to 2 days/1GB for Kasa Cam & Kasa Cam Outdoor, and 12-hours/256MB for Kasa Spot Cam. That is, the video is valid for a maximum of 2 days, and if it exceeds 1GB within 2 days, the recording will be overwritten.
Q17: How to view Kasa camera on a computer?
Currently, we don't have camera control software for a PC nor can we view the Kasa Cam directly on the web, we can only watch Live View of the Kasa Cam on the Kasa App or sync the camera screen to devices like Echo show, fire TV, etc.
Q18: Can I use my Kasa camera anywhere if there is no internet?
You can use the camera or watch the live view without an internet connection, but please ensure both your phone and the camera are connected to the same wireless network.
Note: Motion detection or any other service associated with the TP-Link Cloud will not work if there is no internet access.
Q19: Does Kasa Cam monitor 24/7?
Yes, Kasa Cam monitors 24/7. The camera records clips only when motion or sound activity occurs.
*Note: Your camera must be powered on for the monitoring to take place.
Q20: How can I download a Kasa cam clip to my PC?
You are not able to download a camera clip to your PC directly, nor can you download multiple clips at a time. However you can download the clip from the Kasa App one by one. The downloaded clip will be saved in Photos on your phone, then you can sync it to your PC.
Q21: How can I delete multiple feeds of Kasa camera from Kasa App?
Sorry, there is no such option or setting on Kasa App now to delete all videos at once, we can only delete the videos one by one. But we will adopt this mass delete feature soon on the new Kasa App release.
Q22: How do I get back my deleted recordings of Kasa Cam?
Sorry, the deleted recordings of the Kasa Cam are irreversible since they were completely removed from TP-Link Cloud Server.
Q23: How can I mount my Kasa Camera?
Every Kasa Cam comes with a mountable base plate, indicator label and screws. The Kasa App provides you with step-by-step instructions for mounting it on wall. Select Device Settings for your Kasa Cam, scroll down to Wall Mount Guide for further instructions. Once you have screwed in the base plate you may attach the camera and adjust the lens to the desired view.
Q24: How long is the Kasa Cam's power cord?
Each Kasa Cam comes with a 10-foot USB cable and an AC adapter meant to be plugged indoors only.
Note: For the Kasa Cam Outdoor, please make sure the AC adapter or the Kasa Hub is plugged indoors or into a weatherproof outdoor outlet.
Q25: What does the Notification Frequency option do for Kasa Cams?
The notification frequency setting allows users to receive a single push notification per 5 minutes for multiple activities detected within this time period. Notification frequency can be enabled from the camera's notification settings and will be useful for users who have their camera pointed to a busy area.
Q26: What if the Kasa camera is too sensitive or not sensitive for motions?
If you feel your kasa camera is too sensitive, please navigate to the camera Device Settings page on the Kasa App, then tap Privacy and Sensitivity where you can find settings to change the sensitivity of the detection to a lower/higher level.
Q27: What is Camera Power?
With Kasa Cam's Camera Power option you can enable or disable recording of video and audio. When you disable this option, your camera will not record audio or video, and you will not receive any event notifications. However, live video and audio streaming still work.
Q28: Can I turn my Kasa camera on or off from my mobile phone?
Unfortunately, it doesn't support to turn on/off the camera on the Kasa App at present. If you want to turn on/off the camera, you need to switch it off manually or you may just plug the camera into a smart plug like HS100/HS105 and set a schedule to turn it on/off automatically.
Or you can disable recording of video and audio with Kasa Cam's Camera Power option, but please note that when you select this option your camera will not record audio or video, and you will not receive any event notifications.
Q29: How do I turn on or off the green LED on the front of the Kasa camera?
If you want to turn on or off the green LED on the front of the Kasa camera, navigate to your camera's live view screen and access the device settings. Scroll down to a toggle switch for Status LED.
Q30: How do I use Hold to Talk?
All Kasa Cams come equipped with a built-in microphone and speaker for two-way communications. From the live view screen (portrait or landscape) you can push the "Hold to Talk" button to start a conversation.
1. Press and hold the "Hold to Talk" button and you will hear the chime indicating you can start talking.
2. Start talking
3. Release the "Hold to Talk" button when you've finished talking and you'll hear a chime as well.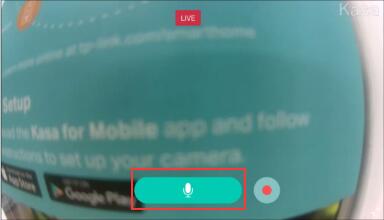 Q31: Why can't I hear the sound of the camera when clicking the "Hold to Talk" button on the camera?
Our camera's 2-way audio is half-duplex. It can't send and receive voice like instant calls at the same time. It is similar to the walkie-talkie mode.
Q32: What should I do if the screen of my Kasa spot indoor security camera has gone green?
If the color of the Kasa spot camera is green or the view page is strange, please check and make sure the firmware of your camera is up to date. If the firmware is already the latest, please try to reboot the camera by powering it off and on, then check again.
Q33: Why the live picture of the Kasa camera is purple or pink?
If the live view shows pink or purple, or if the camera displays fuzzy/blurry, please try with below troubleshooting steps.
1. Manually turn on/off the night vision mode for multiple times;
2. Reboot the camera from Kasa App or by powering it off then on manually;
3. Shake the camera vigorously.
If the above troubleshooting steps don't make sense, it's suggested to contact TP-Link support via Email.
Q34: What can I do if the audio from the Kasa camera sounds a bit muffled?
If the audio is muffled or there is noise/echo when watching the live view or recorded videos of the Kasa camera, try below troubleshooting steps.
1. Relocate the camera in case there is any other device that may have interference with it.
2. Move and put the phone much farther away from the camera or at least put them in two different rooms and test the two-way audio again.
Q35: Why there is no audio in the recordings from my Kasa Cam?
Generally, it will enable audio automatically when you watch Live View of the camera. If there is no audio when streaming, please follow the troubleshooting steps below.
1. Adjust the media volume of your phone and ensure it is NOT in Silent Mode. If you have an iPhone, please flip up the hardware switch on its left side.
2. Open Kasa App, navigate to the Device Settings page, tap on Privacy and Sensitivity and ensure you select Record Video and Audio.
3. Download the recorded clips/videos to your phone. Then check if you can hear the audio while playing the videos.
4. You could try on another phone if you have one.
If the above steps cannot fix the problem, it's suggested to contact TP-Link support via Email.
Q36: How to adjust the volume of the camera from Kasa App?
Sorry, there is no option on Kasa App that allows you to adjust the volume or mute audio. You may need to adjust the media volume on your phone directly.
Q37: How to view my Kasa camera over the internet?
A: Users can view and manage the Kasa camera once they link the camera successfully to the TP-Link Cloud server and the System LED on the camera is solid green. Launch the Kasa app anywhere anytime when you want to see the camera. But if you cannot see the camera when you are outside, please refer here for some troubleshooting.
Q38: When is the KC300 available?
A: The KC300S2 rechargeable and wire-free outdoor camera have been released in late Dec 2019. The KC300S2 is only sold in the United States currently and users may purchase it from online stores such as Amazon.
Q39: Does Kasa camera support email notification when it detects an activity?
A: Nope, Kasa cameras only support Kasa App Push Notification currently and it doesn't support Email Notification.
Q40: Does Kasa camera support local storage with a micro SD card?
A: The KC115 supports it.
However the old cameras do not support local storage nor do they have micro SD card slots, and all of the detected video clips, as well as manually recorded recordings from the Kasa cameras, are saved and stored on the TP-Link Cloud server and users are allowed to view or download them based on their Kasa Care subscriptions.
Q41:Can we delete the 24/7 recording on Kasa App?
A: No, It doesn't support deleting the 24/7 recording.
Q42:Does the Kasa camera supports RTSP streaming or ONVIF protocol?
A: No,the Kasa camera does not support RTSP or ONVIF protocol.
Is this faq useful?
Your feedback helps improve this site.
Join TP-Link CommunityTP-Link takes your privacy seriously. For further details on TP-Link's privacy practices, see TP-Link's Privacy Policy.
From United States?
Get products, events and services for your region.