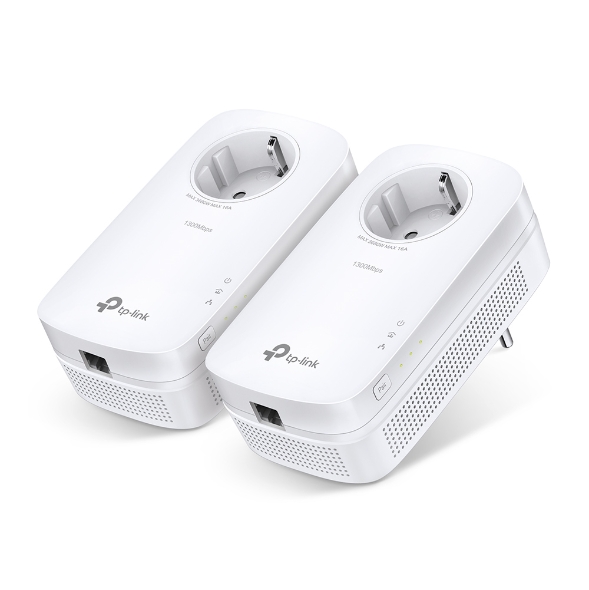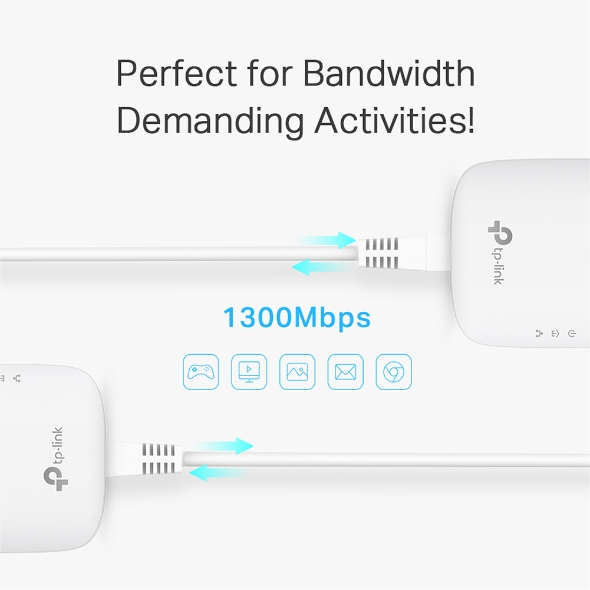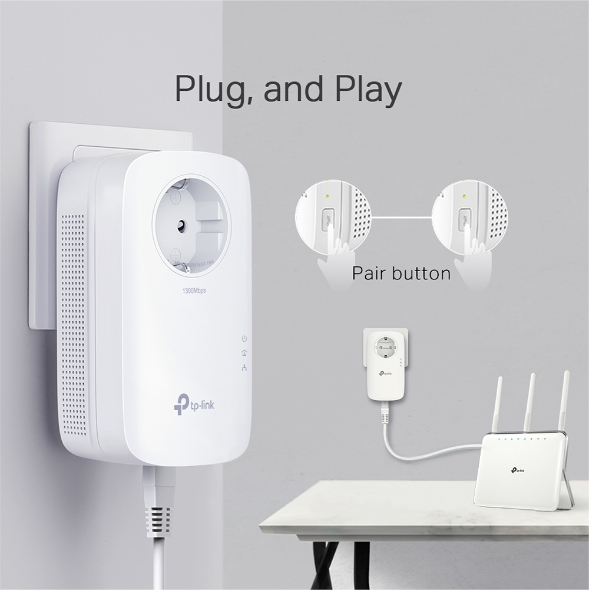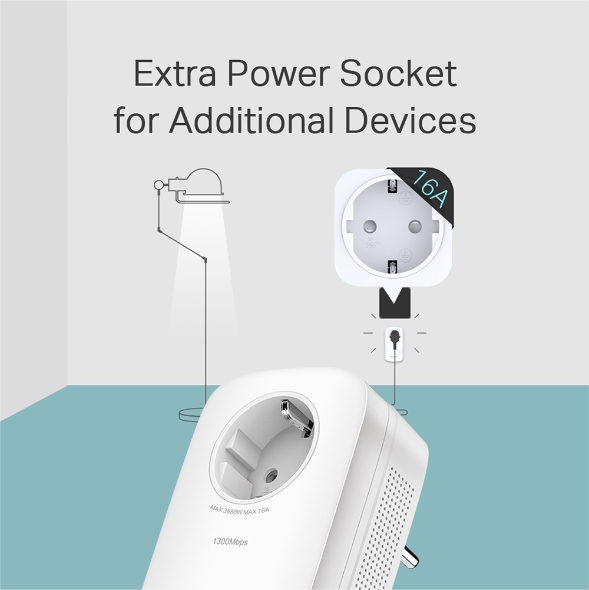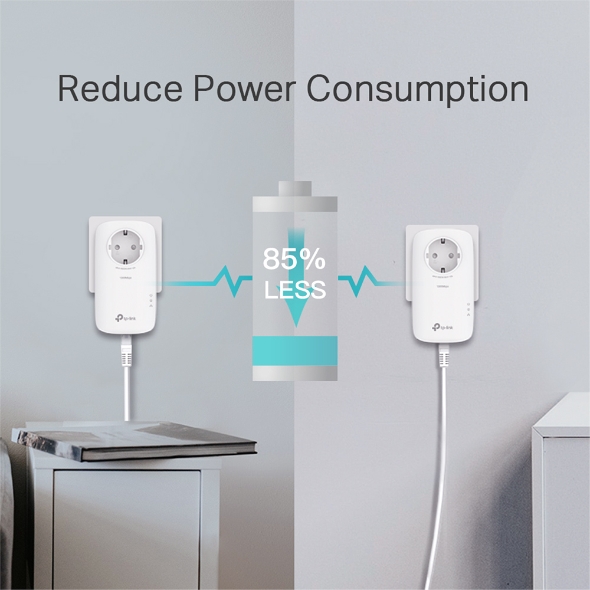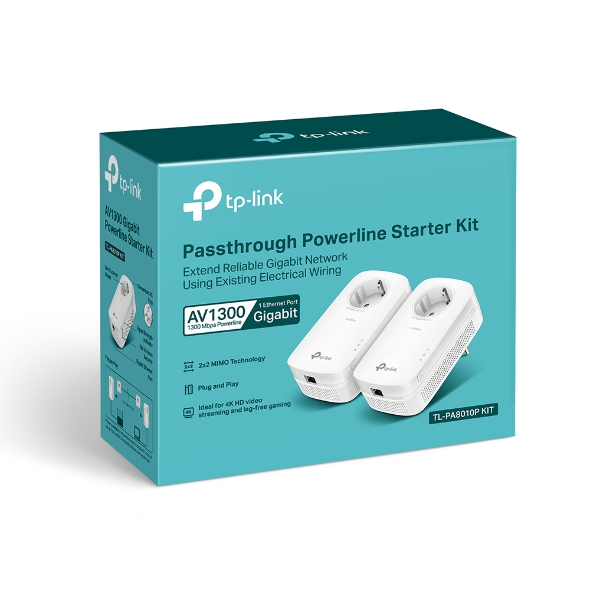 AV1300 Starter Kit Powerline Gigabit Passthrough
Conform cu standardul HomePlug AV2, transfer de date la viteze de până la 1300Mbps1, perfect pentru toate nevoile tale online
Tehnologia Line-Neutral/Line-Ground 2×2 MIMO cu Beamforming asigură un range extins, capacitate mare de transmisie și mai multe conexiuni stabile
Portul Gigabit conferă rețele prin fir pentru computere, televizoare smart și console de jocuri
Priză integrată, ce asigură că nici o priză nu este irosită
Doar conectează și folosește, nu este necesară configurare
Modul de Economisire energie reduce automat consumul de electricitate cu până la 85%2
Bring Your Home
Network Into New Era
AV1300 Gigabit Passthrough Powerline Starter Kit
TL-PA8010P KIT
Upgraded 1300 Mbps!
Perfect for Bandwidth Demanding Activities
Advanced HomePlug AV2 technology means the TL-PA8010P KIT supports 2x2 MIMO* with beamforming, so users benefit from ultra-fast data transfer speeds of up to 1300 Mbps. Perfect for bandwidth demanding activities like streaming Ultra 4K video to multiple devices simultaneously, online gaming and large file transfers.
*The MIMO functionality within HomePlug AV2 significantly improves data transfer rates especially during peak periods.
Line-Neutral / Line-Ground

2×2 MIMO

with Beamforming
Larger Range

MIMO Technology with Beamforming maximizes the performance on the independent streams, which improves coverage throughout the home, particularly for previously hard to reach outlets.

Higher Transmission Capacity & More Stable Connections

MIMO Technology means the TL-PA8010P KIT can use the 3 wires, including the live, neutral and earth to create multiple data paths, meaning that you benefit from faster data throughput and more stable connections.

Note: MIMO - Multi-input Multi-output SISO - Single-input Single-output
Gigabit Port for Ultra-fast Data Transfer
With one Gigabit Ethernet port, TL-PA8010P KIT allows users to connect a bandwidth intensive device to the Internet at high speeds and ensures the smooth transmission of Ultra 4K video streaming. This makes the TL-PA8010P KIT the perfect home entertainment companion.
Simplified Network for a Better Life
Plug, and Play!
Ditch the complicated setup process for good. Get started with powerline in just two steps :
Step 1: connect a powerline adapter to the router;
Step 2: plug another into a wall socket wherever you need extra wired internet coverage.
"Pair" for more security

Press the Pair button on each adapter to encrypt the data sent between them, enhancing your network security.
Extra Power Socket for Additional Devices
The integrated power socket, with power output of up to 16A*, means the powerline can be used like a traditional electrical socket. Simply plug in your device or extension lead as though it were a normal wall socket. The built-in noise filter also helps to prevent electrical signal noise from affecting Powerline performance.
Power output of up to 16A is suitable for

high-power

electrical appliances to be connected.
Power Save by Up to 85%
TL-PA8010P KIT is a new-generation of Powerline adapter. Its sophisticated Power-Saving mode automatically switches from its regular "Working" mode to "Power-Saving" mode reducing energy consumption by up to 85%.
* 1. Viteza maximă teoretică de transfer de date a canalului este derivată din specificațiile HomePlug AV2. Rata de transfer de date va varia de la mediul rețelei, inclusiv: distanța, traficul de rețea, zgomotul pe firele electrice, materialul de construcție și construcția, calitatea instalației electrice și alte condiții adverse.
* 2. Funcția de economisire a energiei oferă rezultate atunci când aparatele sunt deconectate sau oprite. Datele reale de economisire a energiei vor varia în funcție de condițiile și mediile de rețea diferite.
* 3. Compatibil cu toate adaptoarele Powerline standard HomePlug AV și AV2. Este posibil ca acest produs să nu fie compatibil cu routerele sau gateway-urile a căror firmware a fost modificat, se bazează pe programe open source sau nu sunt standard sau sunt învechite.
CARACTERISTICI HARDWARE
Tip Priză
EU, UK
Standarde și Protocoale
HomePlug AV2, HomePlug AV, IEEE1901, IEEE802.3, IEEE802.3u, IEEE802.3ab
Interfață
1 * Gigabit Ethernet Port, Power Socket
Butoane
Pair Button
Consum Energie
Maximum: 6W (220V/50Hz)
Typical: 6W (220V/50Hz)
Standby: 0.5W (220V/50Hz)
Indicator LED
PWR, PLC, ETH
Dimensiuni (L x l x H)
5.2×2.8×1.7 in. (131×72×42 mm)
Aria de acoperire
300 Meters over electrical circuit
Power Output to Integrated Socket
16 A
Altele
Certificări
CE, RoHS
Conținut Pachet
Powerline Ethernet Adapter
6.5 ft. (2 m) Ethernet cable (RJ45)
Resource CD
Quick Installation Guide
Cerințe de sistem
Windows 2000/XP/2003/Vista, Windows 7/8, Mac, Linux
Mediu
Operating Temperature: 0°C~40°C (32°F ~104°F)
Storage Temperature: -40°C~70°C (-40°F ~158°F)
Operating Humidity: 10%~90% non-condensing
Storage Humidity: 5%~90% non-condensing
Premii

Recommended Product

TL-PA8010P KIT was recommended by Redes Zone

2015, Spain

Recommended award

TL-PA8010PKIT has received a Recommended Award from Hardware Heaven

2015, UK

Very Good

TL-PA8010P KIT has received Very Good award from CHIP Magazine.

2015, Germany