From United States (English)?
Get products, events and services for your region.
Performance Comparison Chart of TP-Link Wireless Router
Q&A of functional explanation or specification parameters
Updated 04-19-2019 06:49:19 AM
O artigo aplica-se a:
Archer C3150( V1 V2 ) , TL-WR841N( V14 ) , Archer C60( V2 ) , Archer C20( V4 ) , Archer C9( V5 ) , TL-WR940N( V6 ) , Archer C50( V4 ) , Archer C6( V2 ) , Archer C7( V4 V5 ) , Archer C5400( V2 ) , Archer C4000( V2 ) , TL-WR941HP( V2 ) , TL-WR740N( V4 ) , TL-WR840N( V6 ) , Archer C1200( V2 ) , TL-WA841HP( V5 ) , TL-WR845N( V4 ) , TL-WR820N( V1 ) , Archer C58HP( V1 ) , Archer C2300( V1 ) , Archer C2( V5 ) , Archer C3200( V1 )
1. The following speed is based on NAT Throughput of WAN to LAN direction. It is the maximum speed that the device can reach in the test networking environment.
2. The real Internet speed and the speed to access to local resources will be different, depending on the type of your Internet contract, connection type, the enable function of the router, the current load on the provider's network and the characteristics of cables.
3. How to find the Hardware Version of my TP-LINK device? Please refer to FAQ46: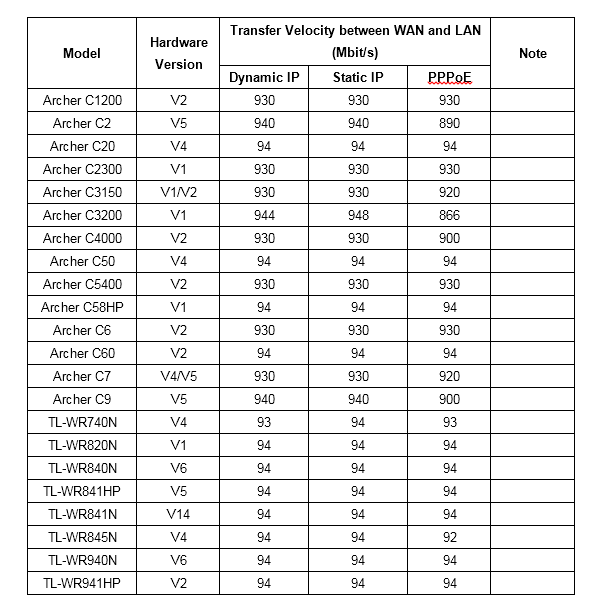 Este guia foi útil?
A sua resposta ajuda-nos a melhorar o nosso site.
Quer deixar alguma sugestão?
How can we improve it?
Thank you
We appreciate your feedback.
Click
here
to contact TP-Link technical support.
SubscriptionTP-Link takes your privacy seriously. For further details on TP-Link's privacy practices, see TP-Link's Privacy Policy.
Sobre Nós
Comunicado de imprensa
Learning Center