3G/4G Router All-in-One Troubleshooting Guide
For better compatibility, TP-Link keeps testing all the mainstream modems all over the world, and continuously updating the firmware and compatibility list as soon as a new modem get compatible. However, some customers still encounter a compatible problem, this document will guide you to do the troubleshooting and resolve it.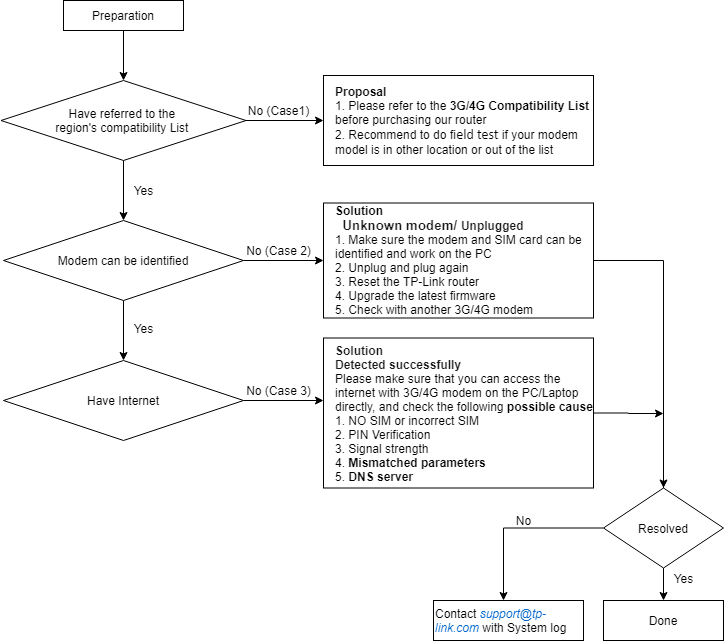 Please click on the problem category below for solutions:
Case 1: 3G/4G modem/Region/ISP is not listed in the compatibility list of our router.
We recommend our users to check the 3G/4G Compatibility List before purchasing our 3G/4G router. This list contains the tested modems with corresponded information such as region/ISP. If your country is not on the list, please take the "Other Location" option for reference only.

**Note: Due to the firmware upgrading or various parameters changed by some 3G/4G ISPs, there are some 3G/4G modems in the "Other Location" list that may NOT be compatible with our router. So please be careful with the "Other Location" list.
If you have a 3G/4G modem out of the region's compatibility list, it suggests to search on our Community to check if the other customers have used and worked properly, and we do really appreciate receiving your feedback to TP-Link Support as it is really valuable information for other customers.
Case 2: My 3G/4G modem is not identified by the TP-Link router. (Unknown Modem or Unplugged)
Old UI: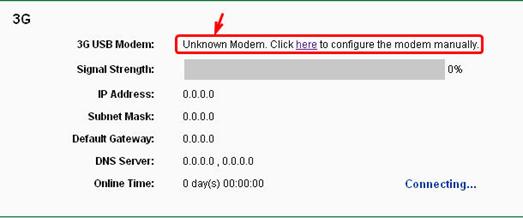 New UI: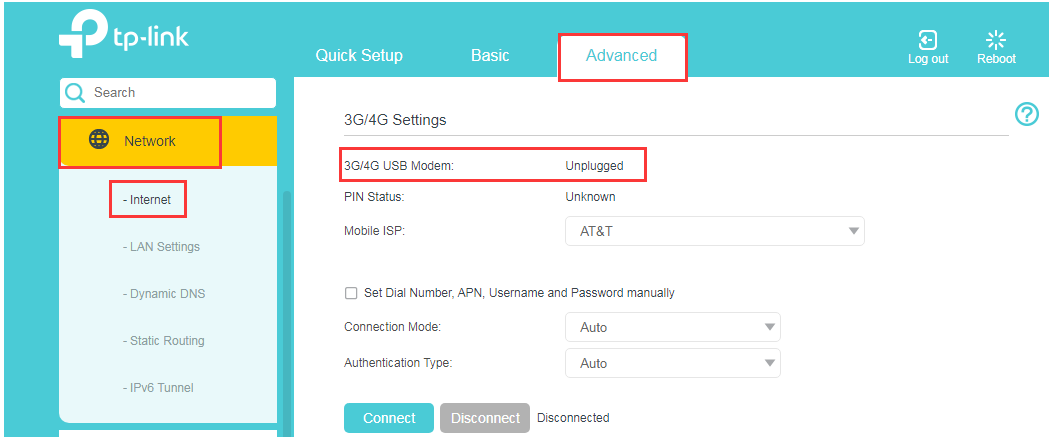 Make sure the 3G/4G modem can access the internet when plugging directly into the computer or laptop.
Make sure the 3G/4G modem could work with a SIM card and provide the internet properly.
Unplug and plug again.
We need to avoid the hardware detection issue, so please unplug the 3G/4G modem and check again.
Reset the TP-Link modem router.
Please refer to the instruction below to RESET the TP-Link modem router and identify again.
How to reset TP-Link router to factory default
Upgrade Firmware
Please click here to download the latest firmware and then upgrade the firmware of your router.
If possible, please do the comparison test and check if another 3G/4G modem could be identified by the TP-Link modem router. It is an important step to check if this case caused by the compatible issue or the USB port issue on the TP-Link modem router.
If you are in the compatibility list and do all the trouble shootings above but the modem still cannot be identified by the 3G/4G router, please plug your modem to the router then restart the router and wait for about 5-10min, next go to (Advanced)>>System Tools>> System Log to save the log of the router and then send the log with some other related information such as the 3G/4G modem model, your country name and ISP to TP-Link support .
Old UI: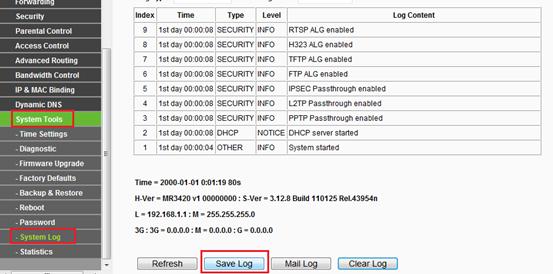 New UI: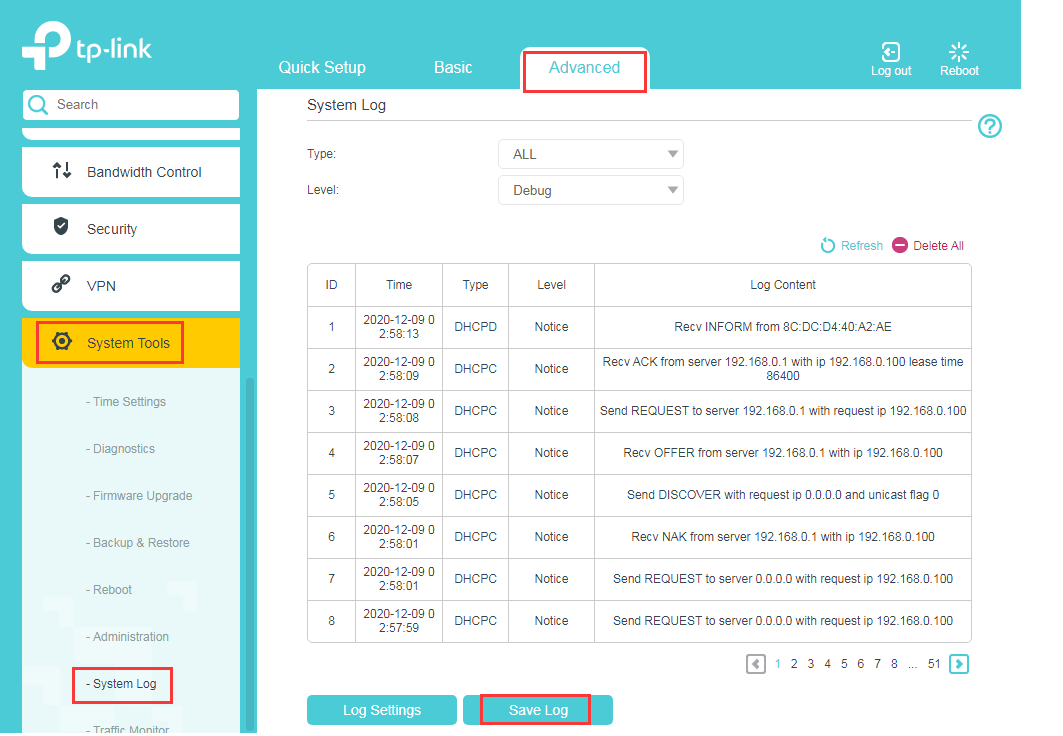 Case 3: 3G/4G modem is identified, but there is no internet access through the TP-Link router.
**Note: Before sharing the broadband with our 3G/4G router, please make sure you do have Internet access with the 3G/4G modem on PC/Laptop directly and in the compatibility list.
Now we assume that your 3G modem can be identified successfully by the 3G router, as you can see the following picture. Here we take Huawei EC169 as an example.
Old UI: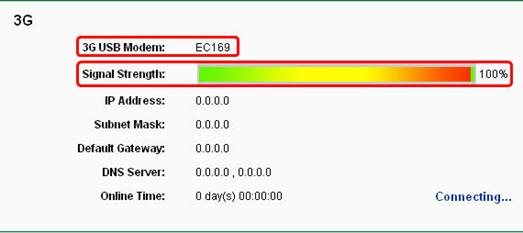 New UI: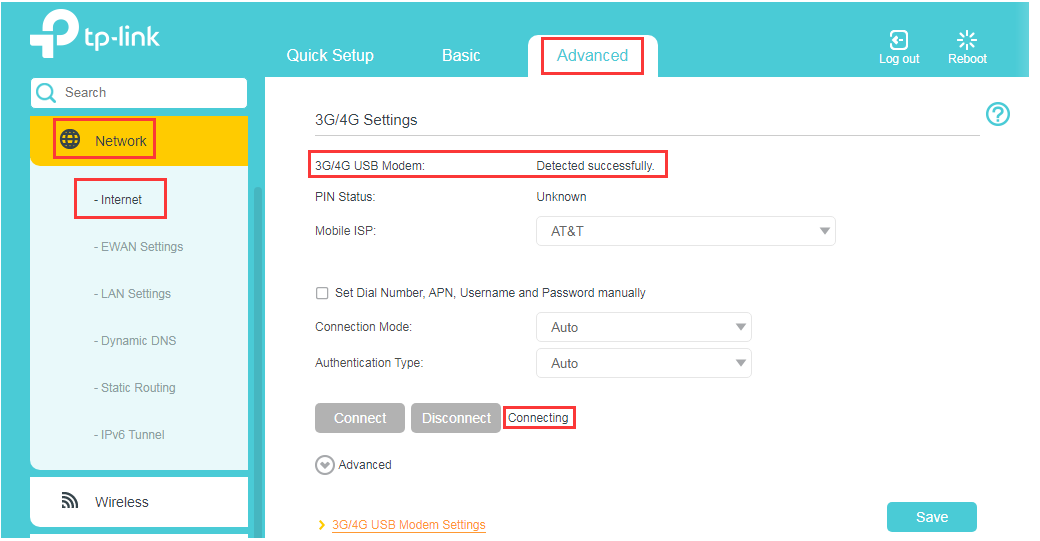 If you cannot have Internet via the 3G/4G router, it may be caused by the following issues.
And if you are ensuring the 3G/4G modem is working properly when you plug directly to the PC/Laptop, you can skip (1)--(3), these three steps just for double check and analyze the reason.
(1) No SIM or incorrect SIM
It is necessary for you to have a suited SIM and 3G/4G modem, and please make sure that you have installed your SIM into the 3G modem correctly.
(2) PIN Verification
Some SIM cards need to validate the PIN number by factory default. If so, please plug the 3G modem into your PC directly, and then disable this function in the bundled 3G /4G modem utility. Here we take two models as examples.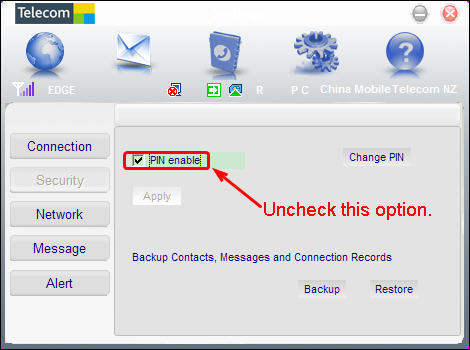 (3) Signal strength
If the 3G/4G signal is weak or unstable in your location, there will be a probability to suffer this problem, so it is recommended to compare the performance in a different place.
(4) Mismatched parameters
When we try to connect to a 3G network, some parameters such as Dial number, APN, username and password are required. It is very important for us to know the correct information. If you see the following red-circled words in the System Tools-> System Log page, that means you need to ask your Internet Service Provider (ISP), who provide you the 3G/4G service, to confirm the above parameters.

After you get the correct information from your ISP, please type them into the "Network>> 3G or Advanced>>Network>>Internet" page as the following picture.
Old UI (Network>> 3G):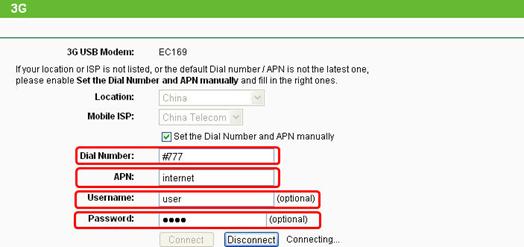 New UI (Advanced>>Network>>Internet):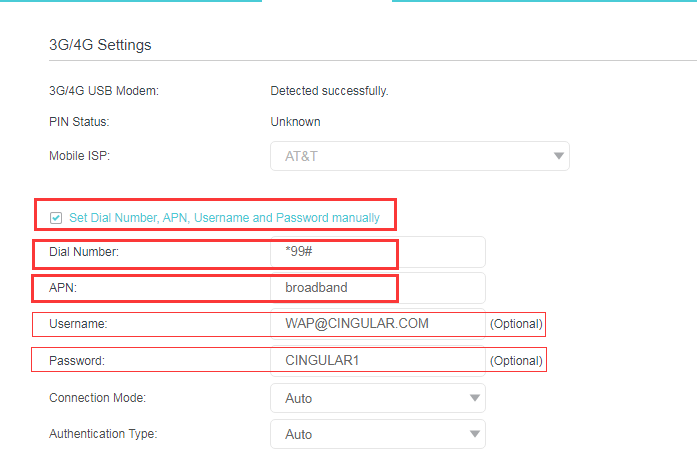 DNS server issue.
If the IP Address is not 0.0.0.0 in the Status>>3G ( or Advanced>>Status>>Internet) part, you can also try to change the DNS Server to Google's DNS 8.8.8.8 and 8.8.4.4 and then reboot the TP-Link modem router to have a try.
Old UI:


New UI: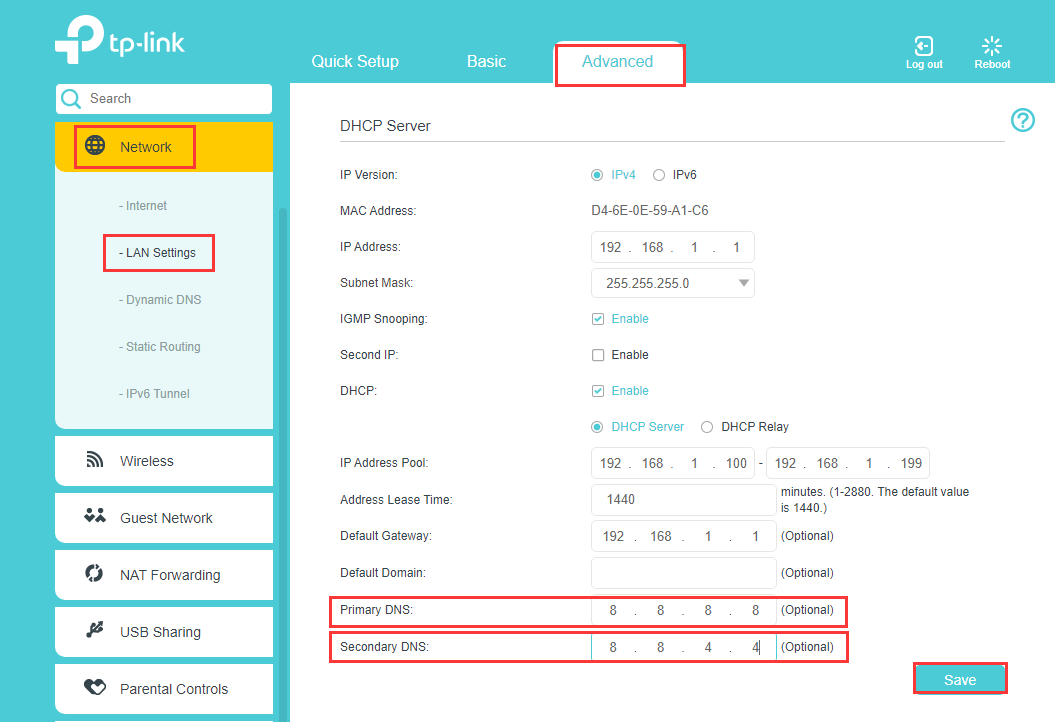 If you still suffer this problem after following the troubleshooting procedures above, please save the system log and feel free to contact TP-Link support.
Este guia foi útil?
A sua resposta ajuda-nos a melhorar o nosso site.
SubscriçãoA TP-Link Corporation Limited leva a sua privacidade a sério. Para mais detalhes sobre as Politicas de Privacidade da TP-Link, consulte Termos e Condições de Privacidade.
From United States?
Check products and services for your region.