DSL Modem router in bridge mode in conjunction with wireless router avoiding Double NAT
When the modem router and wireless router are connected in series, you may encounter some problems with your Internet service due to Double NAT (Network Address Translation). It is recommended to configure the modem to bridge mode to avoid conflicts.
The following diagram is the typical network topology:
Here we take TP-Link DSL Modem Router Archer VR2100 and Wireless Router Archer C7 as example.

Step 1:
Before you start, please log in to the DSL Modem Router(Archer VR2100)'s web page to back up the Archer VR2100 and Archer C7 configurations just in case something goes wrong.
For how to log in to TP-Link Modem Router's web page, please refer to:
How to log into the web-based interface of the AC VDSL/ADSL Modem Router (new logo)?
Note: If your original DSL Modem router is not a TP-Link Modem router, please contact your DSL Modem router's support for assistance.
Step 2:
Go to Advanced->Network->Internet, click on Edit button.
You will need those credentials in the blue box for configuring the PPPoE session in Archer C7 later.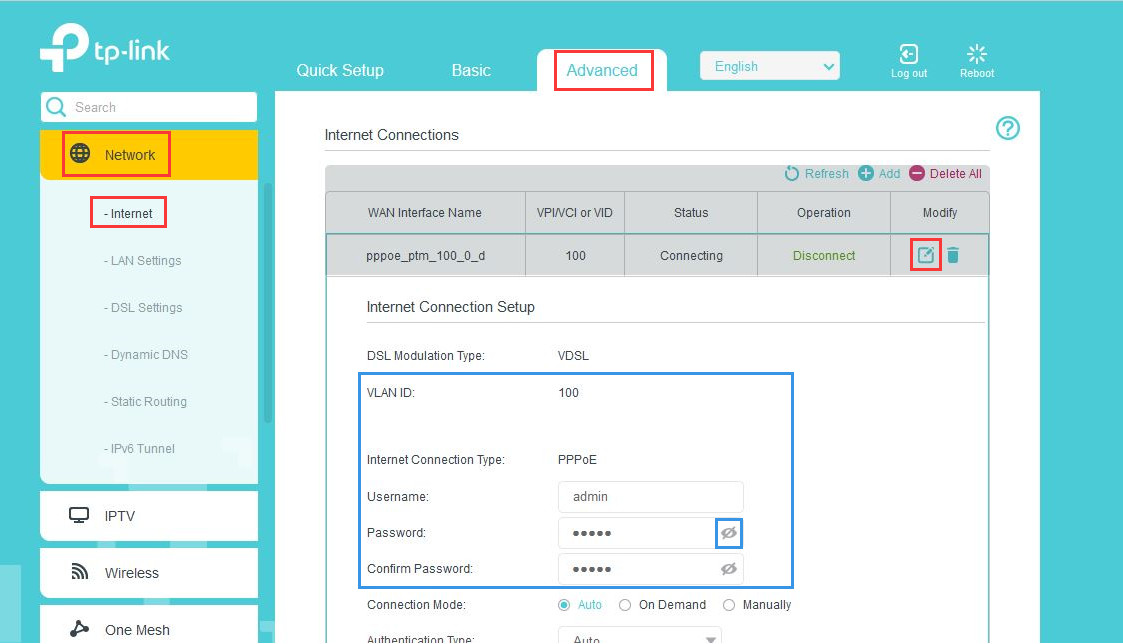 Step 3:
Delete the old Internet connection in Archer VR2100 (PPPoE).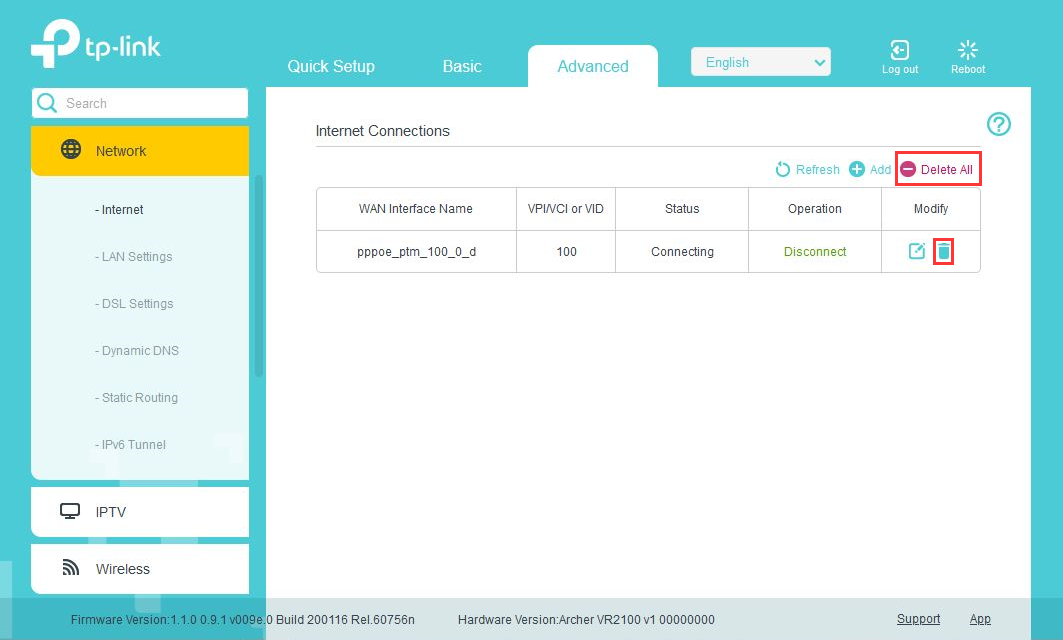 Step 4:
Add new Internet connection type Bridge, then click on Save.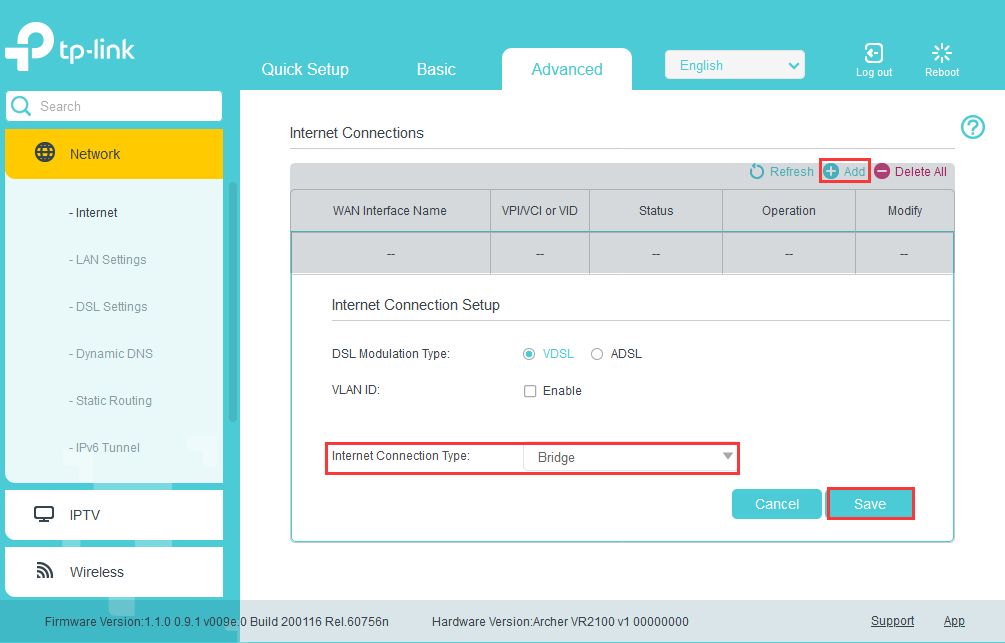 Step 5:
Log in to the web management page of the TP-Link wireless router (Archer C7). Refer to How do I log into the web-based Utility (Management Page) of TP-Link wireless router?
Step 6:
Go to Advanced->Network->IPTV/VLAN.
If your Internet Service Provider (ISP) uses specific VLANs for Internet, IPTV, or VoIP, you can set those up here (captured from the Archer VR2100 in Step 2), then click on Save on the bottom.
To know more details about VLAN settings, please refer to How to configure VLAN ID for your internet connection on wireless router (For new logo)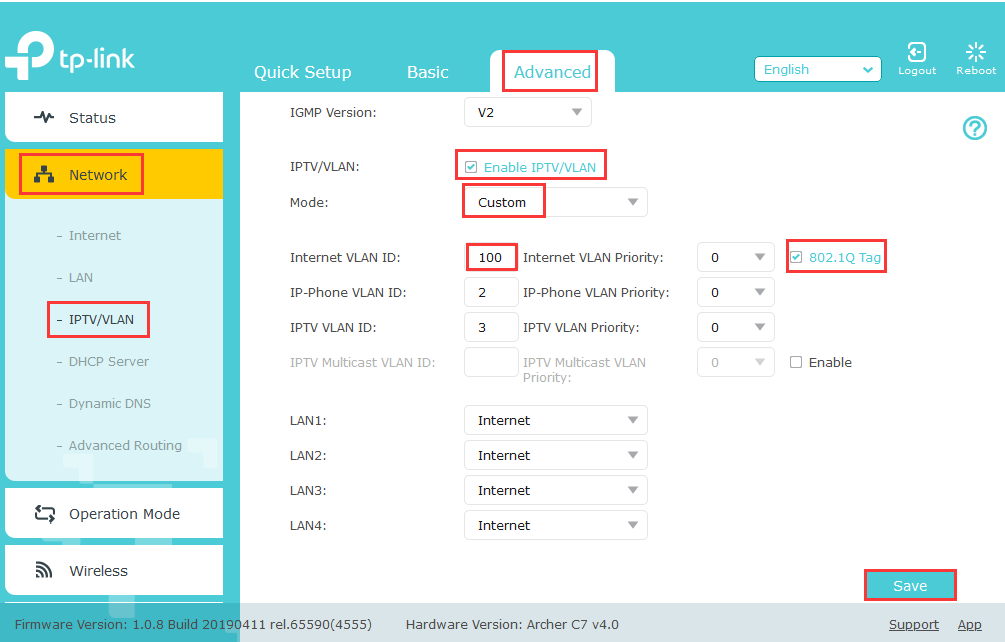 Step 7:
Click Advanced->Network->Internet.
Configuring PPPoE session in Archer C7 (captured from Archer VR2100 in Step 2).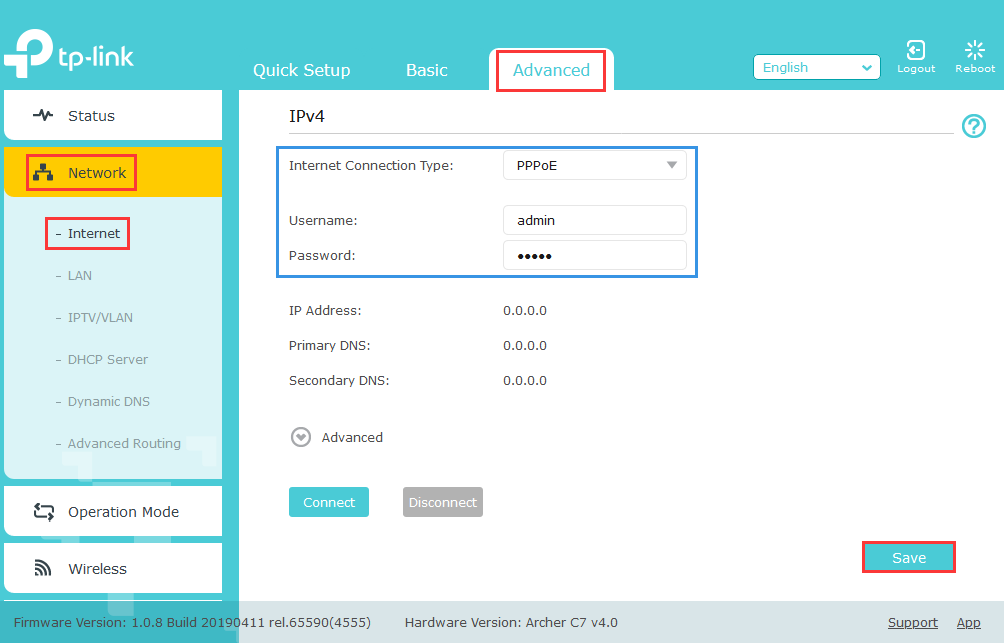 After establishing the PPPoE session from Archer C7, you'll have an internet connection with a Single NAT in Archer C7.
Similarly, you can use other DSL modems instead of Archer VR2100.
In addition, you can use the Deco system (in router mode) or any other wireless router instead of Archer C7, depending on the hardware you use.
Este guia foi útil?
A sua resposta ajuda-nos a melhorar o nosso site.
SubscriçãoA TP-Link Corporation Limited leva a sua privacidade a sério. Para mais detalhes sobre as Politicas de Privacidade da TP-Link, consulte Termos e Condições de Privacidade.
From United States?
Get products, events and services for your region.