How to solve the compatibility problem between your 3G modem and TP-Link 3G router
For better compatibility, TP-Link keeps testing all the mainstream modems all over the world, meanwhile we continuously update our firmware and compatibility list as soon as we get a new compatible device.
But sometimes, a few customers still encounter a compatibility problem, this article is about how to solve it.
After you plug your 3G modem into the TP-Link 3G router, please log into the web interface by typing in default access like http://192.168.1.1 or 192.168.0.1 with the default username and password which are both admin. If you see the picture below on the TP-Link status page, that means you have encountered a compatibility problem. Then you can try to solve the problem according to the solution below: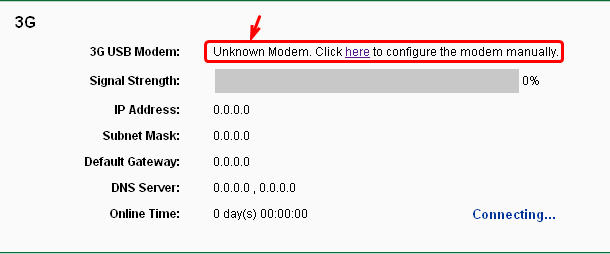 1. Update Firmware
Because we keep updating our firmware and compatibility list, your firmware may be out of date. If your modem is listed in the compatibility list, but you still have the Unknown Modem picture, that means you'd better upgrade the firmware. Please click here to download the latest firmware and then upgrade the firmware of your router in System tools->Firmware Upgrade page.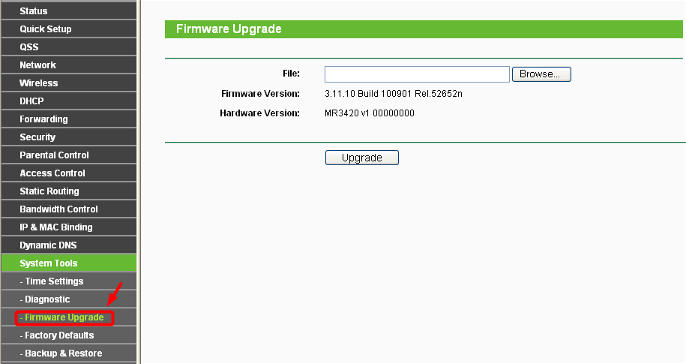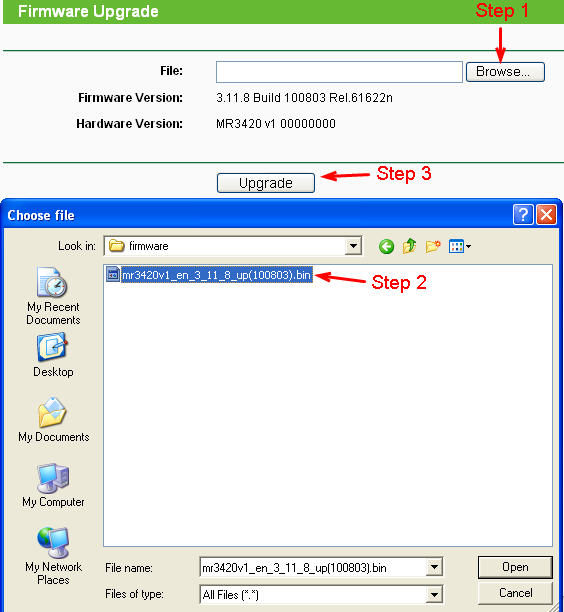 2. Upload Modem Bin File
When we make a brand new modem compatible with our 3G router while we can't release the firmware right away, we will upload the Modem Bin File to our website at the first moment. Please click here to go to the Modem Bin File download page. Firstly, you should find that whether your 3G modem is in the Modem Bin File table, if yes, please download the corresponding bin file to your local computer. Here I take Huawei EC169 as an example.
Before I upload the Modem Bin File, I have the picture below.

Then I go to Network->3G page, click Modem settings.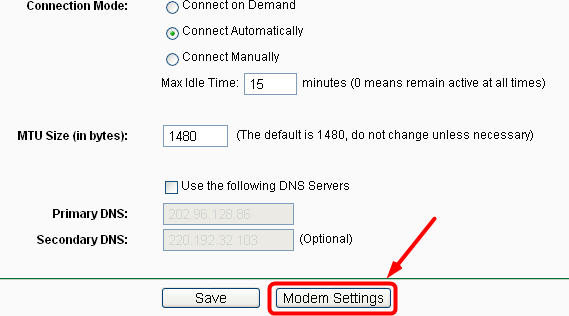 In the new page, please click Add New.
And then, please upload the Modem Bin File.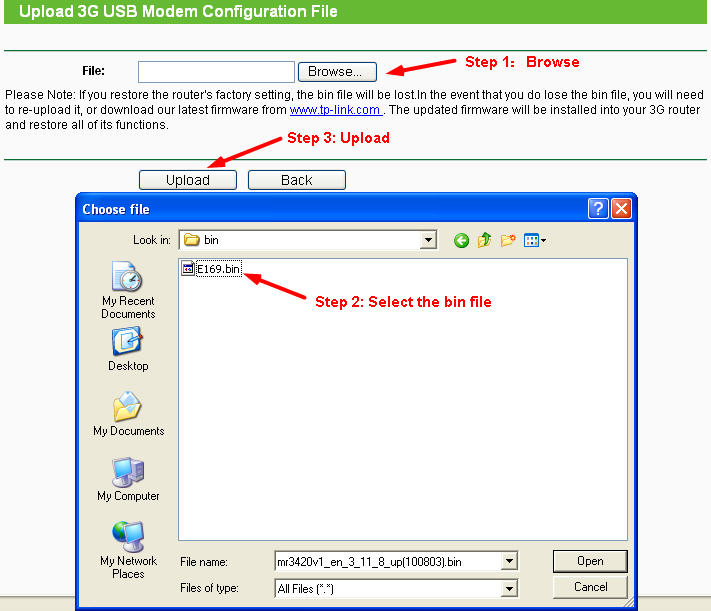 Finally, please reboot your 3G router, go to System Tools-- Reboot.

After the router reboots, the modem will be identified by the 3G router automatically.

If the modem has been identified by the 3G router but you still can not have Internet, please refer to another FAQ Why I cannot have Internet with an identified 3G Modem.
If the modem still cannot be identified by the 3G router, please feel free to contact the reseller where you bought this 3G router from, they will help you work this out.
For other questions, please feel free to contact TP-Link support .
Este guia foi útil?
A sua resposta ajuda-nos a melhorar o nosso site.
SubscriçãoA TP-Link Corporation Limited leva a sua privacidade a sério. Para mais detalhes sobre as Politicas de Privacidade da TP-Link, consulte Termos e Condições de Privacidade.
From United States?
Get products, events and services for your region.