What should I do if I fail to configure the Kasa device?
The Kasa app will guide you step-by-step during the initial configuration, however you may not be able to get through all the steps due to some interference. This FAQ will tell you what to do if you have trouble getting through a certain step.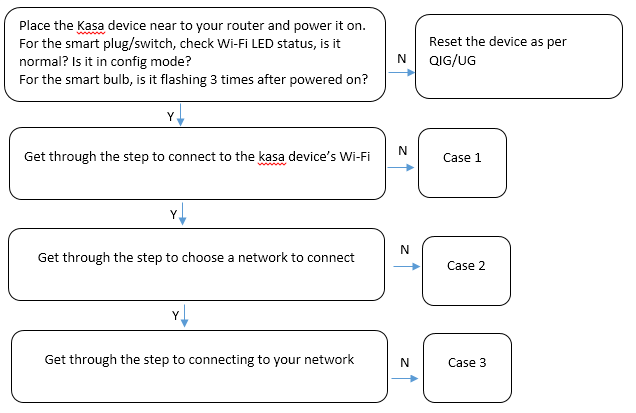 Can't see or connect to the Wi-Fi name of the Kasa device, or when connect to the Wi-Fi, it asks for a password.
Step 1
Check LED status of the device and make sure it's in config mode. Otherwise, reset the device as per QIG/UG.
Step 2
iOS: Go to Settings to connect the Wi-Fi manually;
Andriod: It can connect to the network automatically, but if it fails to connect, please go to Settings to connect to it. Once it's connected, please go back to kasa app and click on "Try Again".)
Step 3
Make certain you choose the right wireless network to connect (check the MAC Address on the label which is in line with some part of the network name)
Step 4
Disable VPN connection on the phone or use another phone to try again.
Step 5
Reset the device as per QIG/UG and go through the process again.
Can't find the Wi-Fi name of the home network.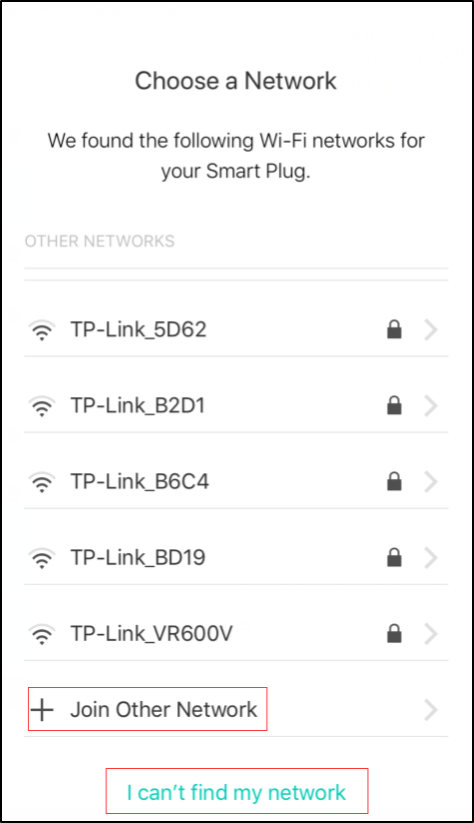 Step 1
Signal strength of your home network should be adequate, move the device closer to your router if not.
Step 2
If it doesn't display Wi-Fi name of the router automatically, please choose "I can't find my network", then click on "Try Again" to refresh the Wi-Fi list.
Step 3
If the router's SSID is hidden, please choose "Join other Network" to input SSID and password manually.
Step 4
Make certain your home Wi-Fi network is an encrypted 2.4GHz Wi-Fi network, kasa device does not support 5GHz Wi-Fi network, and they are unable to connect to an unsecured Wi-Fi network.
Step 5
Reset the device as per QIG/UG and go through the process again.
Can't get through the connecting process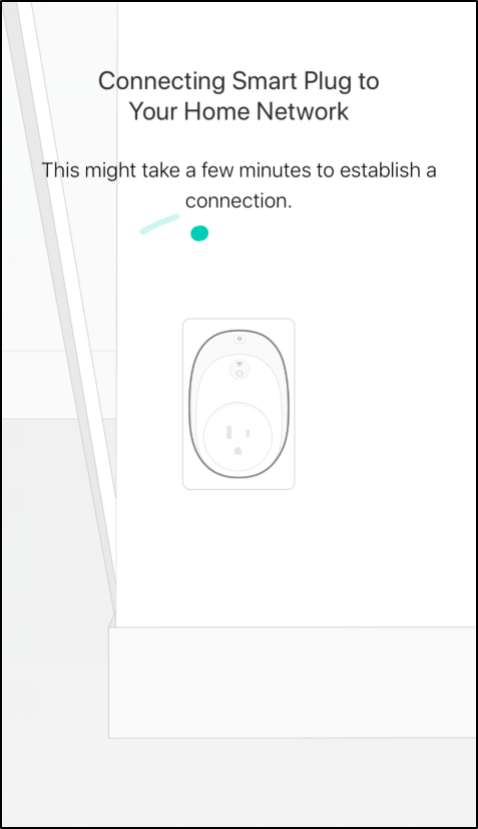 Step 1
Wait for 15 seconds and then check the LED status.
If the LED is normal, indicating the network connection has been established, please DO NOT click on "Restart Setup". Just force to close Kasa app and launch it again, wait a few more seconds to see whether the device is working.
You can change the device name and icon on the device settings page if the kasa device is configured successfully.
Step 2
Make certain your phone is connected to the router Wi-Fi now.
Step 3
Confirm the Wi-Fi password of your router. Configure the kasa device again if Wi-Fi password you typed in is wrong.
The password length can't exceed 64 characters and confirm the password does not contain characters such as single and double quotes.
Step 4
Reset the device as per QIG/UG and go through the process again.
Este guia foi útil?
A sua resposta ajuda-nos a melhorar o nosso site.
SubscriçãoA TP-Link Corporation Limited leva a sua privacidade a sério. Para mais detalhes sobre as Politicas de Privacidade da TP-Link, consulte Termos e Condições de Privacidade.
From United States?
Check products and services for your region.