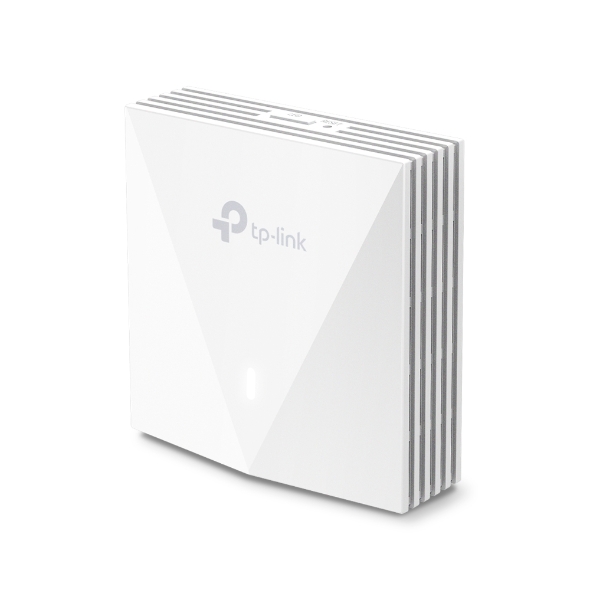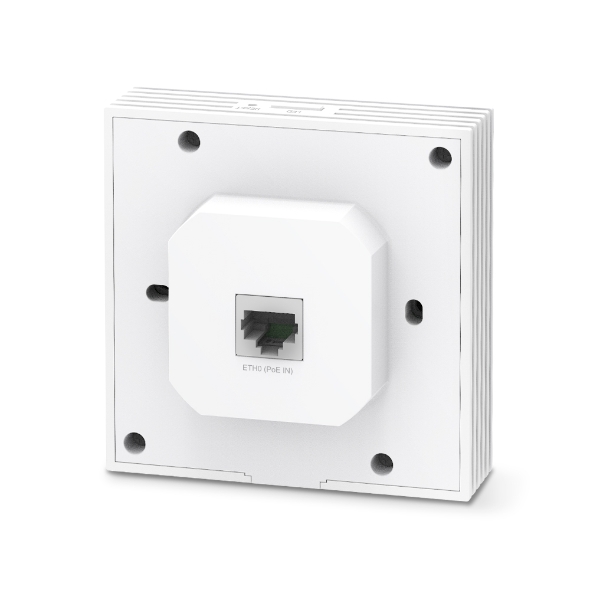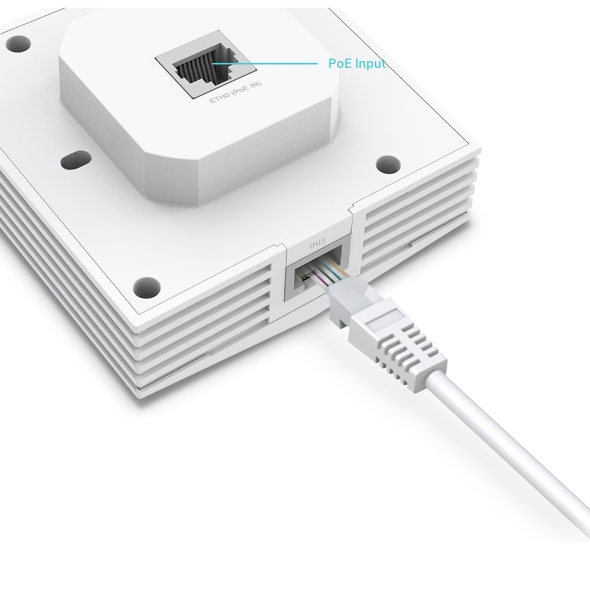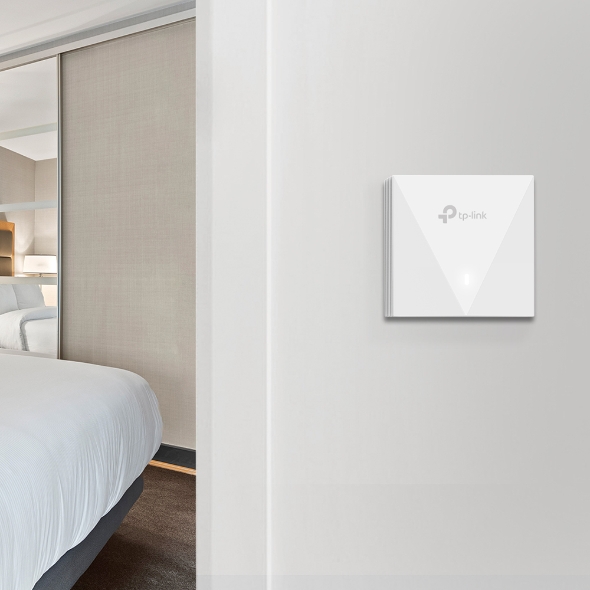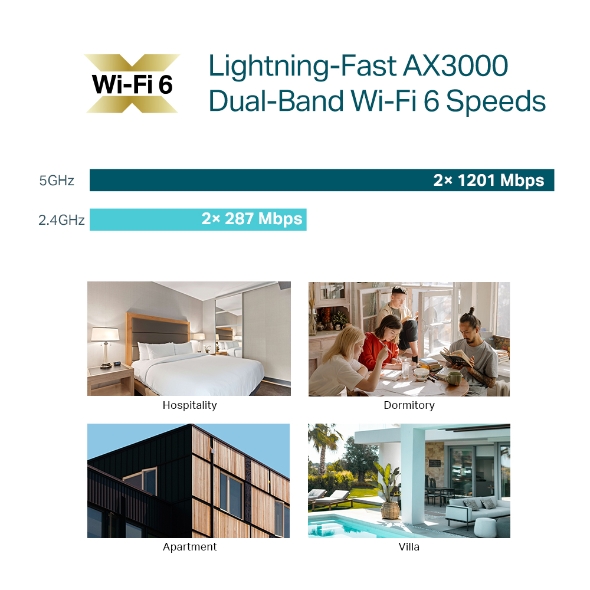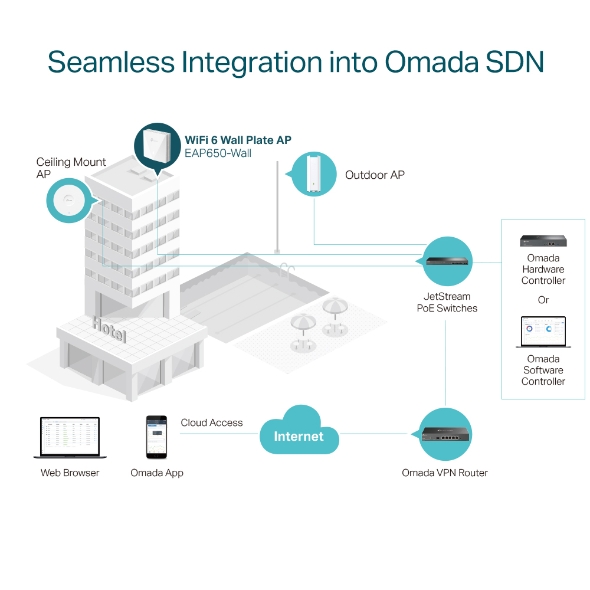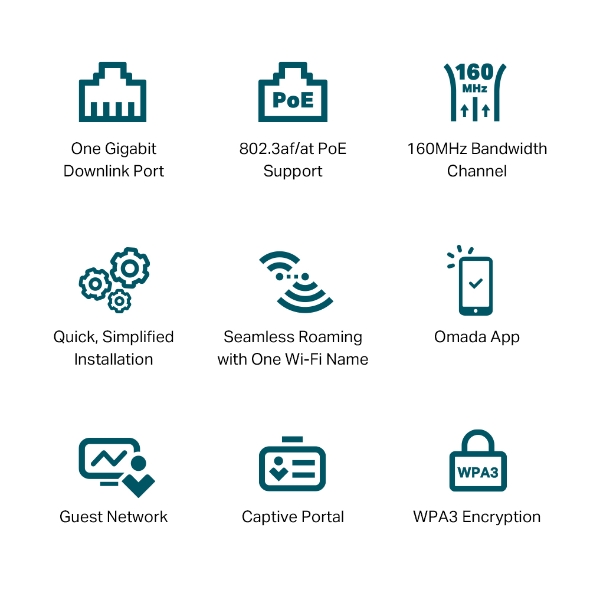 AX3000 Wall Plate WiFi 6 Access Point
Velocidade WiFi 6 AX3000 Dual-Band: 574 Mbps na 2,4 GHz e 2402 Mbps na 5 GHz totaliza 2976 Mbps de velocidade WiFi.†
Maior Eficiência da Rede: Garantir maior eficiência da rede e menor latência. ‡
Cobertura Wi-Fi Abrangente: Sinais mais fortes são garantidos e uma cobertura Wi-Fi completa.
Porta Gigabit: Ligue os equipamentos com fios com uma porta Gigabit.
Gestão Centralizada Cloud: Integra na Omada SDN para acesso à nuvem e gestão remota.
Rede de Convidados/Hóspedes Mais Seguros: Implementar várias opções de autenticação (SMS/Facebook Wi-Fi/ Voucher) com tecnologias de segurança Wireless de alta qualidade. §
Instalação Fácil e com Suporte PoE: Design fácil de instalar, compatível com caixa de junção padrão de 86 mm & EU & EUA e suporte 802.3af/at PoE.
Saiba mais sobre o WiFi 6 da Omada>​
Cobertura Total Wi-Fi 6
AX3000 numa Divisão
AX3000 Wall Plate WiFi 6 Access Point
EAP650-Wall

Velociade AX3000 WiFi 6

2402 Mbps na 5 GHz + 574 Mbps na 2.4 GHz†

High-Efficiency WiFi 6

Mais equipamentos conectados gozam de velocidades mais rápidas

Gestão Centralizada OMADA Cloud Management

Gerir toda a rede localmente ou a partir da cloud

160 MHz Channel

Duplique os dados nos tempos de transmissão de pico
em um único fluxo com HE160‡

Segurança Reforçada

WCom redes de convidados/hóspedes, Portal Cativo e encriptação WPA3n

Seamless Roaming

Streaming ininterrupto ao mover-se entre APs§

Duas Portas Gigabit

Uma porta de acesso à infraestrutura de rede e outra para conectar um equipamento de rede

Suporta 802.3af/at PoE

Implementação mais flexível e conveniente

De Fácil Instalação

Compatível com Caixa de Parede Encastara/Calha de 85mm & EU
Wireless Abrangente,
Rede Wi-Fi Privada em Cada Quarto
Hotelaria

Wi-Fi Guest de alta qualidade e cobertura completa

Dormitorio

Ligações sem e com fios estáveis

Apartamentos/Vivendas

Acesso de rede privada e segura para toda a família

Turismo Rural/Condomínios

Cobertura wi-fi nos mais diversos mercados com seamless roaming

Sala de Reuniões

Streaming mais rápido, download, videoconferência e tudo para satisfazer as suas necessidades
Wi-Fi 6 AX3000 Ultrarrápido
Novo WiFi 6 Empresarial com velocidades até 2976 Mbps traz mais do dobro da velocidade de WiFi 5.† Cada utilização de rede é mais fluída com velocidades Wi-Fi drasticamente melhoradas.†
1024 QAM

25% maior número de dados transmitidos

Long OFDM Symbol

11% mais rápido

HE160

Duplique a capacidade de dados e tempos de transmissão num único fluxo‡
5GHz
2.4GHz
2 Stream WiFi 5
Stream comum WiFi 6 com HE80
EAP650-Wall:
2 Stream WiFi 6 comHE160
2 Stream WiFi 5
EAP650-Wall:
2 Stream WiFi 6
867 Mbps
1201 Mbps
2402 Mbps
300 Mbps
574 Mbps
177% Faster
90% Faster
Maior Eficiência a Mais Equipamentos de Rede
com Conectividade WiFi 6
As mais recentes funcionalidades Wi-Fi 6 e técnicas de gestão Wireless avançadas garantem uma maior eficiência da rede e uma menor latência. ‡
OFDMA

BSS Coloring

High-Efficiency
WiFi 6

Band
Steering
Mais do que Velocidade, a Segurança é Fundamental
Proteja a sua rede contra ataques brute force e snooping com proteção e segurança de nível empresarial WPA3, autenticação de portal cativo e redes de hóspedes/convidados, videoconferência e muito mais.
Rede Guest Segura até 16 SSIDs

O acesso à rede guest proporciona uma segurança reforçada para a infraestrutura de rede. Diferentes SSIDs também permitem uma gestão flexível do acesso.

Impulsionar Negócios com Facebook Wi-Fi e login via SMS

O portal cativo (incluindo SMS, Facebook Wi-Fi, Voucher) e a autenticação 802.1x ajudam a manter os clientes autorizados a utilizar a rede. Impulsione o seu negócio com uma página de marketing personalizada.§

Segurança WPA3 para Redes Públicas Abertas Sem Preocupaçõess

Com segurança avançada empresarial, o WPA3 fornece maior segurança de dados para hotspots WiFi anteriormente não protegidos e abertos.
Porta de Rede Gigabit
A porta de rede gigabit permite ligar o equipamento Ethernet à infraestrutura.
Switch

Impressora

PC

Smart TV
Alimentação PoE
Implementação Sem Esforço com Alimentação PoE
Com suporte 802.3af/802.3at PoE, não há necessidade ter alimentação elétrica dedicada. Ligue-o aos cabos Ethernet existentes e está pronto.
TP-Link PoE Switch
Cabo de Rede Ethernet
Instalação Rápida e Simplificada
Com um design fácil de instalar, não há necessidade de ter mecanismos complexos para instalar o nosso EAP.
*Encaixa em dois tipos de Caixas de paredes
Caixas de Encastrar com 86 mm

Caixas Standard EU
Seleção de Canais Automáticos e Ajuste de Potência para Otimizar o Desempenho Global*
Proporciona um desempenho Wireless poderoso, reduzindo significativamente a interferência wi-fi, ajustando automaticamente as definições do canal e os níveis de potência de transmissão dos APs vizinhos na mesma rede
Antes da Otimização

Após Otimização
Perfeitamente Integrado no Omada SDN
O Omada Software Defined Networking (SDN) a plataforma integra e gere vários equipamentos de rede equipamentos de rede, incluindo pontos de acesso, switches e routers. Fornece uma gestão centralizada 100% Cloud e cria uma rede altamente escalável controlada a partir de uma única interface.
Hardware, Software, ou Cloud-Based Controllers

Gestão Centralizada Cloud

Zero-Touch Provisioning (ZTP)*
Internet
Cloud Access
WiFi 6 Wall Plate AP
EAP650-Wall
Ceiling Mount AP
Outdoor AP
JetStream PoE Switches
Omada VPN Router
Web Browser
Omada App
Omada Hardware Controller
Ou
Omada Software Controller
Ainda mais vantajoso com a Omada App
Siga as instruções de configuração na aplicação Gratuita Omada em minutos. Omada permite faça as configurações, manutenção, status da rede e gerir clientes Wi-Fi, tudo a partir de uma plataforma móvel smartphone ou tablet.
CARACTERÍSTICAS DE HARDWARE
Interface
• Uplink: 1× 10/100/1000 Mbps Ethernet Port• Downlink: 1× 10/100/1000 Mbps Ethernet Port
Physical Security Lock
No
Botão
Reset, LED
Fonte de alimentação
802.3af/at PoE
Consumo de energia
EU: 11.5 W
Dimensions
86 × 86 × 42.6 mm (3.4 × 3.4 × 1.7 in)
Antena
2 Dual-Band Antennas• 2.4 GHz: 2× 3 dBi• 5 GHz: 2× 5 dBi
Mounting
Wall Plate Mounting (Kits included)
FUNCIONALIDADES WI-FI
Concurrent Clients
100+
Normas Wireless
IEEE 802.11ax/ac/n/g/b/a
Frequências
2.4 GHz and 5 GHz
Signal Rate
• 5 GHz: Up to 2402 Mbps• 2.4 GHz: Up to 574 Mbps
Funções Wireless
• 16 SSIDs (Up to 8 SSIDs on each band)• Enable/Disable Wireless Radio• Automatic Channel Assignment• Transmit Power Control (Adjust Transmit Power on dBm)• QoS(WMM)• Seamless Roaming§• Beamforming• Rate Limit• Load Balance• Airtime Fairness• Band Steering• Reboot Schedule• Wireless Schedule• RADIUS Accounting• MAC Authentication• Wireless Statistics• Static IP/Dynamic IP
Segurança Wireless
• Captive Portal Authentication§• Access Control• Wireless Mac Address Filtering• Wireless Isolation Between Clients• VLAN• Rogue AP Detection• 802.1X Support• WPA-Personal/Enterprise, WPA2-Personal/Enterprise, WPA3-Personal/Enterprise
Transmission Power
• CE: <20 dBm (2.4GHz, EIRP)<22 dBm (5GHz band1 & 2, EIRP)<22 dBm (5GHz band3, EIRP)
GESTÃO
Omada App
Yes
Centralized Management
• Omada Hardware Controller (OC300)• Omada Hardware Controller (OC200)• Omada Software Controller• Omada Cloud-Based Controller
Cloud Access
Yes. Requiring the use of OC300, OC200, Omada Cloud-Based Controller, or Omada Software Controller.
Email Alerts
Yes
LED ON/OFF Control
Yes
Gestão de controlo de acessos MAC
Yes
SNMP
v1, v2c, v3
System Logging Local/Remote Syslog
Local/Remote Syslog
SSH
Yes
Gestão via Web
HTTP/HTTPS
Gestão L3
Yes
Gestão Multi-site
Yes
Gestão de VLAN
Yes
Zero-Touch Provisioning
Yes. Requiring the use of Omada Cloud-Based Controller.
OUTROS
Certificações
CE, RoHS
Conteúdo da embalagem
• AX3000 Wall Plate WiFi 6 Access Point EAP650-Wall• Installation Guide• Mounting Kits
Requisitos de Sistema
Microsoft Windows XP, Vista, Windows 7, Windows 8, Windows10, Windows 11, Linux
Environment
• Operating Temperature: 0–40 ℃ (32–104 ℉)• Storage Temperature: -40–70 ℃ (-40–158 ℉)• Operating Humidity: 10–90% RH non-condensing• Storage Humidity: 5–90% RH non-condensing
† As taxas de sinal sem fios Demaximum são as taxas físicas derivadas das especificações IEEE Standard 802.11. A produção de dados sem fios e a cobertura sem fios não estão garantidas. Variarão em resultado de 1) fatores ambientais, incluindo materiais de construção, objetos físicos e obstáculos, 2) condições de rede, incluindo interferência local, volume e densidade de tráfego, localização do produto, complexidade da rede e sobrecarga de rede; e 3) limitações do cliente, incluindo desempenho nominal, localização, ligação, qualidade e condição do cliente.
‡ Use do WiFi 6 (802.11ax) e as suas funcionalidades, incluindo a OFDMA e a 1024-QAM, exigem que os clientes suportem as funcionalidades correspondentes.
§ Omada Mesh, Seamless Roaming e Captive Portal requerem controladores Omada SDN. Vá a https://www.tp-link.com/en/omada-mesh/product-list/ para encontrar todos os modelos suportados pela tecnologia de malha Omada, e consulte os Guias de Utilizador dos controladores Omada SDN para métodos de configuração.
*O provisionamento zero-toque e a seleção e ajuste de potência do canal automático requerem a utilização do Controlador Omada Cloud. Vá a https://www.tp-link.com/en/omada-cloud-based-controller/product-list/ para confirmar quais os modelos compatíveis com o Omada Cloud-Based Controller.
SubscriçãoA TP-Link Corporation Limited leva a sua privacidade a sério. Para mais detalhes sobre as Politicas de Privacidade da TP-Link, consulte Termos e Condições de Privacidade.
From United States?
Obtenha produtos, eventos e serviços para a sua região.