802.11ax

Revigore a Rede Wi-Fi de Classe Empresarial Além da Imaginação

Maior Eficiência, Grande Capacidade, Performance Melhorada.
Porque é que precisa de ter Wi-FI 6?
Exigência de mais equipamentos sem fios
Aumento dos requisitos da largura de banda
Mais interferência entre APs
O que é que o Wi-Fi6 lhe pode trazer?
Maior Capacidade:

Performance Melhorada:

Maior Eficiência:
Conecta 4× mais equipamentos em simultâneo
——com o Uplink & Downlink do MU-MIMO
A norma 802.11ax (WiFi6) estende a tecnologia MU-MIMO de 4×4 para 8×8 e permite funcionar com ambos os uploads e downloads em comparação com o 802.11ac MU-MIMO. Os pontos de acesso 802.11ax com 8×8 MU-MIMO no uplink e no downlink fornecem uma capacidade até 4x mais em cenários de alta densidade em comparação com o SU-MIMO tradicional (MIMO de utilizador único), permitindo a conexão de mais aparelhos em simultâneo. Deixe a capacidade da infraestrutura de rede Wi-Fi acompanhar a crescente expansão comercial.
conexão para 1000+ equipamentos
Maior Eficiência com OFDMA
O standard Wi-Fi 6 usa a tecnologia OFDMA para aumentar a eficiência. Imagine a sua ligação Wi-Fi como uma série de camiões de entregas, distribuindo pacotes pelos seus dispositivos. Com o Wi-Fi 802.11ac cada camião ou "pacote" podia entregar apenas uma encomenda a um dispositivo de cada vez. Mas com OFDMA cada camião pode entregar múltiplas encomendas a múltiplos dispositivos simultaneamente. Esta grande melhoria em eficiência funciona tanto com uploads como com downloads.
Aguardar

Cliente 2

Aguardar

Dados Transmitidos

802.11ac | Sem o OFDMA

Cliente 1

Cliente 2

Cliente 3

Dados Transmitidos

802.11ax | OFDMA
Integre Mais Dados com

­
1024-QAM
25% mais rápido do que 256-QAM
Com 1024-QAM cada símbolo transporta 10 bits ao invés de 8 bits, melhorando as velocidades em 25% em comparação à norma 802.11ac com 256-QAM. Veja Netflix em casa ou faça live streams via Twitch Broadcasts a partir do seu computador doméstico – com 1024-QAM streaming torna-se muito melhor.
Frequência f
Frequência f
11ac: 256 Subtransportadoras em 3.6 μs (0.4 μs GI)
11ax: 1024 Subtransportadoras em 13.6 μs (0.8 μs GI)
| | 802.11ac (Wi-Fi 5) | 802.11ax (Wi-Fi 6) |
| --- | --- | --- |
| Número de Subtransportadoras de Dados | 234 | 980 |
| Duração do Símbolo(μs) | 3.6 (3.2 symbol + 0.4 GI) | 13.6 (12.8 symbol + 0.8 GI) |
| Taxa de Subtransportadoras de Dados Válidas | 65 | 72.05882 |
| Melhoria | | 1.108597 |
* Um Símbolo, Canal 80MH
Mais Velocidade e Maior Estabilidade
Símbolos OFDM 4x Mais Longos
OFDM é um símbolo que transmite dados, dividindo-os em subtransportadoras mais pequenas para uma maior estabilidade e cobertura com mais alcance. O Wi-Fi AX usa símbolos OFDM 4x mais longos para criar 4x mais subtransportadoras. Como tal, o Wi-Fi 6 disponibiliza uma cobertura maior, tornando-a 11% mais rápida.
Minimize a interferência WiFi na Sua Empresa
Com a tecnologia Wi-Fi 6 BSS Color
Para aumentar ainda mais a capacidade do sistema e reduzir a interferência entre canais, uma nova tecnologia BSS Coloring & Spatial Reuse foi adicionada ao 802.11ax - fornecendo uma marca de cor correspondente para cada AP para diferenciar os conjuntos de serviços adjacentes e melhorar ainda mais a eficiência de transporte dos recursos do canal sem fio, identificando pela cor. A solução Wi-Fi 6 pode implementar o canal Spatial Reuse para melhorar significativamente o desempenho e a capacidade da rede em cenários de alta densidade, como ambientes nos centros comerciais, nos eventos, na hotelaria e restauranção.
No Inteference
Inteference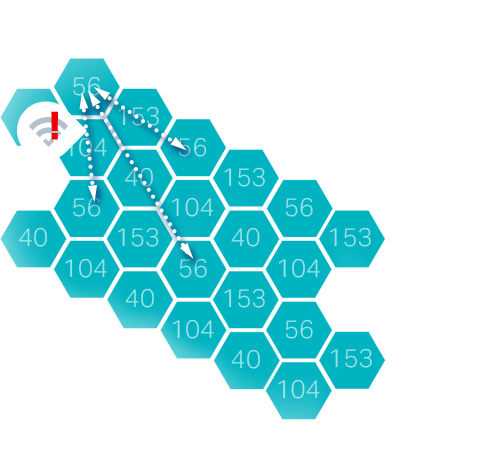 · Bloqueio BSS no mesmo canal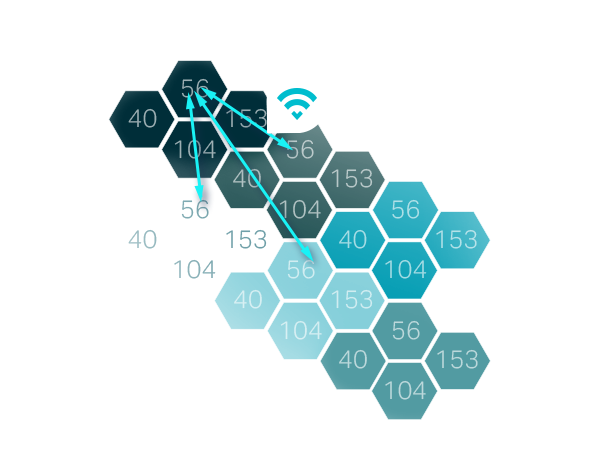 ·Mesmo canal BSS mas apenas bloqueado ao Color Match
A Transmitir
Modo de Espera
Modo de Espera
Em Espera
Em Espera
A Transmitir
Consumo Energético Reduzido
Com Target Wake Time
Target Wake Time (TWT) permite que os dispositivos negoceiem quando e com que frequência se ativam para enviar ou receber dados, aumentando o tempo de inatividade do dispositivo, o que permite uma maior durabilidade da bateria em equipamentos móveis e IoT (Internet Of Things).
SubscriçãoA TP-Link Corporation Limited leva a sua privacidade a sério. Para mais detalhes sobre as Politicas de Privacidade da TP-Link, consulte Termos e Condições de Privacidade.
From United States?
Check products and services for your region.