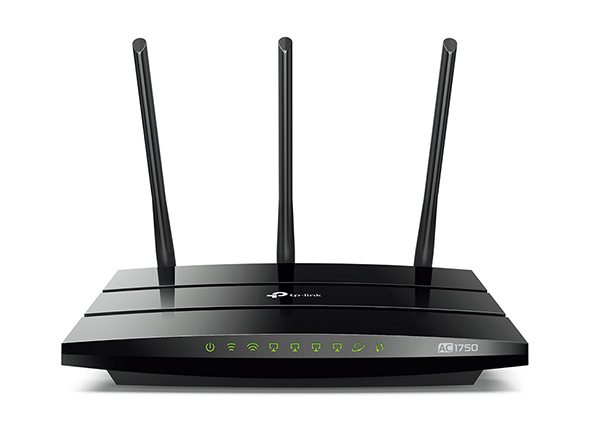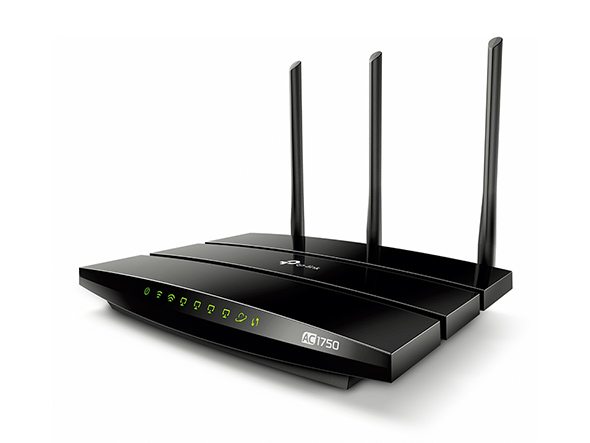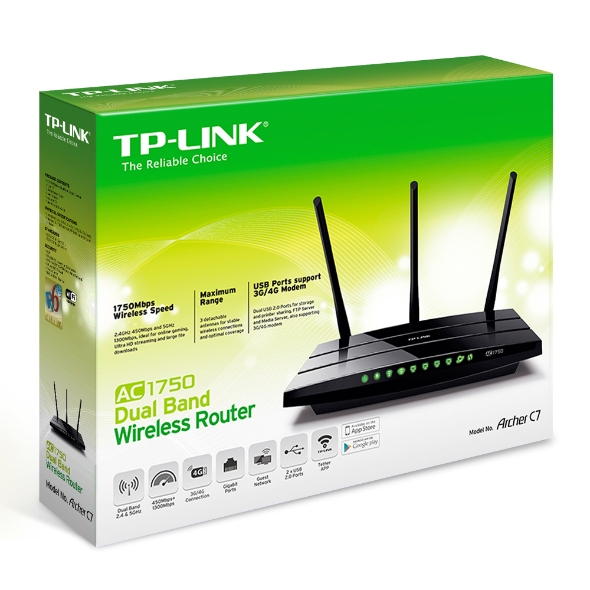 AC1750 Wireless Dual Band Gigabit Router Archer C7
Supports 802.11ac standard - the next generation of Wi-Fi
Simultaneous 2.4GHz 450Mbps and 5GHz 1300Mbps connections for1.75Gbps of total available bandwidth
Dual USB Ports - easily share a printer locally and files & media with networked devices or remotely via FTP server
Guest Network Access provides secure Wi-Fi access for guests sharing your home or office network 
802.11ac
The Next Generation of Wi-Fi
TP-LINK's Archer C7 comes with the next generation Wi-Fi standard – 802.11ac, 3 times faster than wireless N speeds and delivering a combined wireless data transfer rate of up to 1.75Gbps. With 1300Mbps wireless speeds over the crystal clear 5GHz band and 450Mbps over the 2.4GHz band, the Archer C7 is the superior choice for seamless HD streaming, online gaming and other bandwidth-intensive tasks.
Concurrent Dual Band Connections for Lag-Free Work and Entertainment
The Archer C7 operates over both the 2.4GHz and 5GHz bands, ensuring amazing wireless performance. Simultaneous Dual Band offers you the flexibility of two dedicated networks – with multiple times the bandwidth for your needs. Simple tasks like sending e-mails or web browsing can be handled by the 2.4GHz band while bandwidth intensive tasks like online gaming or HD video streaming can be processed by the 5GHz band – all at the same time.
6 Antennas for Fully Expanded Coverage
With 3 external detachable 5dBi antennas serving the 5GHz band and 3 internal antennas serving the 2.4GHz band combined with higher quality antenna technology, you can maintain high speeds across greater distances. This provides you with incredible wireless coverage and reliability from anywhere in your large home or office.
2.4GHZ

3 optimized internal antenna placement reduces potential co-channel interference, resulting in improved performance.
5GHz 5dBi

3 external antennas make full use of clean 5GHz wireless band, providing a stronger wireless signal penetration.
Dual Multifunctional USB Ports for Storage and Sharing
With the two multi-functional USB 2.0 ports, you can share printers, files and media with different devices through your local network or via the ftp server while away from home.
FTP Server
Media Server
Storage Sharing
Printer Sharing
Full Gigabit Wired Connections for Ultrafast Data Transfer Speeds
With one gigabit WAN port and four gigabit LAN ports, speeds can be up to 10× faster than standard Ethernet connections. The Archer C7 is a powerful hub to support a robust and extremely fast wired network.
Guest Network

Guest Network Access provides secure Wi-Fi access for guests sharing your home or office network.

IPv6 Supported

The Archer C7 supports IPv6, the next generation of Internet protocol, helping you to future -proof your network.

Easy Set-up

Provide quick and hassle free installation with optimized configuration utility.
HARDWARE FEATURES
Interface
4 10/100/1000Mbps LAN Ports
1 10/100/1000Mbps WAN Port
1 USB 2.0 Ports

Button
WPS/Reset Button
Wireless On/Off Switch
Power On/Off Button
External Power Supply
12VDC / 2A
Dimensions ( W x D x H )
9.6x6.4x1.3 in. (243x160.6x32.5mm)
Antenna Type
Three detachable antennas ( RP-SMA)
WIRELESS FEATURES
Wireless Standards
IEEE 802.11ac/n/a 5GHz
IEEE 802.11b/g/n 2.4GHz
Frequency
2.4GHz and 5GHz
Signal Rate
5GHz: Up to 1300Mbps
2.4GHz: Up to 450Mbps
Reception Sensitivity
5GHz:
11a 6Mbps-96dBm
11a 54Mbps: -79dBm
11ac HT20: -71dBm
11ac HT40: -66dBm
11ac HT80: -63dBm
2.4GHz
11g 54M: -77dBm
11n HT20: -74dBm
11n HT40: -72dBm
Transmit Power
CE:
<20dBm(2.4GHz)
<23dBm(5GHz)
FCC:
<30dBm
Wireless Functions
Enable/Disable Wireless Radio, WDS Bridge, WMM, Wireless Statistics
Wireless Security
64/128-bit WEP,WPA / WPA2,WPA-PSK/ WPA2-PSK encryption
SOFTWARE FEATURES
Quality of Service
WMM, Bandwidth Control
WAN Type
Dynamic IP/Static IP/PPPoE/
PPTP(Dual Access)/L2TP(Dual Access)/BigPond
Management
Access Control
Local Management
Remote Management
DHCP
Server, Client, DHCP Client List,
Address Reservation
Port Forwarding
Virtual Server, Port Triggering, UPnP, DMZ
Dynamic DNS
DynDns, Comexe, NO-IP
VPN Pass-Through
PPTP, L2TP, IPSec
Access Control
Parental Control, Local Management Control, Host List, Access
Schedule, Rule Management
Firewall Security
DoS, SPI Firewall
IP Address Filter/MAC Address Filter/Domain Filter
IP and MAC Address Binding
Protocols
Supports IPv4 and IPv6
USB Sharing
Support Samba(Storage)/FTP Server/Media Server/Printer Server
Guest Network
2.4GHz guest network × 1
5GHz guest network × 1
OTHERS
Certification
CE, FCC, RoHS
Package Contents
Archer C7 AC1750 Wireless Dual Band Gigabit Router Archer C7
3 detachable antennas
Power supply unit
Ethernet Cable
Quick Installation Guide
System Requirements
Microsoft Windows 98SE, NT, 2000, XP, Vista™ or Windows 7, Windows 8/8.1/10
MAC OS, NetWare, UNIX or Linux
Environment
Operating Temperature: 0℃~40 ℃ (32 ℉~104℉)
Storage Temperature: -40℃~70 ℃ (-40 ℉~158℉)
Operating Humidity: 10%~90% non-condensing
Storage Humidity: 5%~90% non-condensing
Reviews

TP-Link Archer C7 AC1750 Wireless Dual Band Gigabit Router Posted on August 3, 2015 by Zon Teknologi Introduction When it comes to budget networking peripherals, TP-Link is one of the few brands that provides quality devices such as router and Wi-Fi signal repeater at a very affordable price. Since the ac wireless is rapidly growing nowadays, they introduced me one of their ac routers they have which called Archer C7. I was very excited and eager to know what this router can deliver. Unboxing IMG_20150729_174744 IMG_20150729_174757 Standard router packaging IMG_20150729_174920Included some documentations, AC power plug, one standard LAN cable, three 5dBi external antennas and the router itself Quick Overview 802.11 ac wireless technology – TP-Link's Archer C7 comes with the next generation Wi-Fi standard – 802.11ac, 3 times faster than wireless N speeds and delivering a combined wireless data transfer rate of up to 1.75Gbps. With 1300Mbps wireless speeds over the crystal clear 5GHz band and 450Mbps over the 2.4GHz band, the Archer C7 is the superior choice for seamless HD streaming, online gaming and other bandwidth-intensive tasks. acspeed Supports UniFi and Maxis Fibre – Archer C7 is fully compatible with UniFi and Maxis Fibre for those who resides in Malaysia so you don't have to worry about sacrificing your Hypp TV for UniFi users. IPv6 ready – The Archer C7 supports IPv6, the next generation of Internet protocol, helping you to future -proof your network. Supports Tether companion app – TP-Link Tether provides the easiest way to access and manage your router with your Android/Apple devices. From setup to parental control, Tether provides a simple, intuitive user interface to see what the status of your router is, who's online and what their privileges are. Unfortunately, Tether is not supported at the moment specifically for Malaysia firmware version. tether Hardware Overview Tech spec can be view here. IMG_20150729_175036The gorgeous black router which is pretty common these days IMG_20150729_175108The backside of the router where all ports are located at. What intrigues me most is the wireless ON/OFF switch IMG_20150729_175422Archer C7 with the antennas installed User Experience The hardware setup was really not a problem. I attached those 3 antennas, plugged in the power plug, connect the fiber modem to the WAN port behind the router and it's done, ready to setup the network configurations. setup1 In the network setup, I don't have to scratch my not-so-itchy head to figure out what needs to be fill in. The options given at the first setup page are very easy to understand. Since I'm a UniFi user, I choose UniFi Mode. setup2 At the next page, I required to fill the VLAN ID associate with all 4 ports. I have my Hypp TV cable plugged at LAN4 so the only thing I did was changed the VLAN ID according to that short red text instruction at the bottom and let the rest at default value. Beyond this point, the setup process was very straight forward and finally the router successfully connected to the network. dualbandselect One of the features that I like in this router is Dual Band Selection. I can choose whether I want to enable only one band at a time or just let em on. guestnetwork Another great feature is guest network. Guest network can be setup up to 2 networks with 2.4 GHz and 5 GHz respectively. Each network can be configured specifically from bandwidth control to time schedule when can the network is allowed to access. signalstrength In terms of signal strength, it is pretty decent for a router like this. The signal covers most of my 2 storey house even at the backyard. TP-Link did a good job for separating 2.4 GHz and 5 GHz signal by providing internal and external antennas each to avoid signal interference. Since I have devices that support ac wireless I prefer to connect 5 GHz band instead of 2.4 GHz because it's more stable, capable to handle high bandwidth and less interference. I did a internet speed test comparison between normal and ac wireless. The difference is not much but from here we can tell that ac wireless definitely performs better. Screenshot_2015-08-06-17-44-00Screenshot_2015-08-06-17-45-392.4 GHz (top) 5.0 GHz (bottom) Another test was involving Steam In-Home Streaming from my PC to laptop and I was surprised that there were almost lag free and minimal time delay compared to 2.4 GHz. Although like that 5 GHz band has shorter range of signal but since my room is near the router it's not really a big deal. Note that real time based online games such as Dota 2 and Counter-Strike Global Offensive are not suitable for streaming. Eventhough I said the delay is minimal with ac wireless but the experience won't be the same. Verdict Pros: + Wireless switch ON/OFF + Optimised and wide WiFi signal strength + Guest network + User friendly network setup Con: – Tether app is not supported for Malaysia firmware (for now)

It's one of the less expensive performers, In return for that price, web surfers get a solid, consistent 802.11 ac signal. The Archer's key strength is its powerful antennae, which beam both 2.4 GHz and 5GHz signals throughout homes.

The best router for most people is the Archer C7 ($100). It's a dual-band 802.11ac router, meaning it can run both 2.4GHz and 5 GHz Wi-Fi networks, and it supports the fastest Wi-Fi speeds of every wireless device you can buy, including the MacBook Pro, the Samsung Galaxy S6 or the brand-new iPhone 6s. The Archer C7 is faster over longer distances than most routers that cost $150 or more, and it's the best value of the more than two dozen routers The Wirecutter tested in the last two years.
Awards

Price Tip

ArcherC7 won award from CHIP Test&Kauf in Germany.

2013, Germany

Performance

Archer C7 received a performance award from Play3r in UK.

2013, UK

Product of the Year

Archer C7 won Product of the Year from PCKOLOJİ magazine in Turkey.

2013, Turkey

BEST PRODUCT 2014

Archer C7 has received award BEST PRODUCT 2014 – SILVER from PUREPC.PL.

2015, Poland