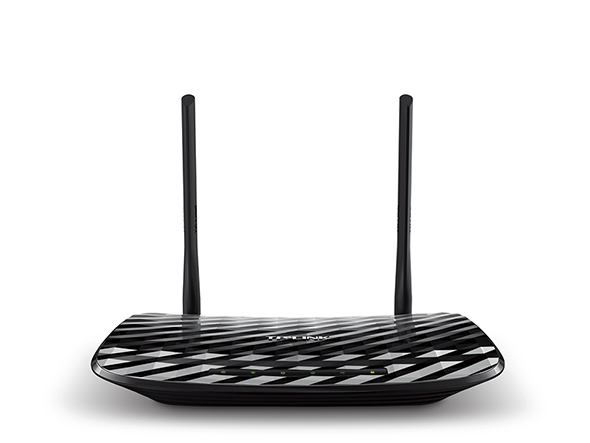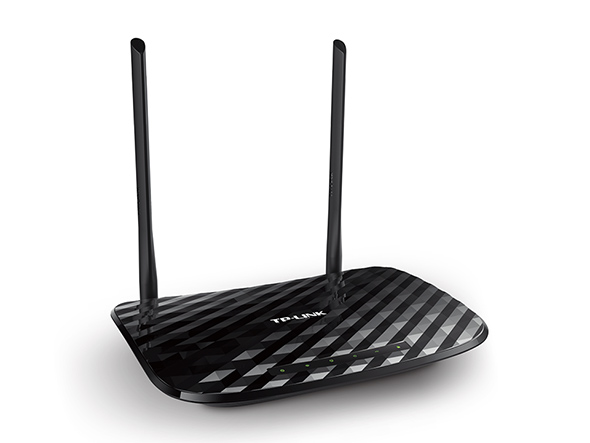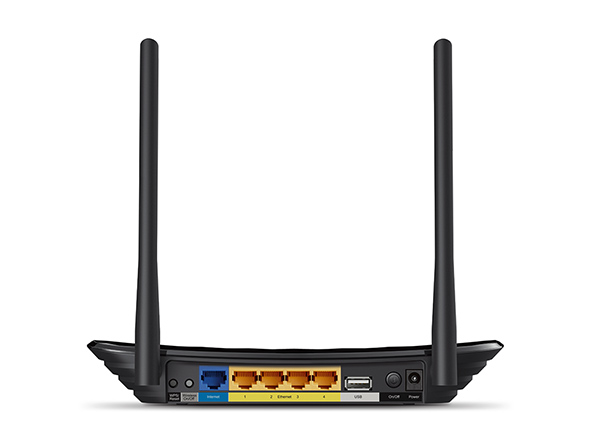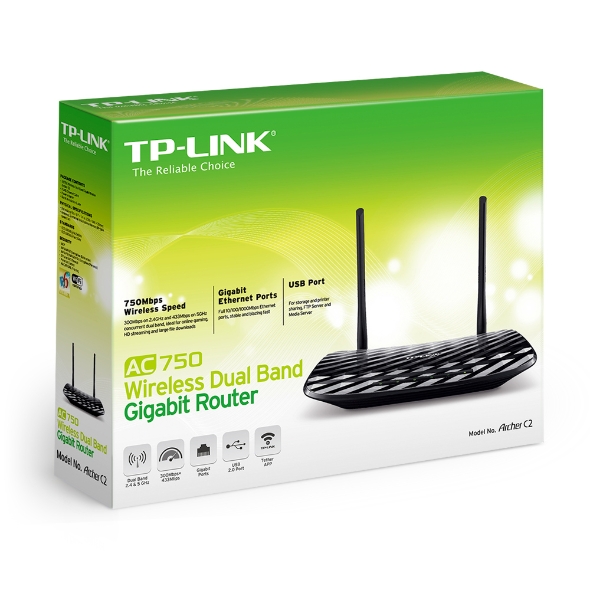 Router Inalámbrico Banda Dual Gigabit AC750 Archer C2
Soporta el estandar 802.11ac – La Próxima generación de Wi-Fi
Conexión simultánea en 2.4GHz a 300Mbps y en 5GHz a 433Mbps conexión total de 733Mbps de Ancho de Banda
Sus 2 antenas desmontables proporcionan una señal onmidireccional estable y una cobertura inalámbrica superior
Los puertos gigabit completos garantizan velocidades de transferencia de datos ultrarrápidas
Puerto USB - comparte una impresora local y archivos con los dispositivos en red o de forma remota a través del servidor FTP
Excellent Wireless Speed with 802.11ac
Coming with the next generation Wi-Fi standard – 802.11ac, 3 times faster than wireless N speeds, Archer C2 delivers a combined wireless data transfer rate of up to 733Mbps. With 433Mbps wireless speeds over the crystal clear 5GHz band and 300Mbps over the 2.4GHz band, the Archer C2 is an ideal choice for various applications.
802.11ac 5GHZ433Mbps
802.11n 2.4GHZ300Mbps
Concurrent Dual Band for Lag-Free Work
Simultaneous 2.4GHz and 5GHz offers you the flexibility of two dedicated networks – with multiple times the bandwidth for your needs. Simple tasks like sending e-mails or web browsing can be han-dled by the 2.4GHz band while bandwidth-intensive tasks like online gaming or HD video streaming can be processed by the 5GHz band – all at the same time.
Stable Omnidirectional Signal and Superior Coverage
With 2 detachable external antennas combined with higher quality antenna technology, you can experience excellent wireless performance with stable signal in every direction and high speed across greater distances. This provides you with incredible wireless coverage and reliability from anywhere in your large home or office.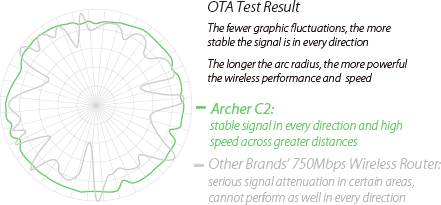 Easy USB Storage and Sharing
With the USB port, you can share files & media at home or via the FTP server while away from home and can also share a printer with multiple computers and devices on your network.
Full Gigabit Wired Connections
With one Gigabit WAN port and four Gigabit LAN ports, speeds can be up to 10× faster than fast Ethernet connections. The Archer C2 is a powerful hub to support a robust and extremely fast wired network.
Guest Network

Guest Network Access provides secure Wi-Fi access for guests sharing your home or office network.

Parental Control

Parental Control allows parents or administrators to establish restricted access policies for children or staff.

Easy Setup

Provide quick and hassle-free installation with optimized con-figuration utility.

IPv6 Supported

The Archer C2 supports IPv6, the next generation of Internet pro-tocol, helping you to future -proof your network.
CARACTERÍSTICAS DE HARDWARE
Interface
4 10/100/1000Mbps LAN ports1 10/100/1000Mbps WAN port
Botón
Botón WPS/Reset
Switch Inalámbrico Encendido/Apagado
Botón de Encendido/Apagado
Fuente de Alimentación Externa
12VDC /1.5A
Dimensiones (W X D X H)
9.1 x 5.7 x 1.4 PULGADAS. (230 x 144 x 35mm)
Antena
Tipo de Antena
2 antenas desmontables banda dual (RP-SMA)
CARACTERÍSTICAS INALÁMBRICAS
Estándares Inalámbricos
IEEE 802.11ac/n/a 5GHz
IEEE 802.11b/g/n 2.4GHz
Frecuencia
2.4GHz and 5GHz
Tasa de Señal
5GHz: haste 433Mbps(solamente con adaptadores inalámbricos 11AC); hasta 150Mbps con adaptadores inalámbricos 11N
2.4GHz: hasta 300Mbps
Sensibilidad de Recepción
5GHz
11a 6Mbps: -91dBm, 11a 54Mbps: -74dBm
11ac HT20: -66dBm, 11ac HT40: -64dBm, 11ac HT80: -61dBm,
11n HT20: -71dBm, 11n HT40: -69dBm
2.4GHz
11g 54M: -74dBm
11n HT20: -72dBm, 11n HT40: -69dBm
Potencia de Transmision
CE:
<20dBm(2.4GHz)
<23dBm(5GHz)
FCC:
<30dBm
Modos Inalámbricos
Funciones Inalámbricas
Habilitar y Deshabilitar Radio Inalámbrico,Puente WDS, WMM, Estadísticas Inalámbricas
Seguridad Inalámbrica
encriptación 64/128-bit WEP,WPA / WPA2,WPA-PSK/ WPA2-PSK
CARACTERÍSTICAS DE SOFTWARE
Calidad de servicio
WMM, Control de Ancho de Banda
WAN Type
IP Dinámica/IP Estática/PPPoE/
PPTP(Acceso Dual)/L2TP(Acceso Dual)/BigPond
Administración
Control de Acceso
Administración Local
Administración Remota
DHCP
Servidor, Cliente, Lista de Cliente DHCP,
Reservación de Dirección
Port Forwarding
Servidor Virtual, Port Triggering, UPnP, DMZ
Dynamic DNS
DynDns, Comexe, NO-IP
VPN Pass-Through
PPTP, L2TP, IPSec
Control de Acceso
Control Parental,Control de Administración Local, Lista de Host,
Acceso a Agenda, Reglas de Administración
Seguridad de cortafuegos
DoS, SPI Firewall
IP Address Filtering/MAC Address Filtering/Domain Filtering
IP and MAC Address Binding
Protocolos
Soporta IPv4 / IPv6
USB Compartido
Soporta Samba(Storage)/ SErvidor FTP /Servidor de Medios/Servidor de Impresión
Red de invitados
red de invitado 2.4GHz × 1
red de invitado 5GHz × 1
Otros
Certificacion
CE, FCC, RoHS
Contenidos del Paquete
Router Inalámbrico Bada Dual Gigabit AC750 Archer C2
2 Antenas Desmontables
Fuente de Alimentación
CD de Instalación
Cable Ethernet
Guía de Instalación Rápida
Requisitos del Sistema
Sistema operativo basado en Windows 10/8.1/8/7/Vista/XP, Mac OS o Linux
Ambiente
Temperatura de Operación: 0℃~40 ℃ (32 ℉~104℉)
Temperatura de Almacenamiento: -40℃~70 ℃ (-40 ℉~158℉)
Humedad de Operación: 10%~90% sin condensación
Humedad de Almacenamiento: 5%~90% sin condensación
SuscripciónTP-Link toma en serio su privacidad. Para obtener más detalles sobre las prácticas de privacidad de TP-Link, consulte la Política de privacidad de TP-Link.