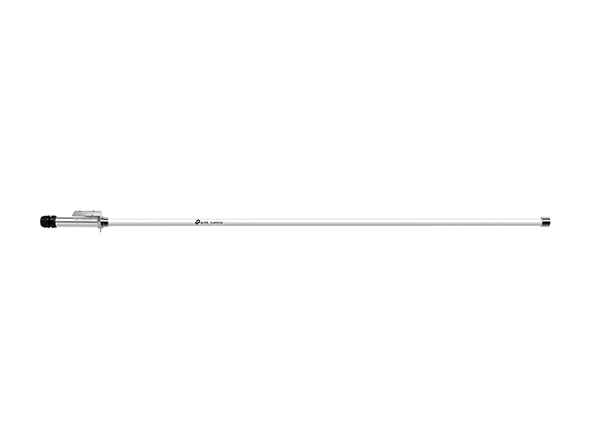 2.4GHz 15dBi antena omnidireccional para exteriores
Operación omnidireccional de 15dBi altamente amplía la cobertura inalámbrica
Conector hembra N, compatible con la mayoría de los equipos inalámbricos
Diseño a prueba de clima, adecuado para todas las condiciones climáticas
Provee kits de montaje permiten una fácil instalación para los entornos de varios
Qué hace este producto
Antena omnidireccional para exteriores TL-ANT2415D opera en la banda de 2.4-2.5 GHz y proporciona 15dBi omnidireccional operación, el cual extiende en gran medida el alcance inalámbrico y ofrece un rendimiento inalámbrico mucho mejor. La antena ofrece el conector N hembra para garantizar una mayor compatibilidad con la mayoría de los equipos inalámbricos. Además, el diseño a prueba del clima asegura que se puede trabajar normalmente para las diferentes soluciones exigentes de los exteriores.

La antena omnidireccional para exteriores emite una poderosa señal amplificada en un radio de 360 grados, entregando una señal fuerte multidirección de un punto de acceso o un puente. Si tiene múltiples ubicaciones o edificios donde se desea integrar a su red inalámbrica, simplemente coloque el TL-ANT2415D entre los edificios con su punto de acceso. Es más efectivo cuando se coloca en la parte superior de los edificios.
Fácil de usar
La instalación de la TL-ANT2415D es simple y sencilla. Es compatible con la mayoría de dispositivos inalámbricos (puntos de acceso, enrutadores, puentes y adaptadores de red) en el mercado con antenas externas extraíbles.
ANTENA
Tamaño
0.6kg
Frecuencia
2.4GHz~2.5GHz
Impedance
50 Ohms
Gain
15 dBi
Radiación
Omni-directional
VSWR(MAX.)
< 2.0
HPOL Beamwidth
360°

VPOL Beamwidth
9°
Polarización
Linear, Vertical
Montaje
Pole Mount / Wall Mount
Aplicación
Outdoor
Protección contra Rayos
DC Ground
Temperatura de Funcionamiento
-40℃~65℃(-40℉~149℉)
Storage Temp.
-40℃~80℃ (-40℉~176℉)
Operating Humidity
10%~90% non-condensing
Storage Humidity
5%~90% non-condensing
Safety, Emission and Others
CE, FCC, Compliant with RoHS
Package Contents
15dBi Outdoor Omni-directional Antenna
Installation mounting kits
User Guide

Dimension
1500mm
From United States?
Get products, events and services for your region.