Qué tengo que hacer si tengo más de un modelo Deco?
Este artículo se aplica a:
Ante algunas circunstancias, podemos tener más de un modelo Deco (Deco M5, Deco M9 Plus, etc) a mano y queremoe desplegar todos en una misma red.
Para maximizar al máximo la perfomance de la red, por favor tenga en cuenta:
1. Si tenemos más de 2 unidades del Deco P7, y queremos que el acceso principal a Internet sea sobre la red eléctrica, hay que elegir un P7 como Deco principal.
2. Es recomendable no elegir como Deco principal el modelo M4R com oDeco principal.
Hay pues 2 situaciones y se recomeinda lo siguiente:
• Creación de una nueva red Deco
Elija una unidad Deco como principal, según la prioridad indicada abajo. Una vez elegido proceder con las intrucciones de configuración del Deco principal.
Deco M9 Plus / Deco P7 > Deco M5>Deco M4R
• Adicionar Decos a una red Deco ya existente
Como ejemplo, partimos de una red ya creada con Deco's M5, y queremos añadir un Deco M9 Plus a la red mesh ya existente.
En este caso, es recomendable reseleccionar el Deco M9 Plus como el Deco principal, de manera a asegurar la performance del sistema, teniendo en cuenta la prioridad comentada en el punto anterior.
Procedemos a exponer el ejemple de "añadir Deco M9 a una red M5 ya existente. Siga los siguientes pasos:
1. Actualice su App Deco
Compruebe en App Store o Google Play Store si hay una nueva versión de la App Deco.
2. Añadir M9 Plus auna red M5.
Seleccione el siguiente link FAQ1590 para añadir la unidad M9 Plus.
Si se queda atascado en "no encontramos Deco", por favor seleccione "Reintentar - TRY AGAIN, y una nueva opción se habilitará "use Bluetooth". Seleccione ésta nueva opción y siga los pasos para completar la configuración.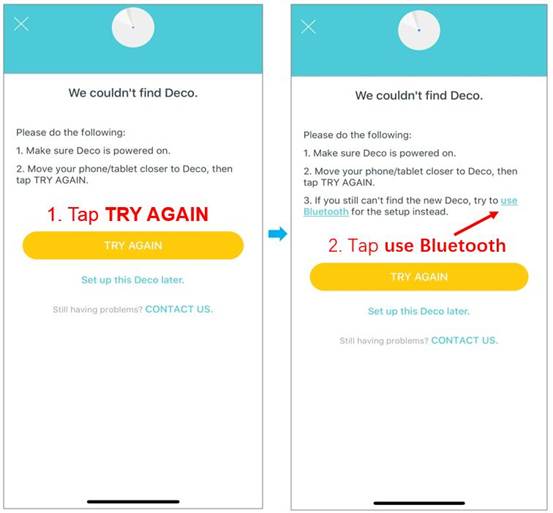 3. Actualice el M9 Plus
Descubra y seleccione el icono Ajustes que se encuentra en la esquina inferior derecha, y presione Actualizar Deco.
La App buscará de manera automática la actualización de firmware. Si un nuevo firmware se encuentra disponible, descarguelo y actualice vía la App Deco.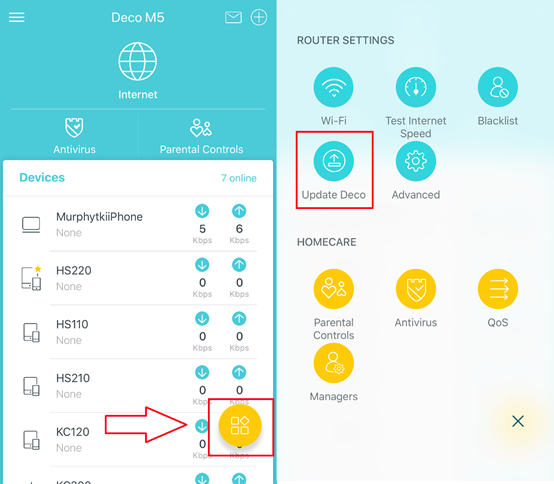 When the updates are completed, the app will remind that your firmware version is up-to-date.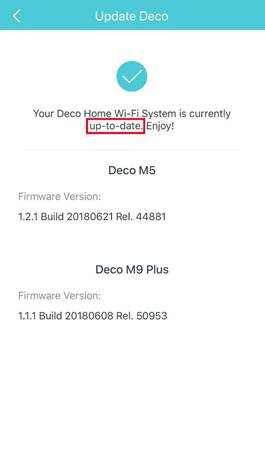 4. Establezca el M9 Plus como Deco Principal.
Asegúrese que su smartphone esté conectado a la red Deco, y abra la App Deco.
En la página principal, seleccione Internet. A continuación seleccione el icono "…" en la esquina superior derecham y seleccione, Establecer Deco Principal.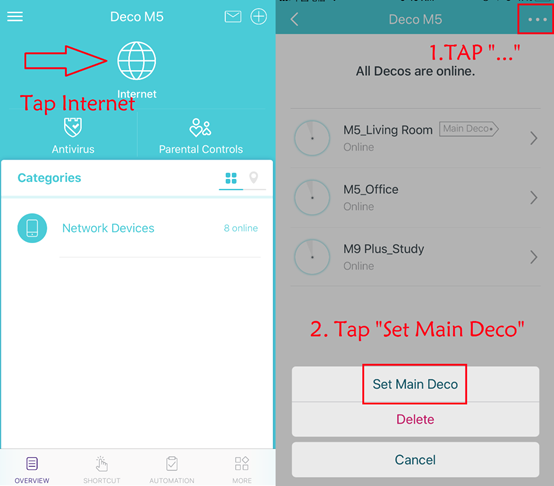 Selecione la unidad M9 Plus, y seleccione CONTINUAR. El siguiente paso consiste en conectar la unidad M9 Plus a su modem/Router, cambiando la unidad del M5.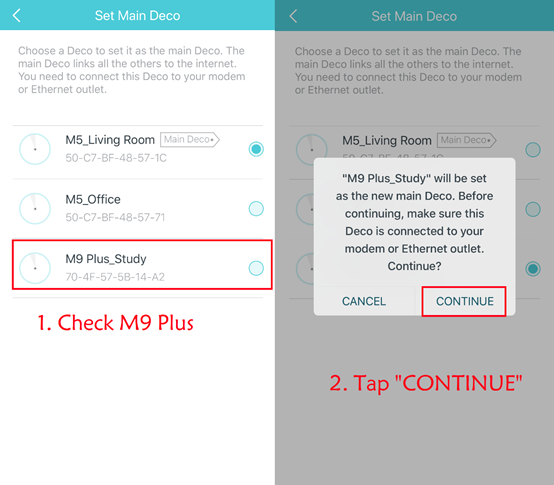 ¿Es útil esta faq?
Sus comentarios nos ayudan a mejorar este sitio.
From United States?
Check products and services for your region.