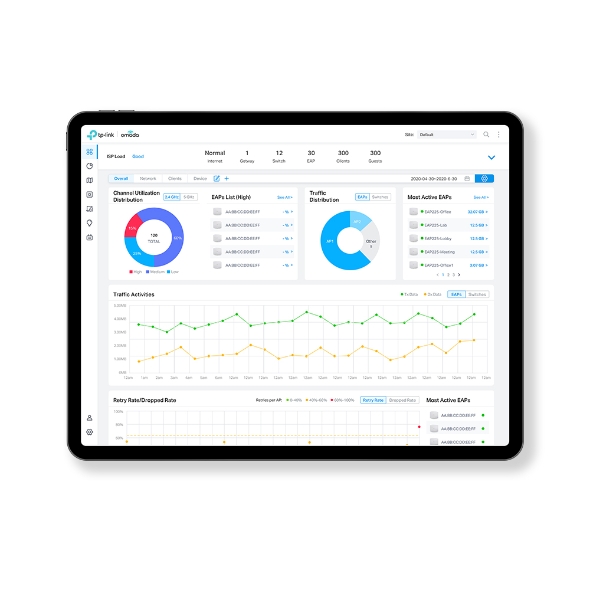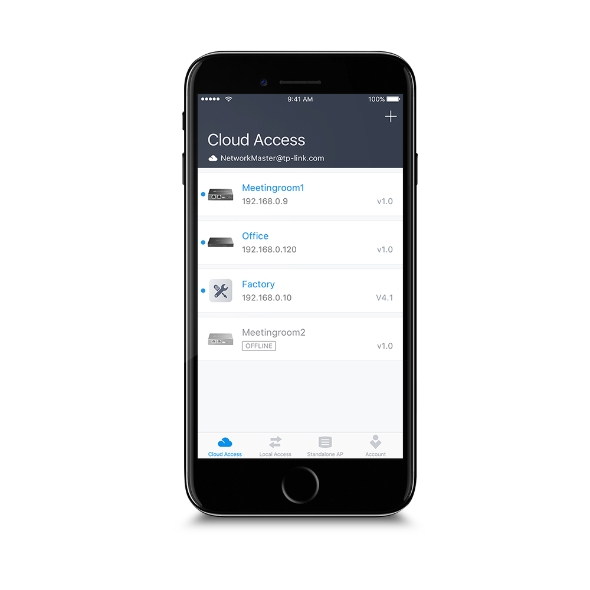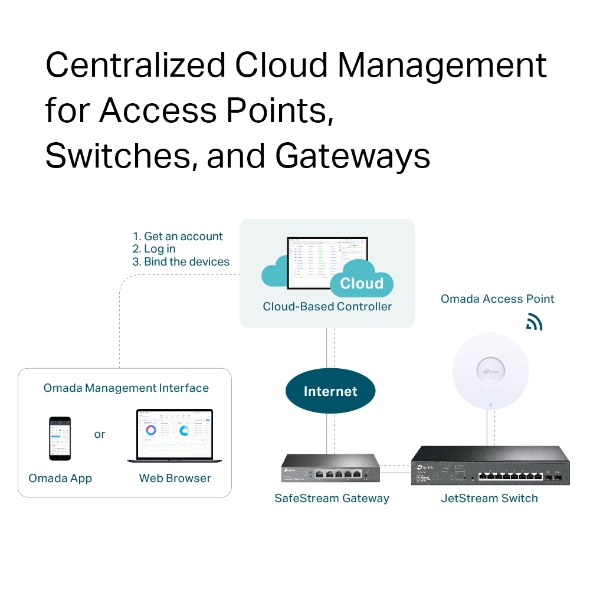 Omada Cloud-Based Controller
Em breve
Omada Cloud-Based Controller
Existente inteiramente na nuvem.
Nenhum investimento adicional de controlador de hardware e instalção no cliente.
Gerenciamento centralizado para pontos de acesso Omada ilimitados, switches JetStream e roteadores SafeStream.*
Acesso à nuvem para gerenciar de qualquer lugar, a qualquer hora.
Oferece suporte ao provisionamento Zero-Touch para implantação eficiente e reduz o custo geral de implantação, operação e manutenção.
Aplicativo Omada para fácil gerenciamento.
O painel de fácil utilização facilita a visualização do status da rede em tempo real e a verificação do uso da rede e distribuição de tráfego.
Cloud-Based Controller
Cloud Centralized Management for Access Points, Switches, and Gateways
Centralized Management for Access Points, Switches, and Gateways
The Omada Cloud-Based Controller, existing entirely in the cloud for the Omada Software Defined Networking (SDN) platform, provides 100% centralized cloud management of access points, switches, and gateways—all controlled from a single interface. There is no additional hardware controller investment and installation on customer premises required.
Exists Entirely in the Cloud

Unlimited Centralized Management Scale*

No Additional Hardware Controller Investment

No Installation on Customer Premises
1. Get an account
2. Log in
3. Bind the devices
Omada Management Interface
Omada App
or
Web Browser
Cloud-Based Controller
Cloud
Internet
SafeStream Gateway
JetStream Switch
Omada Access Point
Cloud with Higher Efficiency—Zero-Touch Provisioning
Omada zero-touch deployment allows for remote deployment and configuration of multi-site networks, so there's no need to send out an engineer for on-site configuration. Omada Cloud ensures efficient deployment at a lower cost.
Step 1
Plug in on-site and connect the Omada Powered devices to the internet
Step 2
Enroll the devices through your Omada Cloud Dashboard
Step 3
Devices automatically obtain the configuration file from the cloud
Step 4
Enjoy 100% remote provisioning and cloud management
Cloud with Higher Security—User Privacy Protection
TP-Link Omada separates network management data from user data, with no user traffic passing through the cloud, to ensure better protection of users' privacy.
Cloud
User Traffic
Management Data
T1 / DSL
SafeStream Gateway
JetStream Switch
Omada Access Point
24/7
Automated Fault Detection
Geographically Isolated
Back-Up Servers
Reliable Products
High Quality
Cloud with Higher Reliability—SLA Availability
Higher reliability is guaranteed with 99.99% SLA availability, 24/7 automated fault detection, geographically isolated backup servers, and reliable product quality. Your network functions even if management traffic is interrupted.
Easy and Intelligent Network Monitoring
The easy-to-use dashboard makes it easy to see your real-time network status; check network usage and traffic distribution; receive network condition logs, abnormal event warnings, and notifications; or even track key data for better business results. Network topology helps IT admins quickly see and troubleshoot connections at a glance.
Multiple Factors Guarantee Easier Network Maintenance
Auto Channel Selection and Power Adjustment

Provides powerful wireless performance while greatly reducing Wi-Fi interference by automatically adjusting the channel settings and transmission power levels of neighboring APs in the same network.

Channel 1

Channel 11

Channel 6

Batch Management, Multi-Site Management, and Remote Firmware Updates

Improve network maintenance without needing to configure on-site or manage devices one by one.

Powerful Scheduling

Maintain your network easily with more agile and effective processing. No manual tasks required.

Backup Schedule

Reboot Schedule

Wi-Fi Schedule

PoE Schedule

Channel Adjustment Schedule
Greater Convenience with the Omada App
Remotely access and configure your whole network with a tap of your phone from anywhere in the world.
Choose the Right Controller that Fits Your Business
Omada Cloud-Based Controller
Omada On-Premises Controller
Software Controller
Hardware Controller
(OC300)
Hardware Controller
(OC200)
Management Scale
Unlimited*
<1,500 Devices**
<500 Devices
<100 Devices
Usage Method
Log in and use
Deploy to intranet servers
or private clouds
Connect to the intranet
Network Type
Medium/Large multi-site network
Medium/Large network
Small/Medium local network
Pricing Model
Service subscription fee***
Free
Hardware costs
Cloud Access
√
√
√
√
Automatic Channel
Selection
√
-
-
-
Zero-Touch
Provisioning
√
-
-
-
*The management scale of the Omada Cloud-Based Controller may vary according to the service subscription fee.
**Actual management scale of the Omada Software Controller depends on the PC/server's hardware specifications.
***Subscription services of the Omada Cloud-Based Controller is differentiated by tier.
Hospitalidade

TP-Link Omada SDN allows hotels to build the reliable, cost-effective wireless networks that drive progress and keep guests happy and coming back for another stay.

Full WiFi coverage and wired connections
Flexible guest control
Seamless roaming
Easy Management

Educação

Due to its reliable, scalable, and secure network solution, TP-Link has been widely acknowledged by global customers in the Education market ranging from infant schools with a few APs up to colleges and universities with hundreds of APs.

Easy management
High-density WiFi
Full WiFi coverage and wired connections
VPN and security

WiFi Marketing

Here you will have the opportunity to show them your products, services, offers, promotions or simply information related to your business. With TP-Link captive portal functions, boost your online business through guest Wi-Fi with Facebook Login, Voucher, and other flexible authentication options.

Boost Business with a Customized Page
Facebook WiFi
Secure Guest Network
Easy Configuration
Supported by all Omada APs
Gerenciamento
Omada App
Yes
Gerenciamento Centralizado
• Unlimited centralized management scale• Centrally manage Omada access points, JetStream switches, and SafeStream routers
Acesso via nuvem
Yes
L3 Management
Yes
Multi-site Management
Yes
Zero-Touch Provisioning
Yes
Recursos de Gerenciamento
• Automatic Device Discovery • Batch Configuration• Batch Firmware Upgrading • Intelligent Network Monitoring• Abnormal Event Warnings• Unified Configuration• Reboot Schedule• Captive Portal Configuration
From United States (English)?
Check products and services for your region.