Начална страница
>
Блог
>
TP-Link @IFA 2022 | See the latest TP-Link devices from the Smart Home, Home Networking and Enterprise Networking range
TP-Link @IFA 2022 | See the latest TP-Link devices from the Smart Home, Home Networking and Enterprise Networking range
Sofia, September 2, 2022—TP-Link, a global provider of Wi-Fi devices, network accessories and business equipment, will unveil its main new devices and technologies at IFA 2022, organized in Berlin, Germany from September 2-6. The TP-Link stand can be found in Hall 10.2, booth 102, throughout the duration of the event.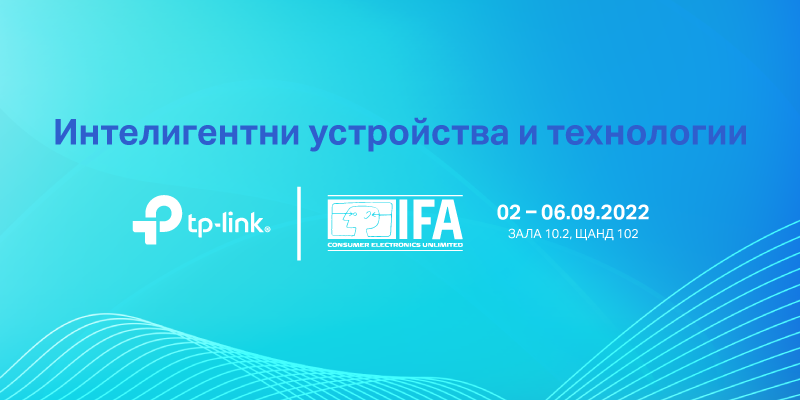 Tapo Smart Living: Simple, Safe and Sustainable
The Tapo range was created to offer you a smart lifestyle, more comfort and more security. At IFA 2022, we will present new Tapo devices that complement the current range and that include smart doorbells, surveillance cameras or smart sensors.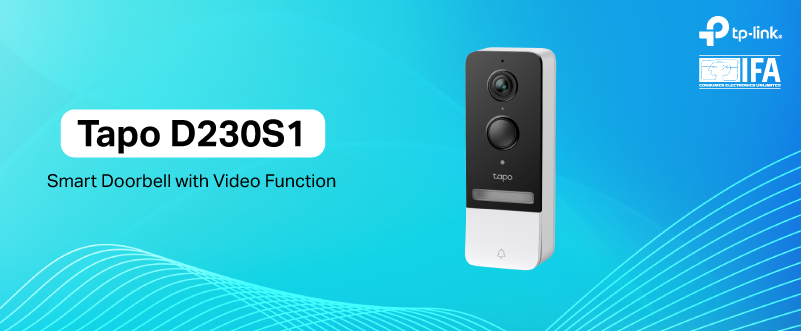 Tapo D230S1 is a smart doorbell that features a 5MP color camera with Night Vision and IP64 protection against water and dust. You can see who is ringing the doorbell and receive automatic notifications when the advanced algorithms detect people, animals, cars or other objects.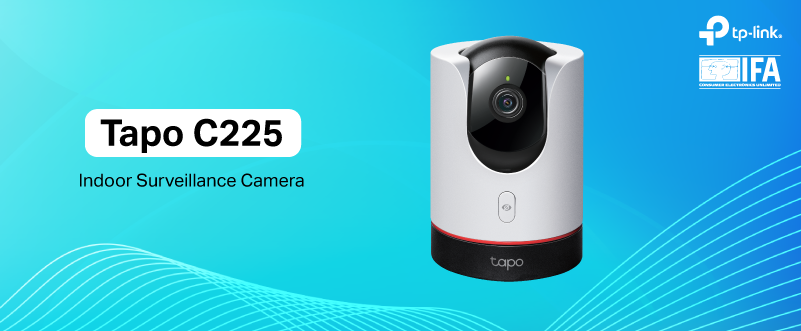 For indoor surveillance, Tapo C225 camera can prove to be the ideal choice. It can detect motion, has Pan/Tilt and Two-Way Audio functions and is controlled directly from your phone, from the Tapo app, where you can also view all camera recordings. It's perfect for home surveillance when you're away or to keep an eye on your pet.
As convenient as it is to control our smart lighting solutions directly from the Tapo app, we decided to go one step further and created the Tapo T100, a smart motion sensor. Capable of detecting motion up to 7 meters away, you can use it in conjunction with Tapo lighting devices to light your way at night when you get out of bed or when you get home late. Of course, the sensor can also help you in the security of your home by detecting intruders.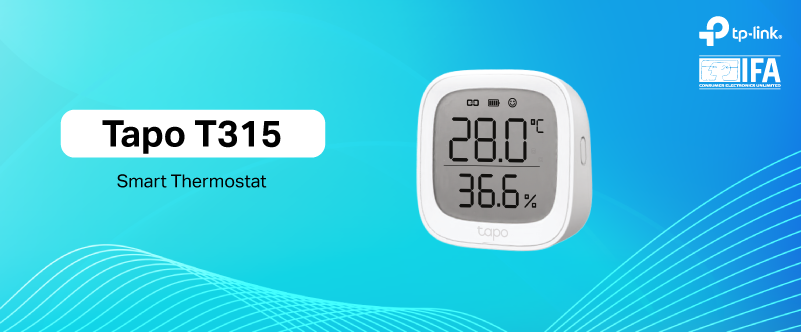 The smart thermostat, Tapo T315, monitors the temperature and humidity in the room and can change the temperature inside the home based on its measurements or the operating programs that you set from the Tapo app.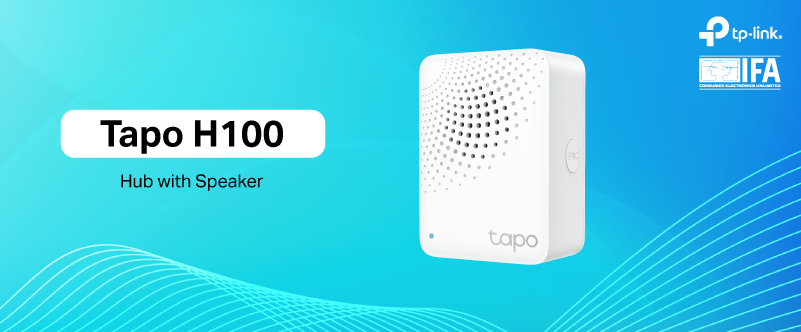 And Tapo H100 is a smart hub with a build-in speaker that can control up to 64 Tapo devices. Together with a Tapo sensor, the H100 can warn you with an alarm when someone enters the house without your permission.
High-End devices with the New Wi-Fi 6E Technology
We continue our ambition to bring the best performing devices and the latest Wi-Fi technologies into everyone's homes by expanding our high-end range with new Wi-Fi 6E devices.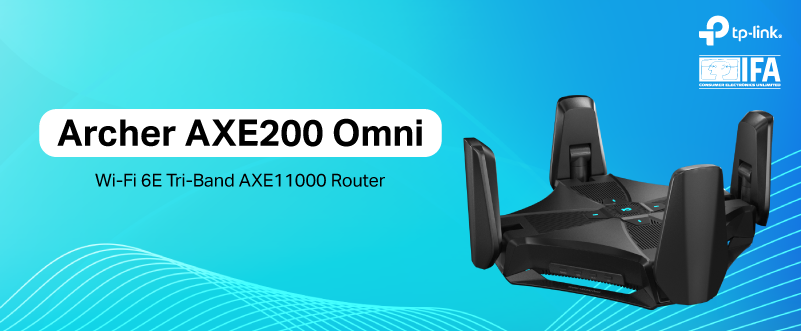 The Archer AXE200 Omni router introduces rotating mechanical antennas. These are adjusted automatically by the router or by you using the app, helping to optimize wireless signal transmission and reception. With AXE11000 Wi-Fi 6E Tri-Band technology, Archer AXE200 Omni can achieve cumulative Wi-Fi speeds of up to 11 Gbps, and the 10G Port can provide up to 10 Gbps on a cable connection for your PC or game console.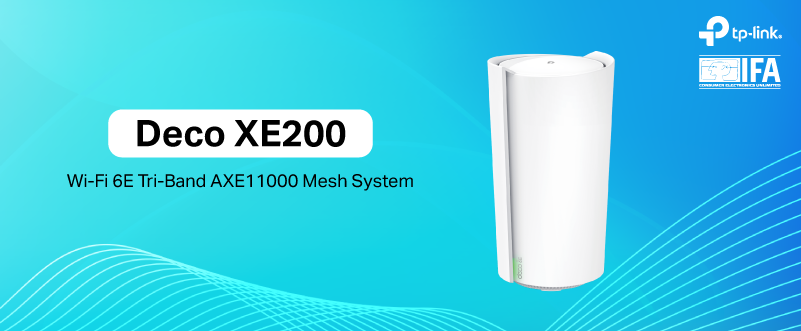 Deco XE200 expands the Deco Mesh Wi-Fi systems. Equipped with Wi-Fi 6E Tri-Band AXE11000 technology, it can offer cumulative Wi-Fi speeds of up to 11 Gbps. And with 16 internal high-gain antennas, it can support simultaneous data transmissions for up to 200 devices, on a coverage area of up to 600 m2, in the 2-pack version.
The Omada SDN Solution for Enterprise Networks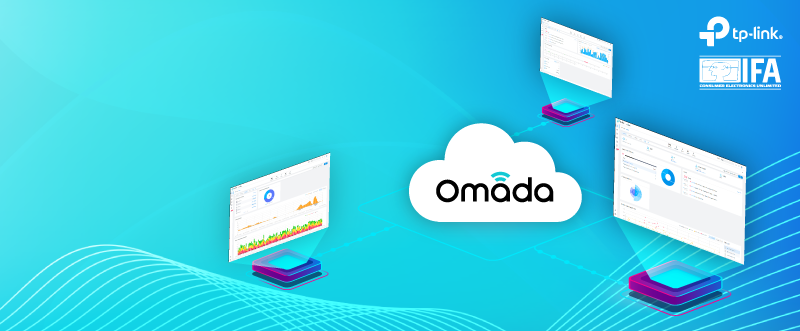 At IFA 2022, TP-Link is also exhibiting the Omada SDN (Software-Defined Networking) Solution for enterprise networks, with its Omada Cloud-Based Controller. The advanced features of the Omada SDN solution represent the foundations of an improved centralized network management, greater efficiency for easier maintenance, higher security and increased reliability.
Zero-Touch Provisioning (ZTP): There is no need to send out an engineer for on-site configuration.
Auto Channel Selection and Power Adjustment: Enterprises receive powerful wireless performance while significantly reducing Wi-Fi interference.
Higher Security: No user traffic passes through the cloud, ensuring better data privacy protection.
Higher Reliability: With 99.99% SLA availability, 24/7 automated fault detection, and geographically isolated backup servers, your operations will always continue.
About TP-Link
Founded in 1996, TP-Link is a global provider of reliable networking devices and accessories, involved in all aspects of everyday life. The company is consistently ranked by analyst firm IDC as the No.1 provider of Wi-Fi devices*, supplying distribution to more than 170 countries and serving billions of people worldwide.
With a proven heritage of stability, performance, and value, TP-Link has created a portfolio of consumer, business, and ISP networking products. Now, as the connected lifestyle continues to evolve, the company is expanding its business domain into Consumer Electronics, IoT, and Security technologies in order to meet the demands of tomorrow.
More information about TP-Link visit www.tp-link.com/bg/ or follow us at:
*Source: IDC Worldwide Quarterly WLAN Tracker, Q4 2021
From United States?
Get products, events and services for your region.