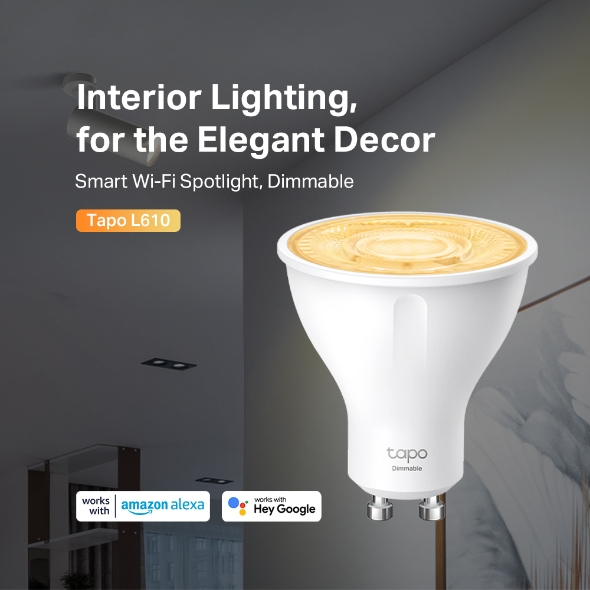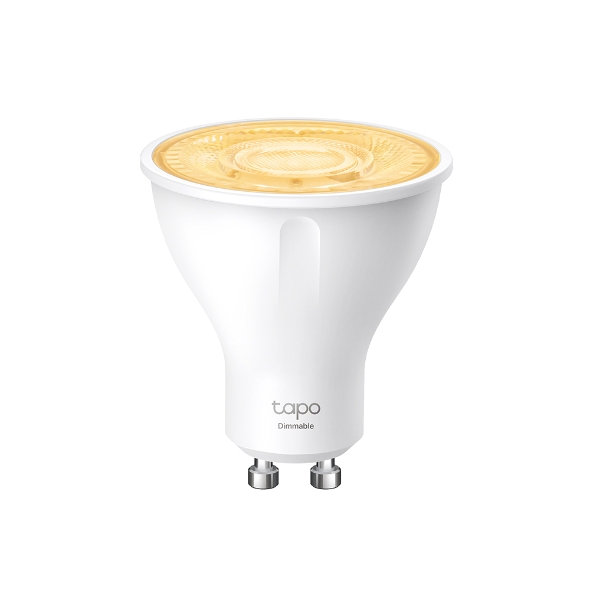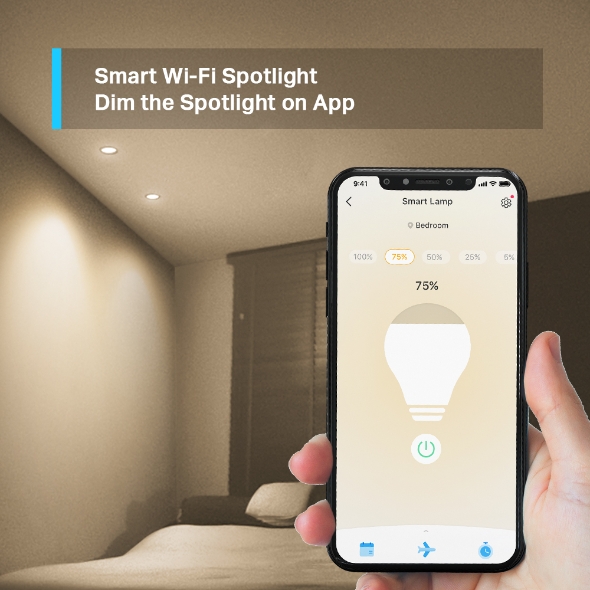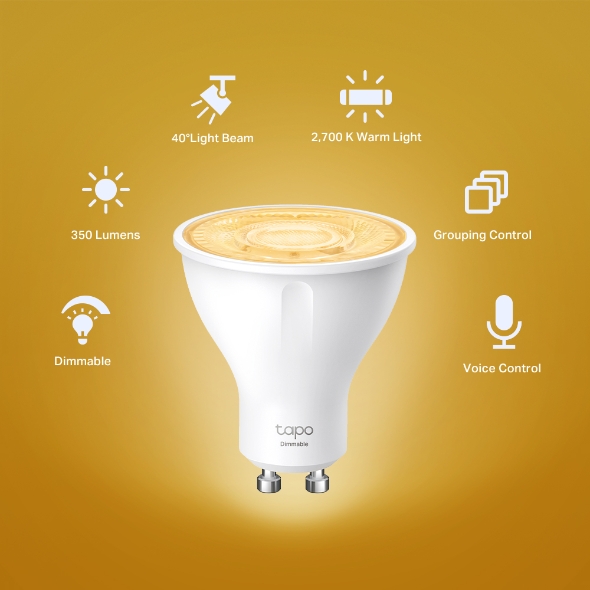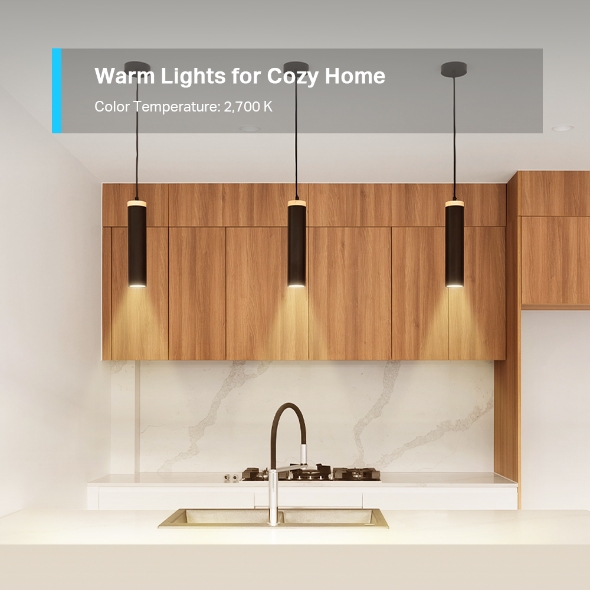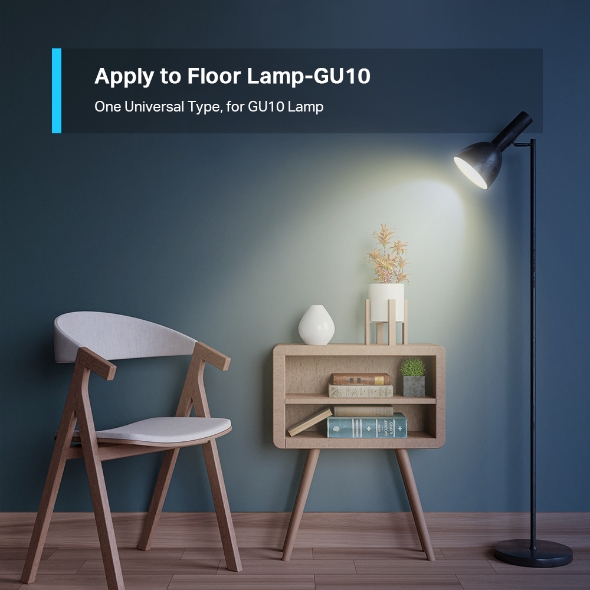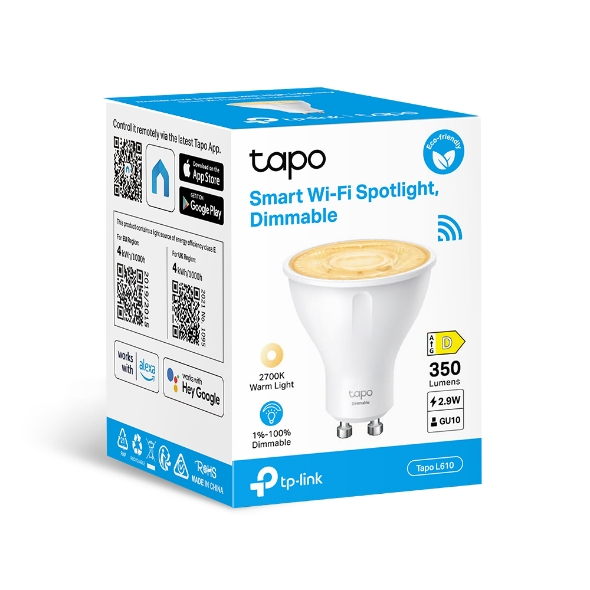 Smart Wi-Fi Spotlight, Dimmable
2,700 K Warm Light- Set off a cozy and comfortable vibe for your home or any other public space
1~100% Dimmable - Dim to any brightness you desire for constantly-changing needs.
High Lumen - Emits 350 lm light that is bright enough to shed light on any object
GU10 Lamp Base - Compatible with any GU10 fixtures well. No extra burden for your first attempt.
Grouping - Control all the Tapo Smart Spotlights by just one click on App
Energy Saving - Reduce energy use by operating energy savingly, without losing brightness or quality.
Remote Control - Instantly turn the spotlight on/off wherever you are via the Tapo App.
Schedule - Preset a fixed schedule to manage your smart devices automatically.
Timer - Create countdown timer lists for more precise time control.
Voice Control - Manage your Smart Spotlights with voice commands via Amazon Alexa or Google Assistant.
Easy Setup & Use - No hub required, set up quickly and manage easily through the free App.

Interior Lighting,
for the Elegant Decor
Smart Wi-Fi Spotlight, Dimmable
Tapo L610

Dim the 350 Lumens Spotlight Steplessly
Explore the incredible fun captured from Smart Spotlight to make your home the superb space, by adjusting Tapo L610 as the way you want.
Seek for Higher Engagement
Emitting a close-up partial lighting, Tapo L610 lights up the specific zone, perfect for displaying your favorite handicraft, art design, mock up, etc. It works not only to engage the audience, but reveal more great details as well.
Enchant the Space with Spotlights
When mounted in some public zones, Smart Spotlight would show its strengths that make it widely used as an energy-saving illumination option. It reaches a well balance between light intensity and overall gentle effect in the space.
Arts Gallery

Studio
Experience the Ambient Mode
To get relaxed entirely, you could try adjusting the Smart Spotlight's brightness value to extremely low. It will give all of you the peace of mind at home.
7 Lumens Gentle Lighting
Schedule & Timer
Easily Manage Your Life
Create regular schedules and countplans to turn on/off with the brightness you set. Sunrise and sunset modes allow the spotlight to activate automatically according to your time zone.
Alexa, turn on the lights!
Hands-Free Voice Control
Use simple voice commands to turn the spotlight on and off, or set the scene for reading, movie time, or a party, without any big body movement.

Group Control of Multiple Devices
Group your Smart Spotlights in one space for seamless control in brightness, colors, and more. And switch your lights and other devices on and off altogether.
Eco-Friendly Smart Spotlights
Powered by energy-saving features, Tapo L610 enables the grouping operation of 20-30 spotlights, with low energy usage and financial burden for you.
Energy Efficiency Grade:
D
Power Consumption:
2.9 W
Super-Low Standby Power:
< 0.2 W
Energy Monitoring on Tapo App
Integrate Tapo L610 into Tapo Ecology
Discover the advancement of Smart Home devices, crafted by Tapo, and you will get impressed by the automated & integrated home experience.
Smart Light Bulbs
Smart Light Strips
Smart Switches
Smart Plugs
Rețea
Protocol Wi-Fi
IEEE 802.11 b/g/n
Frecvența Wi-Fi
2.4 GHz
SPECIFICAȚII TEHNICE
Form Factor
GU10
Light Beam Angle
40°
Voltage
220-240 V, 50/60 Hz
Switching Cycles
15,000
Temperatură culoare
2,700 K
Indicele de redare a culorilor
≥ 80
Timp de încălzire până la 95%
≤1 s
Reglabil
Yes (via app and voice only)
Intensitate
350 Lumens (50 W Equivalent)
Consum de energie
3 kWh/1,000 h
SDCM
< 6
Putere
2.9 W
Durată de viață
15,000 Hrs
Energy Class
D
Standby Power
0.2 W
General
Conținut Pachet
Tapo Smart SpotlightQuick Start Guide
Tip fasung
GU10 fitting
Dimensiuni produs
D50 x 55.2 mm
Temperatură de operare
0 ºC~ 40 ºC
Operare în condiții de umiditate
10%~90%RH, Non-condensing
Certificări
CE, ERP, RoHS, RCM
Greutate
51 g (package included)
From United States?
Get products, events and services for your region.