Customize Your Own Default Settings with Agile Config
When deploying a large number of routers, ISPs face some configuration issues that are both time-consuming and expensive.
One issue is ISPs needing to manually configure each router they provide customers according to their own configuration requirements. Another happens when a user accidentally resets their router, requiring an ISP to send a technician to their house to reconfigure the router, or provide the customer with lengthy step-by-step instructions over the phone on how to reconfigure the router.
For all of these and more, TP-Link provides the Agile Config solution. Agile Config allows ISPs to customize their default configurations freely, simplifying the local customization process while reducing pre-sale and after-sale service costs.
What can Agile Config do?
Customized Device Defaults
Before providing routers to customers, ISPs can flexibly modify the default configurations with Agile Config. The settings that can be customized include logo, WAN connection type, SSID, password, time zone, language, and more.
Most importantly, after pre-configuration, the TP-Link factory default will be changed to the ISP's customized factory default. Once the Agile Config process is completed, the settings will become the "new default." Even if an end user resets the device, ISP configurations will remain. This reduces call-out costs and reduces the resources spent explaining to users how to configure their routers.
Before:

With Agile Config:

Easily Apply Settings to Multiple Devices
Before anything reaches an end user, ISPs have to set up the configuration the traditional way: manually modifying each device individually. With Agile Config, ISPs perform batch configuration on the router. By seamlessly applying customized basic network settings to multiple devices at one time, no specialist equipment is required. This process is easy for the ISPs and requires only a computer and a switch.
The process is quick, too. Customization of each device only takes 10 seconds.
Before: manually modifying each device individually with traditional way.

With Agile Config: Batch-apply settings easily by a switch.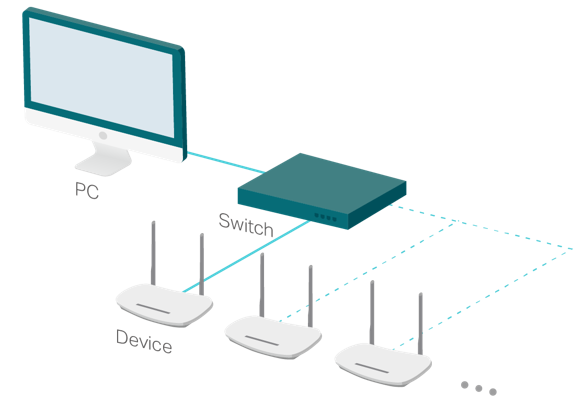 Logo and Favicon Customization
If you only want to change the logo of the configuration page, it makes it little financial sense to have to pay vendor to provide customization. Agile Config lets ISPs customize the configuration page with their own logo and favicon.
Set Specific Configurations for Individual Devices
With the Specific Config module of Agile Config, ISPs can set specific configurations for a single device at a time as needed. Example, configuring different settings with individual passwords for each router.
Easy to Run Agile Config

Step 1: Prepare a computer and a switch.
Step 2: Download and install Agile Config software.
Step 3: Generate configuration files with ISP customized settings.
Step 4: Import configuration files and the device will be automatically upgraded in batches.
With the above four steps, ISPs can easily configure or update the devices via Agile Config.
TP-Link's EX220-G2u and other routers now showcase TP-Link Agile Config 2.0. With a number of ISPs already standardizing their devices via Agile Config, they are already reducing the time and cost required for installation and maintenance.
More about Agile Config
Where can I get the guide to operating Agile Config?
Please register and download the Agile Config Suite at agile.tp-link.com.
How do I buy the products and get the special firmware if needed?
If you're an ISP and looking for the same savings with Agile Config 2.0, you can find the supported models here: https://service-provider.tp-link.com/agile-solution/.
Some Agile Config 2.0 supported models:
EX220-G2u: https://service-provider.tp-link.com/wifi-router/ex220-g2u/
Deco HC4: https://service-provider.tp-link.com/home-wifi-system/deco-hc4/
TL-WR850N: https://service-provider.tp-link.com/wifi-router/tl-wr850n/
EC230-G1: https://service-provider.tp-link.com/wifi-router/ec230-g1/
XN020-G3v: https://service-provider.tp-link.com/gpon/xn020-g3v/
If you want to buy in bulk or get special firmware, please contact our local sales team.
From United States?
Get products, events and services for your region.